I'm thrilled to be working with Unilever as a 2017 Agent of Change. This post is in partnership with Unilever, but all thoughts and opinions are of course my own.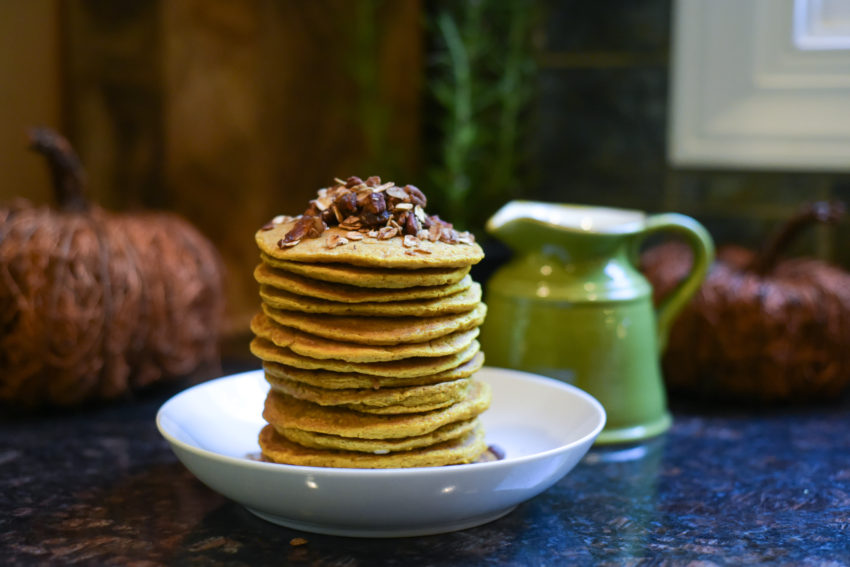 These pancakes are perfect for you if you:
cannot or do not eat eggs (or don't have any in the refrigerator)
cannot or do not use milk
eat a gluten-free lifestyle
eat a vegan lifestyle
cannot get enough pumpkin spice this time of year
LOVE PANCAKES AT ALL!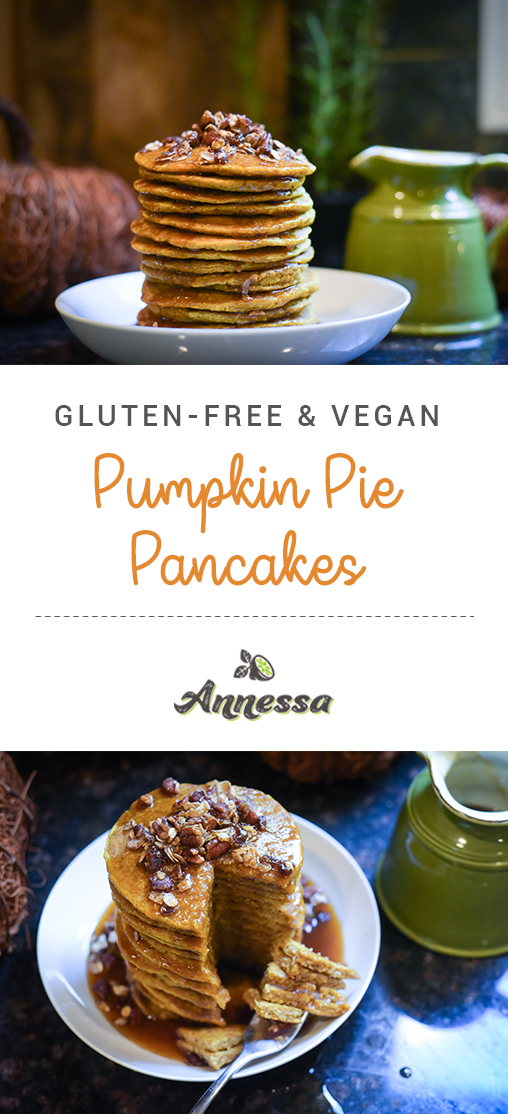 Does that cover everybody??? LOL. So, I'm definitely not a total vegan-eater, but I do have friends and patients that are, so I try to develop nutritious recipes to support them, and let them know of products I find that would support their vegan cooking too. In partnering with Unilever, I learned that new to the Unilever family is a certified vegan spread, I Can't Believe It's Not Butter!® It's Vegan!, made from plant oils from sustainable farms in Missouri and Kansas. I decided to use it to create deliciously fluffy, yet no-fuss, vegan Pumpkin Pie Pancakes…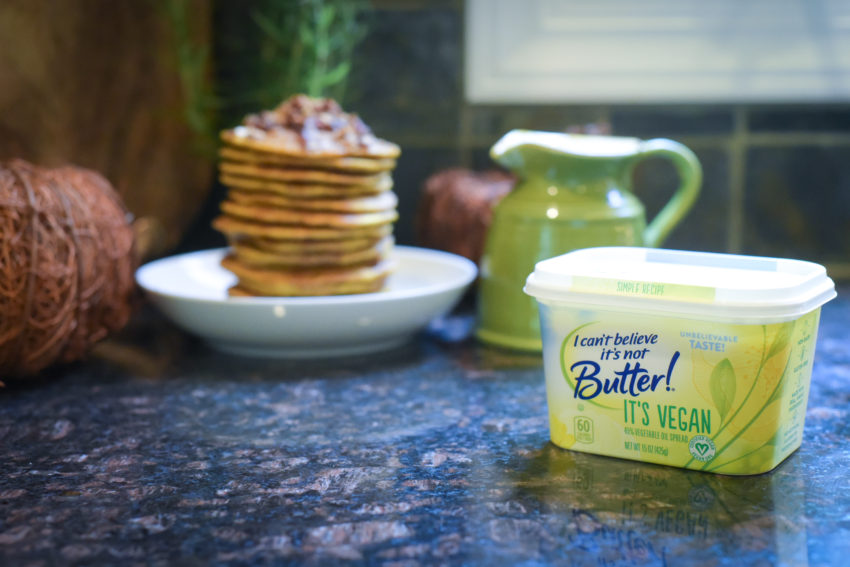 One of the highlights of this recipe is that the whole pancake batter is made in a blender. It's as easy as throwing all the ingredient into the blender in order…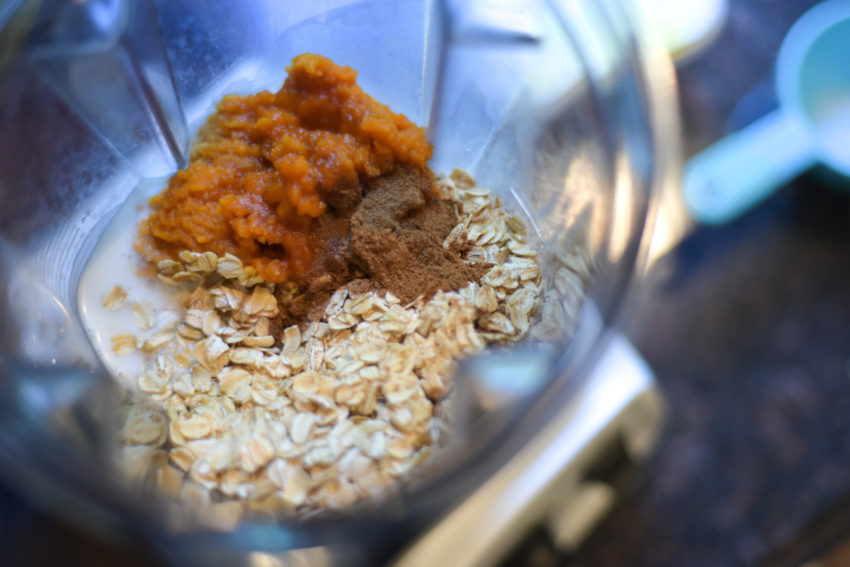 Let the blender run for 20-30 seconds. This smooths those oats into an "oat flour", and afterwards, you have a light-orange perfect pancake batter…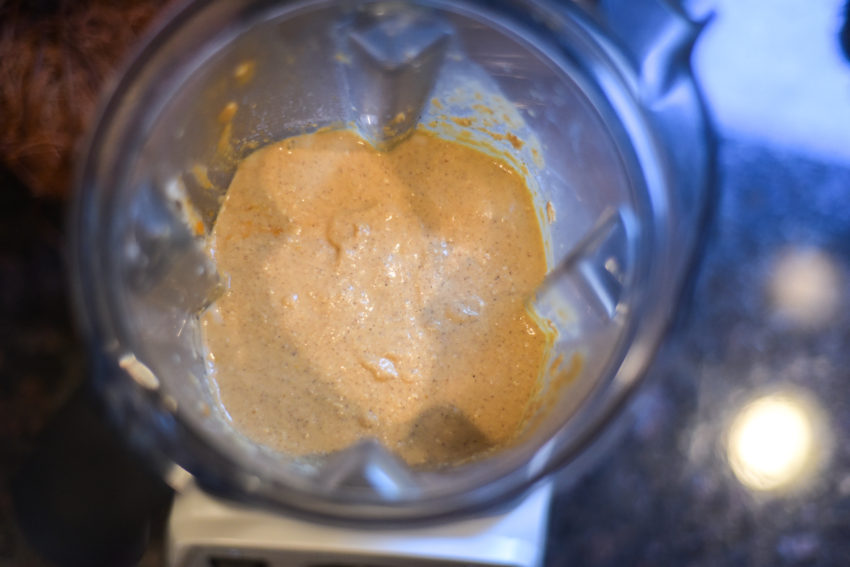 I love using a giant muffin-scoop to make perfectly round pancakes.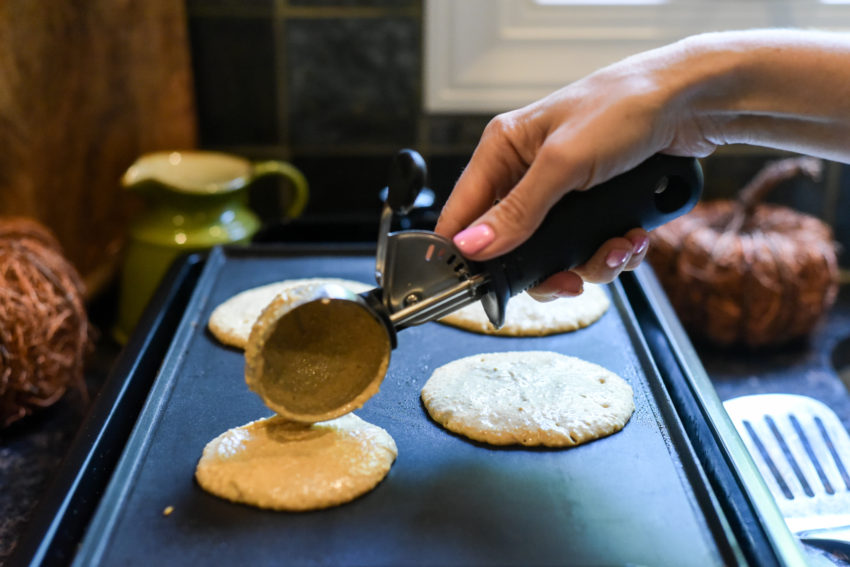 Let them cook about 4 minutes on the first side. When there are teeny bubble toward the middle of the pancake, you'll know it's time to flip…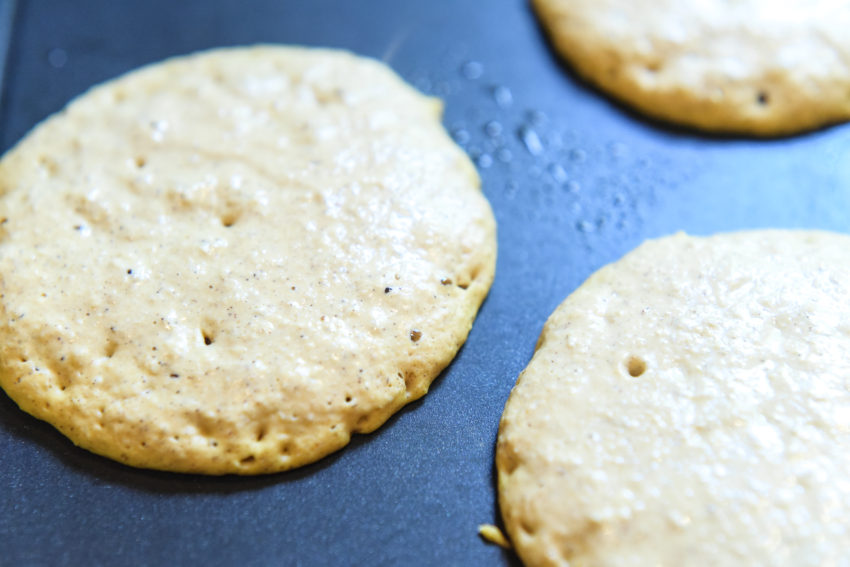 And you have a gorgeous stack of 12 pumpkins-orange pancakes to get you in the mood for fall! (Though most people in my life have no problem whatsoever getting in the mood for fall;)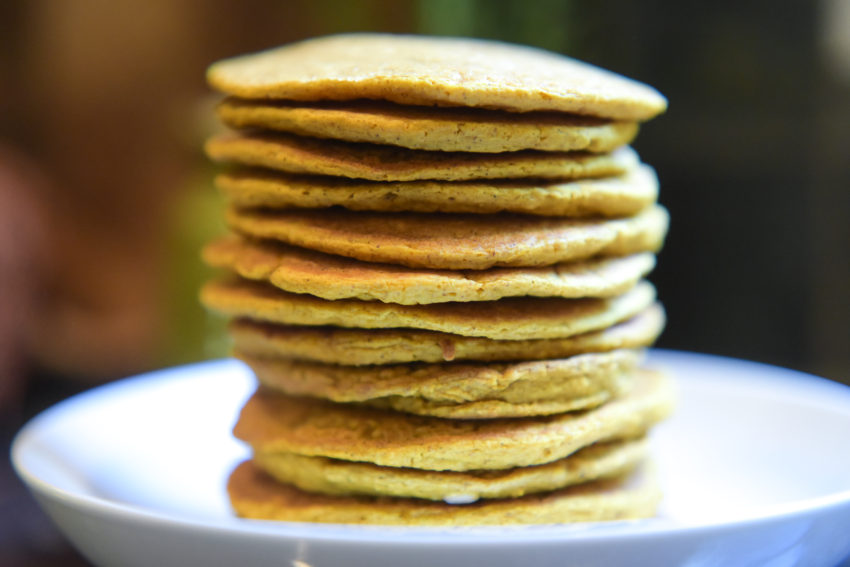 Just because these are for a *special* morning, I included a Pumpkin Pie Crumble for the top of the pancakes. This is a yummy and crunchy concoction that I often use on top of Greek yogurt for breakfast, or sprinkled on warm oats in the morning (just to give you other ways to use it). All you do it quickly toast oats, pecans, and cinnamon on a baking sheet…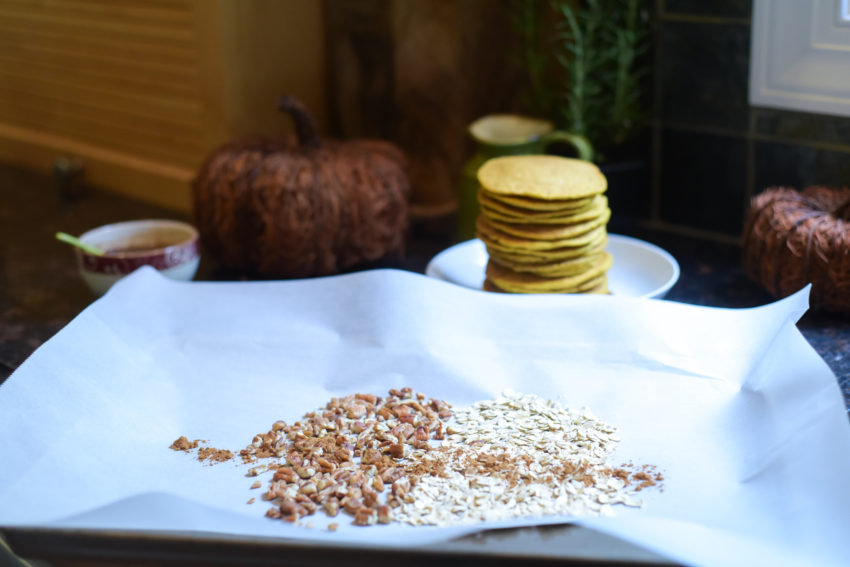 And when they are done, mash in 4 chopped dates, and a little vegan spread…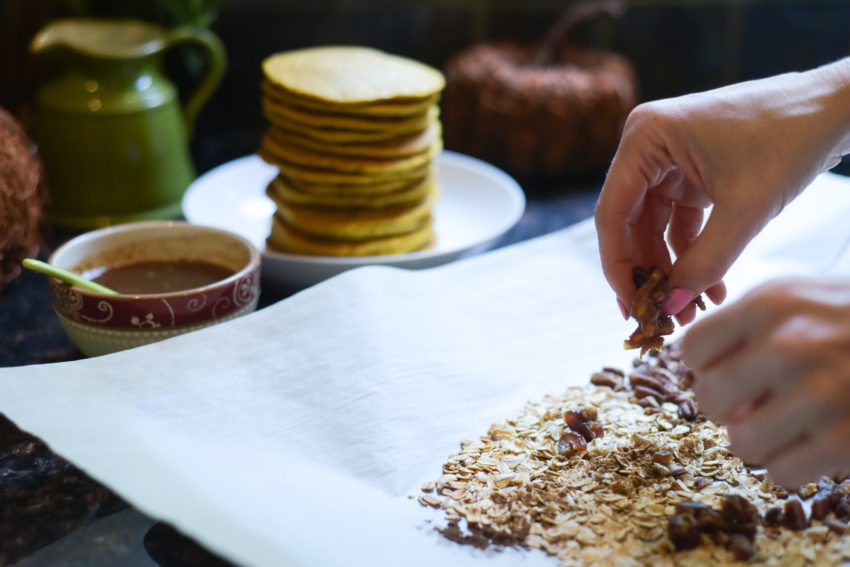 Then you have a crunchy and yummy topping to go on that pancake stack.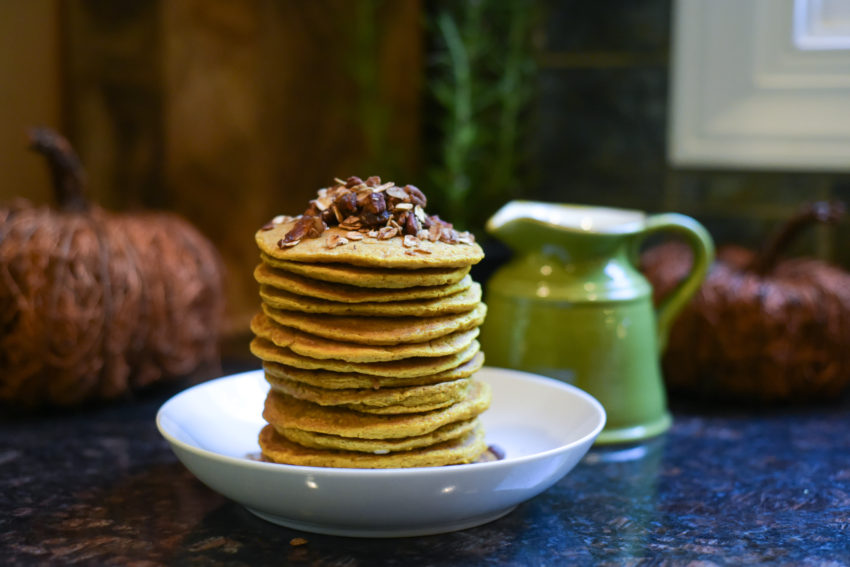 THEN, I couldn't stop there. I wanted to see if I could develop a pumpkin syrup using warm 100% pure maple syrup and stirring in a little pure pumpkin with pumpkin pie spice…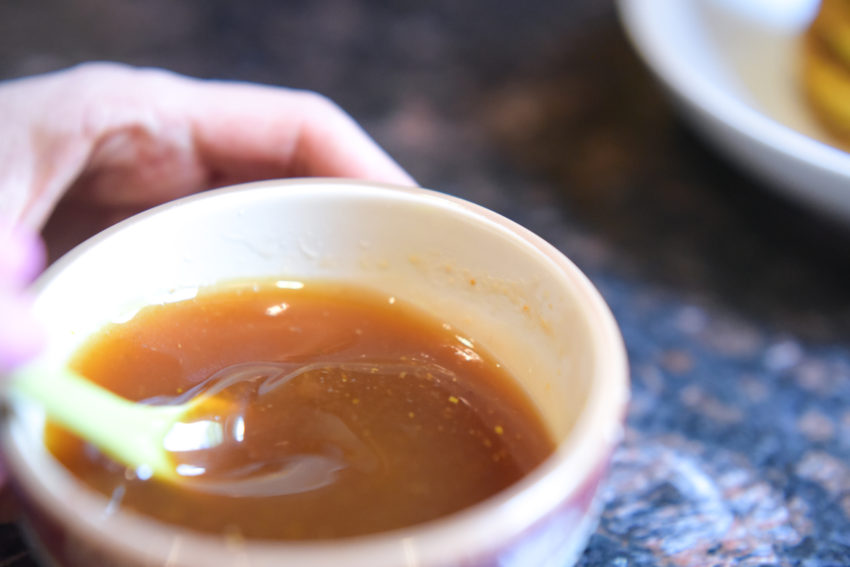 And it worked great!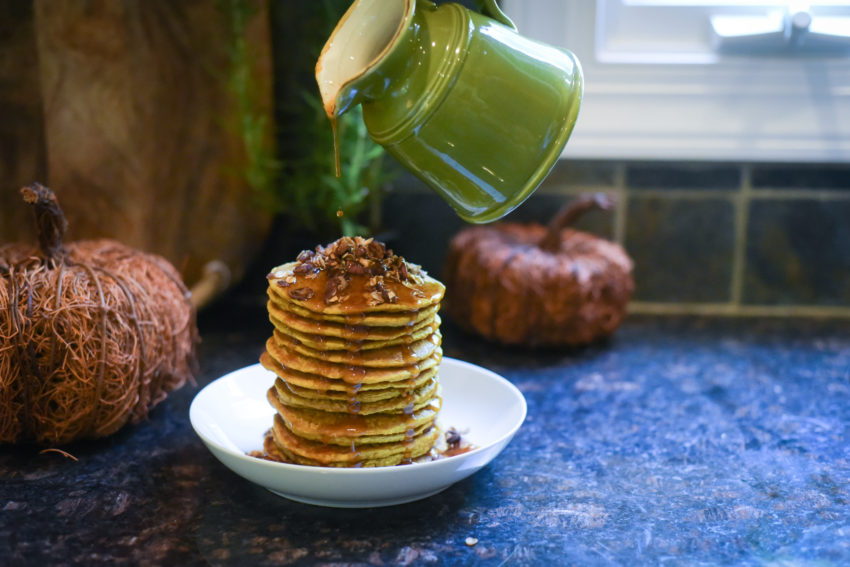 There you have it. I did a Facebook LIVE video on how to make these, including my One-Pan Chicken with Cider-Mustard Sauce and Homemade Peach Iced Tea, and people have already been messaging me at how much they like these pancakes! I hope you love them too.
If you make them, snap a pic and share it with me on Facebook, Instagram, or Twitter. I love to see what nutritious and delicious food you create!
Ingredients
Pumpkin Pie Pancakes
1 1/2 cup nut milk (such as unsweetened almond, cashew or coconut)
1/2 cup canned pure pumpkin
2 cups oats
2 tablespoons baking powder
2 tablespoons I Can't Believe It's Not Butter® Vegan!
1 tablespoon pumpkin pie spice
1 tablespoon 100% pure maple syrup
optional Pumpkin Pie Crumble topping:
1/4 cup oats
1/4 cup chopped pecans
1/4 teaspoon ground cinnamon
4 dates, chopped
1 teaspoon I Can't Believe It's Not Butter® Vegan!
optional Pumpkin Pie syrup:
1/2 cup 100% pure maple syrup
2 tablespoons pure pumpkin
1/2 teaspoon pumpkin pie spice
Preparation
In a high-powered blender, add each pancake ingredient in order. Blend for 15-20 seconds until batter is smooth.
Heat a pancake griddle to medium-high, and spray with nonstick cooking spray. Pour batter by 1/4 – 1/3 cupfuls. Let cook 3-4 minutes per side. You'll know it's time to flip them when small bubbles make their way to the middle of the partly-cooked pancake.
While pancakes are cooking, make topping: place 1/4 cup oats, pecans, and cinnamon on a baking sheet. Bake at 425º for 5 minutes, until light brown. Remove and sprinkle dates and vegan spread on baking sheet, mixing all ingredients around with a fork.
To make pumpkin pie syrup, warm maple syrup in a sauce pan. Stir in pumpkin and spice. Pour into a serving vessel.
Serve pancakes with topping and syrup beside. Enjoy your fall breakfast!
Makes: 12 – 14 pancakes
Prep time: 10 minutes
Total time: 25 minutes