This is one of those recipes that I find myself making almost weekly – because we usually have the ingredients around, and they make an excellent breakfast, or an energizing snack. ! I've realized that a momma can save a lot of money (and moods of the kids) by bringing a nutritious breakfast when on the run instead of eating something unhealthy, filled with sugar, or even fast food. Everything in this muffin batter gets blended in a food processor, so it's simple to make & clean up. And they're irresistible…

These muffins are mostly sweetened with a dark banana, along with some raw honey, but if your banana is super sweet, you can certainly use less honey. For the Greek yogurt, my favorites lately are the Greek yogurts that use stevia (a natural super-sweet herb) to sweeten, as opposed to added sugar. You could also just use plain Greek yogurt instead of vanilla.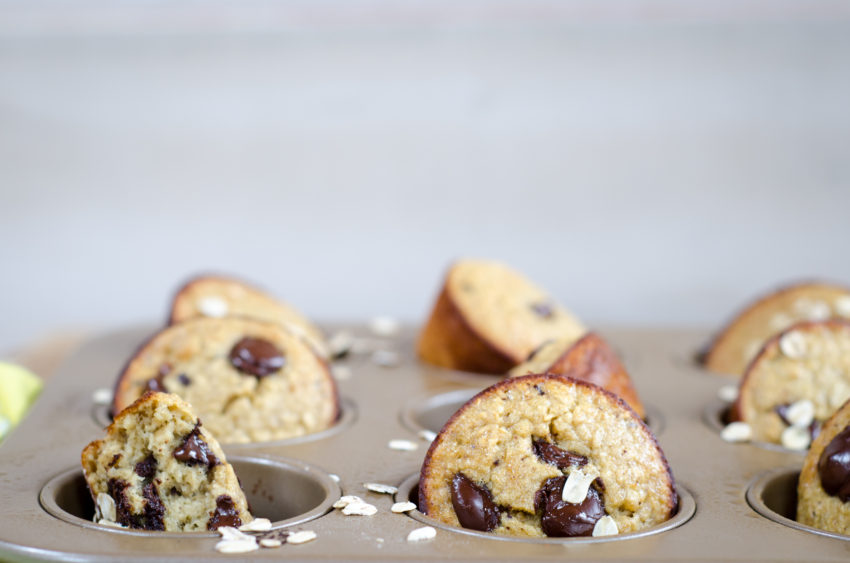 I hope you enjoy these! I would love to see you on Instagram, Facebook and Pinterest. Happy baking!
Ingredients
3 really ripe bananas (speckled stage or darker)
2 eggs
1 cup vanilla Greek yogurt (either sweetened with stevia or use plain Greek yogurt)
3-4 tablespoons raw local honey
1/4 teaspoon kosher salt
2 1/2 cups whole rolled oats
1 1/2 teaspoons baking powder
1/2 teaspoon baking soda
1/3 cup dark chocolate chips, chunks, or shaves
Preparation
1. Oven to 400 degrees F.
2. In a food processor, blend together the first 5 ingredients until smooth. Add the next three ingredients, and processing until smooth. Add dark chocolate, and pulse 3 times.
3. Evenly fill 12 muffin tins sprayed with nonstick cooking spray. (I like mine brimming to the top, so I made this recipe so that each muffin would be completely full).
4. Bake for 15 – 17 minutes, until done. They don't rise a ton, but they are delicious! Let cool slightly, then enjoy!
Recipe makes: 12
Serving size: 1 muffin