A decadent bite of toasted coconut & crushed almonds all wrapped up in nutrient-dense dark chocolate and sprinkled with pomegranate seeds & a sprinkle sea salt. These are the answer to needing a fun & sophisticated delicious treat for a holiday party…or as a gift 😉 ….or to eat yourself 😉
I created this recipe for Albertsons/Safeway. Watch here to see a 30 second video on how deliciously easy these are made!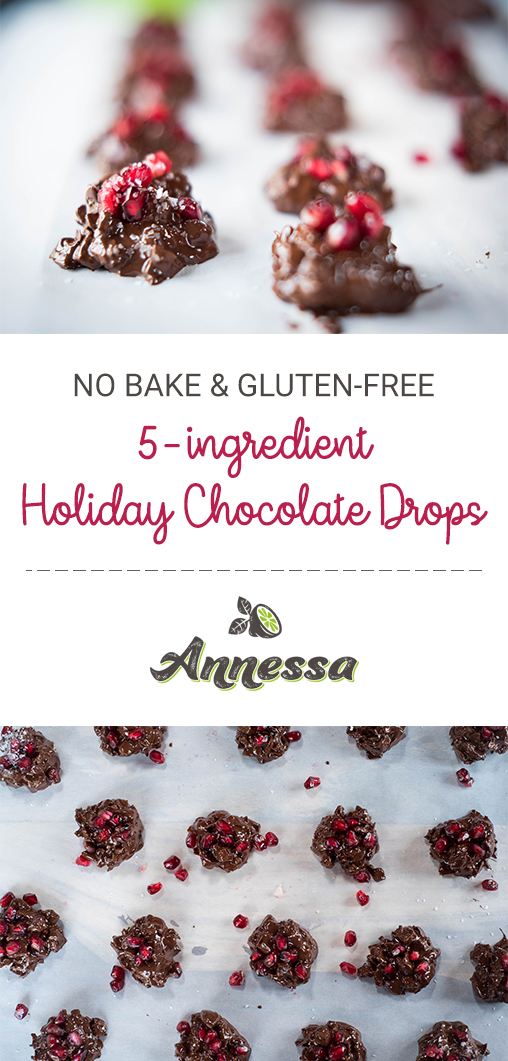 Dark chocolate….Once you begin to like dark chocolate, you can't go back.
Which is a good thing.
Chocolate is actually filled with health benefits. I mean, technically it's the bean from a tree, so it has to be healthy 😉 It is filled with antioxidants, and has anti-inflammatory benefits. A 2-ounce portion of dark chocolate a day is great for you, and will even help stave off sugar and fat cravings. It's that fulfilling.
Now, pair that chocolate with 4 other decadent yet healthful ingredients, and you have my perfect holiday treat! I adore recipes that are 5-ingredients or less to take to parties. Usually there is plenty to get ready any way, and when people taste something amazing and then find out it's so simple, they are shocked.
And this couldn't be easier…
First, crush some almonds.
You can of course use slivered almonds or sliced almonds and cut out the "work", but I love the way chopping whole almonds gives layers of texture to this simple recipe. Some of the almonds may stay in larger chunks, and some become pulverized into dust…and both are fine.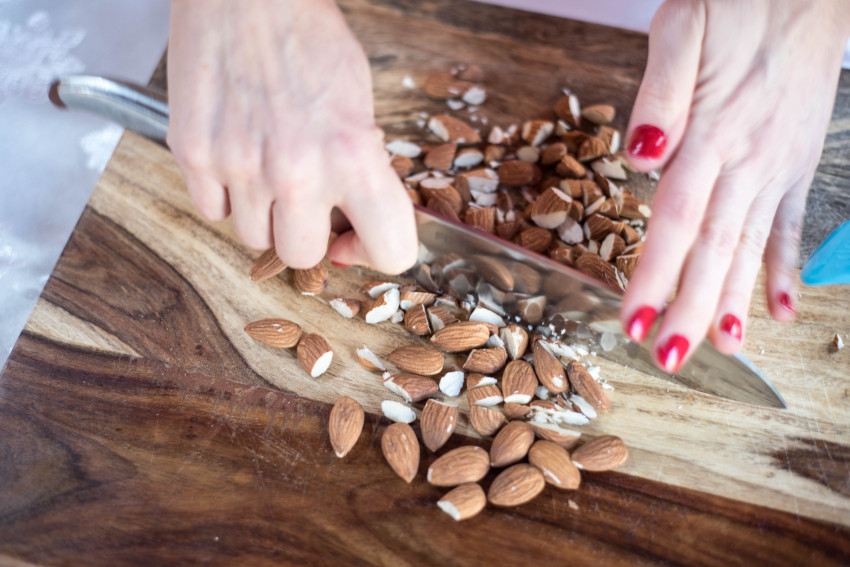 Lay those on a baking sheet and roast at 400º for 5-8 minutes, until they just start to toast. They will visit the oven again, so don't let them get too colored.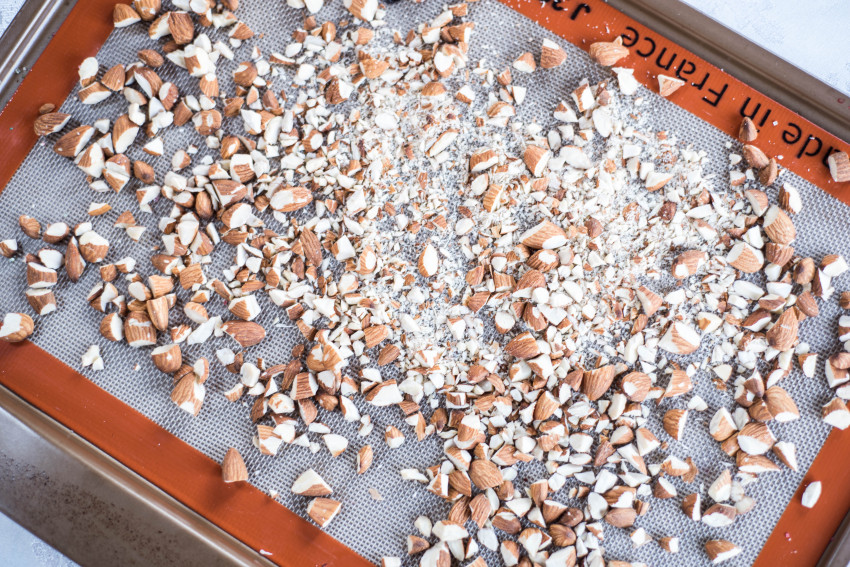 Sprinkle 1 cup of dried, unsweetened coconut flakes on top of the almost-fully toasted almonds. These are rich enough, so there's no need for sweetened coconut. Plus, it's nice to stay away from the overly processed items that have all that sugar added. The unsweetened flakes give the texture and taste of coconut, which totally delivers. Coconut always delivers…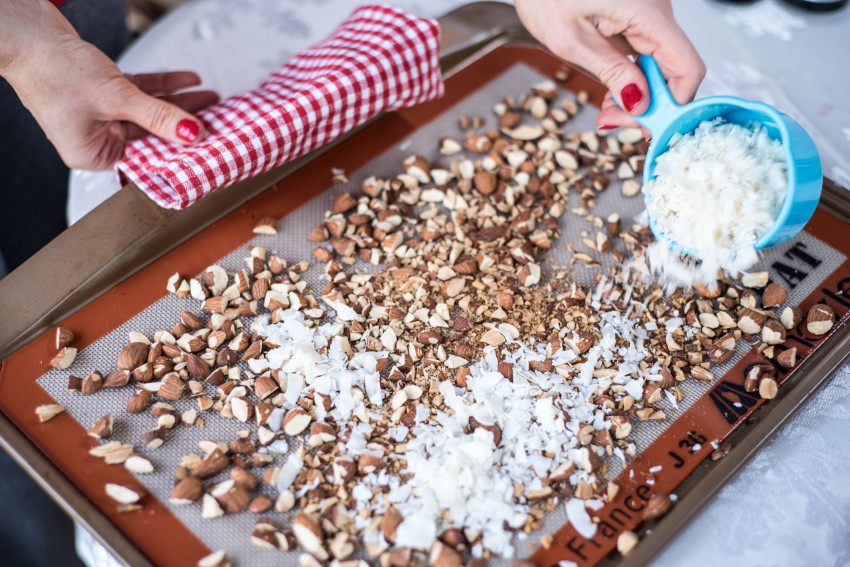 And put it back in the oven until 50% of the coconut is light brown. It won't all get uniform in color, and that's okay! No stress. We just don't want it to burn & waste a tray full of gorgeous coconut flakes…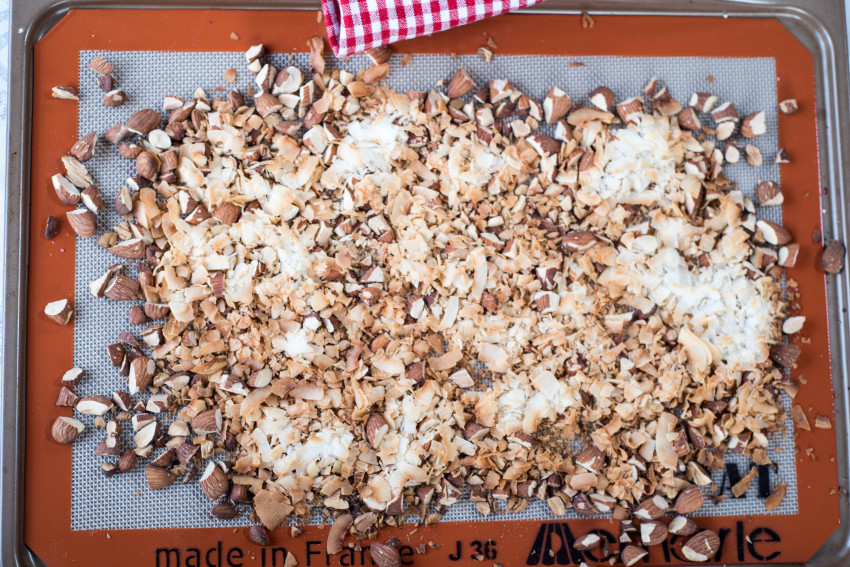 One of the best kinds of dark chocolate to start out using for beginners is Ghirardelli's Dark Chocolate Chips. It's 60% cacao, which is a great place to start, but if you can use 70-80%, that's even better. The health benefits increase as that percentage goes up.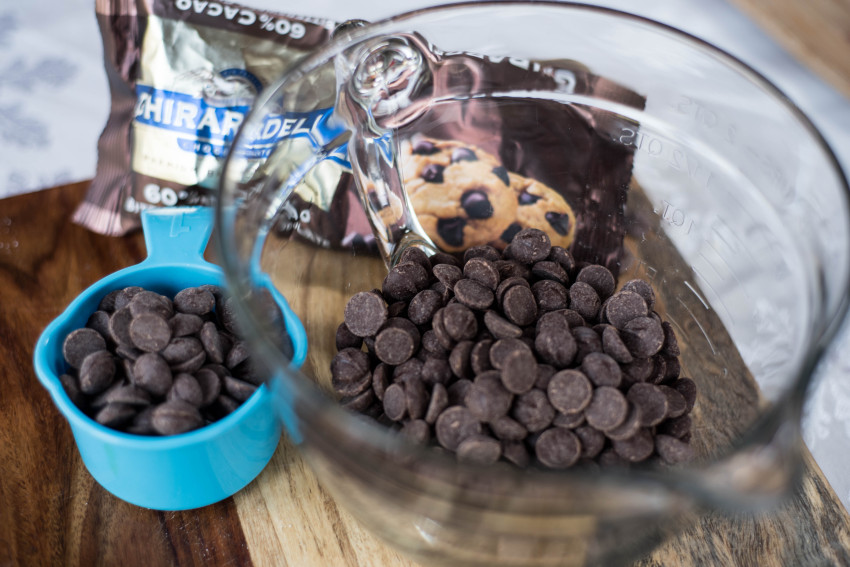 They are so easy to melt and have a silky texture and taste. Melt 2 cups in the microwave for 1 minute. It will look like this: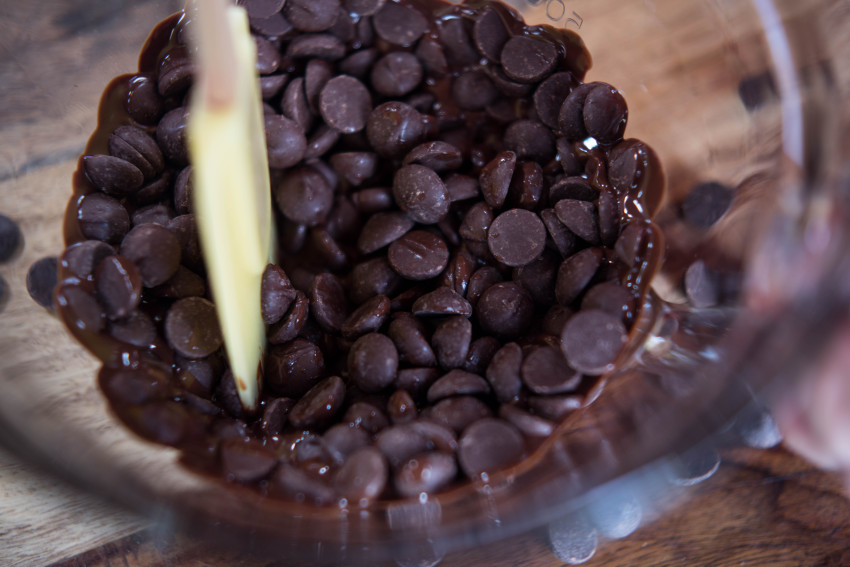 Stir, then heat it for another 30 seconds -1 minute. You'll know it's done when all the pieces look glossy, not dry. And even if there are still whole chocolate pieces, they will melt as your stir.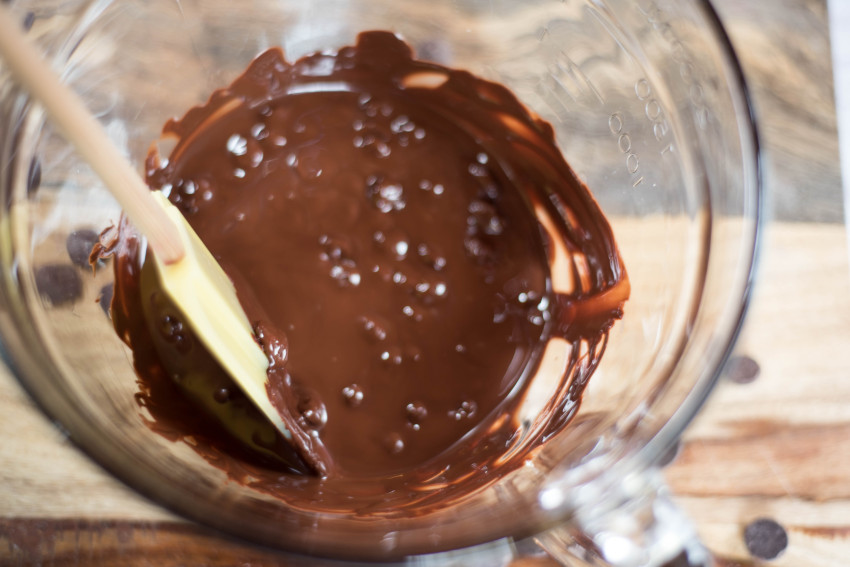 The most important thing is not to overheat the chocolate…it would change the chocolate's texture…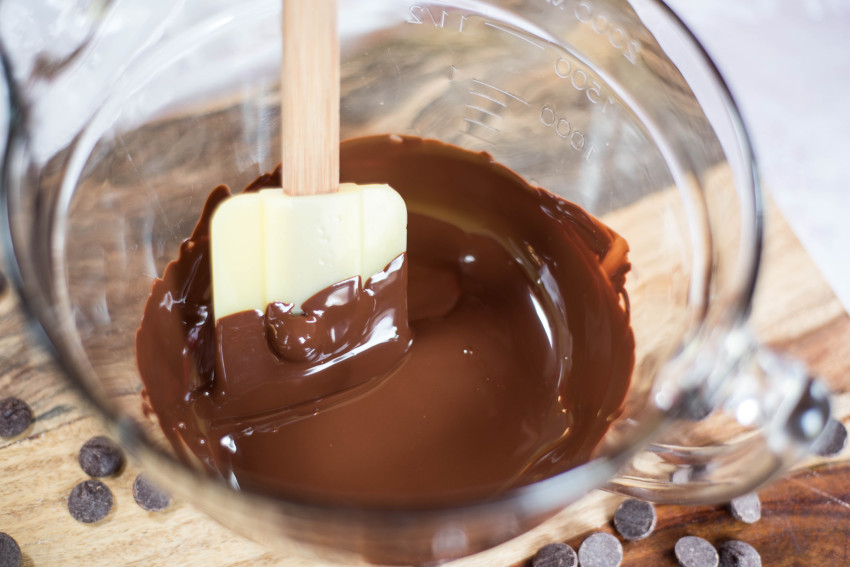 Pour the toasted almonds & coconut into the chocolate bowl.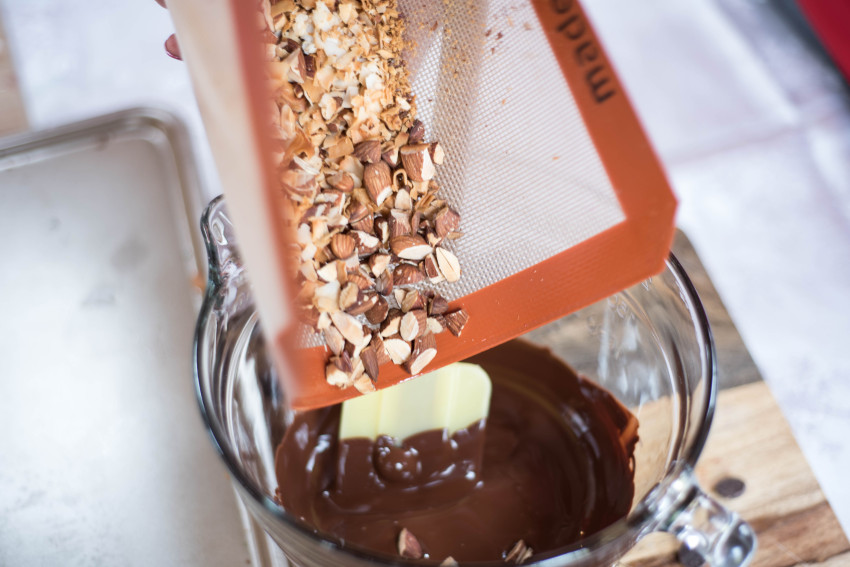 And stir until it's all gooey and delicious and "fully coated"…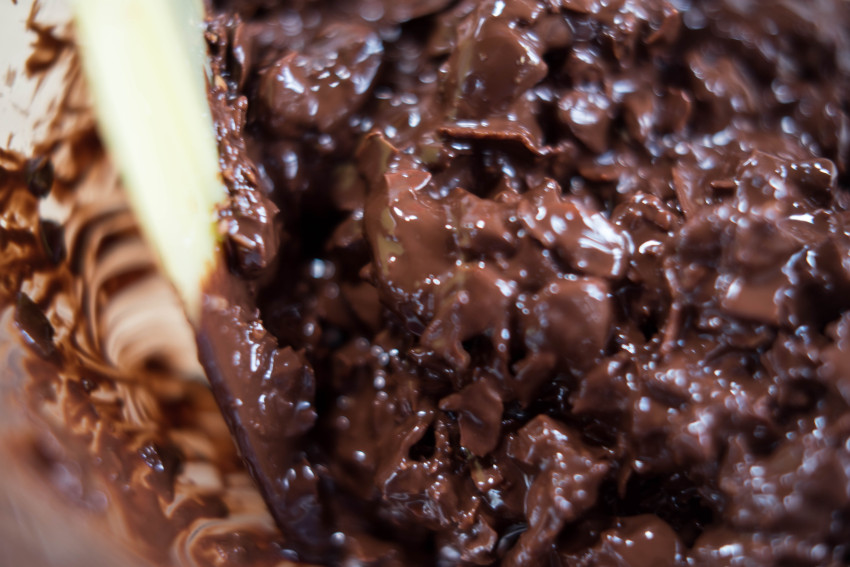 Scoop out about 2 tablespoons of chocolate mixture onto parchment paper.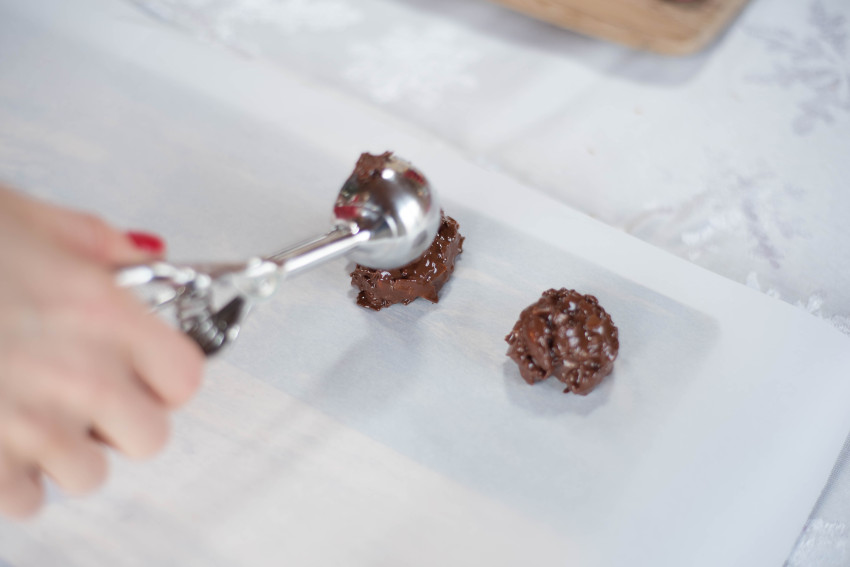 If you're using a little cookie scoop, mixture will naturally fall a little bit onto the paper so that it's not a heaped-up small mountain.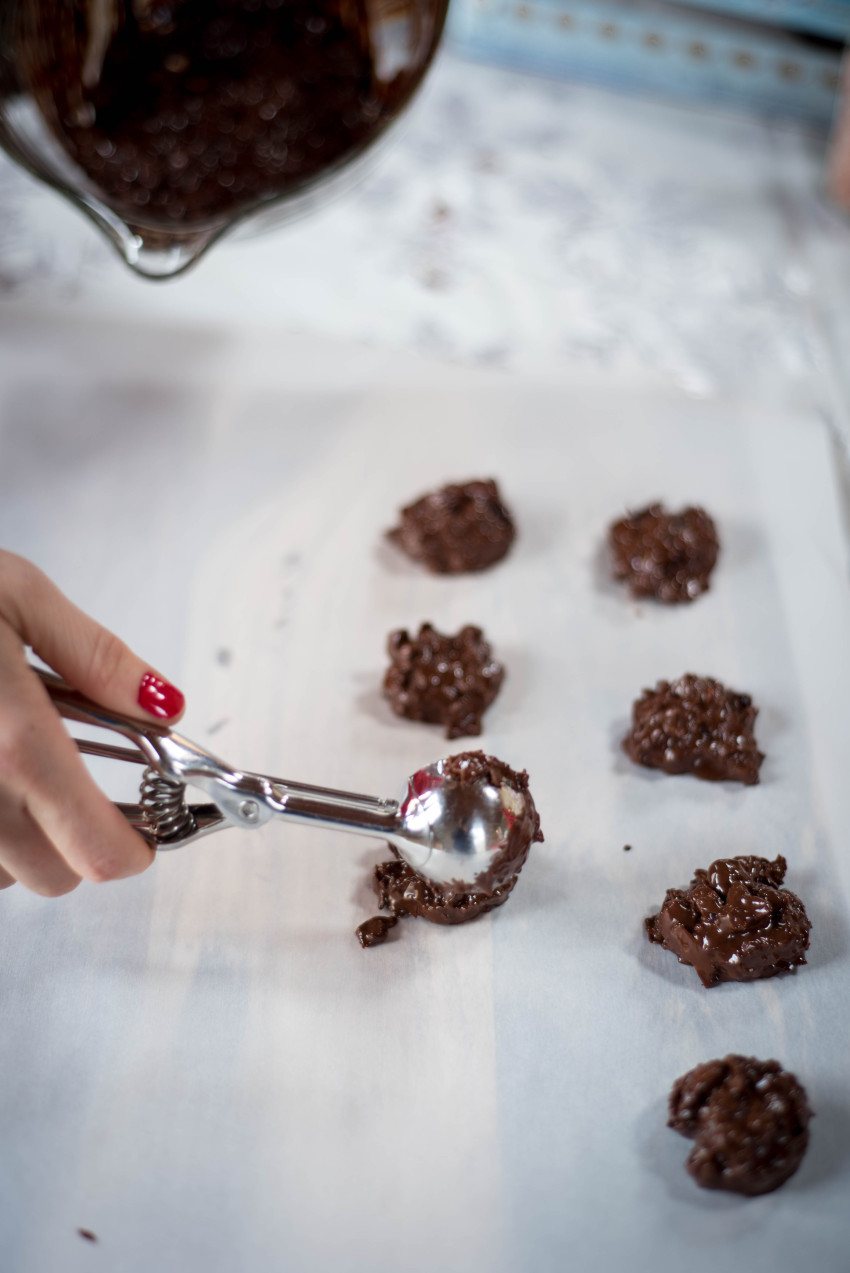 While they are still warm, sprinkle a few little pomegranate seeds – called arils – onto each chocolate drop. Pomegranates are in-season at holiday time, so they are not only the cheapest now, but also the sweetest. The seeds are filled with antioxidants , that if you burst one onto a white shirt, it will probably stain! Those fruits that are the brightest are typically the most concentrated with disease-fighting antioxidants. Pomegranates are especially good for your heart.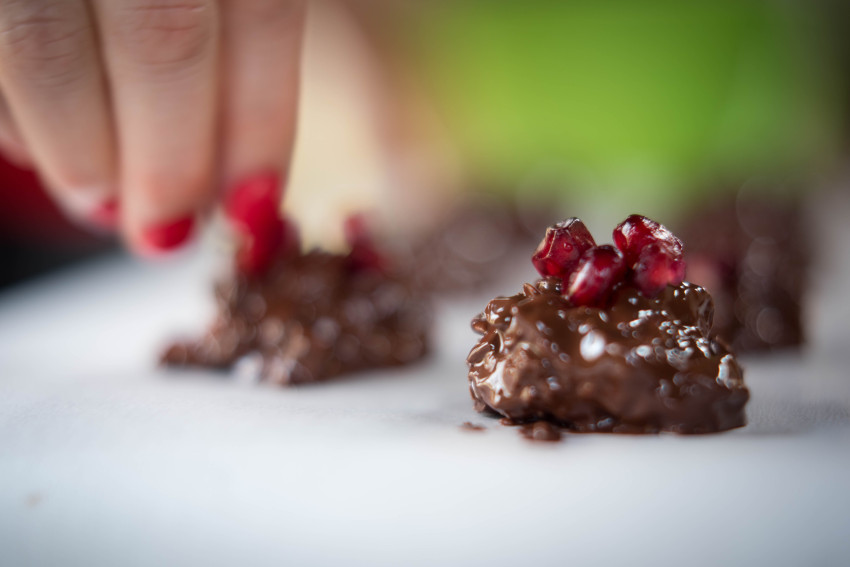 And, if you're feeling extra fancy, add just a teeny sprinkle of sea salt. The teeny bit of salt does have a purpose – it's not just trendy- it will magnify and intensify every flavor in that chocolate drop. I love doing this with recipes involving very few ingredients….making sure that each ingredient shines.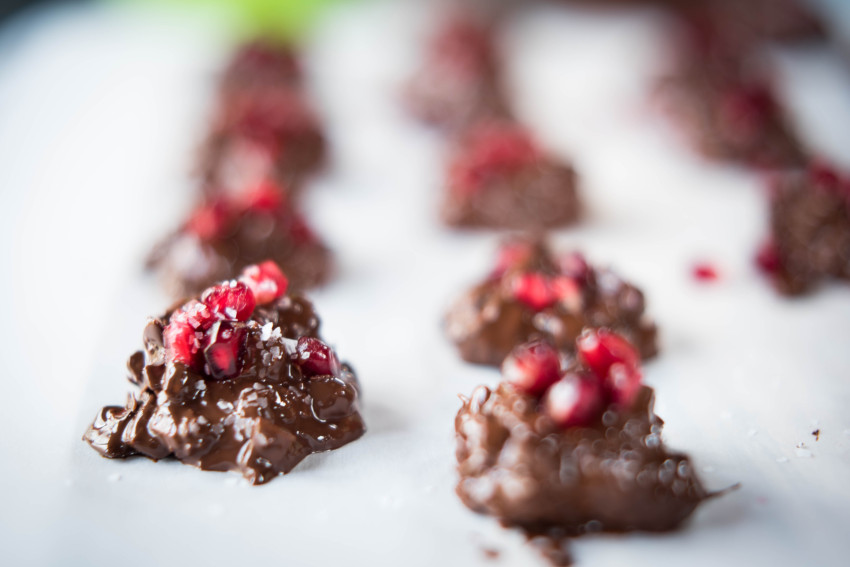 Simply let them sit out until they harden, or refrigerate them to speed up the process! You can find the full recipe and nutrition facts here in my recipe section!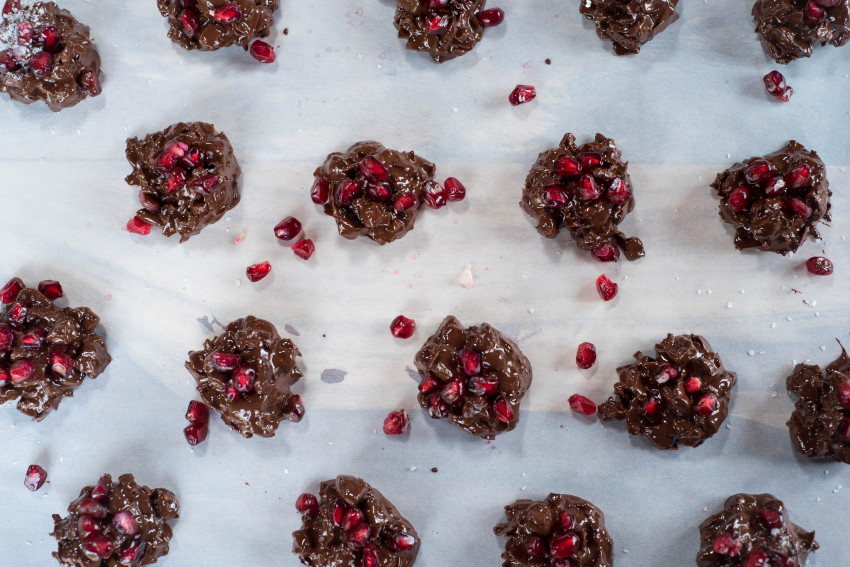 Ingredients
1 cup raw almonds, roughly chopped (or use sliced almonds)
1 cup unsweetened shaved coconut (unsweetened)
2 cups dark chocolate chips (60 – 70% cacao or greater)
1/4 cup pomegranate seeds
sea salt
Preparation
1. Preheat oven to 400º. Place chopped almonds on a baking sheet and roast for 5 – 7 minutes, until golden brown. Add flaked coconut during the last 2 minutes (simply sprinkle it on top of the almonds), and take it out as soon as it turns light brown.
2. Place chocolate chips in a microwave-safe dish. Microwave for 1 minute, then stir. Microwave another 30 seconds, stirring again. If chocolate is not fully smooth, continue to microwave in 10 second intervals, until chocolate is fully melted. Be careful not to let it overheat!
3. Stir in toasted almonds and coconut. Drop by heaping tablespoon fulls onto parchment paper. Sprinkle a few pomegranate seeds and a pinch of sea salt on to each.
4. Refrigerate until set, about 30 minutes (or let set 2-4 hours). Enjoy!
Notes:
– Always melt chocolate in intervals and stir in-between so that chocolate does not get overly heated nor burn. Even overly-heating the chocolate will change it's texture a bit, in a not-good way.
– To get uniform chocolate drops, or for a different presentation, scoop chocolate mixture into a mini-muffin tin filled with liners- this is a great idea if you're giving them as gifts!
– Refrigerate chocolate drops to speed up the cooling process.
Serving Size: 1
Prep Time: 15 minutes
Nutrition Facts
Amount Per Serving: Calories 44.6, Total Fat 3.6 g, Saturated Fat 1.4 g, Polyunsaturated Fat 0.4 g, Monounsaturated Fat 1.1 g, Cholesterol 0.0 mg, Sodium 8.2 mg, Potassium 25.0 mg, Total Carbohydrate 3.0 g, Dietary Fiber 0.8 g, Sugars 1.0 g, Protein 1.0 g