I was asked to create a colorful parfait with a few choice superfoods – mainly chia, coconut and matcha. Some of those you may have never heard of! Or, even if you've heard of them, maybe you've never tried them. Chia is a seed that absorbs liquid and, if you put it in a nut milk overnight, in the morning you basically have pudding. You can eat chia dry and crunchy, but when you soak them in a liquid overnight, your'e basically sprouting the seed and releasing a host of beneficial enzymes….and letting your body have more access to those nutrients. Chia seeds have an interesting mix of healthy fats; they are high in fiber, protein, and many minerals.
Matcha is a Japanese green tea powder that is very earthy tasting…and very addicting after you have it a few times. Matcha is a rich source of EGCG – a cancer-fighting, heart-protecting nutrient in green tea. We are still learning about what all EGCG can do in the body!
Have you ever tried matcha? Chia seeds? I would love to know what you thought!
I created this recipe with TONS of love & care & testing & re-testing;) Made for Albertsons Safeway.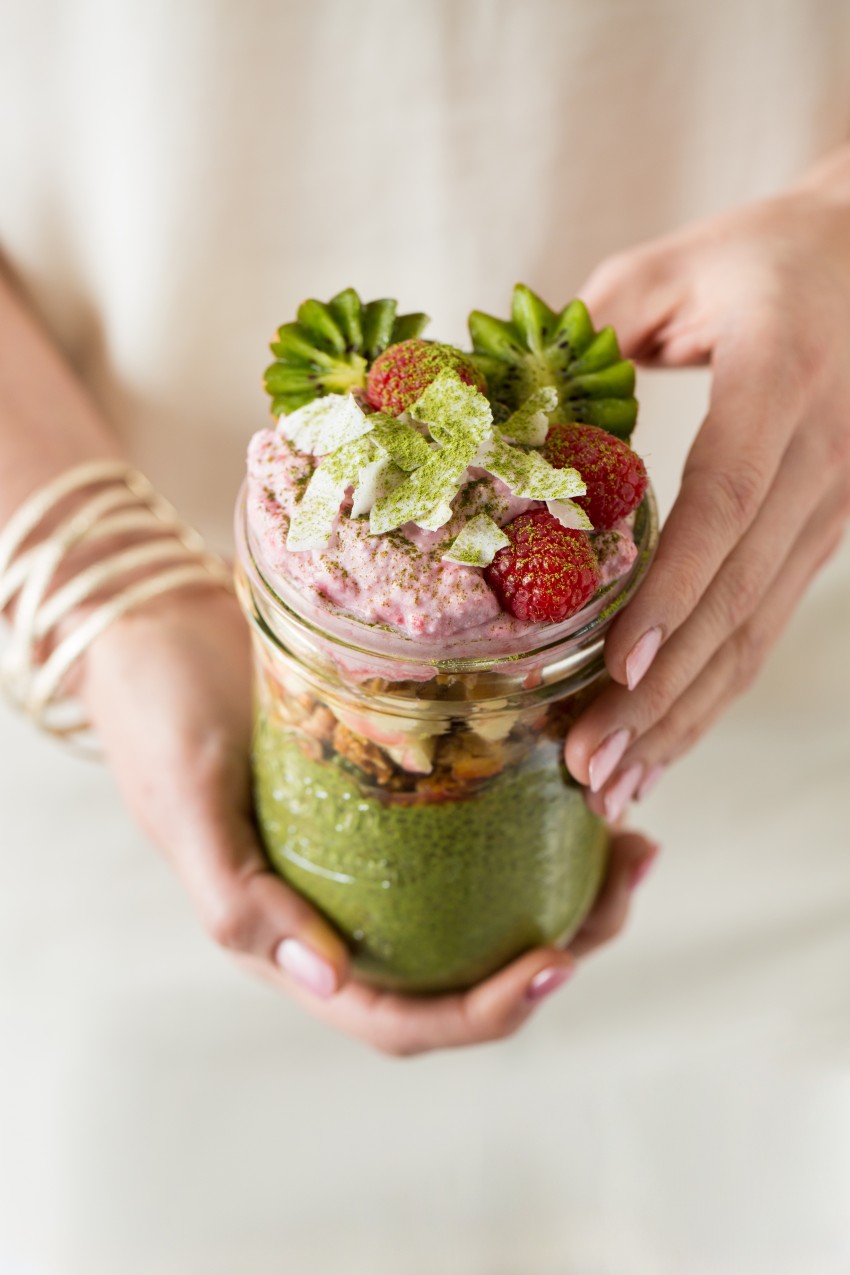 Ingredients
1st layer:
3/4 cup coconut milk
2 tablespoons chia
1 teaspoon matcha
1 scoop vanilla protein powder
2nd layer:
1/4 cup pure coconut granola or your favorite granola
1/2 fresh banana, chopped
3rd layer:
2 tablespoons coconut cream (spooned from the top of a can of full-fat coconut milk)
4-6 fresh raspberries
1/2 teaspoon raw and local honey
Toppings:
chopped kiwi chunks
fresh raspberries
shaved coconut
Preparation
1. In a medium glass jar, stir in the coconut milk, chia seeds, matcha, and protein powder, until everything is well combined and no clumps. If you don't use protein powder, you might want (no, you WILL want) to sweeten your chia pudding mixture with some natural sweetener, like a touch of pure maple syrup along with 1/2 teaspoon of vanilla extract. Cover and refrigerate overnight.
2. In the morning, add 2 tablespoons granola on top of the beautiful green mixture. Then sprinkle on chopped banana, topping it with the other 2 tablespoons of granola.
3. In a small glass, mash the raspberries and honey with the back of a fork. Using the fork, gently whip in the coconut cream, until a pretty pink color appears, with striations of the raspberry seeds. Add the raspberry-coconut cream mixture to the top of the jar, and then sprinkle on fresh chunks of kiwi, more raspberries, shaved coconut and a sprinkle of matcha powder. Enjoy!
Notes:
– remember, the chia pudding on the bottom might not be overly sweet (which is a good thing!), because you are sweetening it up with the added fruit and granola on the top.
– feel free to use whatever fruit you have on hand in this recipe; especially berries, apples or pineapple! I love the banana to add an extra sweet note
– buy honey that is LOCAL and raw for the maximum health benefits!
Servings Per Recipe: 2
Serving Size: 1/2 parfait (about 1/3 cup matcha chia, 2 tablespoons granola, 2 tablespoons coconut raspberry cream, 1/4 fresh banana)
Nutritional Information:
Calories 318, Total Fat 16.6 g, Saturated Fat 10.6 g, Polyunsaturated Fat 0.3, Monounsaturated Fat 0.5 g, Cholesterol 0.0 mg, Sodium 94.5 mg, Potassium 368.1 mg, Total Carbohydrate 29.1 g, Dietary Fiber 7.3 g, Sugars 13.7 g, Protein 17.9 g