This has been everyone's favorite lunch bowl. I showed this bowl on a Facebook LIVE video for Albertsons Safeway, and there were hundreds of comments! Maybe because it combines the awesome flavors of black bean, lime, and avocado. Or maybe because people love to argue over whether cilantro is edible or not, or maybe because it uses hummus as a base sauce. I was hoping it was popular because of its elevated nutritional status and plant-based wholesomeness, but….somehow I get the feeling that isn't the reason.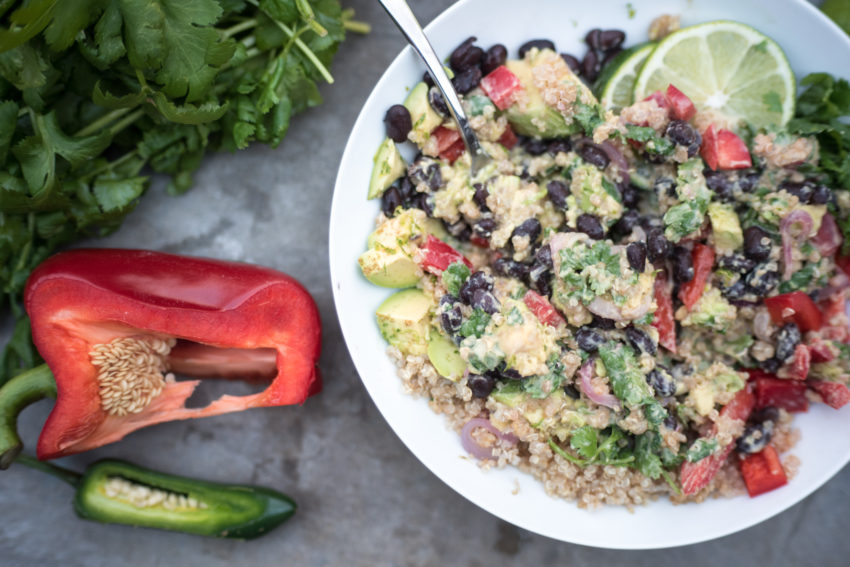 Have you ever turned hummus into something else? It is so convenient. You can use your favorite – or make homemade hummus. If I'm buying it, I look for a kind without added oils – like Zacca Hummus. My Lebanese friends have told me that original hummus was not made with added oils, but just with the liquid from the chickpeas! For this bowl, I made a sauce using traditional hummus, a handful of cilantro, chopped jalapeño..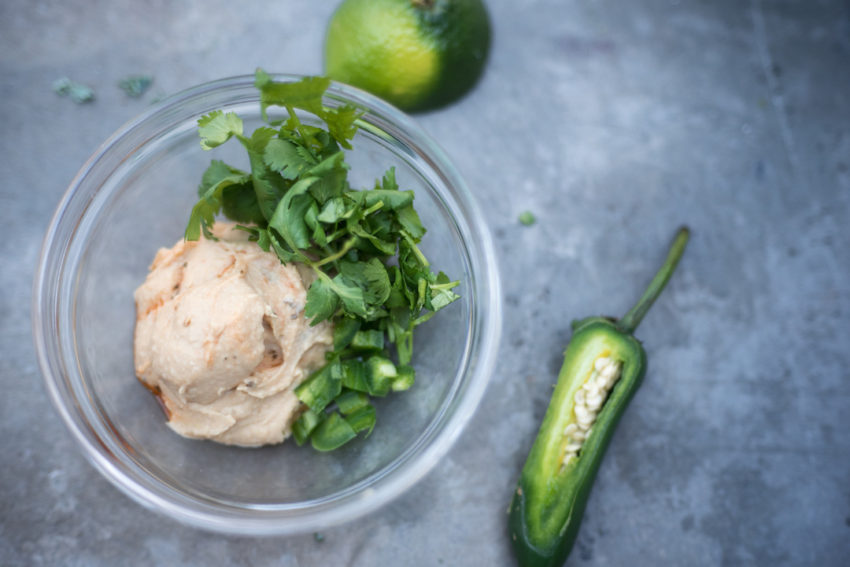 And stir in a large squeeze of fresh lime.
It makes the perfect sauce! ….it could easily be turned into a thick dressing for a salad. Just use a little more lime.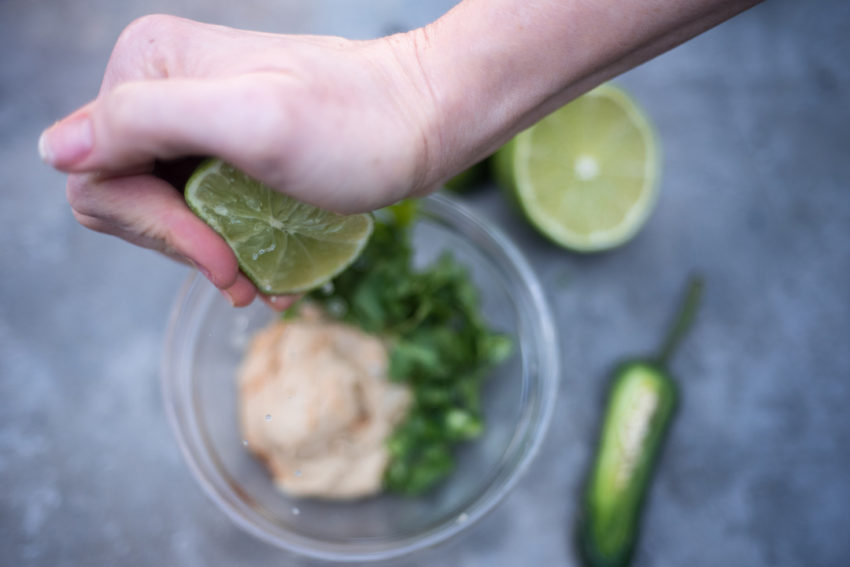 Someone commented that using hummus this way was WRONG. (I think that person was a chef, bless her heart;) I like to see food without limits….like a blank canvas that you can put together whatever flavors, colors and textures you personally think works!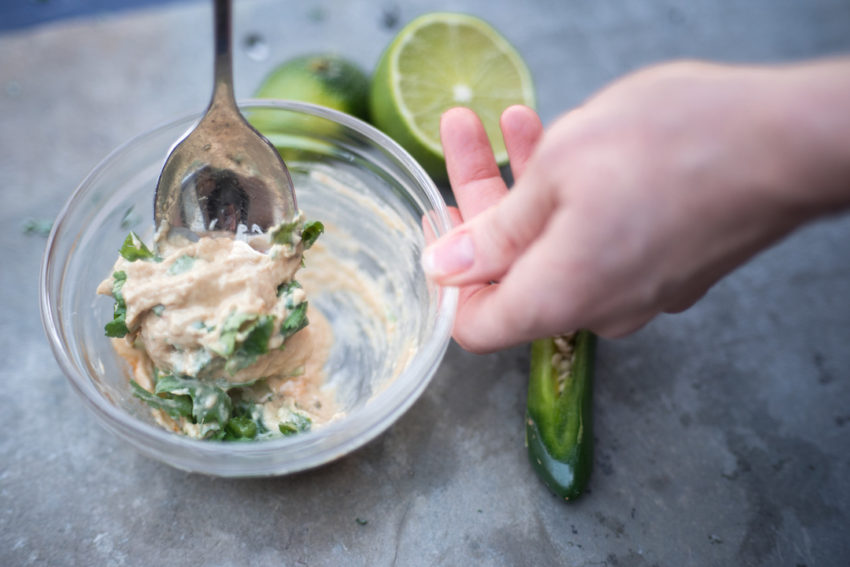 And you have a beautiful, delicious glowy sauce.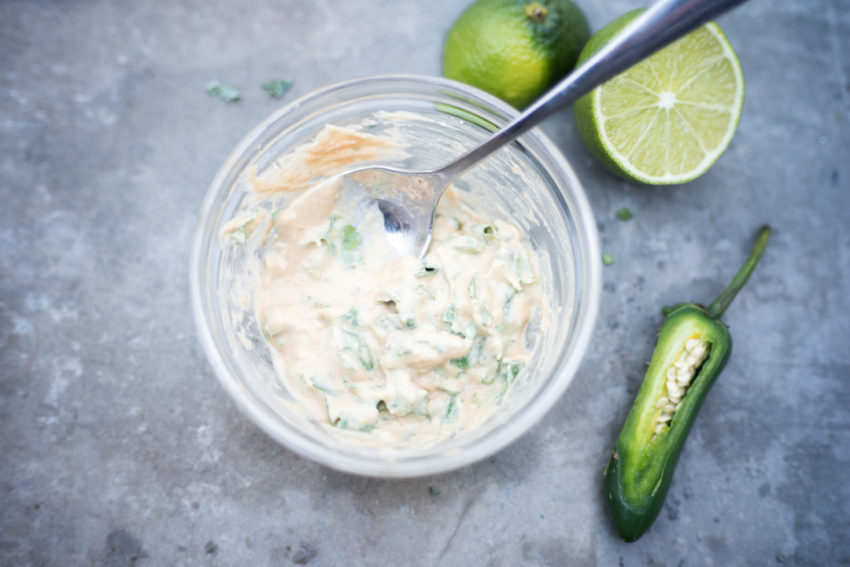 Add black beans – because we all need soluble fiber – because they taste amazing. No need to heat them, but you can if you'd like. We regularly have discussions at my house over whether beans need to be heated or not. Then chopped fresh red bell pepper, fresh avocado, and a quick easy-to-make quinoa that is flavored with red onion & cumin.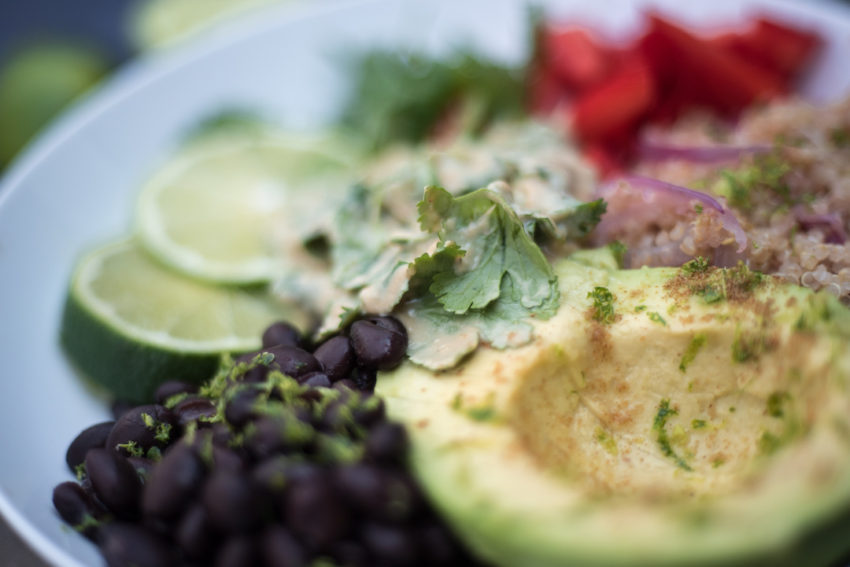 Oh – and! Another big bunch of cilantro. And ask whomever you're eating with how they feel about cilantro – and enjoy the discussion that follows 😉 It's usually a love/hate relationship.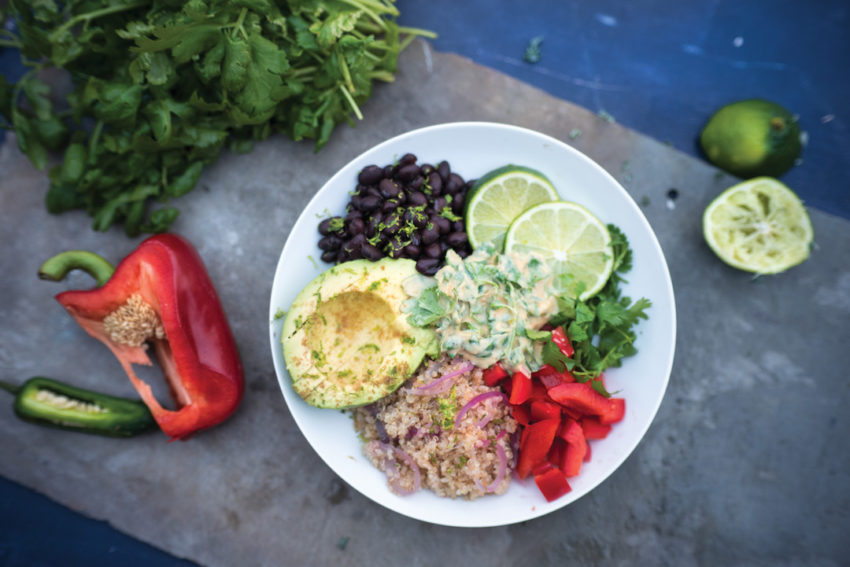 Ingredients
For the bowl:
1/4 red onion, thinly sliced
1/2 cup uncooked quinoa
1/2 teaspoon ground cumin
1/2 cup black beans, drained and rinsed
1 avocado, pitted & sliced
1/2 red bell pepper, chopped
zest of 1 lime and lime slices
For the hummus sauce:
1/4 cup plain or traditional hummus
1-2 tablespoons fresh lime juice
2 teaspoons minced jalapeño pepper
1/4 cup fresh cilantro, roughly chopped, plus more for top
Preparation
1. In a small saucepan add quinoa and 1 cup water. Bring to a boil, then reduce heat, cover and simmer for 12 minutes. During the last 5 minutes of simmering, add sliced onion to the top of the partially cooked quinoa. You don't even need to stir it in! Adding the onion to the top is going to let it steam while the quinoa finishes cooking. Cover and finish cooking. When quinoa is finished, toss it lightly with kosher salt and ground cumin.
2. In a small bowl, make the hummus sauce: stir together hummus, lime juice, jalapeño, and cilantro. Add more lime juice if needed to thin it out a bit.
3. In two serving bowls, divide ingredients: cooked quinoa, black beans, avocado, and red bell pepper. Add lime zest over the quinoa & black beans. Put hummus sauce in the middle of each bowl, and sprinkle extra cilantro over the whole bowl. Enjoy!
Notes:
– if you don't like cilantro, feel free to switch the herb to flat-leaf parsley. It also tastes amazing in this bowl!
– sprinkle extra cumin over avocado for more smoky flavor
Prep Time: 12 minutes
Total Time: 15 minutes
Servings Per Recipe: 2
Serving Size: 1 bowl
Nutritional Information:
Calories 382, Total Fat 19.0 g, Saturated Fat 2.1 g, Polyunsaturated Fat 1.6 g, Monounsaturated Fat 8.5 g, Cholesterol 0.0 mg, Sodium 265.1 mg, Potassium 809.6 mg, Total Carbohydrate 48.7 g, Dietary Fiber 14.2 g, Sugars 2.4 g, Protein 12.0 g