If you need a warm bowl of comforting porridge for leftover winter feelings, but with the anticipation of the freshness of spring, this is your recipe! Baked oats are so fun and easy to whip up. Have you tried them yet? This is my favorite way to make them….this recipe is dairy-free and gluten-free, but still decadent and delicious, thanks to some of the awesome ingredients. It's something fun we like to enjoy on spring mornings.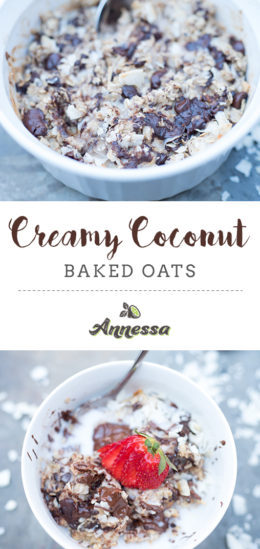 First, just combine whole rolled oats and unsweetened coconut or almond milk in the dish you are going to bake it in. I love to figure out ways to use as little dishes as possible!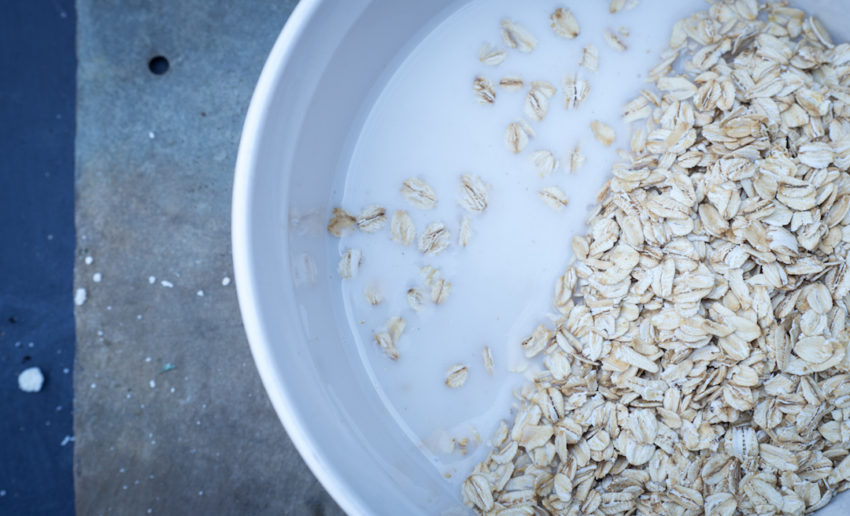 Now for the magical ingredients. Coconut butter and unsweetened cashew butter. These are rich ingredients, so you just use a little bit at a time, but they are what make those baked oats creamy….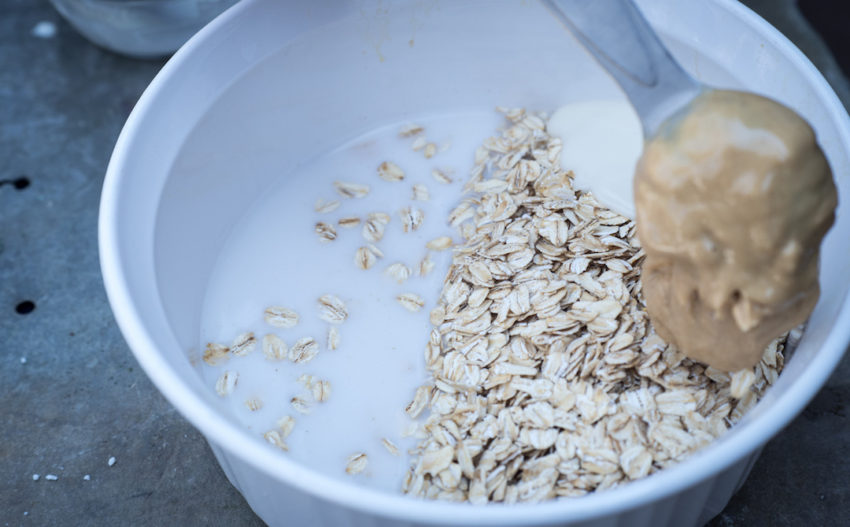 And – the ingredient that sweetens the oats – ripe banana. I usually use ripe banana that I've already frozen, but you could use either – frozen or fresh. then add unsweetened coconut flakes…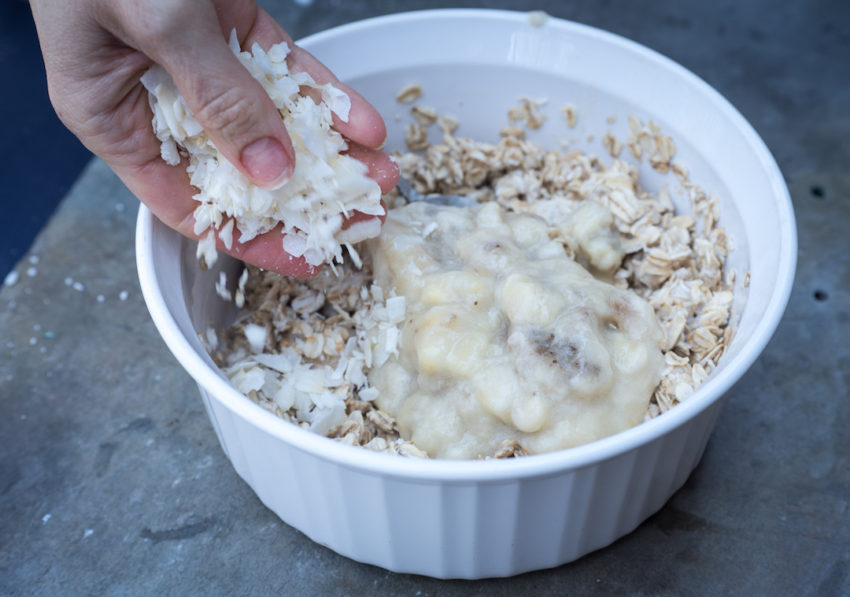 Finally, sprinkle on some shaved dark chocolate. One of my favorites is from Endangered Species. They are local to where I live, and not only is their chocolate pure, delicious and fair-trade, but a portion goes to wildlife protection programs. And that gorgeous dish goes into the oven…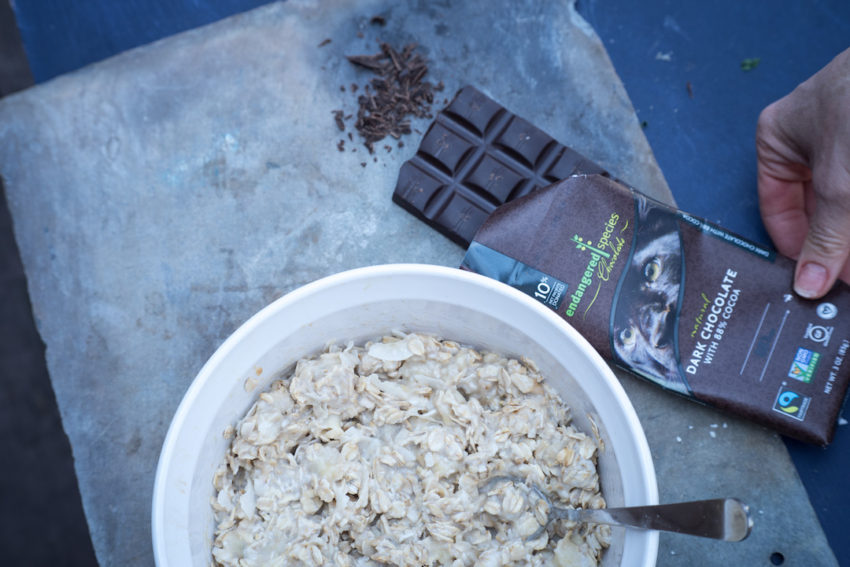 After it's baked, we love to pour warmed coconut milk over it…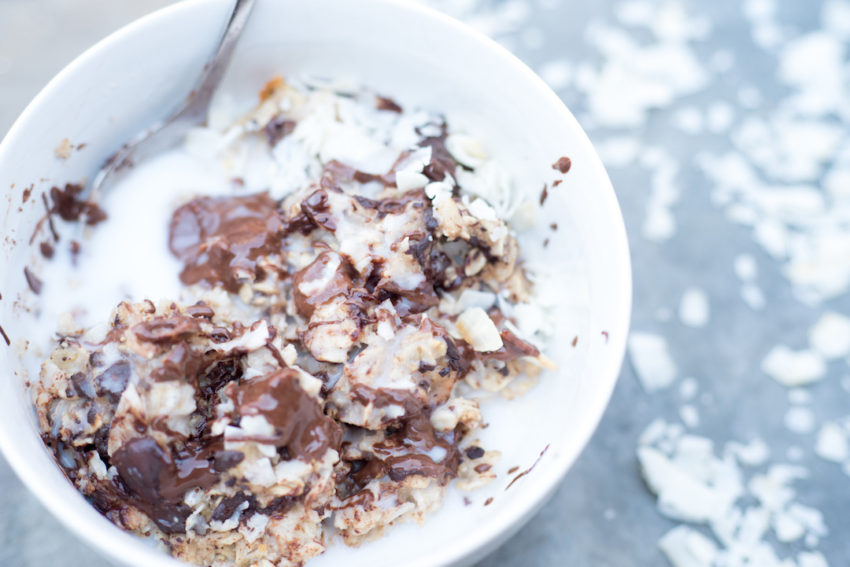 Be warned that it's not overly sweet, which was purposeful. You can adjust the sweetness to your preference after it has been baked. We love to sprinkle it with fresh, ripe strawberries. It's a spring comfort porridge bowl.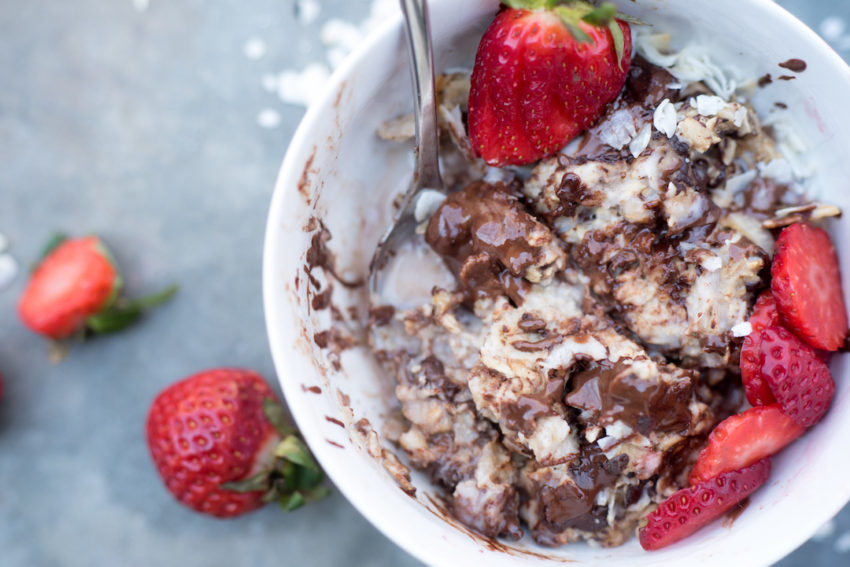 If you've followed me for awhile, you know I would much rather see something be made than read about it, so I love to bring these recipes to you via Facebook! 
I created this recipe for Albertsons Safeway, and I hope you enjoy it!  
Ingredients
1 1/2 cups whole rolled oats
1 cup unsweetened vanilla almond milk or coconut milk
1/4 teaspoon kosher salt
2 – 3 tablespoons coconut butter
1 tablespoon cashew butter
1/3 cup unsweetened coconut flakes
2 really ripe bananas (its fine if they're frozen)
2 ounces dark or unsweetened chocolate
Preparation
1. Preheat oven to 350º.
2. In a small baking dish, add oats, almond milk, and salt. Melt coconut butter in the microwave (or stovetop) – 30 seconds or just until melted. Stir coconut butter, cashew butter and coconut flakes into oats.
3. Mash bananas with a fork. Stir banana mash into oat mixture. Top with shaved dark chocolate.
4. Bake for 20 minutes. At this point, you can turn your oven to a low broil for 1-2 minutes to make the top oats extra toasty (but you don't have to). Serve in bowls with a little more warmed almond milk (or coconut milk over) poured over. Enjoy!
Serves: about 6
Prep time: 5 minutes
Total time: 25 minutes
Nutrition Facts
Servings Per Recipe: 6
Serving Size: 1/2 cup
Amount per serving: Calories 244.9, Total Fat 11.7 g, Saturated Fat 7.1 g, Polyunsaturated Fat 0.8 g, Monounsaturated Fat 1.5 g, Cholesterol 0.0 mg, Sodium 38.4 mg, Potassium 165.4 mg, Total Carbohydrate 33.8 g, Dietary Fiber 4.6 g, Sugars 11.7 g, Protein 4.6 g