Did you watch the big game Sunday night? ….Did your team win? Many of you asked for all of the game night foods in ONE place, so I'm happy to supply them here! It's a line-up of 6 excellent party foods that received rave reviews at my house…and they are in video form below so you can watch them being made! WTHR Channel 13, the NBC affiliate in my home city, has been coming into my kitchen monthly to cooking up some healthful magic. Just for them, I put together a Super Bowl Spread based off what their anchors sent me that was their favorite classic Super Bowl food. And I'd love to share the videos and recipes with you…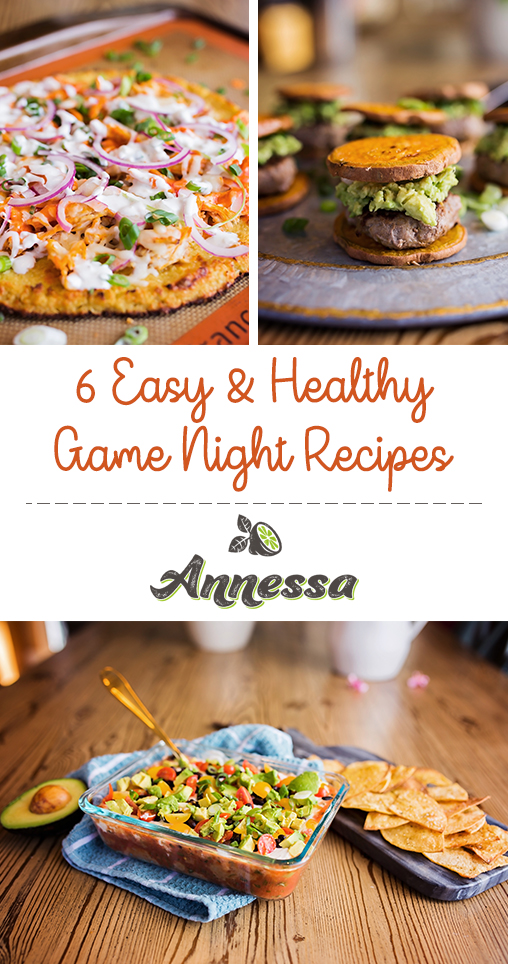 A take on a healthier burger: Sweet Potato Sliders are made with 5 easy ingredients. They are non-dairy, gluten-free, and super YUMMY. Then a chocolate treat to kick those cravings…Gooey Gluten-Free Chocolate Cookies. Watch for the secret ingredient…
Delicious 3-Layer Dip is something that can be thrown together in a pinch, but tastes amazing. If you are dairy-free, feel free to skip layer #2, and just pile on extras on top.
Loaded Buffalo Chicken Pizza was made using a Cauliflower Pizza Crust and is SO DELICIOUS. We've had cauliflower pizza about every other night – with different toppings – in preparation for this segment and photoshoot. My kids never complained…my picky eater even loves this stuff! It's low-carb and gluten-free:
Easy Baked Nachos is more of idea than a recipe, but they turned out SOOOO yummy, I think I might turn them into one! I just took Homemade Baked Chips, stacked them while they were hot, then added some sharp cheddar cheese (a Mexican blend of cheese would work well too), and put them back into the oven until melted. Then top them with whatever suits you….
Which one would be your favorite?