Why Winter Smoothie Bowls? A bowl full of anything is comforting…there is something about it that makes you slow down even if just for a moment. The beautiful thing about a smoothie bowl is that it can be loaded with powerful ingredients, and includes tasty toppings. It's thicker than a smoothie, but thinner than ice cream, and, let's be honest…they are just fun! If it can be a vehicle for powerful produce, then I am all for it. Smoothie bowls shouldn't stop in winter! This time of year may be when it is best to get in loads of nutrients delivered full force – for supporting a system that's working hard for you all season – your immune system. Want to ward off possible colds, sickness and fatigue? There's a plant for that, and these four delicious smoothie bowls were designed with the immune system in mind.
Smoothie Bowl Tips:
keep it to seasonal ingredients; they will be the ripest and are the richest in disease-fighting plant chemicals!
smoothie bowls should be a little thicker than a smoothie, so use a little less liquid and add more as needed
keep the toppings just as fresh & healthy as the smoothie; nuts or seeds make an excellent topping, because many nutrients rely on healthy fats to be absorbed and utilized properly
Spiced Pear Smoothie Bowl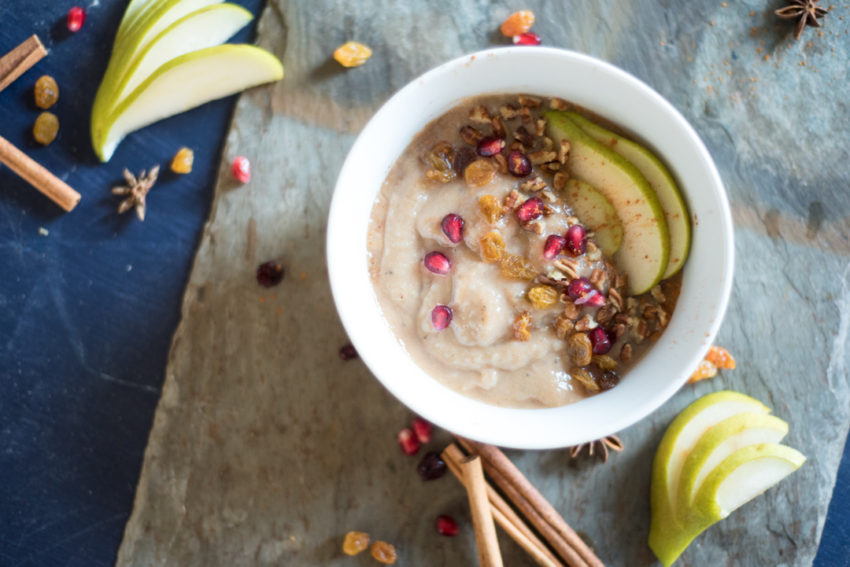 I love to eat this bowl sitting by the fire and enjoy it wrapped in a cozy sweater. Cinnamon is a natural anti-microbial, and pomegranate is concentrated with antioxidants, helping to fight infection. Give your body support and protection with this smoothie bowl.
Immune-boosting ingredients: cinnamon and pomegranate
1 small ripe pears, seeded and chopped
1 frozen ripe banana
1/2 teaspoon cinnamon
1/8 teaspoon ground allspice
pinch of ground cloves
1 scoop vanilla protein powder
almond milk, just to thin out
toppings: pomegranate seeds (arils), golden raisins, toasted pecans, ground cinnamon, or star anise
In a blender or a food processor, add pears, frozen banana chunks, cinnamon, allspice, and a scoop protein powder. Pour in just enough almond milk to be able to blend it.
Winter Beet Smoothie Bowl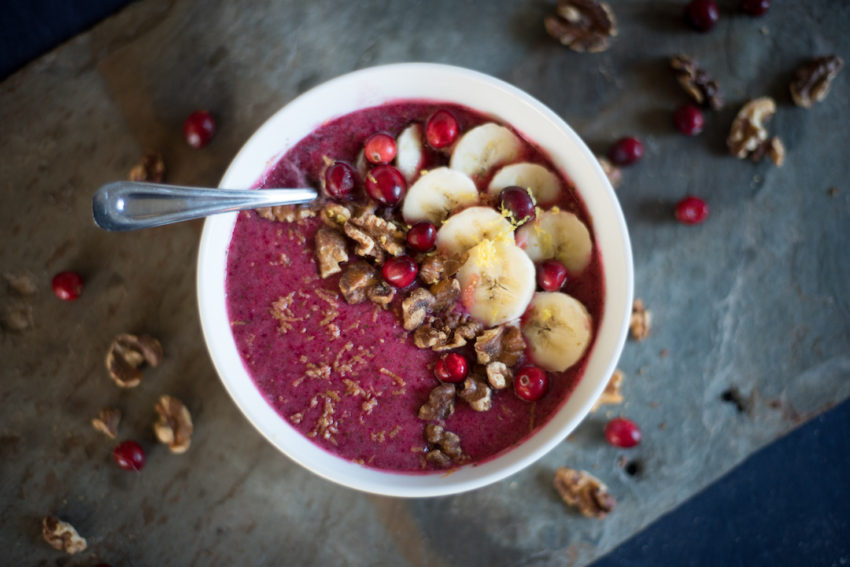 This bowl is sweet & delicious, but loaded with active plant nutrients that will help to support you during cold season. Think of ginger as the immune-system warrior – it's compounds are intense, and go to work in the body immediately. Beets fight inflammation and aid in detox – and in this bowl you are getting their full effects, because they are raw. Whether you're on the brink of a cold, or in the middle of one, this smoothie bowl may give you some relief!
Immune-boosting ingredients: beets and ginger
3/4 cup coconut water
1 cup fresh or frozen pineapple chunks
1/2 cup bright red fresh raw beet, washed (about 1/2 of a beet)
1 ripe banana, frozen
small handful baby spinach leaves
1/2 teaspoon grated fresh ginger
1/2 teaspoon lemon zest
toppings: sliced banana, roasted walnuts, lemon zest, fresh cranberries
Put all ingredients in a high-powered blender and blend on high until smooth. Spinach leaves should be become completely smooth, too. Add another splash of coconut water if needed to make it the right consistency.
Pour into bow, and add any toppings. Enjoy.
Apple Pie Smoothie Bowl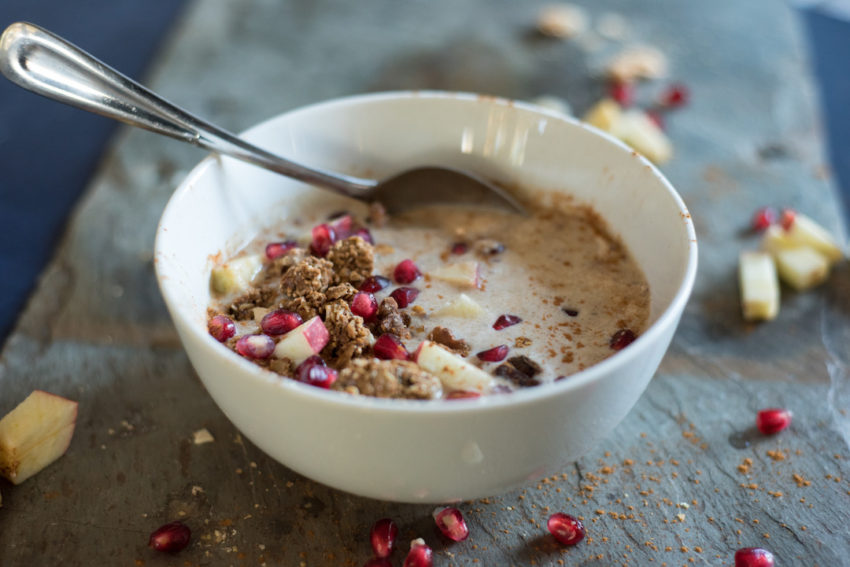 A creamy immune-boosting smoothie bowl that tastes like a comforting dessert. Wheat germ is high in vitamin E that is needed for strong immunity, protecting the cells from damage. Your immune system relies on a healthy gut, and the soluble-fiber from apples help to keep it clean and healthy.
immune-boosting ingredients: wheat germ and apples
4 ounces vanilla almond milk
2 tablespoons whole rolled oats
1/2 cup chopped Gala apple (skin left on)
1 tablespoon cashew butter
2 teaspoons toasted wheat germ
1/4 teaspoon almond extract
1/2 teaspoon ground cinnamon
toppings: pomegranate seeds, granola, raw walnuts, chopped apple
1. Combine everything in a blender and blend on high until smooth. Also, add a scoop of vanilla protein powder to make it a complete breakfast smoothie bowl.
2. Pour into a bowl and top with any of the above!
Sweet Lime Acai Smoothie Bowl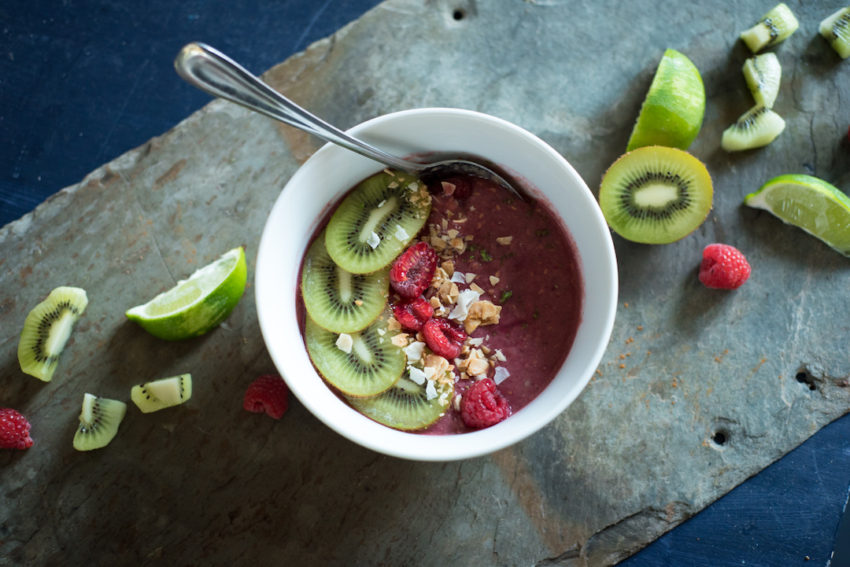 A tropical-tasting winter smoothie bowl with tons of powerful lime which has antibiotic properties, protecting you from colds while delivering lots of vitamin C – the body's main water-soluble antioxidant. Top with fresh kiwi, which helps to protect your DNA from damage.
immune-boosting ingredients: limes and kiwi
1 small frozen banana
2 teaspoons acai powder
1/2 cup frozen raspberries
1 tablespoon lime zest & juice
1/2 cup vanilla almond milk
toppings: sliced kiwi, unsweetened coconut flakes, lime zest, raspberries
1. In a blender combine all smoothie ingredients until smooth and creamy. If needed, add another splash of almond milk to smooth out the smoothie a bit.
2. Pour into a bowl, and add any combinations of toppings you like.
I created these immune-boosting smoothie-bowls for Albertsons Safeway, and I'm glad I could share them with you to make your healthy winter more delicious!