Mouth-watering fall-apart-when-you-fork-it chicken that makes the house smell amazing as you await its arrival. Can be used as the protein in any dish. This will become a weekly winter staple!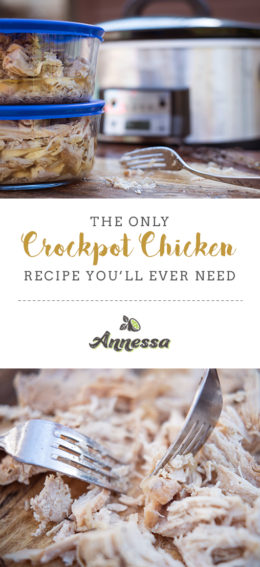 I always do best eating healthy and eating at home when I have kicked off the week with a little preparation. Enter in my favorite fall/winter protein, Crockpot Chicken. I love this because it tastes fantastic just the way it is, eating straight out of the crockpot with a fork.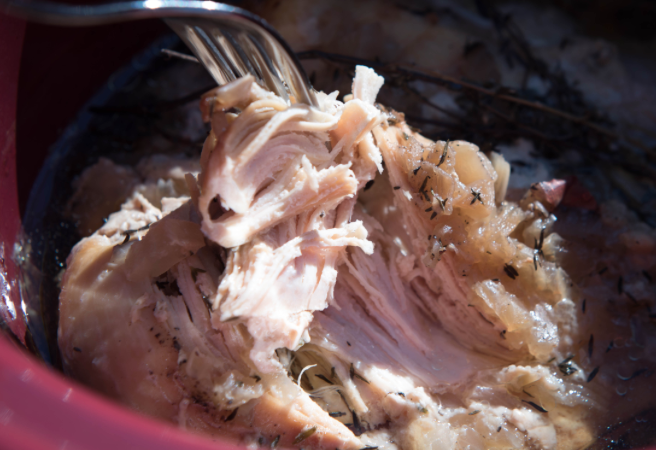 Or, it can turn into almost anything that you need it to become – tacos, on top of salad, in white chili, soup, stew, hot sandwiches, lettuce wraps, you name it. It's one of my favorites to take to someone who is sick as well. I created it and published it to Facebook first, and it was one popular recipe (probably because we moms LOVE our crockpots!), so I decided to show it step by step in a post (and so I could make it again…twice in one day:) And speaking of that, let me just say that leftovers freeze awesomely! (No, awesomER? No, awesomest. Never mind. They're good).
5 pounds of boneless chicken breast goes into the crockpot. Yes, they can be frozen. Does not matter a bit. And remember, that's a lot of chicken, but you are making this for the week. Or for sick friends.
Then, chop a medium sweet onion and sprinkle it in on top. When I was in dietetic school, we had several cooking classes, and it seemed like the skill we focused most on was how to cut onion – chop, dice, mince, slice, you name it, we spent a great deal cutting onions. Back then I thought it was b-o-r-i-n-g, but now (of course) it is the skill I use more than any other. Every great recipe starts with an onion – plus, they are nutritional powerhouses, AND inexpensive! The base flavor of many recipes start with this guy. So, the quicker we can develop an emotional bond with cutting an onion (that might mean taking out anger or chopping for joy), the more we will love cooking.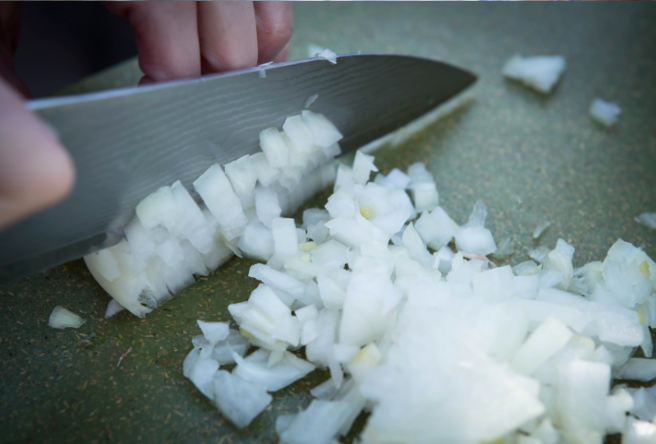 Add that beautiful strong-smelling vegetable to the crockpot.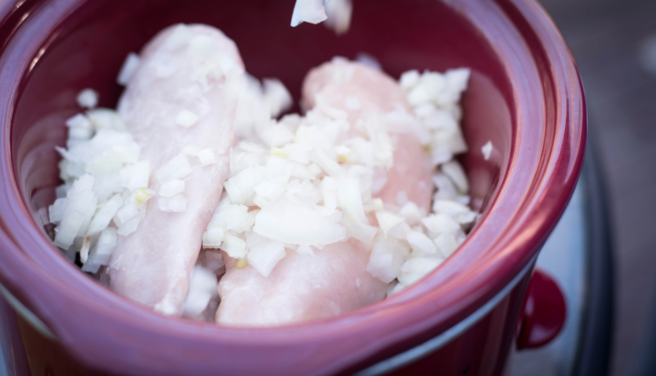 Now for what I consider the most important ingredient, 3 garlic cloves. Instead of mincing them with a knife, I prefer to use a good-quality grater (like Microplane! …they can do anything!) Grate those right in on top. And remember, garlic carries all of those immune-boosting properties that are great for winter.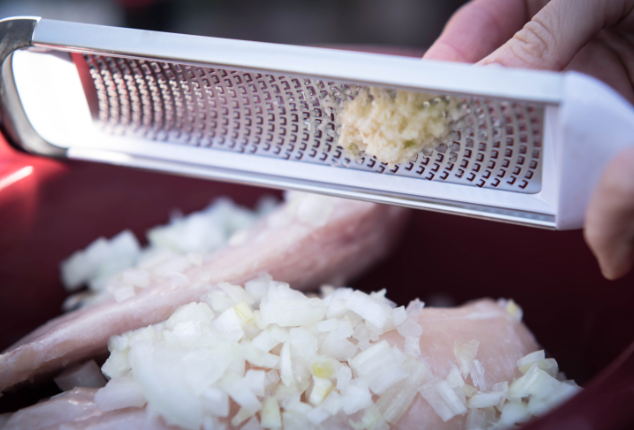 Now, add 1 teaspoon kosher salt and freshly ground black pepper.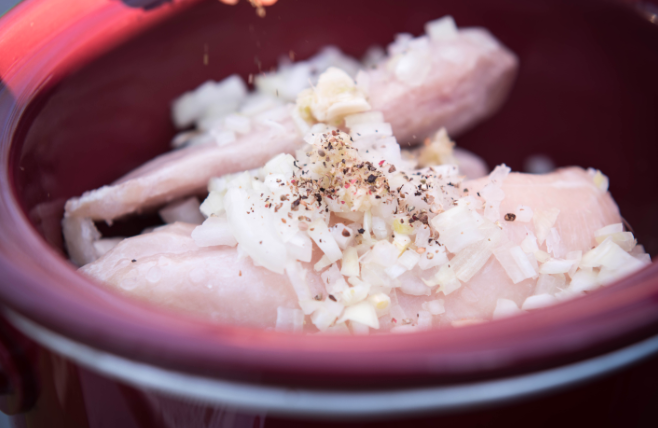 Two ounces (or so) of fresh thyme…
Thyme has its own powerful properties. One of the volatile oils that exists in thyme (called thymol) is antimicrobial, anti-fungal, and antibacterial. I use it as a spray to clean my counters with (no joke!). And, although my kitchen smells like a pizza-joint because of it, I just love knowing that it's so powerful that it can kill the flu virus, yet so natural that we can breath it in and it won't harm us in the littlest bit.
Thyme gives it a woodsy deep flavor, but yet is mellow enough to not compete with any flavors when you use the chicken in other recipes after it cooks. The best part is you can just throw it in, and as it cooks, the little leaves fall off the stems, and infuse the chicken with flavor.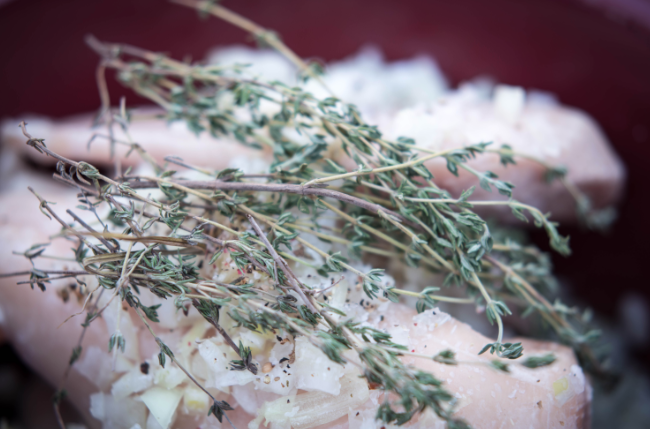 And finally, 1 1/2 cups of white wine. The alcohol cooks out, but if you are uncomfortable with using wine (I actually only have it around for cooking and for sauces), then absolutely use chicken broth or stock.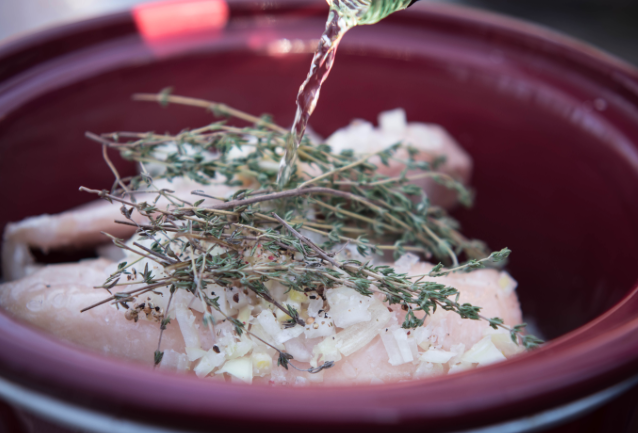 That's it. Cook on low for 6 1/2 – 8 hours (this is the best way, because it produces super-tender chicken, and the smell it gives your house :)) but cooking on high for 3-4 hours will also work.
And this is what you have: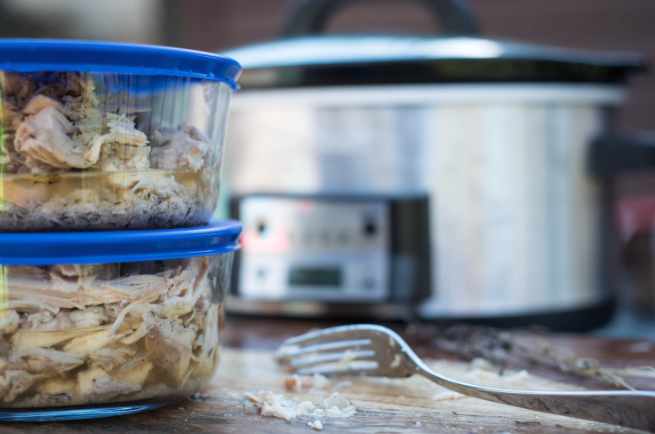 I keep some of this for the week, and then I always freeze a container of it to use within 3 months. You will have plenty of liquid leftover. Delicious, flavorful silky liquid. Don't get rid of it! This is the key to storing chicken that won't become dry (I won't use that moi word….but you want your shredded chicken to stay as "not dry" – substitute the "moi-word" here – as possible. Pour it over the container of chicken, then use it to make a soup, chili, or to add flavor to a sautéed recipe.
Mmmmmmmm….enjoy!
If you make this, please message me below and tell me how it turned out or what you used it for! And remember, that crockpot is the perfect prep tool…and preparation is a key to health (which is important for procrastinators like me).
Cheers!
Crockpot Chicken
I created this recipe for Albertsons/Safeway, and we loved it so much, we made a video about it! You can watch it here.
5 pounds boneless skinless chicken breasts
1 medium sweet onion, diced
2-3 garlic cloves, grated
1 teaspoon kosher salt
1/2 teaspoon freshly ground black
2 tablespoons fresh thyme leaves
12 ounces (1 1/2 cups) dry white wine ( (or chicken broth or stock)
1. Place chicken in a crockpot. Add remaining ingredients in order.
2. Cook on low 6 1/2 – 8 hours or until internal temperature of 165º is reached.
3. Remove from crockpot and let cool at least 10 minutes before eating, or completely cool before refrigerating or freezing. (This is an important step! Letting the chicken cool gives it time to redistribute juices and ensures that each bite will be juicy instead of dry).
4. Shred chicken, either in the crockpot or on a cutting board, using two forks. Makes about 10 cups. Use immediately, refrigerate, or freeze.
Nutrition Facts
Servings Per Recipe: 20
Serving Size: 1 serving
Amount Per Serving
Calories 119.6
Total Fat 3.0 g
Saturated Fat 1.1 g
Polyunsaturated Fat 0.4 g
Monounsaturated Fat 1.5 g
Cholesterol 48.8 mg
Sodium 127.1 mg
Potassium 24.0 mg
Total Carbohydrate 0.7 g
Dietary Fiber 0.1 g
Sugars 0.0 g
Protein 18.9 g