Another game-day recipe! I use sweet potatoes in so many ways, because they are super-nutritious, and rather tasty too. In this recipe, roasted sweet potato rounds become "buns" for the sliders. If you think that is too thick for a slider, then simply use only one of the sweet potato buns, top it with the turkey burger, and then avocado mash on top that. Anyway you stack these, they are going to be the talk of the party….(I predict:)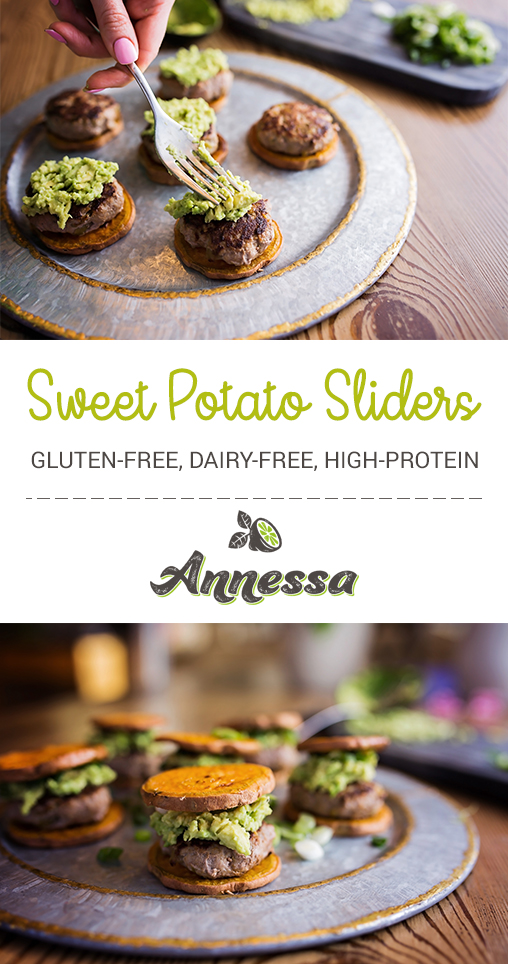 Now, for those sweet potato buns:
Slice those sweet potatoes into 1/2 inch thick rounds, but make sure you leave the skin on. This helps the sweet potato bun stay together. Plus, it's more fiber and less work for us! (Hooray!) Then, give them a drizzle of olive or melted coconut oil…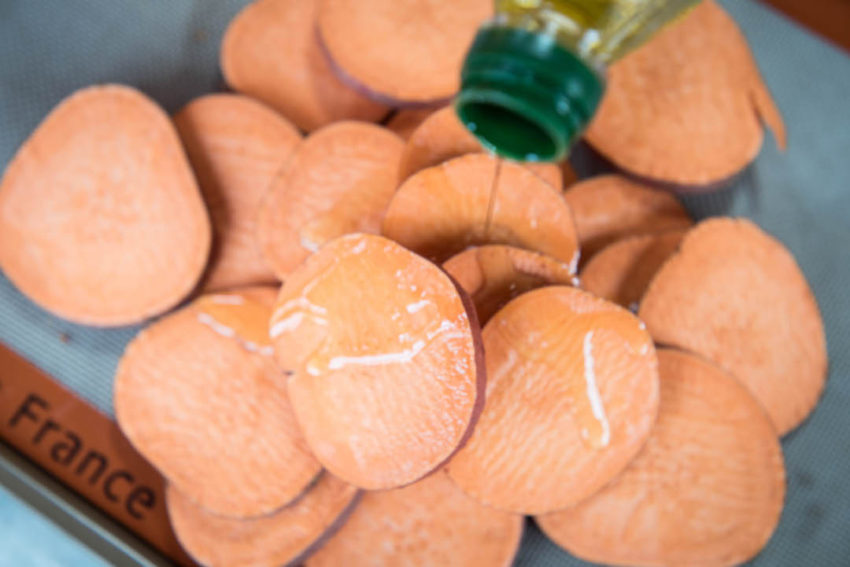 And gently toss. I prefer to toss them right on the baking sheet, so we don't have to dirty up another bowl purposelessly (is that a word? If it's not, it's should definitely be one that moms can use…daily 😉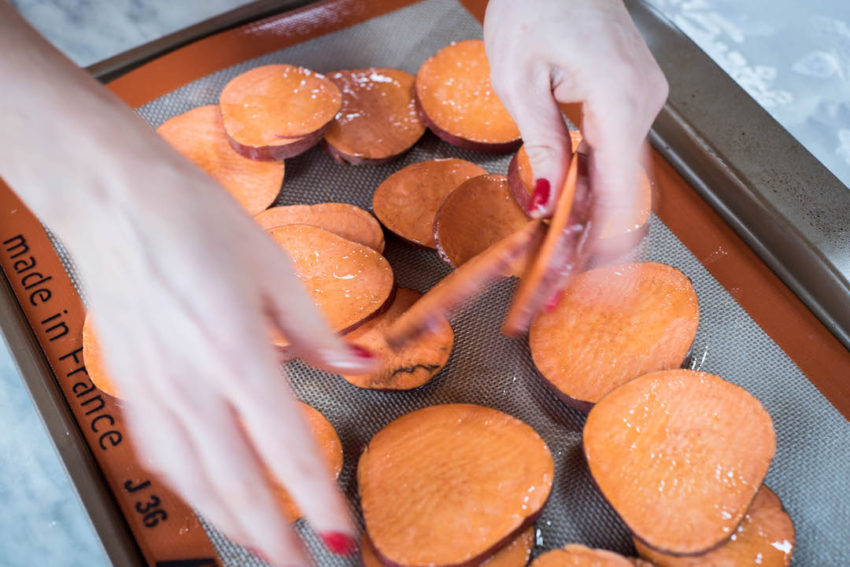 Now, the key to making sweet potato buns is distributing them in a single layer on the baking sheet, so they can roast all around…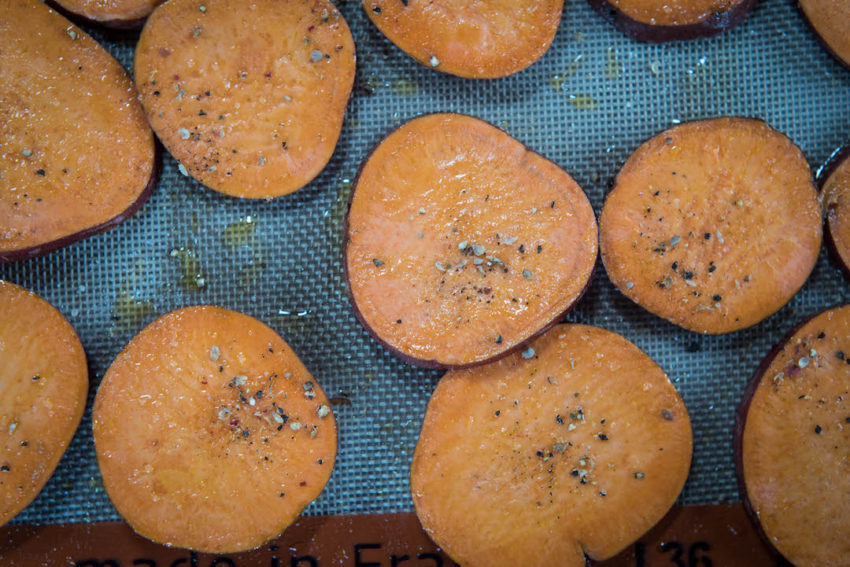 While they're baking, make the turkey burgers. Just three easy ingredients: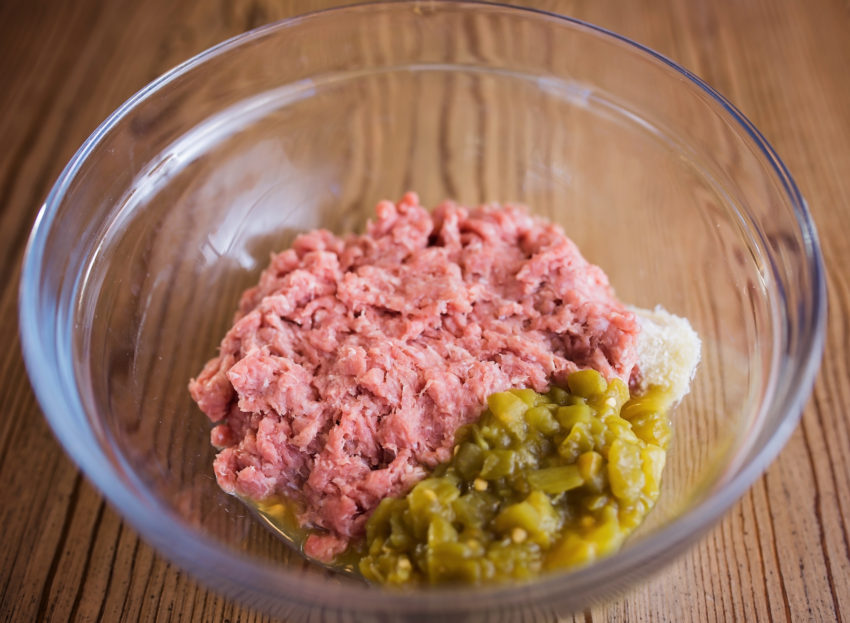 Shape those into little 2 ounce patties…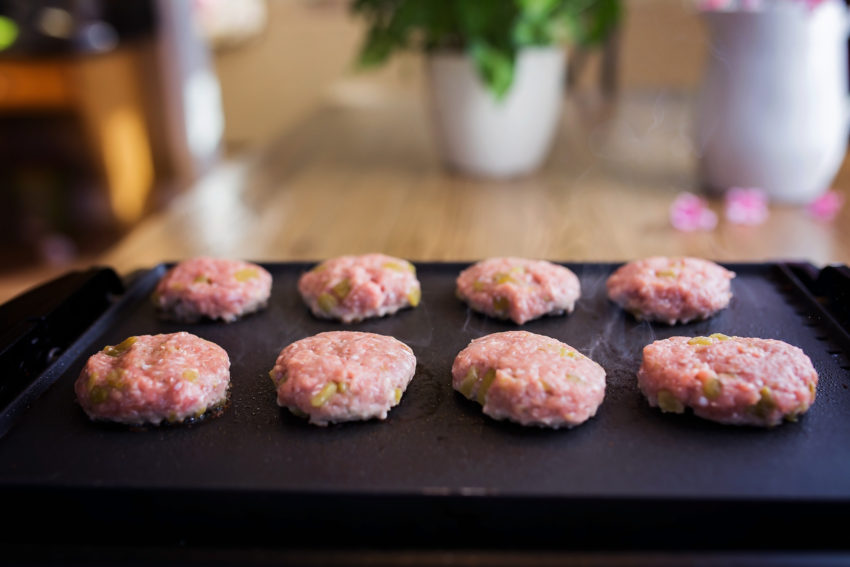 Flip once…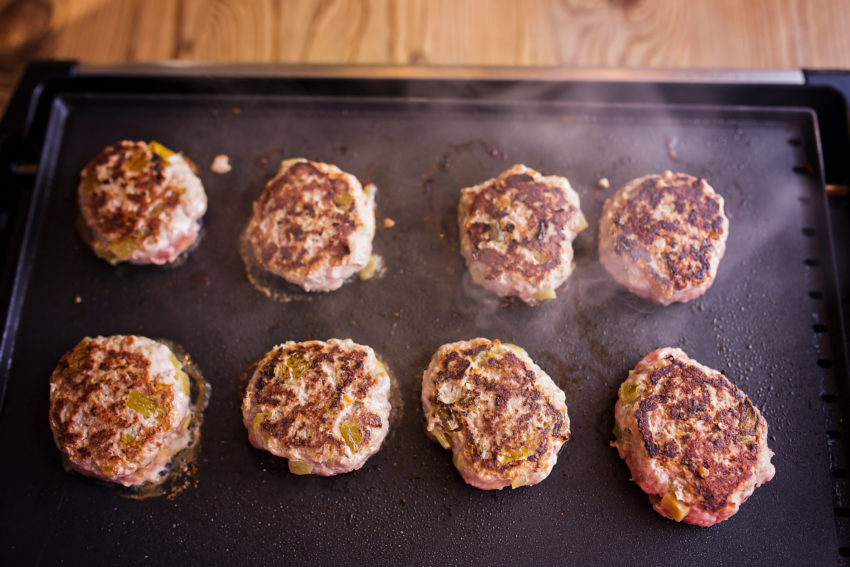 The only 2 other ingredients are mashed ripe avocado and chopped green onion!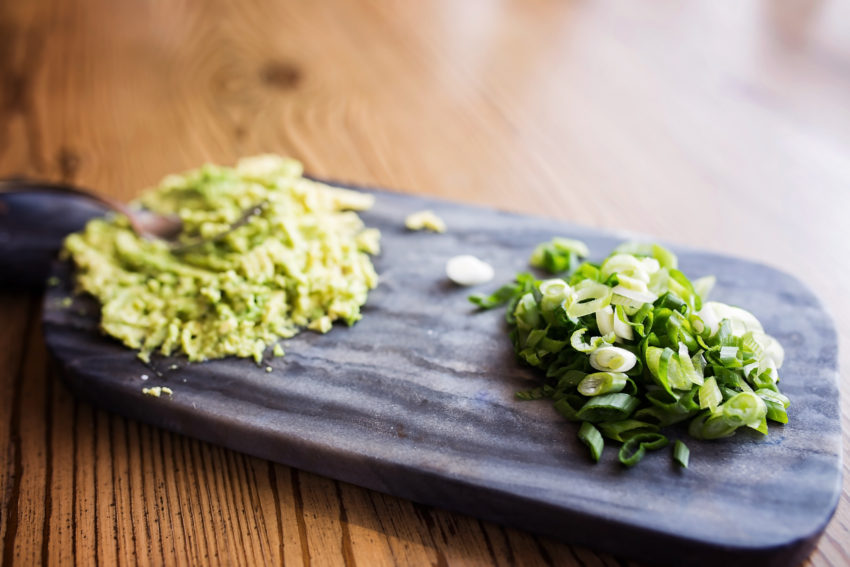 Now start to build those sliders! Sweet potato buns…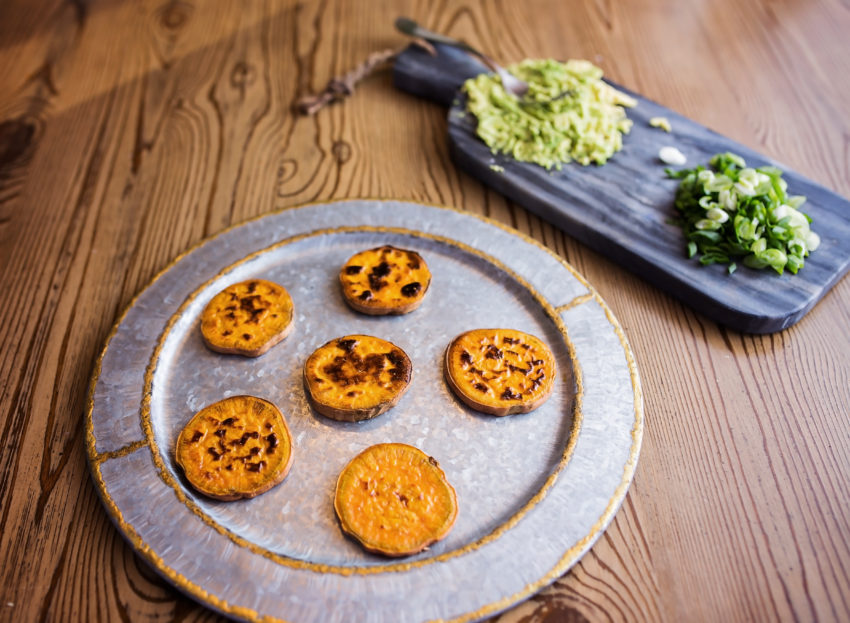 Top with turkey sliders…
Add that delicious smashed avocado…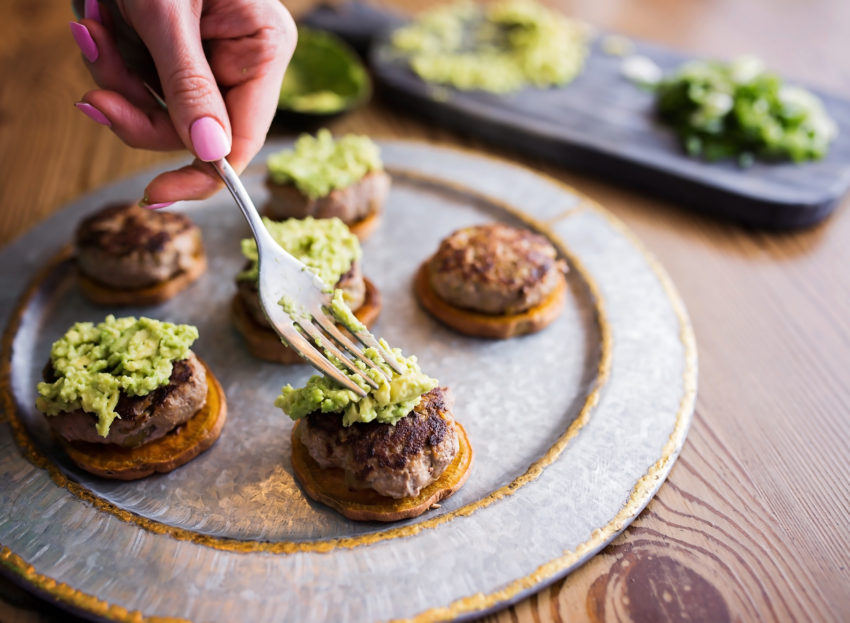 Tons of chopped green onion…you're almost there…
And finally the top bun! Another sweet potato. You should feel proud of yourself!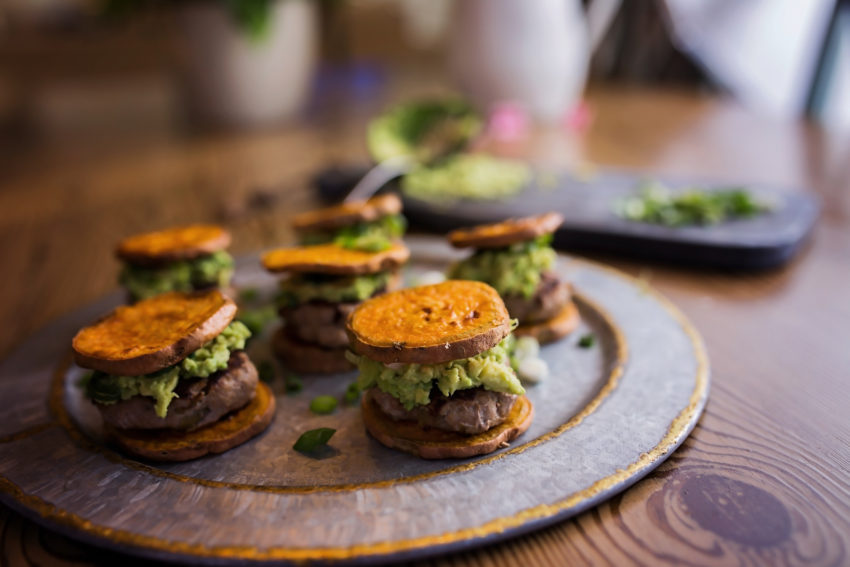 So eat one. Or two.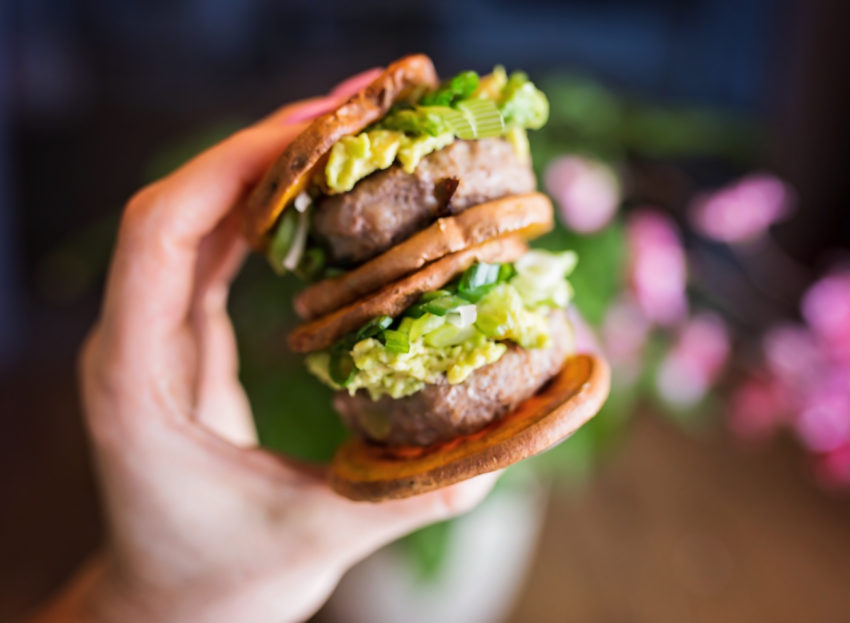 A delicious bite that leaves no flavor behind. And this idea is based off just four main ingredients. Isn't it amazing how food from nature need little to no help in the delicious department?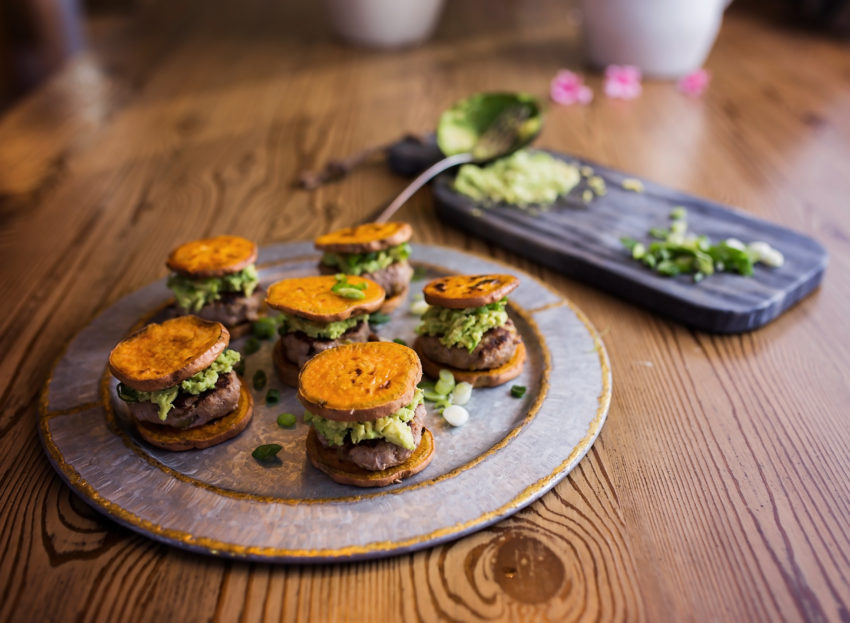 They're delicious and healthful! I would love to know how you liked them – leave me a note below!
Ingredients
2 sweet potatoes, cut into 1/2 inch disks with skins on
2 tablespoons olive oil
1 lb. lean ground turkey
1 (4 oz) can green chilis
1 1/2 teaspoon kosher salt, divided
4 green onions, cut into thin slices
1 avocado, mashed
Preparation
1. Preheat oven to 450º. Place sweet potatoes in a large mixing bowl, drizzle with olive oil, and sprinkle with 1/2 teaspoon kosher salt, tossing to coat. Transfer to baking sheet, placing in a single layer. Bake 18 to 22 minutes turning once halfway through, until tender. Remove from oven and let cool slightly.
2. Combine turkey, diced green chills, and 1 teaspoon salt in medium miixing bowl. Portion into 10 equal patties. Cook in a skillet sprayed with nonstick spray over medium heat until internal temperature of 165 is reached, about 7-9 minutes.
3. To assemble, place burger on a sweet potato round and top with avocado mash, green onion and additional sweet potato round. Repeat until all burgers are assembled. Serve immediately!
Makes 10 servings
Prep time: 15 minutes
Total time: 40 minutes
Notes:
– for a party, stick a toothpick or short skewer in each one for easy grabbing
– fold the green chilis into the ground turkey gently so does not over mix and become tough
– only flip the burgers once, so they develop a good sear and stay tender
Nutrition Facts
Amount Per Serving: Calories 149.8, Total Fat 8.7 g, Saturated Fat 1.8 g, Polyunsaturated Fat 0.7 g, Monounsaturated Fat 3.7 g, Cholesterol 32.0 mg, Sodium 215.7 mg, Potassium 207.8 mg, Total Carbohydrate 8.3 g, Dietary Fiber 2.1 g, Sugars 0.2 g, Protein 10.0g