If there was any recipe I'd want you to try as a family…this is the one!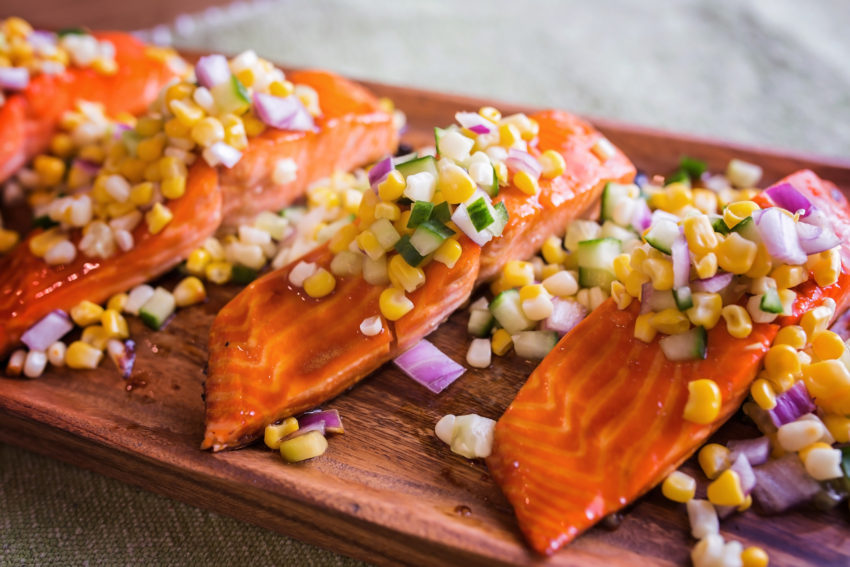 Lately I've been on a mission – in partnership with Seafood Nutrition – to get families to include seafood at least once a week. I know from my own personal experience as well as the studies done – that the younger we start our kids with wholesome habits, the more likely they will stick to them as adults. One parent gave me advice long ago (in regards to training my kids, not just getting them to eat fish:) "start out how you want to end".  I have never forgotten that, and it has been a guiding principle for me!
So those things that are familiar and consistent happenings in childhood often continue to adulthood. In this case, including fish in your child's meals may help them getting better grades, focus easier, sleep better, increase their immune system, decrease their chance of allergies, decrease the days they miss school, and boost their brain function. Cool, huh?
Fish – especially salmon- has so much on its side. It packed full of rich healthy fats called Omega-3s, and your child's brain is begging for those. Find a way….and this is my suggestion! Sweet Orange Salmon.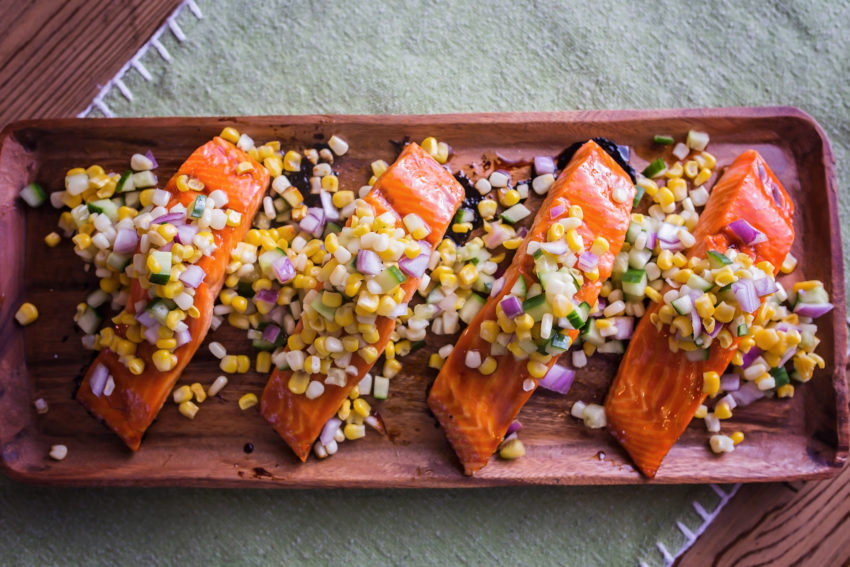 First, we'll create an easy 3-ingredient Asian-inspired sauce of fresh orange juice, raw honey, and tamari (or soy sauce)…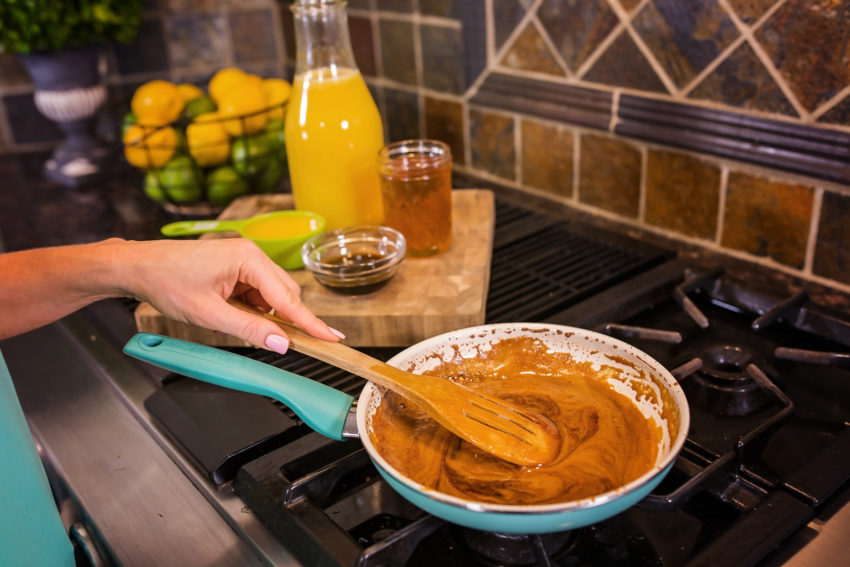 The key is letting it simmer 10 minutes until it's reduced by half and can coat the back of a spoon…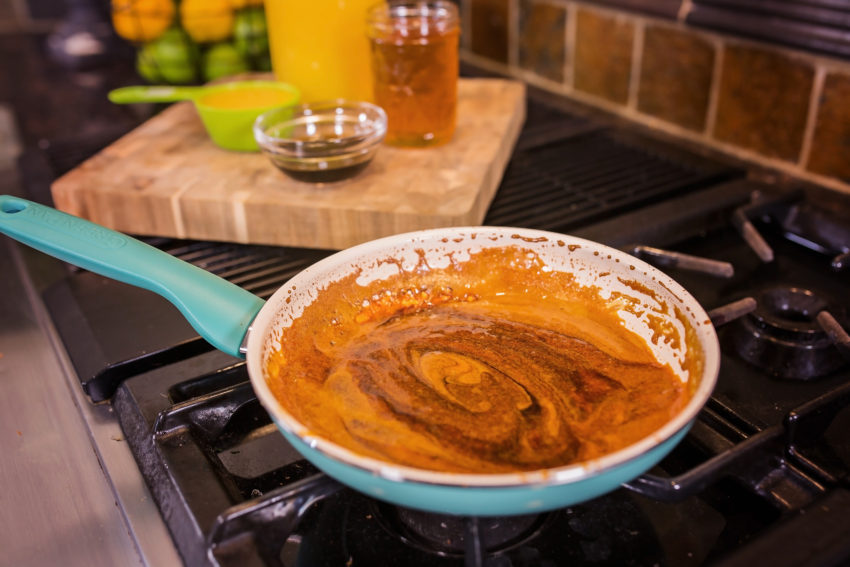 One word: yummy. Let that hang out while you get the salmon ready. I either buy a long filet, or 4-6 single portions, and use some for lunch the next day on a salad.  I also prefer the skin on, because it seems to make the portion bigger, keeps the salmon moist and delicious, and I love it when the skin gets a tad crispy. If you don't like the skin, it comes off easily after baking, so don't worry about it until later.  Put that salmon on parchment paper, and then brush some good strokes of our sweet orange sauce over each filet…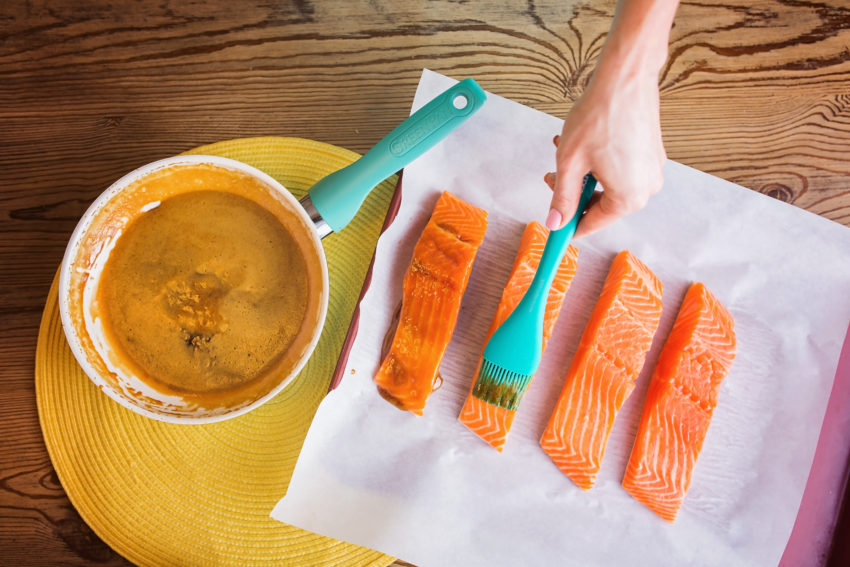 And put those in the oven at 450 degrees for 10 minutes. One of the secrets of salmon: DON'T OVER BAKE! (Take it from someone who has made that mistake a few times.)
Now, get your kids to fall in love with seafood by topping it with something they already adore…like corn. Maybe it's mango, or pineapple, but we love an easy corn salsa on top of salmon. The corn can be frozen sweet corn, or cut fresh off the cob. OR, roasted on the cob and cut. Now THAT sounds delicious!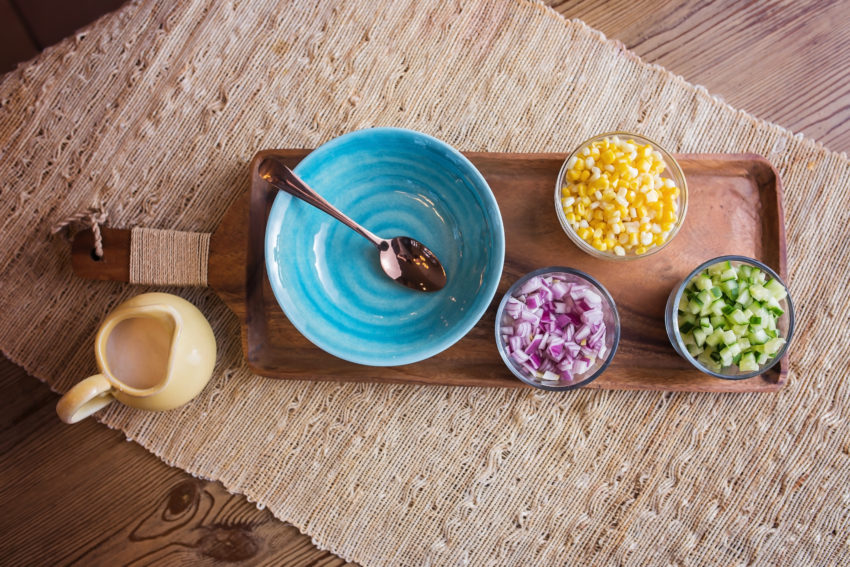 There's a 3-ingredient theme going on here. At this point, I get the kids involved…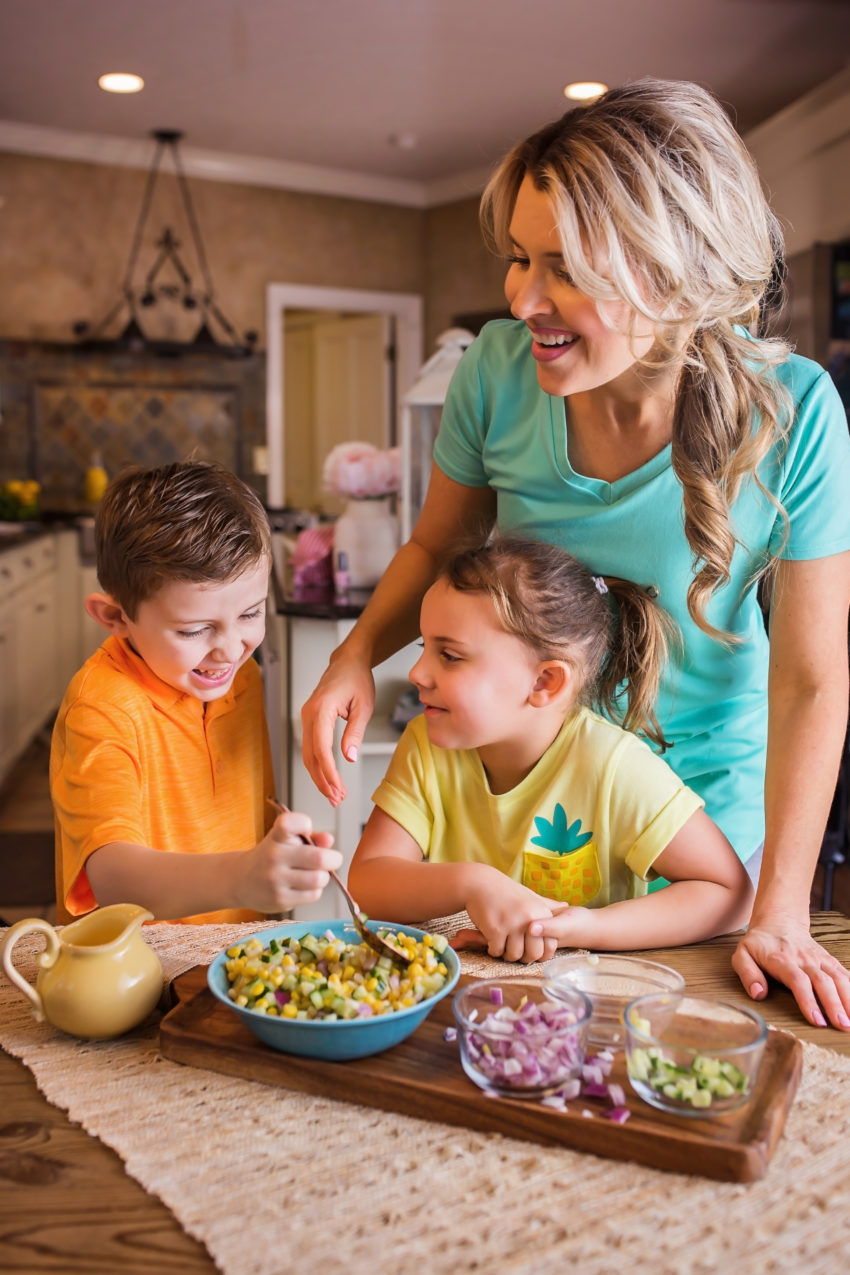 And you can expect it to get messy…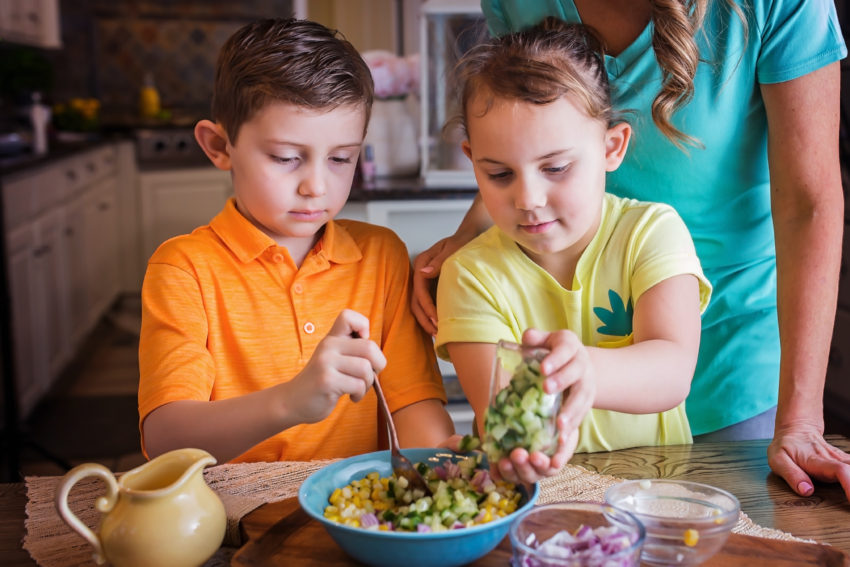 But if you prefer clean and organized (your kids might not learn much about cooking…just sayin')…then here is a pic for you: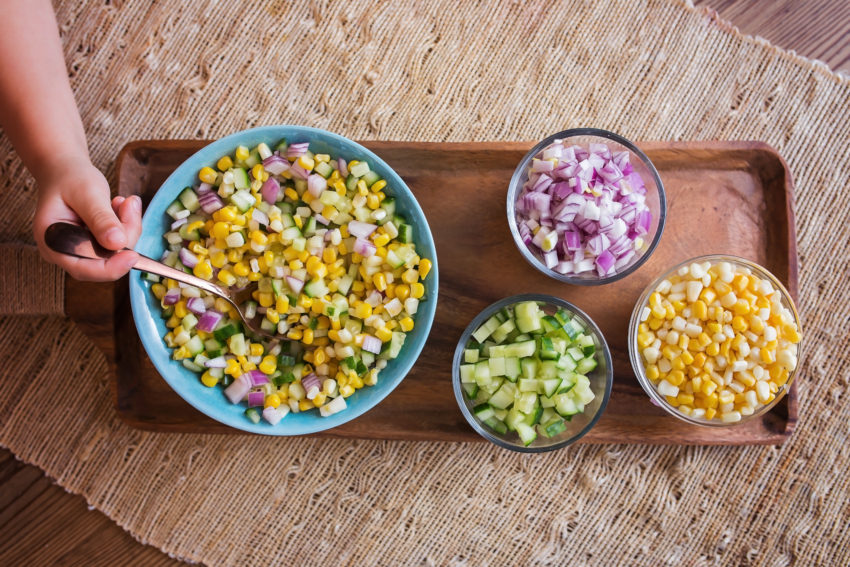 And take that yummy salsa, and top it on each Sweet Orange Salmon Filet…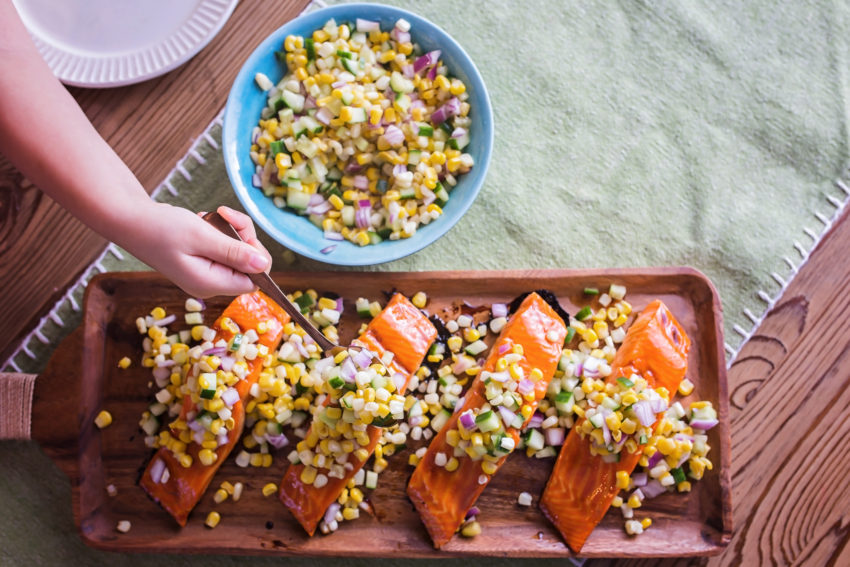 And enjoy! It's colorful, flavorful, delicious, AND nutritious…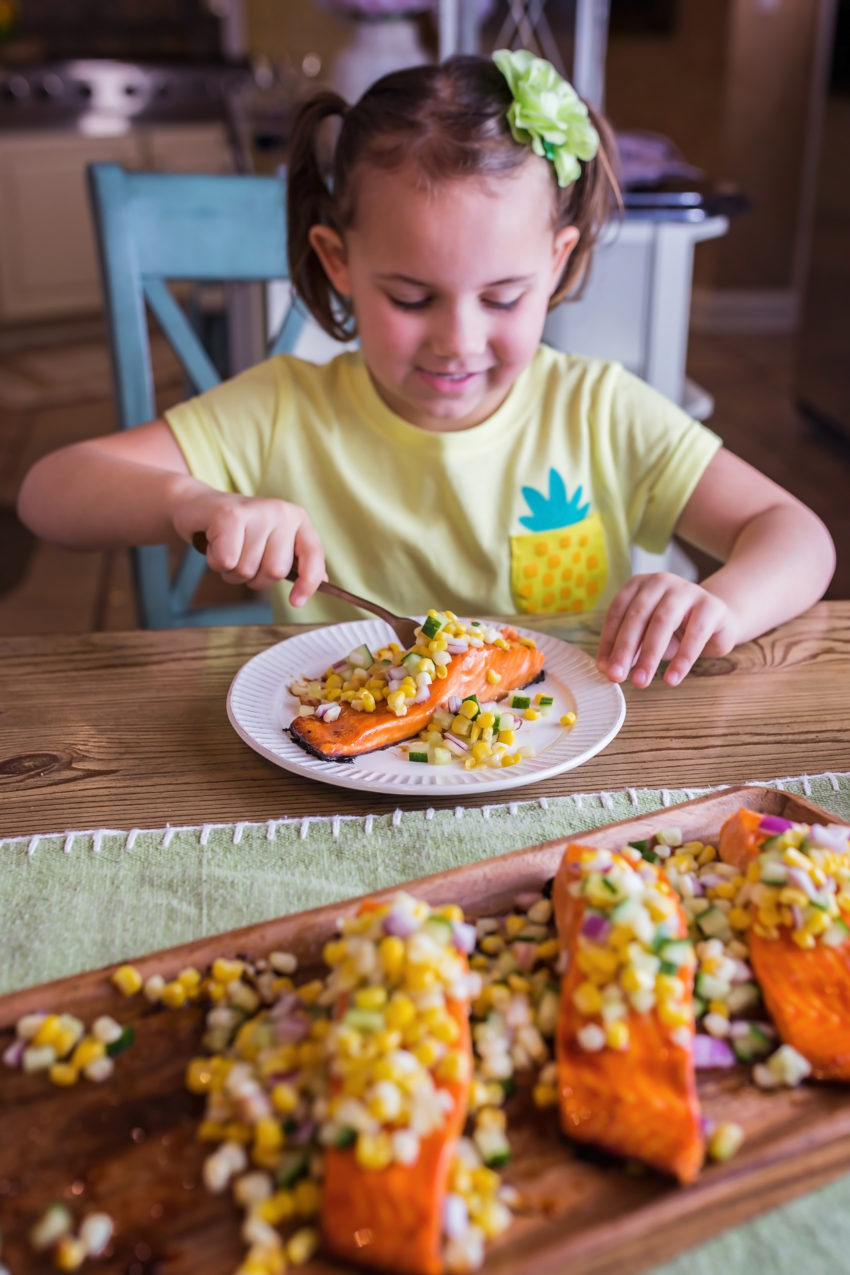 Help me keep the mission of getting kids to fall in love with seafood going! If you make this (or any seafood dish for your family), use the hashtag #littleseafoodies, and then tag my pages as well – Facebook, Instagram, and Twitter. And join me on those pages for videos and tips to keep cooking easy seafood meals!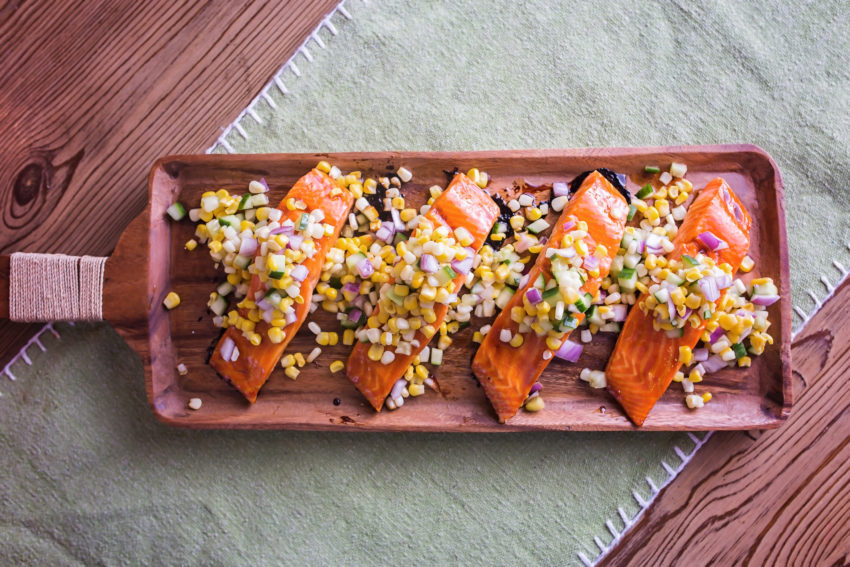 PS – thank you to my sweet niece Zoey who joined us for Sweet Orange Salmon and let me snap her picture a billion times! I love that girl.
Ingredients
4 salmon filets (3-4 ounces each)
1/2 cup orange juice (lots of pulp or none)
2 tablespoons tamari (or liquid aminos or soy sauce)
3 tablespoons raw honey
Corn Salsa
1 1/2 cup corn (frozen, canned, or cut straight off the cob
1/2 cup finely diced cucumber
1 tablespoon finely diced red onion
1/4 teaspoon salt
Preparation
1. Turn oven to 450º. In a small sauce pan, add orange juice, tamari or soy sauce, and honey.  Bring to a boil, then reduce to a simmer for 10 minutes, until orange glaze thickens enough that it can coat the back of a spoon.
2. Lay salmon filets on a baking sheet covered in parchment paper. Brush each filet 3-4 times with the yummy orange glaze. If you don't have a brush, just drizzle the glaze with a spoon and then spread it across the top of each salmon.  Bake for 7-9 minutes. If you want more glaze on it, brush it again one minute before it comes out of the oven.
3. In a medium bowl, mix together ingredients for corn salsa.
4. Remove salmon from oven, and top each with 1/3 cup corn salsa. Serve with extra salsa on the side. Enjoy!!