If you could choose between a recipe offering few ingredients or a recipe where the entire dinner is made in one pan…which would you take?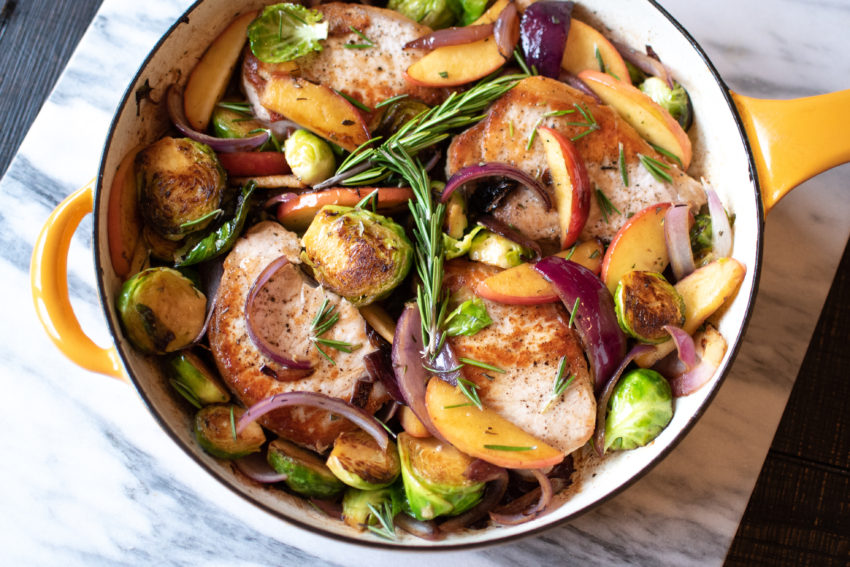 When I was a spokesperson for a national grocer, I learned to write recipes that included both, because that's what the public wanted (we created over 300 recipes while I was with them….yes, that's a lot of testing….and eating:). It's kind of like a game to me to whittle down a recipe to ONLY the necessary ingredients to making the dish taste amazing.
And it means that each ingredient is uber-important! One Skillet Pork Chops is an easy weeknight family dinner using one of my favorite combinations – Brussels sprouts, sweet onions, and apples.  However, if you can get your hands on my favorite apple, the SugarBee from Chelan Fresh, your dinner will be golden!  It's actually a new apple variety that was created from a little honeybee cross-pollinating the Honey Crisp apple. So…it's like the child of the Honey Crisp. And it's sugary sweet, with a creamy white flesh, a nice snap, and an unforgettable taste. Plus it's a shiny candy-apple red! For that reason, we personally call it the, "fairy tale apple" in my house…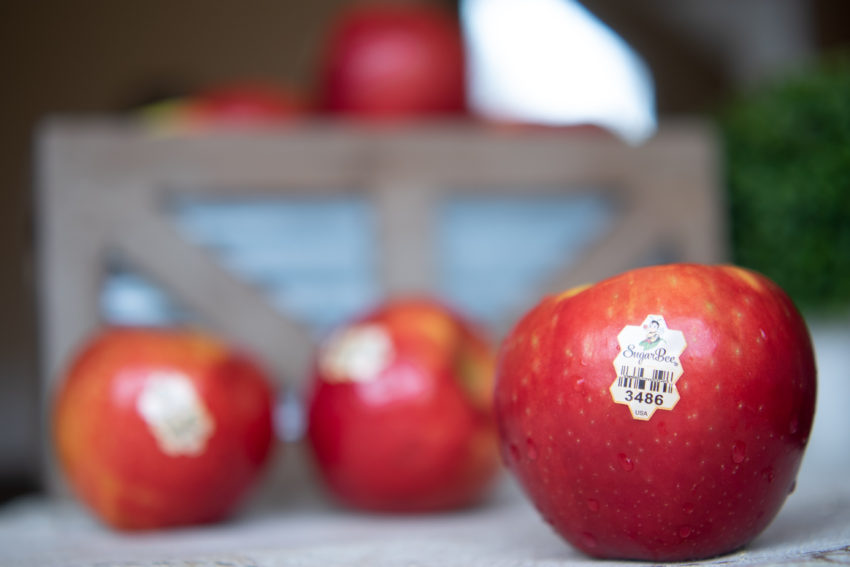 It tastes like candy to me, and is the perfect addition to be sautéed in our One Skillet Pork Chops. After all, what's a better marriage that pork chops and apples?
Pork chops are seared a screaming hot skillet…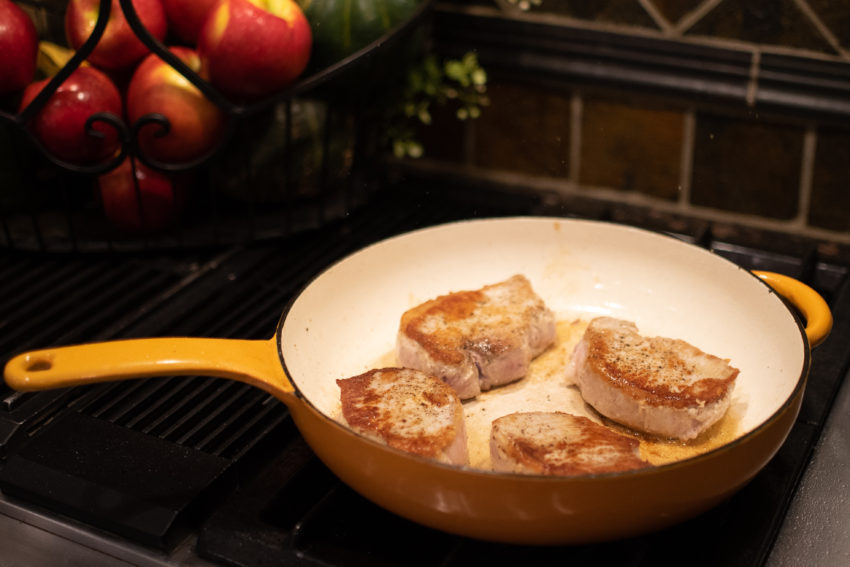 then remove, and add in the apples, onions, and Brussels sprouts…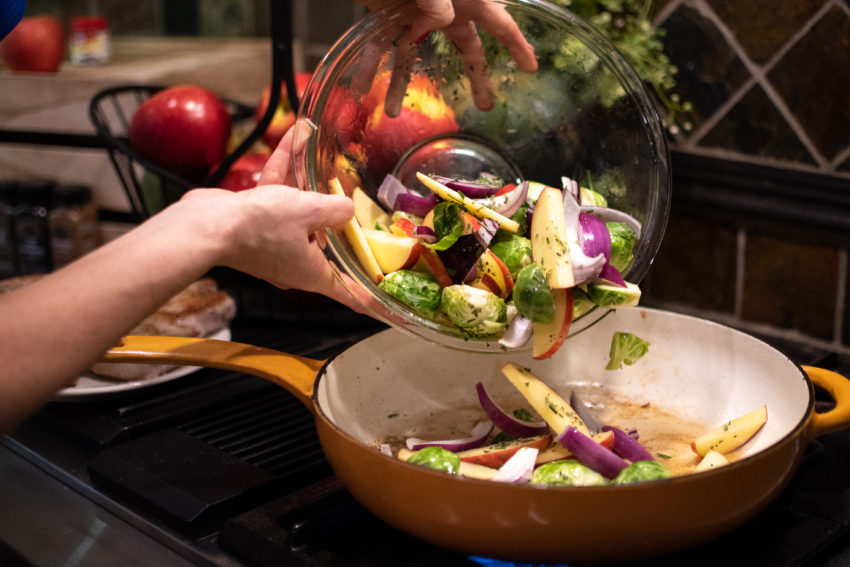 Those will need to sauté about 10 minutes. So keep tossing…your efforts will be rewarded.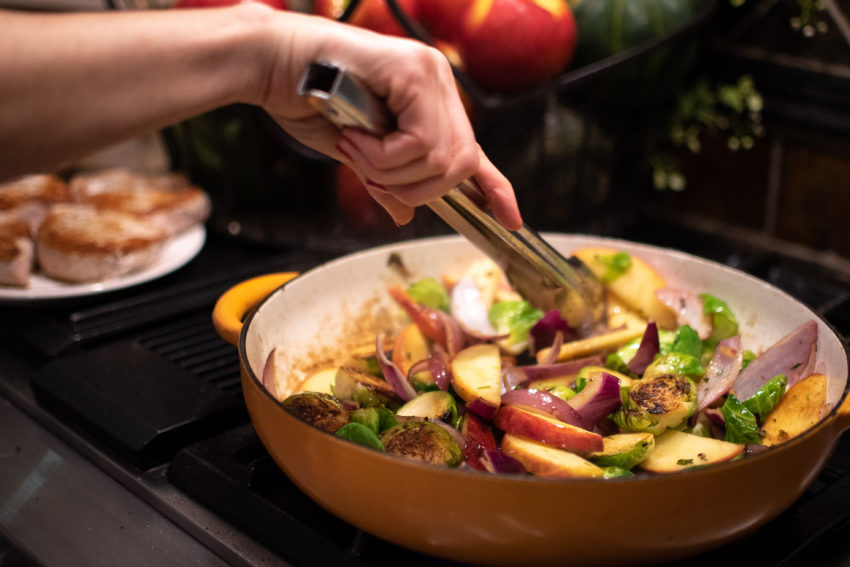 The secret is getting a good charred color on those vegetables, and making sure the apples are fork-tender, but not mushy. This means high heat is needed!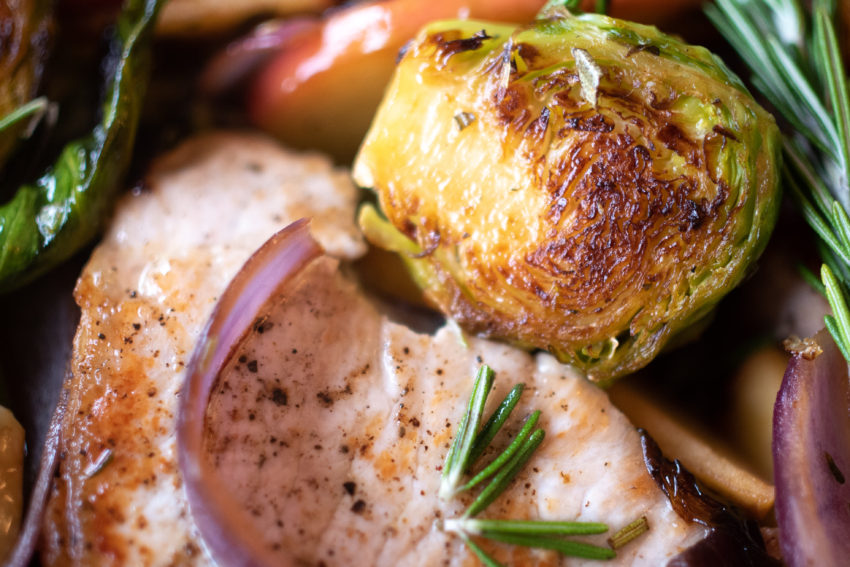 Then add those pork chops back into the skillet…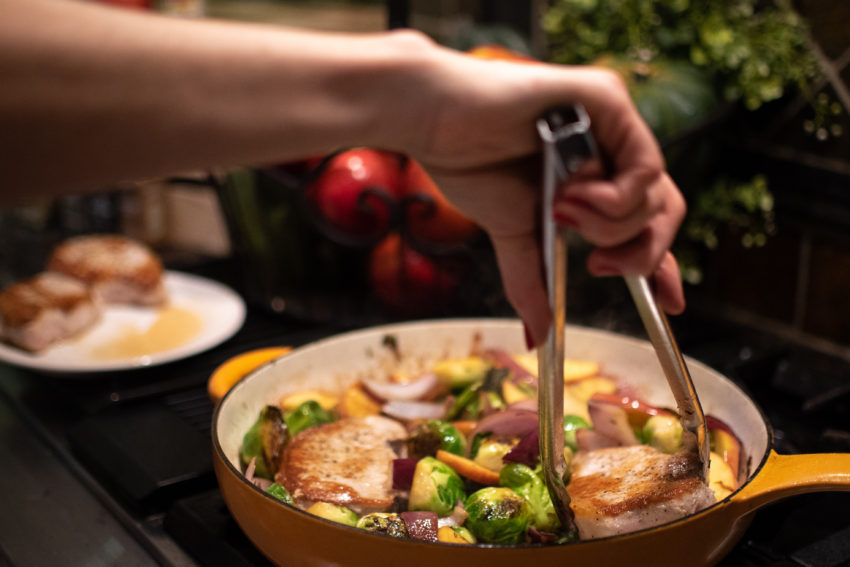 And you have a beautiful and easy dinner done.
This dinner is gluten-free, dairy-free, Whole 30-approved, great for weight-loss, and filled with flavor.  Oh – and I have fun news to share!  I got to make this recipe on Hallmark's Home and Family Show!  It was my second time on, and it was wonderful. You can watch that segment here, and see the recipe on their site by clicking here!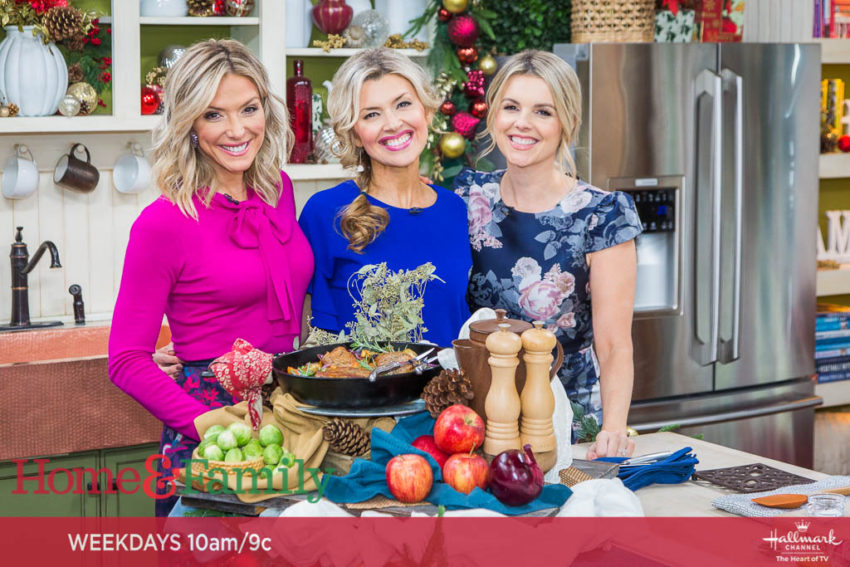 If you make this – and I really hope you will – or if you have already tried it – leave me a comment below! And tag me on Facebook or Instagram. I love to see what you create!
Enjoy the One Pan Dinner….and only one dish to clean up (sort of. lol).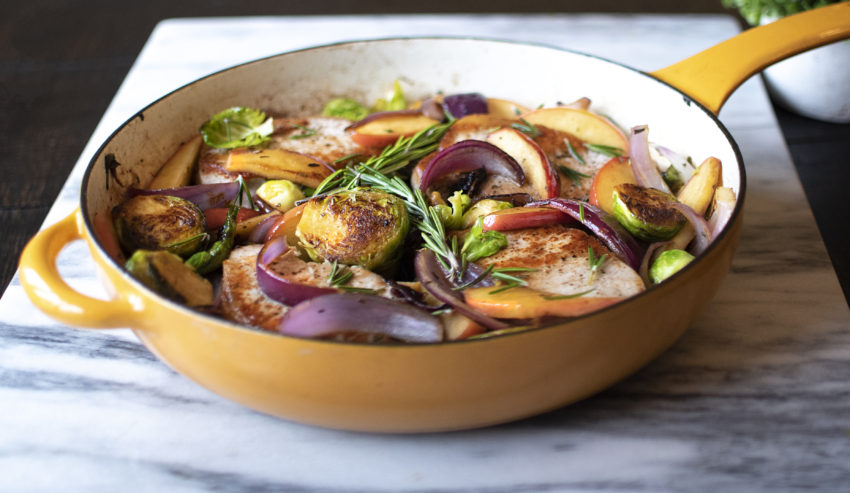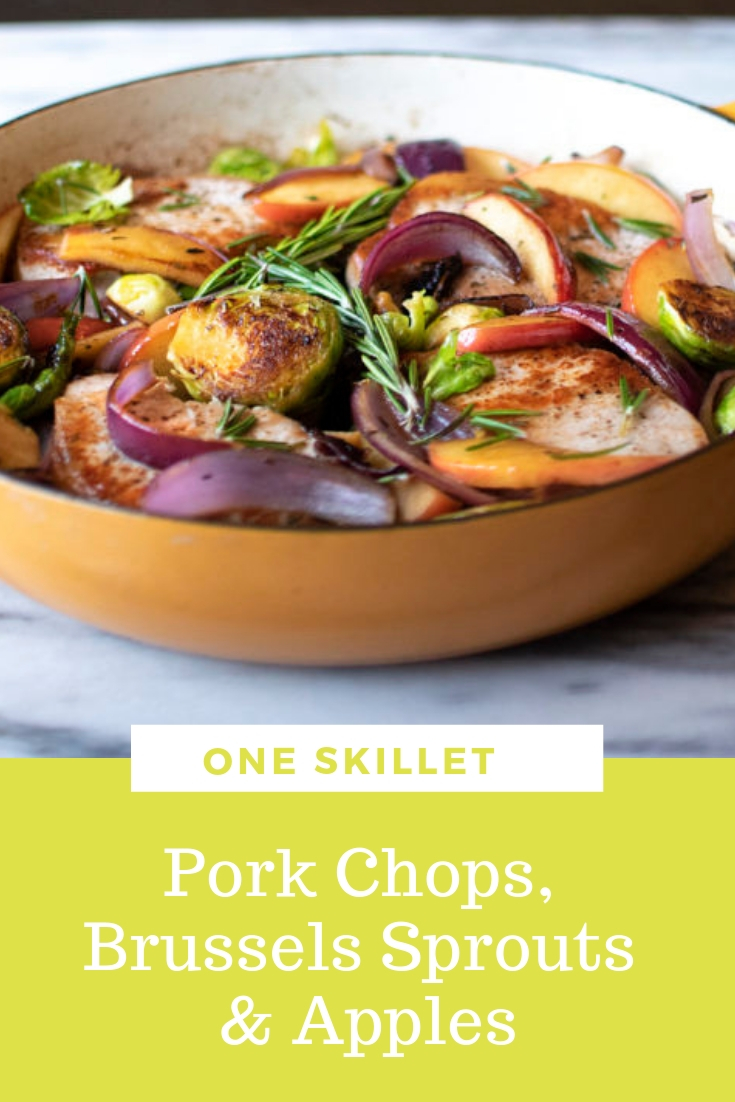 Ingredients
4 center-cut boneless pork chops
3 tablespoons extra-virgin olive oil
1 large Sugar Bee Apple, cored, and sliced on the bias
1 large red onion, sliced in half, and then on the bias
16 ounces Brussels sprouts, sliced in half
3/4 teaspoon kosher salt
1 tablespoon chopped rosemary, plus more
Prep Time: 20 minutes
Preparation
1. Heat a large cast-iron skillet to medium high, adding 1 tablespoon of olive oil. Season both sides of the pork chops with kosher salt and freshly ground black pepper.
2. Add pork chops to skillet, and let them cook undisturbed to get a good sear, about 2-3 minutes, then flip and cook 2-3 minutes on the other side, until chops are cooked through (the time needed will depend upon the thickness of your pork chops; thicker pork chops will need 4-5 minutes per side). Remove and set aside to a plate; cover to keep hot.
3. In a large bowl, mix apples, onion, and Brussels sprouts, tossing with the rest of the olive oil, 3/4 teaspoon kosher salt, and chopped rosemary. Pour mixture into the skillet and sauté on medium high for 7-9 minutes, until mixture is seared around the edges, and Brussels sprouts are fork-tender.
4. Turn off heat and add pork chops back to skillet, so that each one is surrounded by the Brussels sprout mixture. Sprinkle a little more fresh rosemary over the skillet, and serve!