Every veggie seems to have its year. Last year was cauliflower (remember cauliflower rice….pizza….or the whole head cooked at once?) And this year…you already know it! Kale. In case you didn't know, there are a few versions of kale, and my personal favorite is Lacinato Kale – the Tuscan version of kale (the one on the right). It's often used in Tuscan Bean Soup, because it's hearty texture holds up well in broth. I used in it making Superfood Salad…and then I got an idea (whenever this happens my kids know they are going to be taste-testing recipes all day) – what if we grilled it?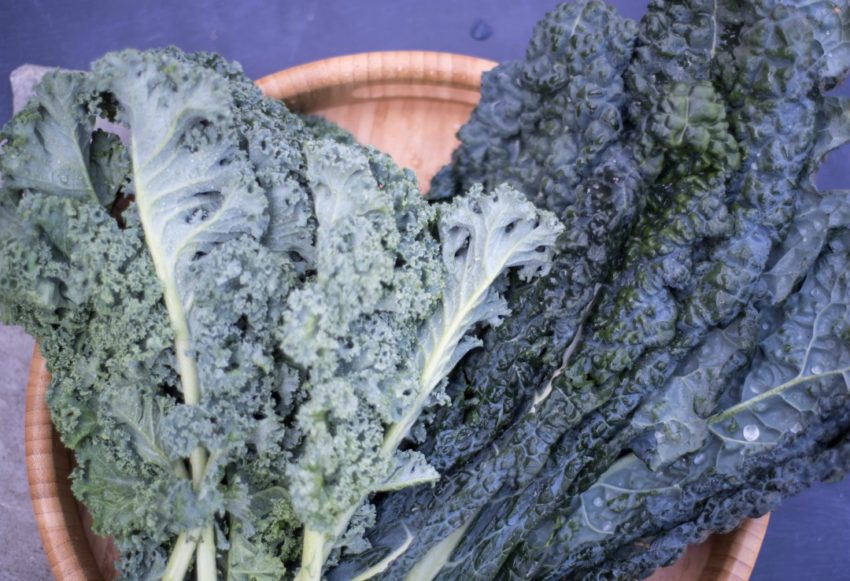 Yes, yes, yes! It worked like a charm. And it literally only takes a few seconds – just enough to get a grilled flavor on the leaves, and break them down just a bit. I then combined it with other end-of-the-summer flavors. I can't get enough of the black bean + lime combination, and of course anytime you have those two, you have to add??? Avocado. It's like a law or something.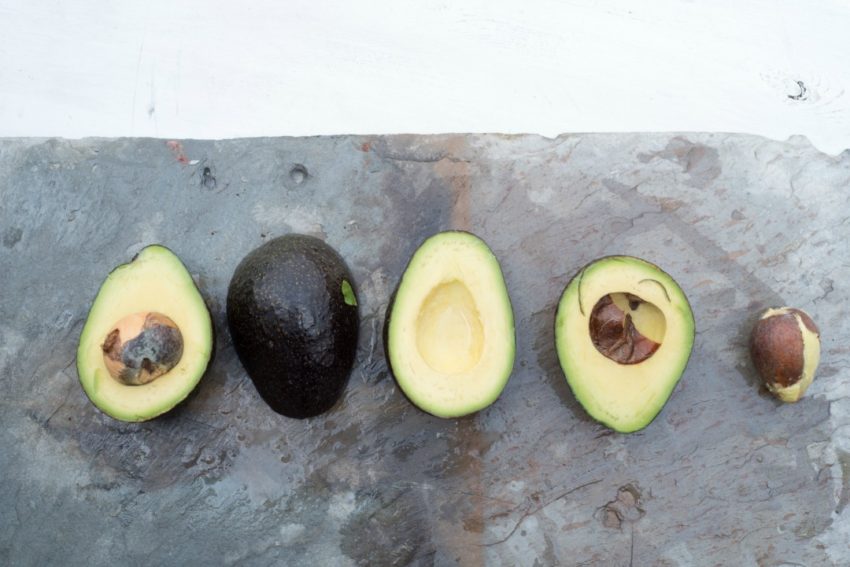 So, I wondered if putting 3 "grill-able" vegetables together would make for a more rustic salad that even those who don't have that appreciation for kale (that the rest of us obviously do) would love. And that worked too! The best part is they can all go on the grill together, they just come off at different times.
The salad was loved so much, it made it to video status! I love seeing recipes brought to life – and even though I love chatting though them, like you are right in the kitchen with me, sometimes it's nice just to see them in 30 seconds or less. Which you can do:
Salad Grilled Kale Black Bean and Lime.mp4
The lime vinaigrette was made perfect with…jalapeño. You can add more or less depending on how hot you like it. I'm a bit of a wimp when it comes to heat, so I typically just grate a little bit of it into the vinaigrette. If you like a lot of heat, chop up the ribs of the jalapeño as well as the pepper itself – those contain the most heat!
Either way….this is DELICIOUS.
I created this recipe for @Albertsons @Safeway….and for those of us who have a need for summer salads, and an appreciation for all things grilled! …even kale.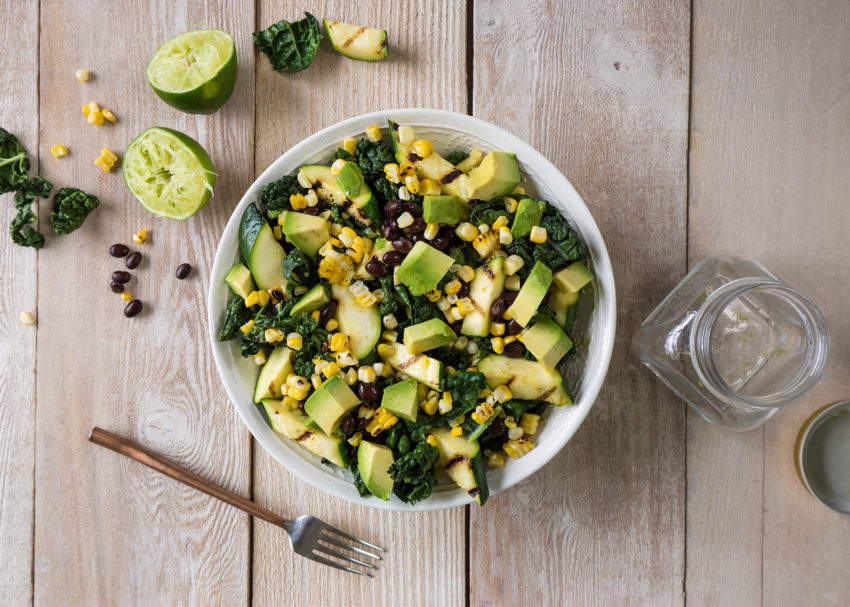 Ingredients
2 bunches Dinosaur kale, rinsed and dried
1 large zucchini
1 large corn cob
1 cup black beans, drained and rinsed
1 small avocado, chopped or scooped into large chunks
Lime Vinaigrette
2 teaspoons lime zest
juice of 2 limes
1 tablespoon raw honey
1/2 teaspoon kosher salt
1 small clove garlic, grated
1/2 -1 teaspoon grated jalapeño, optional (according to your heat preference)
Preparation
1. Heat grill to medium high. Slice zucchini lengthwise into 4 quarters. Spray kale zucchini and corn with nonstick olive oil cooking spray or bush with olive oil. Sprinkle each with kosher salt.
2. Grill zucchini and corn cob for 5-10 minutes, rotating every couple of minutes, until good grill marks are on each side. Zucchini should be fork-tender, and may be done before corn.
3. Place kale leaves on grill for 30 seconds – 1 minute each side. Kale should just get charred and edges slightly crispy, then they are done!
4. Carefully chop zucchini, slice kale, and slice corn off the cob. Add to a medium bowl. Toss in black beans, and scoop avocado on top.
5. Make Lime Vinaigrette by shaking the ingredients into a jar. Right before serving, pour Lime Vinaigrette on grilled salad. Enjoy!
Notes:
enjoy this as a main salad by itself, or paired with grilled chicken breast or steak. It also makes a great side salad at a get together!
recipe can be scaled down for an individual serving
if no grill is available, corn, zucchini and kale can be quickly broiled in the oven or seared on the stovetop. It's a close second choice!
Prep Time: 10 minutes
Total Time: 20 minutes
Servings Per Recipe: 6
Serving Size: 1 cup
Nutritional Information:
Calories 145, Total Fat 4.9 g, Saturated Fat 0.7 g,
Polyunsaturated Fat 0.7 g, Monounsaturated Fat 2.9 g, Cholesterol 0.0 mg, Sodium 231.0 mg, Potassium 689.1 mg, Total Carbohydrate 24.6 g,
Dietary Fiber 6.0 g, Sugars 5.1 g, Protein 5.1 g