I have a new idea for you! You know how those salad jars are addicting to make, because you can prep them in advance, fill them with a ton of great veggies and protein, and – let's be honest – they look absolutely beautiful? Well, you can do the same thing to make a bowl of ramen! First, you've probably seen ramen bowls, because they are really trendy right now. It's a Japanese hot, flavorful broth, filled with vegetables and noodles.
Well, I created a healthy spin using veggie noodles…those ones you can make either with a spiralizer, or with a vegetable peeler. And you simply stack the ingredients into the jar to prep ahead. Or not. You can certainly eat it right away if you wish. No judgments here!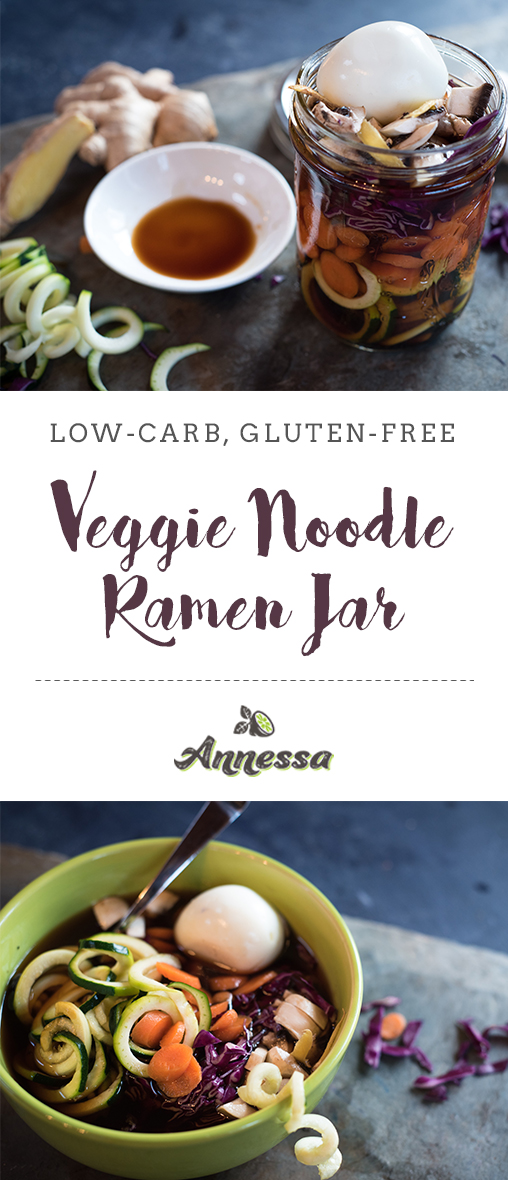 Create curly "noodles" from a zucchini or yellow squash. I'm really big on not needing trendy tools to be healthy. So just remember, you can certainly use a vegetable peeler to create those zucchini noodles – that's what I did for years and it worked great. I'm literally the last person to purchase trendy things. You know the Instapot? Yeah, I still don't have one…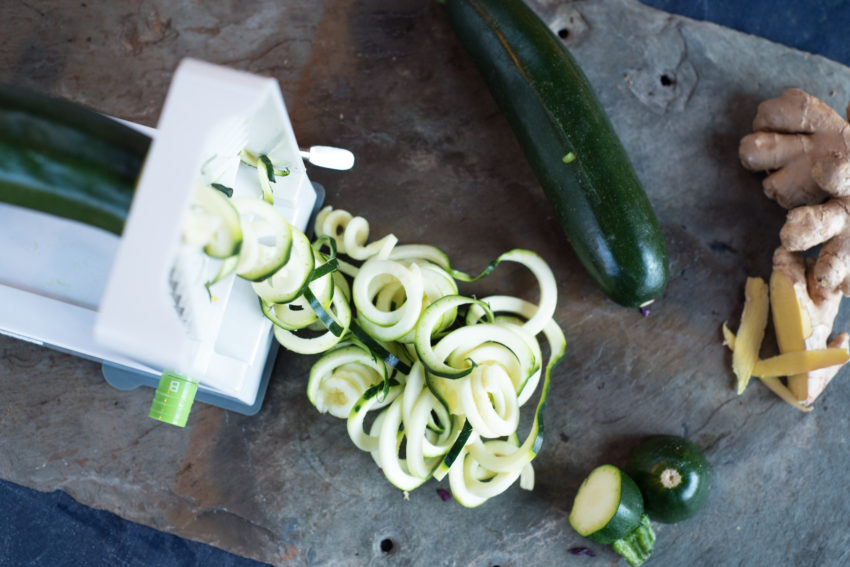 Then, we'll use some other veggies: thinly sliced red cabbage, sliced carrots, mushrooms, green onion (I LOVE the flavor of those), and a couple of slices of fresh ginger. Keep that hardboiled egg around…we will put him on top.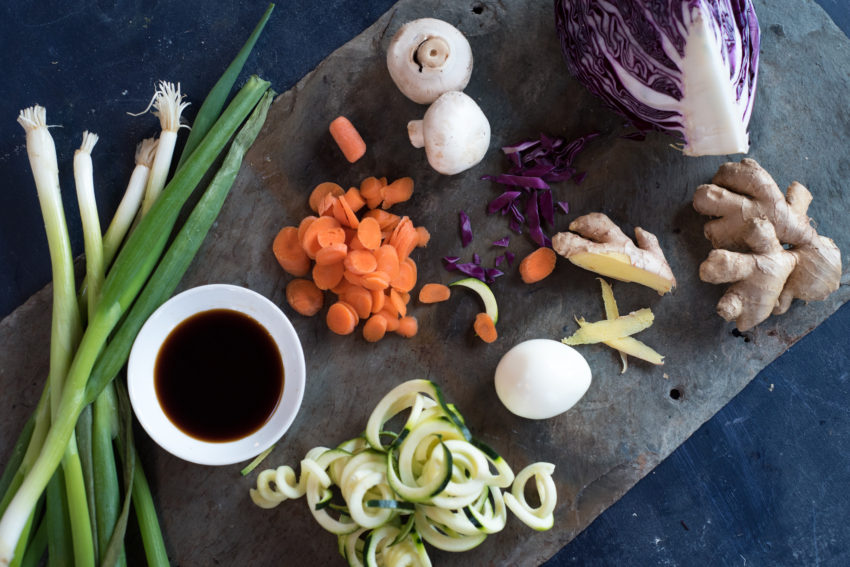 Pile those veggies into a glass jar: zucchini noodles first, then carrots, cabbage, green onion, mushrooms, and few slices of fresh ginger.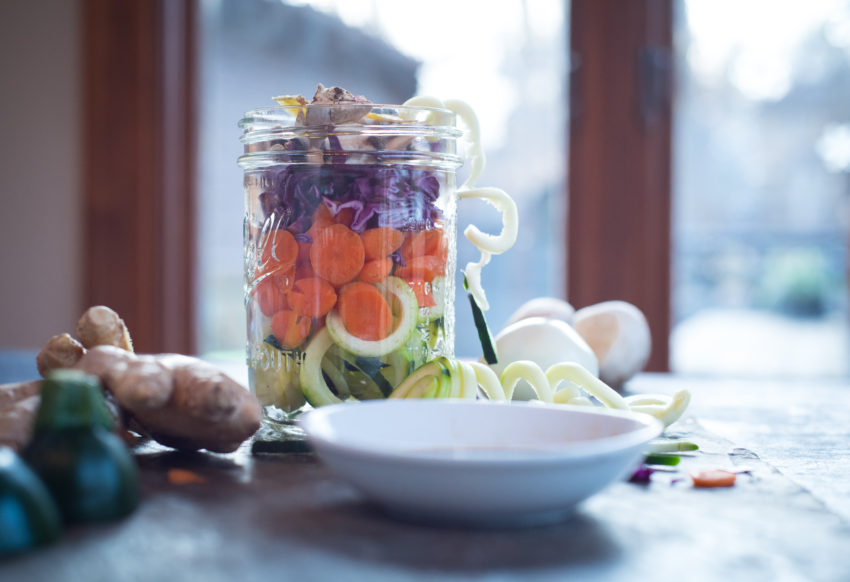 A couple teaspoons liquid aminos (what in the world are those? It's a gluten-free, non-GMO soy sauce, basically; you could use tamari as the same, or even a low-sodium soy sauce). Now, put the hardboiled egg on top, and then screw the lid of the jar on and keep it in the refrigerator for the next day…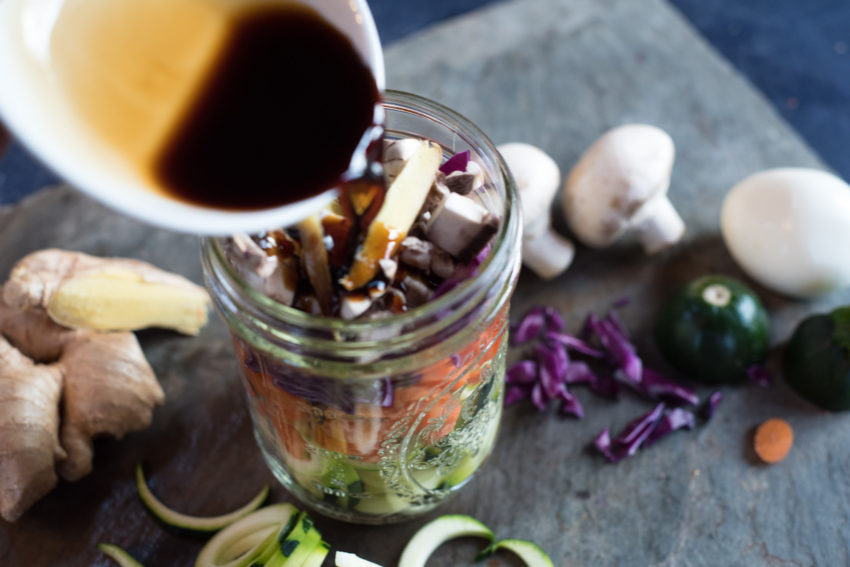 When you're ready to eat it, boil 1 1/4 cups of beef stock or bone broth. Pour it into the jar, screw on the lid, and wait just 4 minutes for those veggies to get tender and delicious. The broth will soak up the flavors from the ginger, onion, and mushrooms…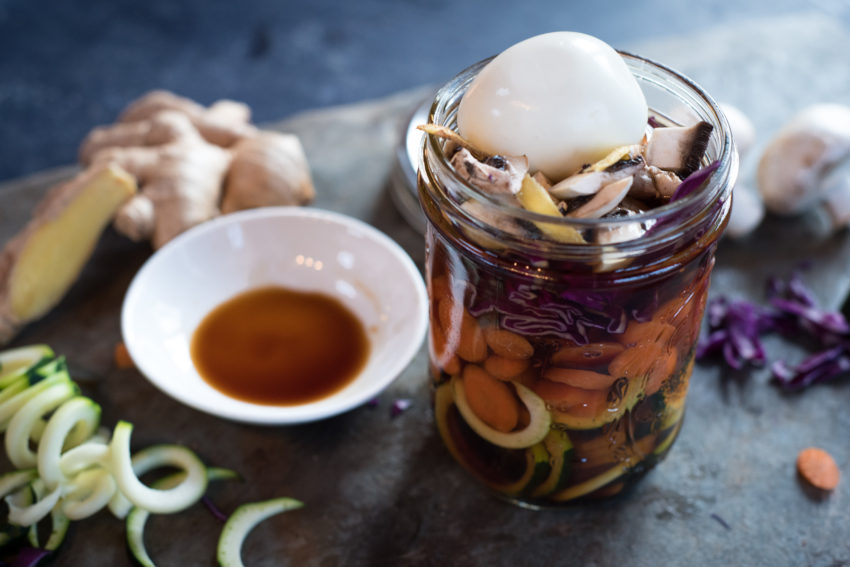 The four minutes are almost over! Your patience will be rewarded…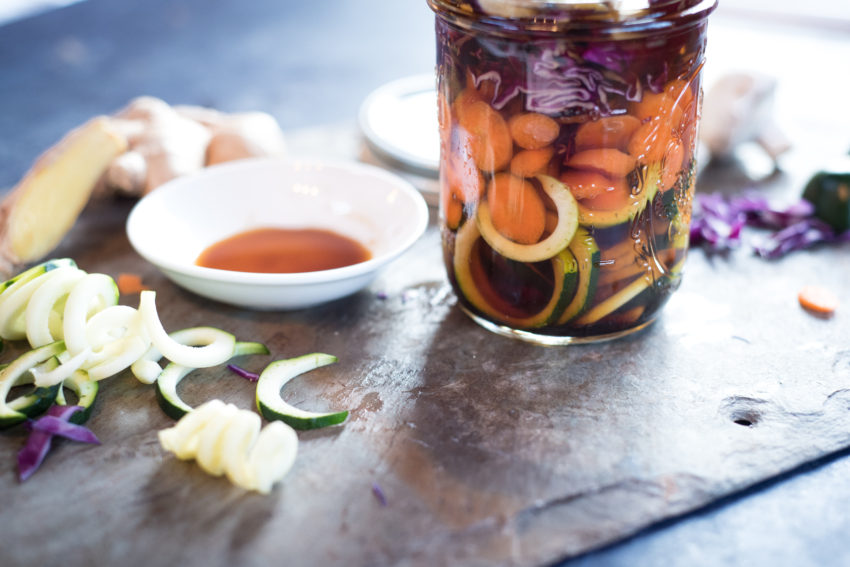 Pour into a bowl, and….yum! It's so flavorful, and so filling. Slice the egg if you wish, and remove the slice of ginger if you wish…it can be spicy to bite into. But your health will be better for it!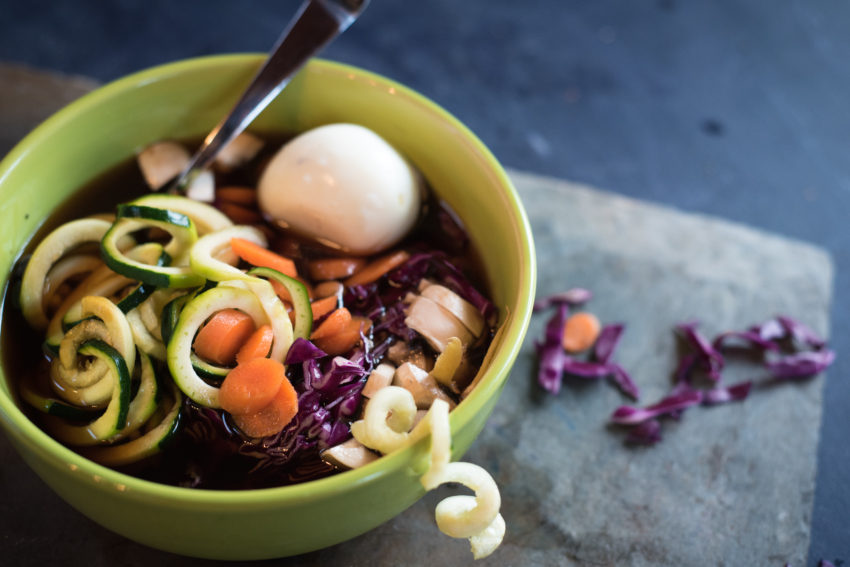 By the way, this is the second recipe in a series of prepping hardboiled eggs for the week! You can get the first recipe – Avocado Deviled Eggs – right here.
I created this recipe for Albertsons Safeway. If you make this – no, when you make this, please tag me in it! I would love to see and repost.
Instagram, Twitter & Snap: @Annessa RD. Facebook: @AnnessaChumbleyRD.
Ingredients
1/2 zucchini, spiraled into thin noodles or ribbons
1/4 cup red cabbage
1/4 cup petite baby carrots, thinly sliced
2 button mushrooms, thinly sliced
1 medium spring onion, sliced
2 teaspoons liquid aminos (or soy sauce/tamari)
1/2 teaspoon fresh ginger, minced
1 large egg, hard boiled
1 1/4 cups beef bone broth or stock
Preparation
1. In a wide mouth pint jar, add zucchini, red cabbage, carrots, mushrooms, and scallion, pushing down gently to make room for the egg. Add ginger, liquid aminos (soy sauce) and egg. Seal with lid.
2. When ready to eat, heat beef broth to boiling. Add to jar and cover with lid. Let set about 4 minutes. Pour into a bowl and serve!
Notes:
– If you don't have a spiralizer, use a vegetable peeler to make the zucchini ribbons.
– For a spicy version add a few drops of your favorite hot sauce!
Prep time: 15 minutes
Total time: 20 minutes
Serving size: 1 Ramen Jar
Nutritional Information: Calories 166, Total Fat 5.6 g, Saturated Fat 1.6 g, Polyunsaturated Fat 0.8 g, Monounsaturated Fat 2.0 g, Cholesterol 186.0 mg,
Sodium 905.5 mg, Potassium 523.1 mg, Total Carbohydrate 17.8 g,
Dietary Fiber 4.5 g, Sugars 8.8 g, Protein 12.9 g