An easy, healthy waffle all made in the blender – with no flour, only oats. And many, many strawberries 😉 It's easy, but, I wanted to supply you with step-by-step photos because the first time you do anything – pictures help! These can be frozen for a quick, nutritious breakfast anytime. Let them cool completely, then freeze in a zip-top bag. We love to cut them into triangles before freezing to make what my kids call a "waffle snack."
Here we go!
Blend together 2 eggs with 1/2 cup coconut milk from a carton. Silk unsweetened coconut happens to be my favorite. It is creamy and delicious.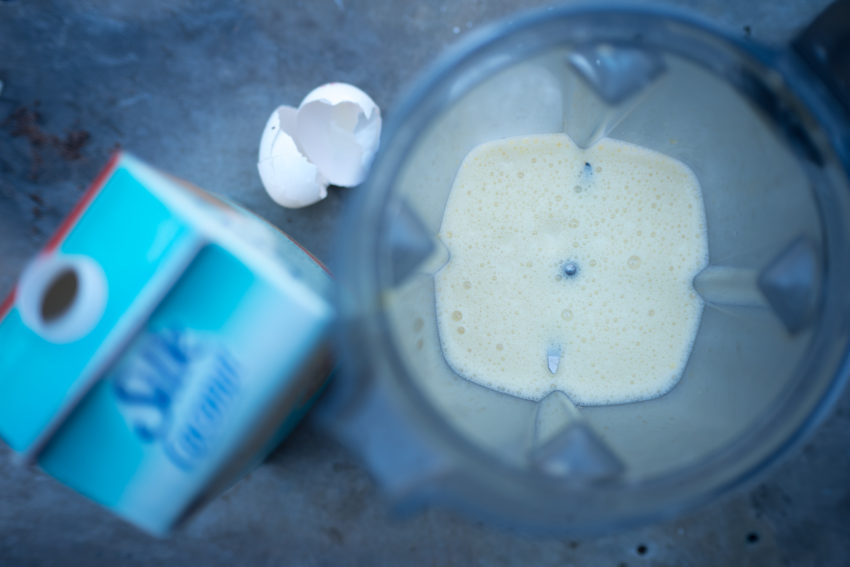 Then add the ingredients that will give the waffle it's substance and lift – oats and baking powder. Once the oats get blended on high, they will look choppy and won't get be totally smooth. they will start to absorb the liquid and create a batter.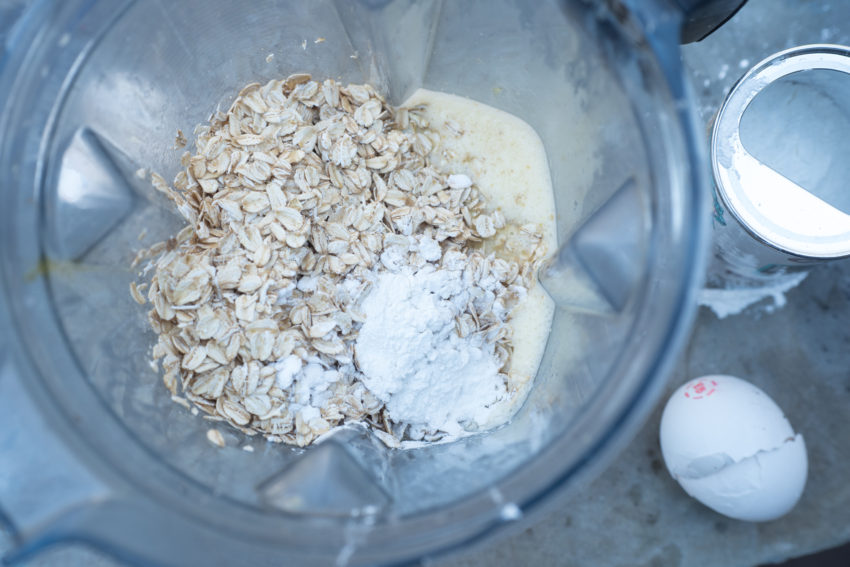 Now for the strawberries – 2 cups – which is a lot! I use the strawberries in place of more liquid, and it worked great! I sliced the strawberries thickly and measure 2 cups – but you wouldn't necessarily need to slice them. A good Vitamix blender will pulverize a full strawberry just fine. Two cups is almost a 16 ounce package of strawberries.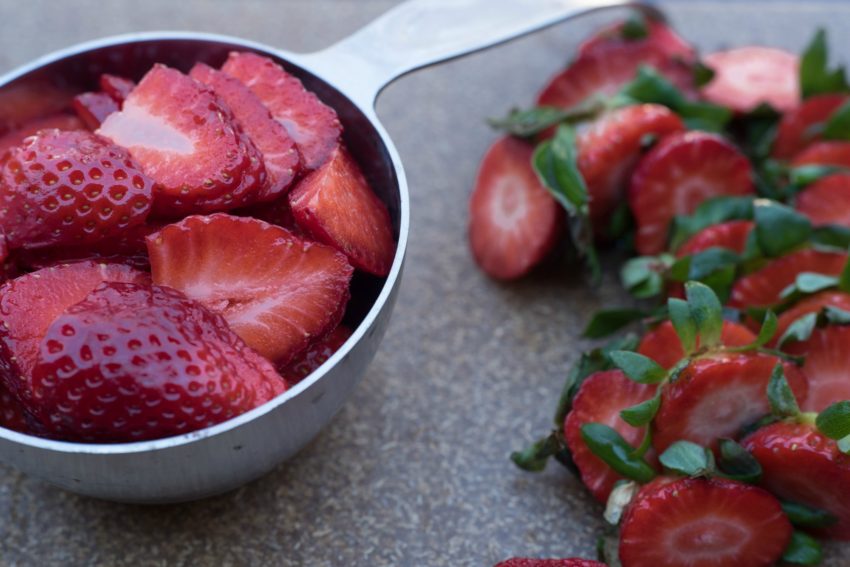 I love that there is a full 1/2 cup of strawberries in each waffle. So, we get the benefit of the full fruit – antioxidants, fiber, vitamin C and all. Then a little raw, local honey.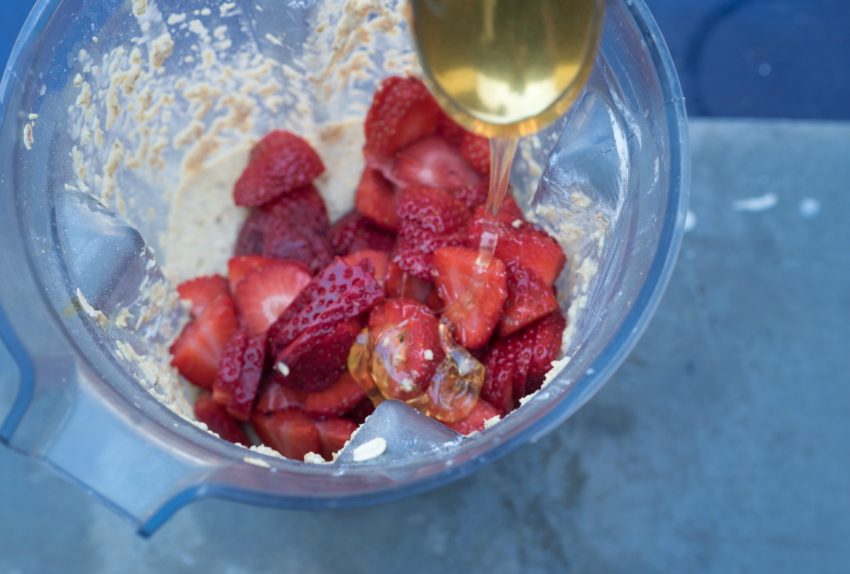 Once this mixture is blended, the batter will be smoother and a pretty pink. I tested it with and without the addition of unsweetened coconut flakes…and it was amazing with the added texture of coconut.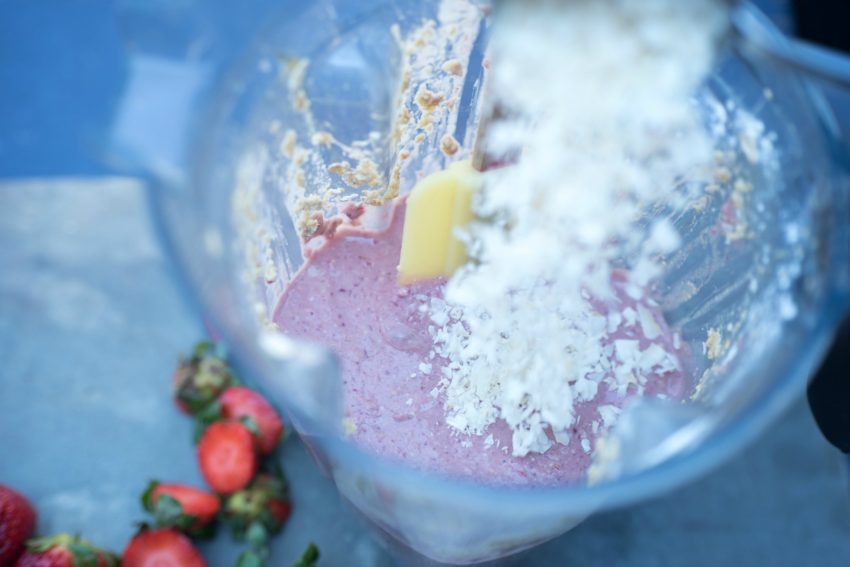 Wait 5 minutes for the oats to absorb all that liquid and become more "batter-like". Pour almost a cup into a Belgian waffle maker…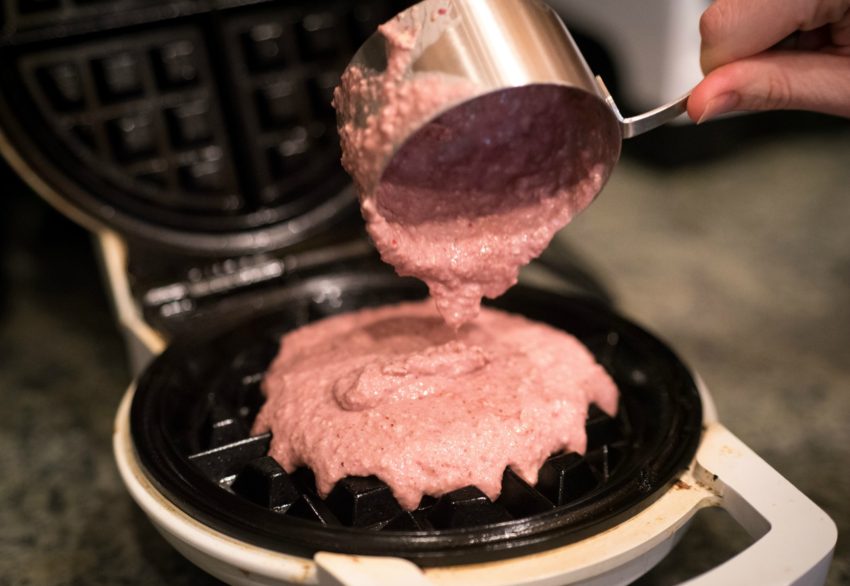 And this is how they turn out!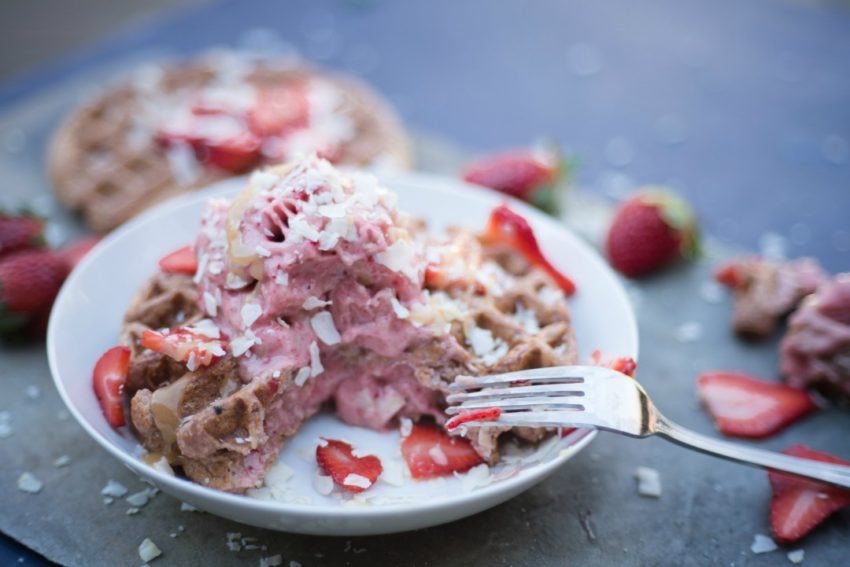 We love to top them with 2-Ingredient Strawberry Ice Cream, and a swirl of coconut butter (this makes it excellent post-workout fuel, or a fun dessert for kids!)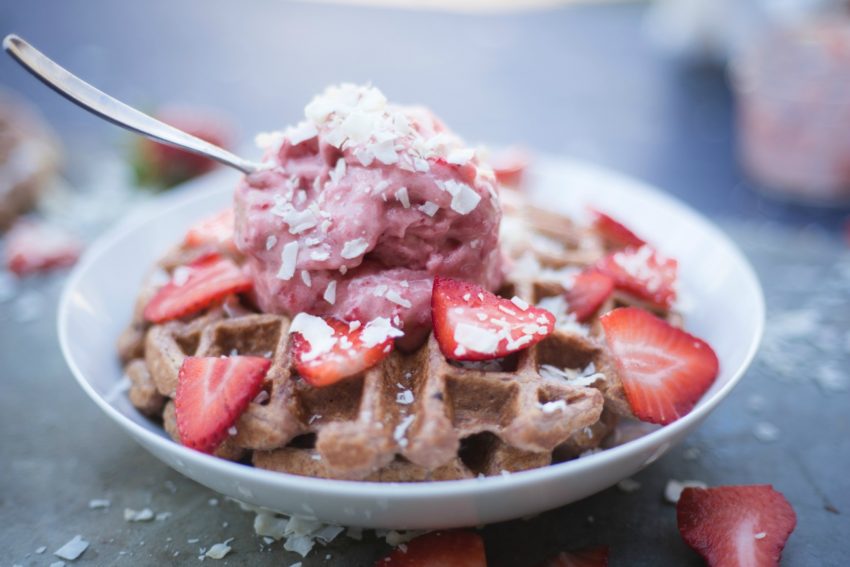 I created this recipe for the O Organics brand for Albertsons and Safeway….and have made it for several cooking demos! It's always a hit.
If you make it, tag me! Facebook: @AnnessaChumbleyRD; Instagram: @AnnessaRD.
Ingredients
1/2 cup coconut milk (from a carton)
2 large brown eggs
2 cups whole rolled oats
2 teaspoons baking powder
2 tablespoons raw honey
2 cups fresh sliced strawberries
1/4 cup shaved coconut
Preparation
1. In a high-powered blender, add coconut milk and eggs, and blend. Then add oats and baking powder, blending again until well-mixed (oats will be chopped, but mixture won't yet be smooth). Add honey and strawberries, then process until mixture is smooth. Using a spatula, stir in the shaved coconut, gently scraping down the sides as you go. Wait 5 minutes before pouring batter into waffle maker (this gives the oats time to soak up the liquid).
2. Heat a Belgian waffle maker and give it a light coating nonstick spray or brush it with coconut oil. Pour in 3/4 cup of batter into the middle, close waffle iron and cook 3 1/2 minutes.
3. Remove waffle and repeat for rest of the batter.
4. Top with fresh strawberries, 2-ingredient Healthy Strawberry Ice Cream, and unsweetened shaved coconut.
Note:
– if batter seems too liquidy, add 1/4 cup more oats, and blend again until smooth
– A good way to keep waffles warm as you wait is to place them in a single layer on a baking sheet and keep them in a 200º oven
– waffle freeze easily to eat later. To freeze, let waffles completely cool, then freeze in zip-top bags. We like to cut them into triangles before freezing to make an easy snack or breakfast.
Prep time: 10 minutes
Total time: 20 minutes
Recipes makes: 4 Belgian Waffles