If you've never tried quinoa, this is for you! Simple, all-in-one-pan, no-mess recipe that everyone will love. Quinoa is a high-protein alternative to pasta, and has a texture similar to couscous. Many people tell me they haven't been able to make quinoa taste good….I think the secret is a sautéed onion. As you're adding the broth, don't forget to scrape up the brown bits on the bottom of the pan, as that adds tons of flavor. Also, the spinach will look like mountains when you first add it to the pan. Don't worry, it wilts down quickly! …add as much spinach as you like; it's loaded with nutrients good for the eyes! These are some of my favorite flavors….all in one pan 🙂 )
I created this recipe for Albertsons/Safeway, and, if you need a visual, I did a quick cooking video on it here!
Ingredients
1 1/2 pounds boneless skinless thinly sliced chicken breast 
1 large onion, sliced or roughly chopped 
3 cups reduced sodium chicken broth
1 1/2 cup quinoa 
4-5 cups fresh baby spinach (about 3 big handfuls) 
1/3 cup julienned sun-dried tomatoes (packed in olive oil) 
1 cup crumbled feta cheese
Preparation
1. In a large heavy-bottomed skillet over medium heat, sear chicken on both sides until cooked through (you'll know chicken is ready to flip sides when it no longer sticks to the pan). Remove chicken, cover with foil and set aside.
2. Add onion to the skillet, cooking until lightly browned, about 3-5 minutes. Add chicken stock and quinoa, stirring to scrape up the browned bits. Bring to a boil. Cover and turn heat to low. Simmer 20 minutes (stirring occasionally), until quinoa has fully absorbed liquid.
3. Turn heat off, fluff quinoa with a fork, and fold in spinach, sun-dried tomatoes, and feta. Slice chicken on a diagonal and add it on top. Serve warm!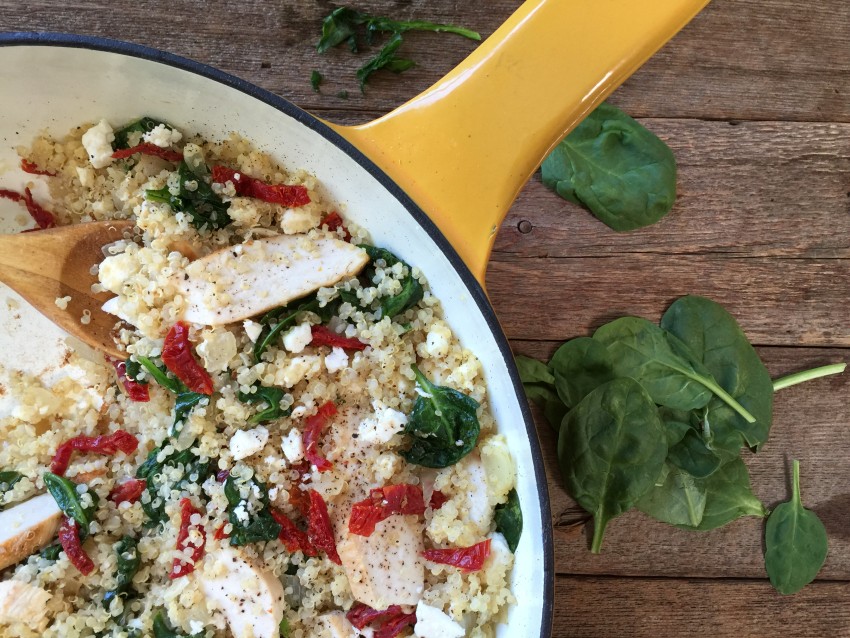 Prep Time: 10 minutes
Total Time: 30 minutes
Servings Per Recipe: 6
Serving Size: approximately 1 1/2 cup
Nutrition Facts Per Serving: Calories 282, Total Fat 11 g, Saturated Fat 5.0 g, Polyunsaturated Fat 1.2 g, Monounsaturated Fat 3.0 g, Cholesterol 70 mg, Sodium 568 mg, Potassium 201 mg, Total Carbohydrate 19 g, Dietary Fiber 3 g, Sugars 0.3 g, Protein 26 g