If you've never used it, Farro is an Italian grain – it's super high in fiber & protein, and has iron and calcium as well. A 1/2 cup serving has 7 grams of fiber, 7 grams of protein. For a grain, that's – WOW!  What I love about farro is that it is filling without making you feel fatigued in the afternoon, so this has become one of my favorite lunches. Also, you could make the entire batch in a large bowl for as a summer picnic salad. ….just, let people try it before telling them how every factor is good for them. 😉  
And by the way, don't skip on the golden raisins – they and the lemon zest make this AMAZING. I created this recipe for @Albertsons @Safeway. And tried them out on many so I know they are delicious!
Ingredients
1 cup cooked farro
1/2 cup chopped basil
1 cup chopped red bell pepper
1/4 cup crumbled feta
2 tablespoons golden raisins
1 cup canned chickpeas, drained and rinsed
2 cups fresh spinach (about 2 handfuls)
Dressing:
juice and zest of 1 lemon
2 teaspoons olive oil
sea salt
Preparation
1. Divide ingredients around 2 separate bowls: farro, basil, bell pepper, feta, raisins, chickpeas, and spinach.
2. Zest lemon over each bowl, then drizzle each bowl with a little olive oil, sea salt, and a squeeze of lemon juice.
3. Toss together when you're ready to eat, and dig in!
Notes:
– you can whisk the dressing together in a separate small cup and pour, or just squeeze the lemon, lemon zest, and drizzle the olive oil right onto each bowl.
– this bowl can easily be prepped for lunch the next day, just leave basil whole instead of chopping so it doesn't overly brown nor bruise. Just before lunch, tear basil with your fingers to release there flavorful oils into the salad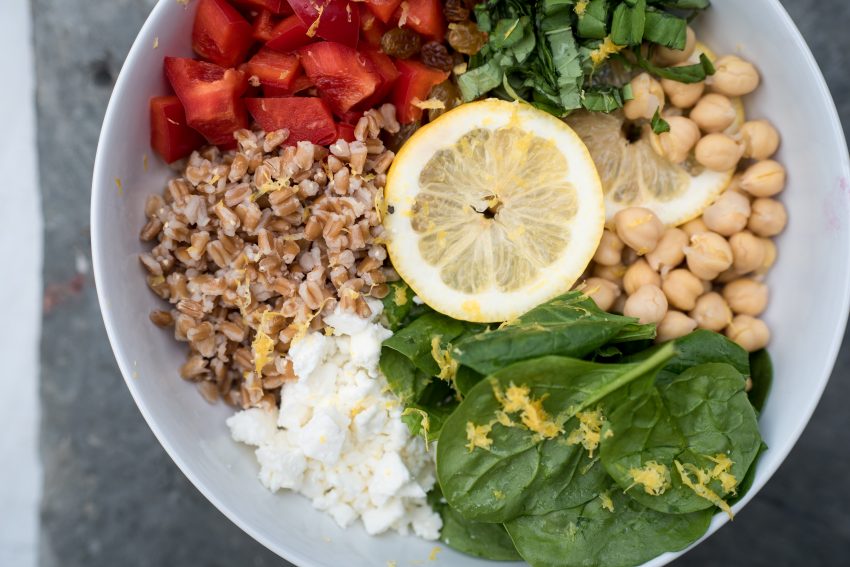 Servings: 2 bowls
Nutrition facts per serving:
Calories 378, Total Fat 13.3 g, Saturated Fat 3.8 g, Polyunsaturated Fat 2.3 g, Monounsaturated Fat 5.9 g, Cholesterol 16.7 mg, Sodium 576.2 mg, Potassium 421.0 mg, Total Carbohydrate 60.3 g, Dietary Fiber 6.8 g, Sugars 9.2 g, Protein 14.7 g