The final weight-loss recipe #5 of 5 using Batch Cooked Ground Beef! So, once you've pre-cooked that protein, you have 5 easy recipes to go along with it. Protein Cabbage Wraps, Stroganoff-Stuffed Portobellos, Easy Cheesy Spaghetti Squash, Weight-Loss Italian Soup, and now Korean Beef & Veggie Bowl. I try to base all of these around the idea of "plants + proteins" …and then add in healthy fats and some fruits.
Korean Beef & Veggie Bowl is an easy one or two person recipe, and you can increase the heat (or lower it…especially in my case ?  to meet your tastes. This is a healthy lunch or dinner idea that can be easily without much fuss.
Grate garlic and ginger into a hot pan to provide tons of flavor. Add tahini (which is simply ground sesame seeds….it's amazing), and tamari (gluten-free soy sauce) in order to make a sauce. Stir in a little Batch Cooked Ground Beef….and – deliciousness awaits. Top that on a bowl of veggies, or into a lettuce cup. If you need to cook those veggies first, simply sear them in the sauté pan after you've cooked the beef.
Top the bowl with ground sesame seeds…and there you have it! Only, when I made this for a video, I had a sprinkle fail: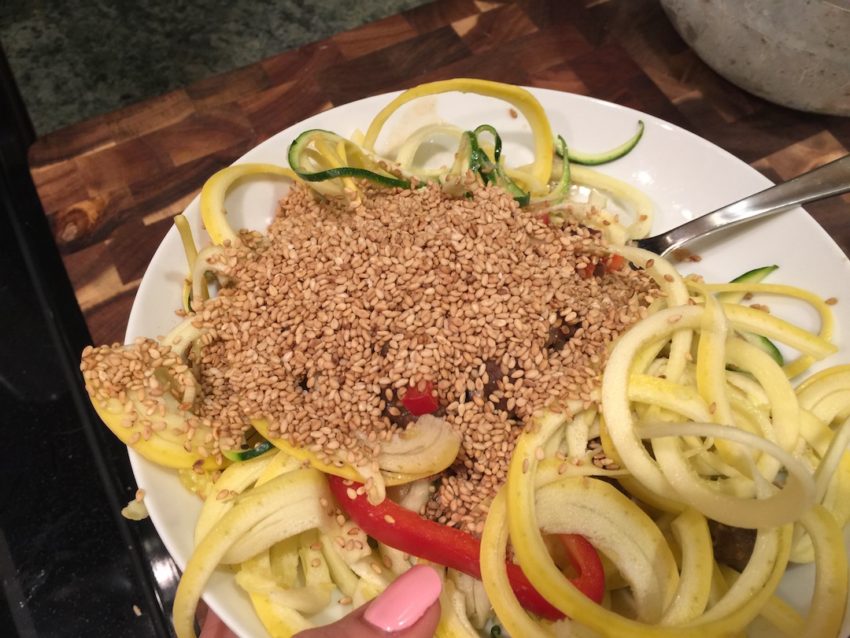 LOLOLOL. Big fail. My beef and veggie bowl turned into a sesame seed bowl. Not exactly as good….but I still ate it! Those sesames are high in calcium, iron, and magnesium. So, my boost of minerals that day was on overkill. Note to self: use the sprinkle side, not the pour side.
But I'm certain you won't make that mistake?
I created this recipe for Albertsons Safeway.
Enjoy!
Ingredients
1 cup grass-fed ground beef, fully cooked
1 garlic clove, minced
1 teaspoon fresh grated ginger
2 tablespoons tamari (gluten-free soy sauce)
1 tablespoon tahini
1/8 teaspoon crushed red pepper flakes
veggie ideas for the bowl:
vegetable noodes
butter lettuce leaves
julienned carrots
sliced scallion
sesame seeds
cauliflower rice
sauteèd cabbage
Preparation
1. Spray a 10 inch sautè pan with nonstick cooking spray and heat over medium high heat. Add garlic and stir for 30 seconds. Add ground beef, ginger, tamari, tahini and red pepper flakes. Stir until heated through and well combined, about 2-3 minutes.
2. Remove from heat. Serve over a bowl of vegetables or veggie noodles. If making veggie noodles, simply sprinkle them with sea salt before putting hot ground beef on top. Sprinkle the top with toasted sesame seeds.
Notes:
– this is fantastic in lettuce wraps, topped with carrots, scallion, and sesame seeds or on top of cauliflower rice or sautéed cabbage

Nutritional Information: Calories 267, Total Fat 16.3 g, Saturated Fat 6.0 g, Polyunsaturated Fat 1.2 g, Monounsaturated Fat 1.0 g, Cholesterol 64.0 mg,
Sodium 1,012.0 mg, Potassium 104.1 mg, Total Carbohydrate 10.7 g,
Dietary Fiber 1.1 g, Sugars 6.1 g, Protein 19.9 g