If you followed the Batch-Cooked Ground Beef recipe, this is an amazing, really easy, lunch and dinner recipe to use all that protein with…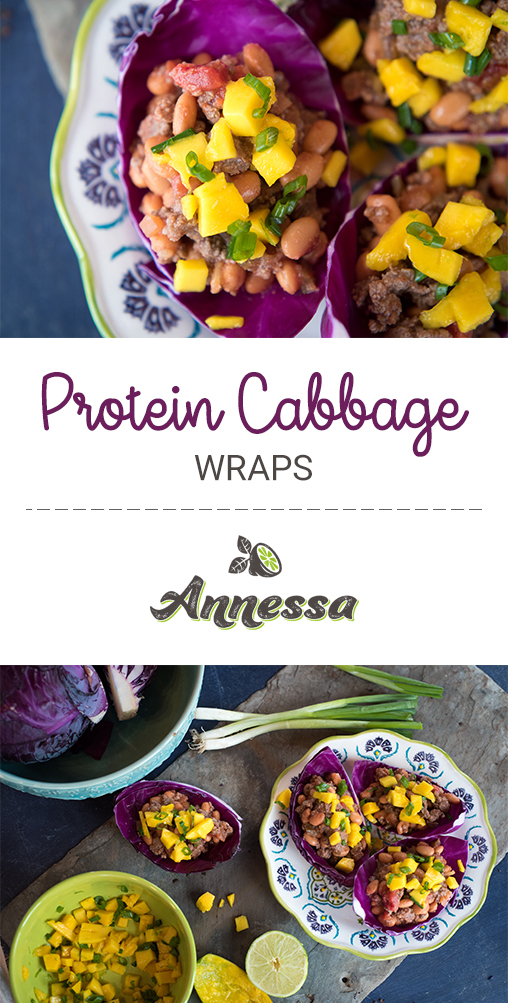 Red cabbage is my favorite swap for a taco shell. Still just as crunchy and flavorful. If you've never cut cabbage into a shell or cup – it can seem like an event, but it's actually really easy! Here is a little 60-second trick that makes it super simple.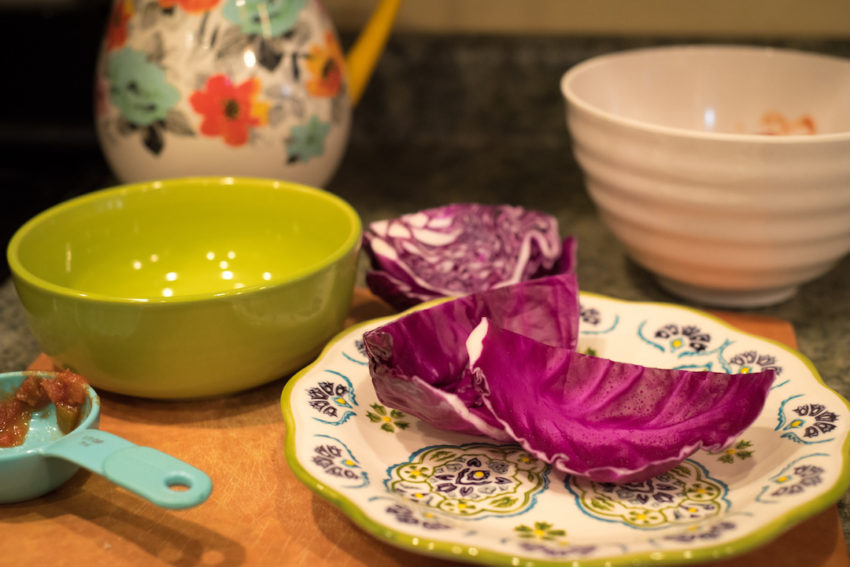 Once you've made that swap, it's not just that we are trading calories and processed carbs….it's that we are changing our tastebuds. We are one step at a time moving what we crave to something healthy, whole, and nourishing. 
So, take that pre-cooked and seasoned ground beef, and pair it with black beans, pinto beans, kidney beans…whatever are your favorite! And add in mild salsa.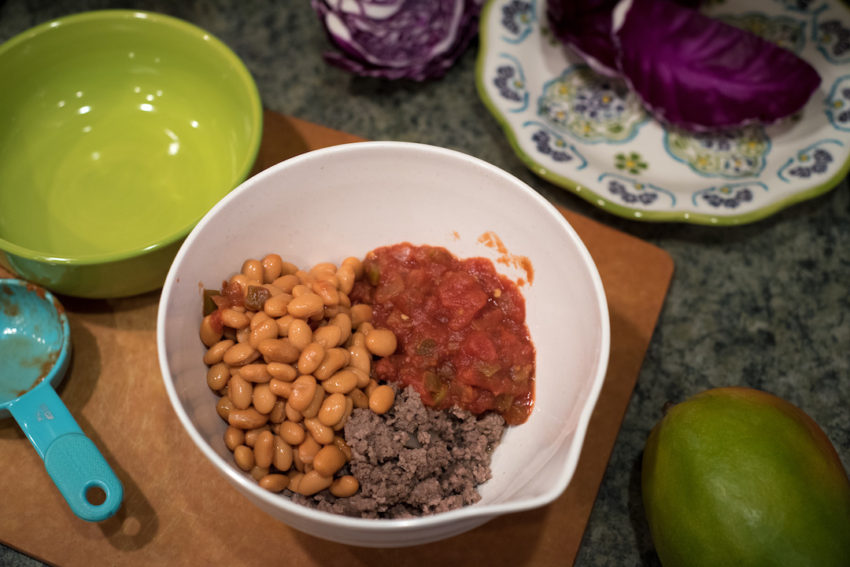 Scoop 1/3 cup of the delicious protein-rich mixture into each cabbage wrap…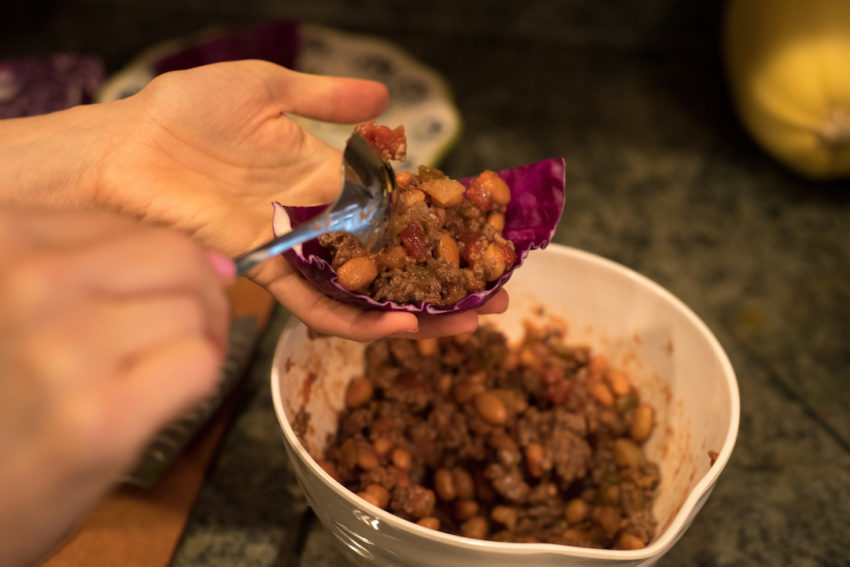 Now, for a quick mango salsa on top. I like to score mango, just by slicing gently down the skin into quarters, and then peel each quarter back…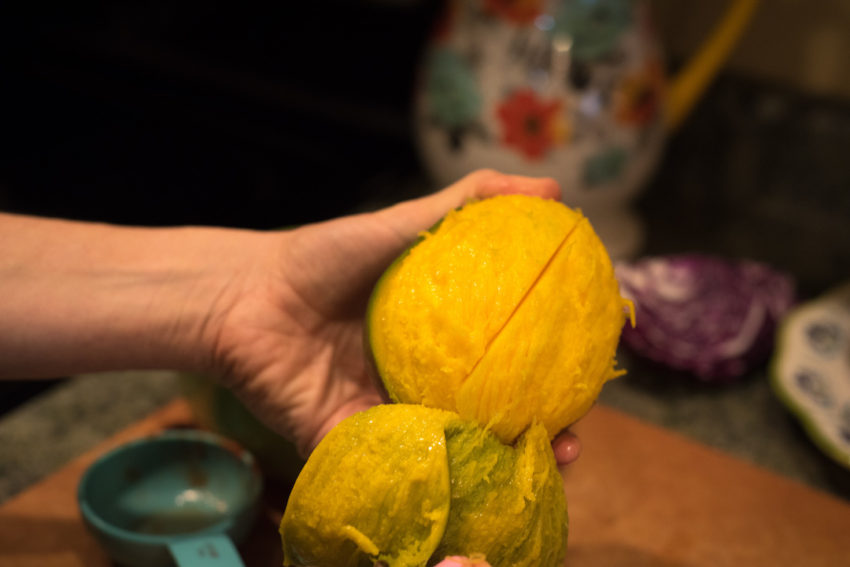 After that, score the flesh (it sounds intense, doesn't it???)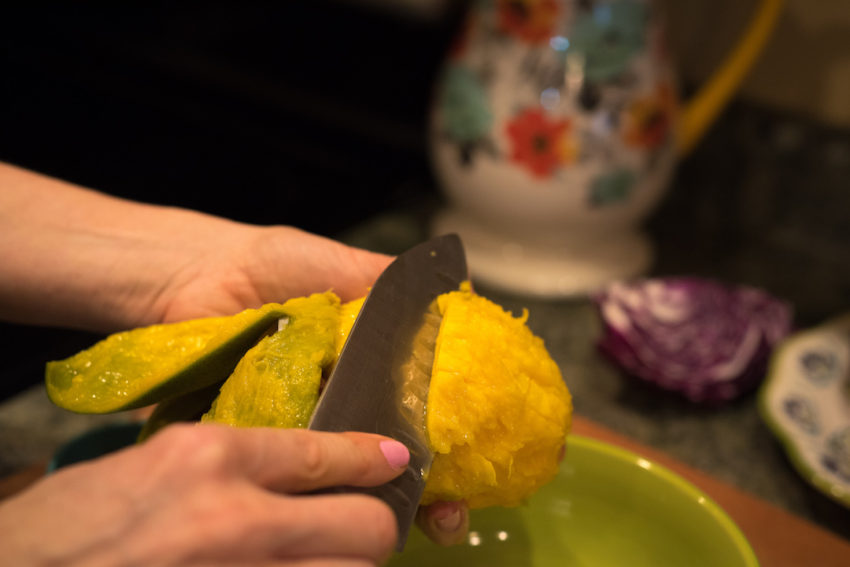 Then you can cut off the diced mango straight onto the wraps, or into a bowl…or just mix the mango salsa on your cutting board!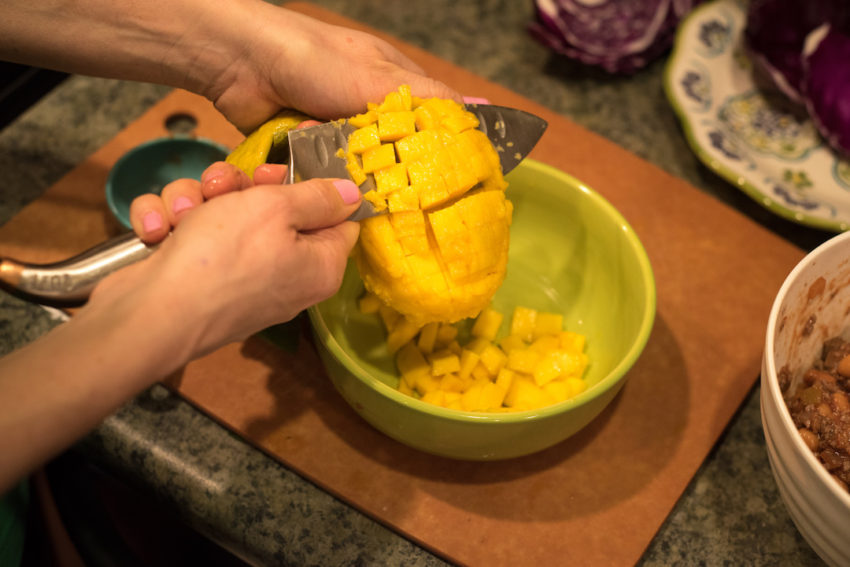 When lime is involved, it's always a win for me…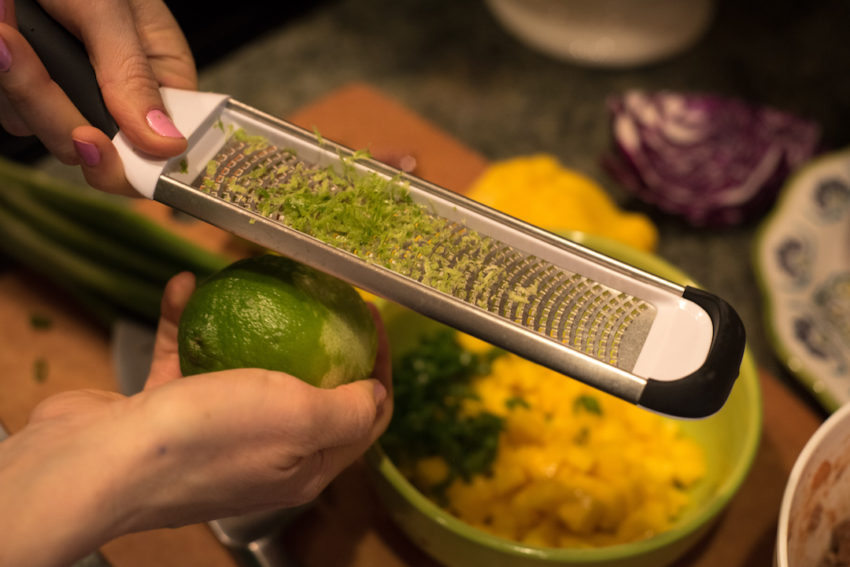 A sweet bite of mango and lime adds a TON of flavor…and this one is only 3 ingredients. Mango, lime, and green onion!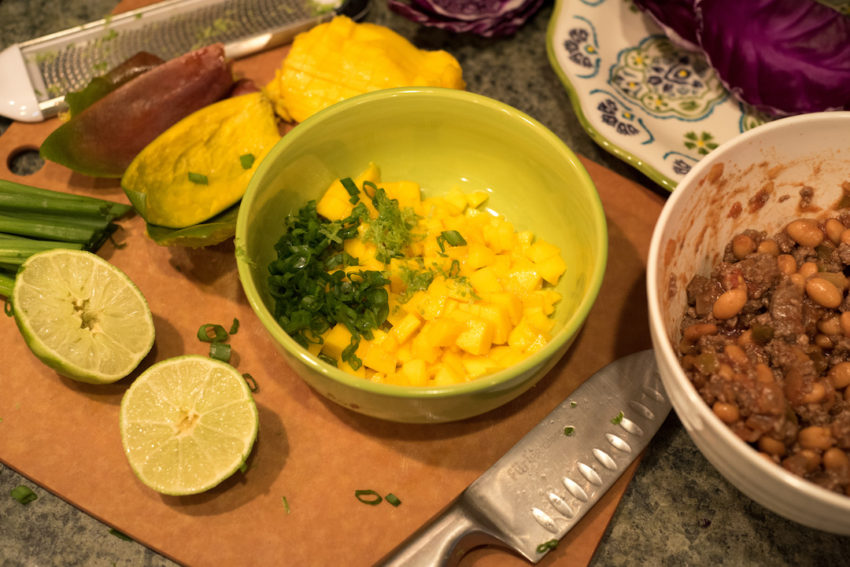 Top those wraps with the salsa – and you have a yummy lunch or dinner. If brining this to work, just keep the beef separate, and heat it quickly. It's an energizing and fulfilling lunch. Bonus: they are gorgeous!!!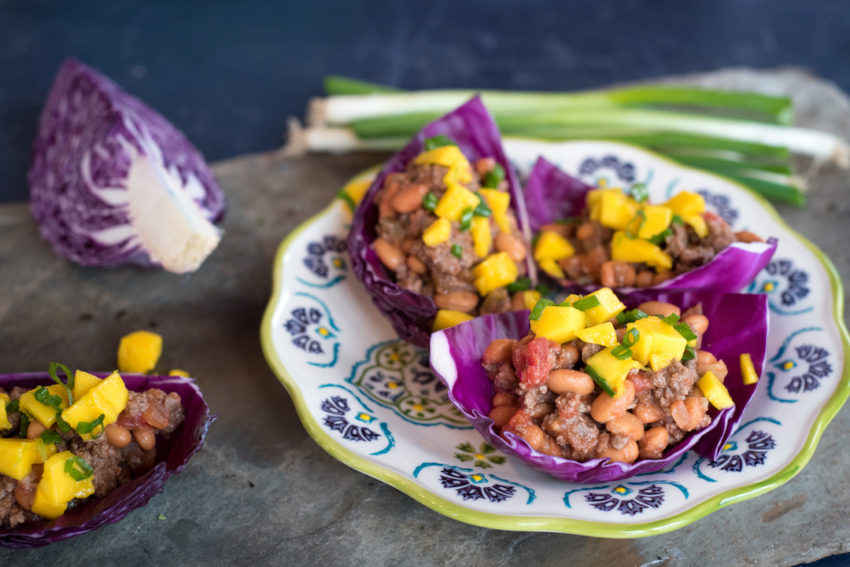 Ingredients
1 cup grass-fed ground beef, cooked and seasoned
1 cup black canned beans, pinto beans, or kidney beans, drained
1/2 cup mild salsa
1/4 red cabbage, peeled into 6 small cups
1/3 cup diced mango
juice and zest of 1 lime
2 tablespoons sliced green onion
Preparation
1. If your ground beef was precooked and stored in the refrigerator or freezer, give it a quick reheat: in a saucepan, add ground beef, salsa, and beans. Add a sprinkle of sea salt if needed. Cook on medium just until warmed, about 5 minutes.
2. Scoop 1/3 of beef mixture into each cabbage cup. Divide diced mango and sliced green onion among the cabbage cups, sprinkling it on top. Add lime zest and a squeeze of fresh lime to each. If you're making a double batch, mix mango, green onion, and lime into a small bowl, then top each cabbage wrap. Enjoy!
Notes:
– if you are using plain ground beef that hasn't been seasoned, then add a sprinkle of kosher salt, garlic powder, and dried oregano to the ground beef before mixing it into the beans and salsa
– if you're taking this to lunch at work, keep the cabbage and mango salsa separate. Wait to heat the ground beef mixture until it's lunch time, and the build the wraps there. This recipe transfers easily and does not get soggy – red cabbage holds up well!
– red cabbage makes an excellent "cup" for protein to fit into, but feel free to use lettuce as a wrap too!
Prep Time: 5 minutes
Total Time: 5 minutes
Servings Per Recipe: 6
Serving Size: 1 cup
Nutritional Information: Calories 130, Total Fat 4.6 g, Saturated Fat 1.9 g, Polyunsaturated Fat 0.0 g, Monounsaturated Fat 0.0 g, Cholesterol 21.3 mg,
Sodium 138.1 mg, Potassium 280.9 mg, Total Carbohydrate 13.4 g,
Dietary Fiber 4.7 g, Sugars 3.7g, Protein 8.9 g