This is our favorite bowl of winter wonder for when it's snowing outside!  It's creamy, comforting, and absolutely delicious. If I'm  feeding a group of people, sometimes I'll double or triple this recipe. I love it because it is simply made creamy by cheese that offers protein, not by any other cream.  Top it with scoops of avocado, sliced green onions, corn, cilantro (for those people who like cilantro;), or plain Greek yogurt…when doing that, use FAGE plain 2% or 0%. It's the thickest and creamiest! Also, this freezes wonderfully!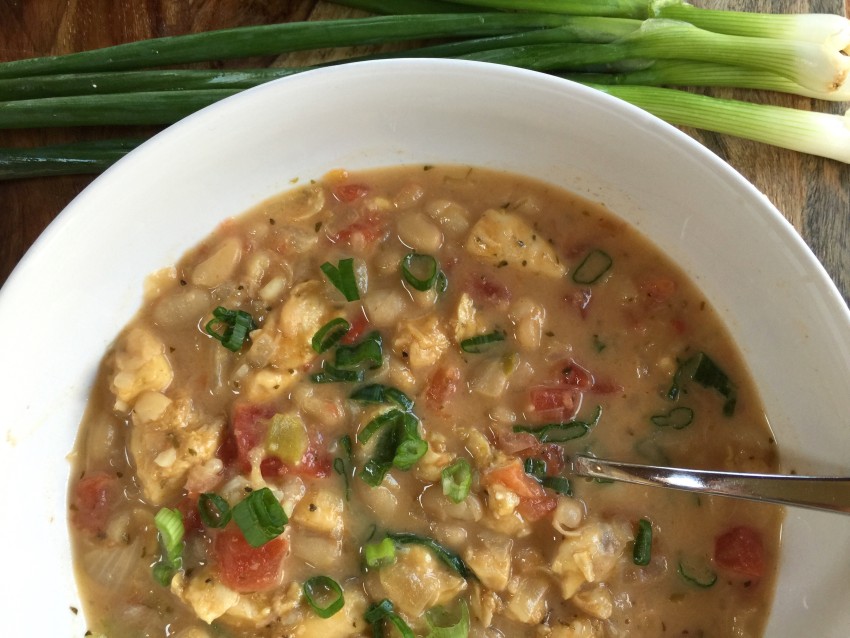 Ingredients
1 large onion, chopped
1 ½ pounds boneless, skinless chicken breasts, cut into bite-sized chunks
2 cloves garlic, minced
2 teaspoons ground cumin
2 teaspoons dried oregano
1 1/2 cups chicken stock or broth
1 (10 ounce) can Ro-tel® tomatoes, drained
2 (14.5 ounce) cans great northern beans, drained
2 cups shredded 2% reduced-fat Mexican blend cheese or Monterey Jack cheese
Preparation
1. Spray a large Dutch oven or stock pot with nonstick cooking spray and heat over medium high (or use 2 teaspoons of coconut or grape seed oil). Add onion, and cook until slightly translucent, about 2-3 minutes.
2. Add chicken and garlic. Sauté until chicken is cooked through.
3. Add cumin, oregano, chicken broth, Ro-tel®, and beans. Simmer on low for 20 minutes.
4. Turn off heat, and stir in cheese. Salt and pepper to taste.
5. Serve immediately! Don't forget some delicious toppings!
Prep Time: 10 minutes
Total time: 35 minutes
Serving size: 1 cup
Recipe makes: 8 servings
Nutrition Facts Per Serving: Calories 276, Total Fat 8 g, Saturated Fat 5 g, Polyunsaturated Fat .5 g, Monounsaturated Fat 1.6 g, Cholesterol 65 mg, Sodium 609 mg, Potassium 310 mg, Total Carbohydrate 17 g, Fiber 5.2 g, Sugars 0 g, Protein 32 g.