Sooooo comforting. That's what this soup is this time of year. If you've seen the Batch Cooked Ground Beef, this is recipe 4 of 5 that I created to go with it. Basically, cook up grass-fed ground beef seasoned with an onion, and you have 5 healthy recipes to go with it – like Protein Cabbage Wraps, Cheesy Spaghetti Squash, or Stroganoff Stuffed Portobellos. When I asked my followers (friends, really!) on Facebook what their health goals were, the highest percentage of them said, "eat more vegetables!" This is my way of supporting them….deliciously. What is your health goal this year? Please leave me a comment below!
I tried to keep it really easy without sacrificing any flavor. If you have already prepped a protein, you shouldn't have to use a ton of ingredients nor time throughout the week. Plus, in the colder months (at least where I'm at), being able to cook *healthy* meals with what's in the pantry and refrigerator is a must! Here's our star recipe for today….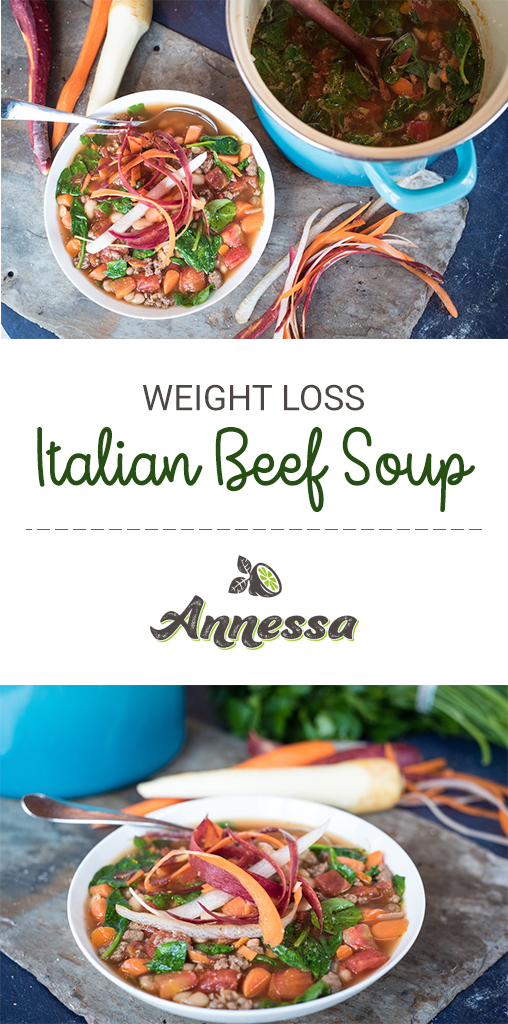 We usually have these on hand – organic baby carrots. Slice them roughly – no perfection required. The only thing I don't want you to do is cut a finger! ….if you haven't done that, consider yourself a success. These days, doing the chopping ourselves makes us a kitchen success!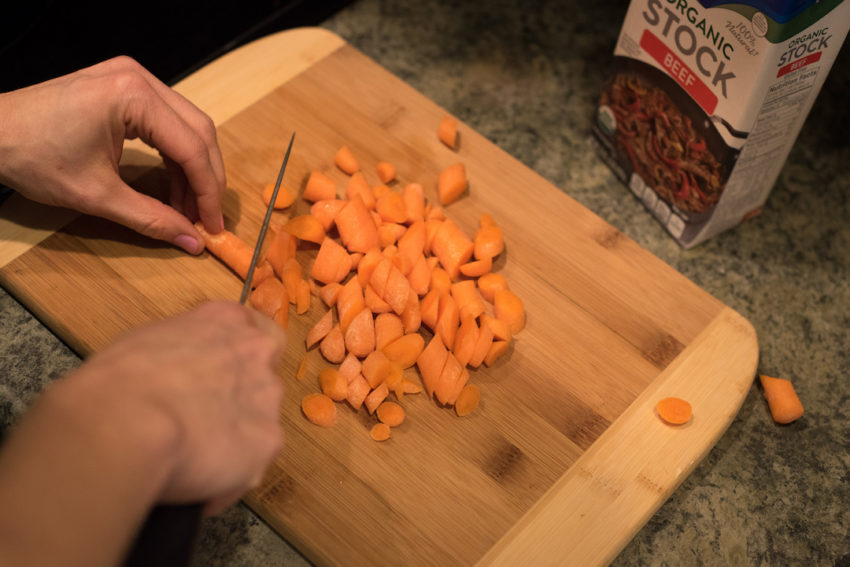 Saute those over medium heat in a big, beautiful pot sprayed with cooking spray (if you don't want to do that, add just a teaspoon coconut oil, or even water). I like to get a little charred color on them. Repeat after me, "color equals flavor, color equals flavor…"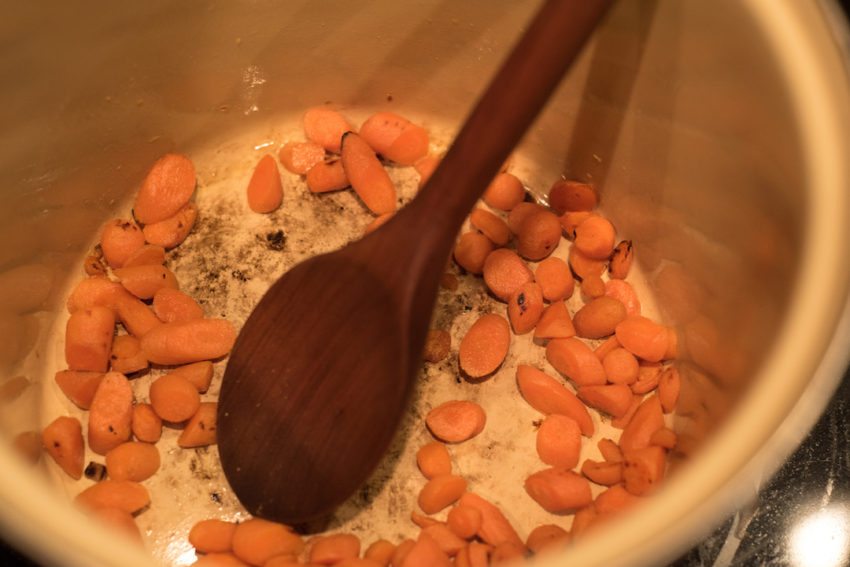 Add diced tomatoes with basil, garlic, and oregano. The addition of all those Italian ingredients with the canned tomatoes saves a ton of time! Then add cannellini beans – a rich, flavorful, creamy bean – and beef broth.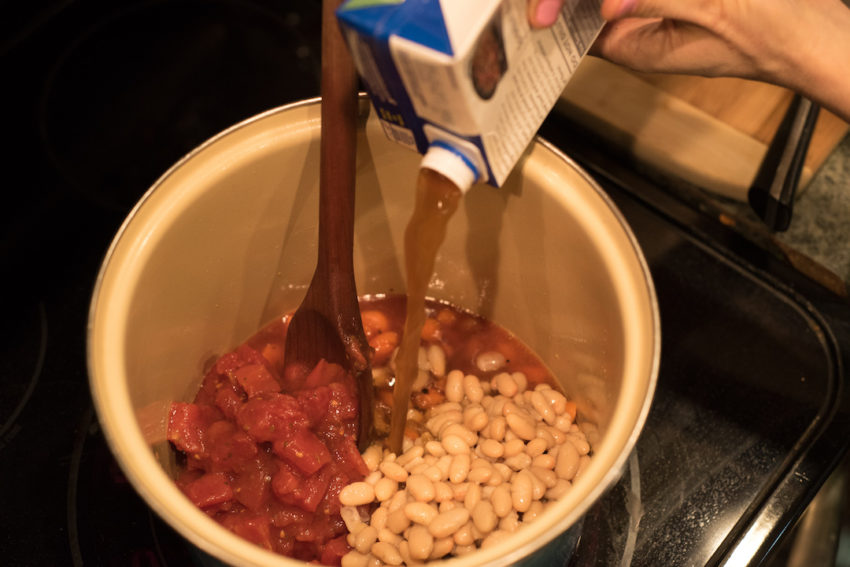 Then the ground beef, and big, giant handfuls of spinach….right on top. No need to slice them…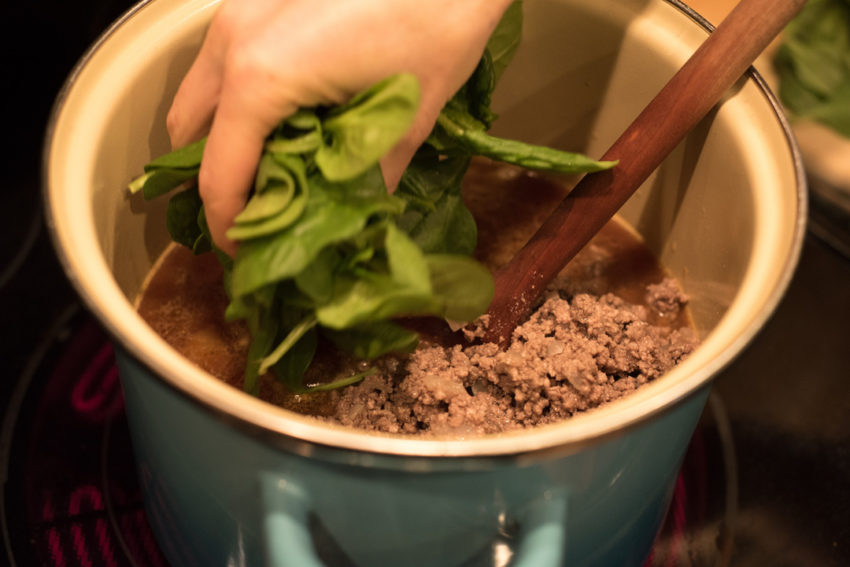 Those leaves will wilt down and add so much flavor with nutrition…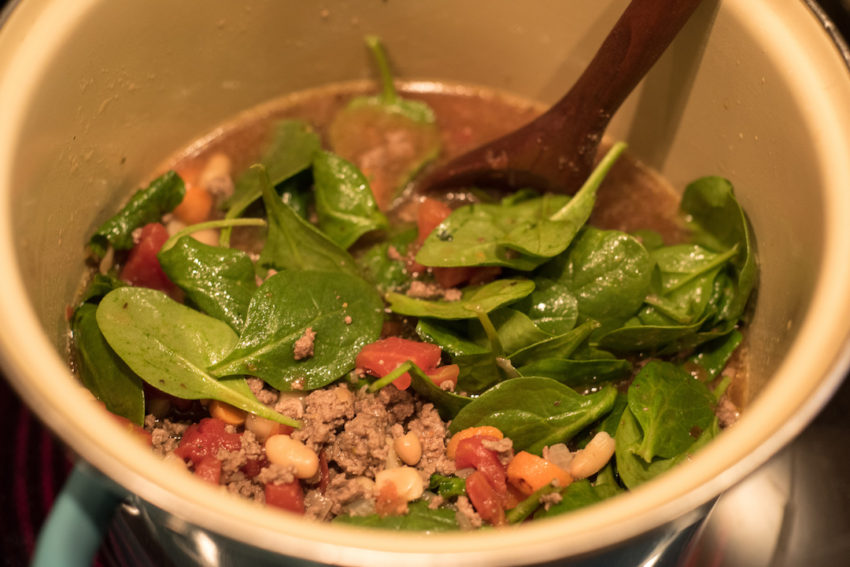 And dive in to a warm, comforting bowl of hearty beef soup. I usually top my soups with something – but this soup needed nothing added. It is absolutely wonderful. My kids always ask for seconds, which tells me even though I call this "Weight Loss Italian Beef Soup", that if kids enjoy it, it's a winner all the way around. I hope you like it too!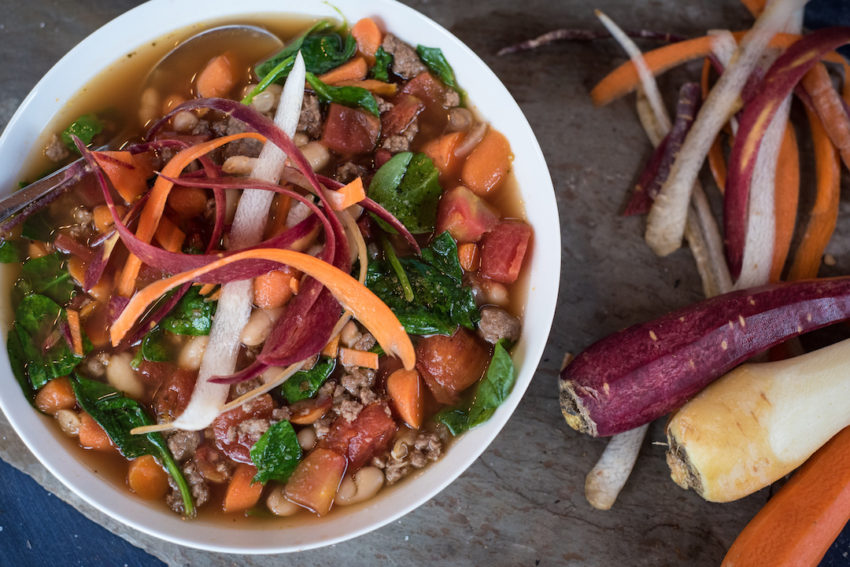 I created this recipe for Albertsons Safeway. Message me below with your thoughts! My weight-loss cooking class raved about this one!
Ingredients
1 cup petite carrots, cut into 1/2 inch pieces
1-14.5 ounce can diced tomatoes with basil, garlic and oregano
1-32 ounce box beef broth
1-15 ounce can Great northern or cannellini beans, drained and rinsed
1 pound grass-fed ground beef, fully cooked
2 cups baby spinach
1/4 teaspoon kosher salt
Preparation
1. Spray a 5 quart pan with nonstick cooking spray over medium high heat. Add carrots and sauté 2-3 minutes. Add tomatoes, beans and beef broth. Bring to a simmer, then add beef, spinach, and salt.
2. Continue simmering 12-14 minutes. It's ready to serve! Soup can be cooled down and frozen for future meals, too.
Notes:
– red kidney beans, great northern beans, or chickpeas (garbonzo beans) could be used instead of the cannellini beans
– this soup can be frozen for up to a month for later use
Prep Time: 5 minutes
Total Time: 20 minutes
Servings Per Recipe: about 8
Serving Size: 1 cup
Nutritional information:
Calories 125, Total Fat 3.4 g, Saturated Fat 1.4 g, Polyunsaturated Fat 0.0 g, Monounsaturated Fat 0.0 g, Cholesterol 16.0 mg, Sodium 542.1 mg, Potassium 173.0 mg, Total Carbohydrate 14.8 g, Dietary Fiber 5.7 g, Sugars 3.8 g, Protein 9.1 g