One of the easiest weeknight dinners is a tostada, because you can use whatever toppings you have on hand, and with a few simple ingredients, you end up with a world of flavors.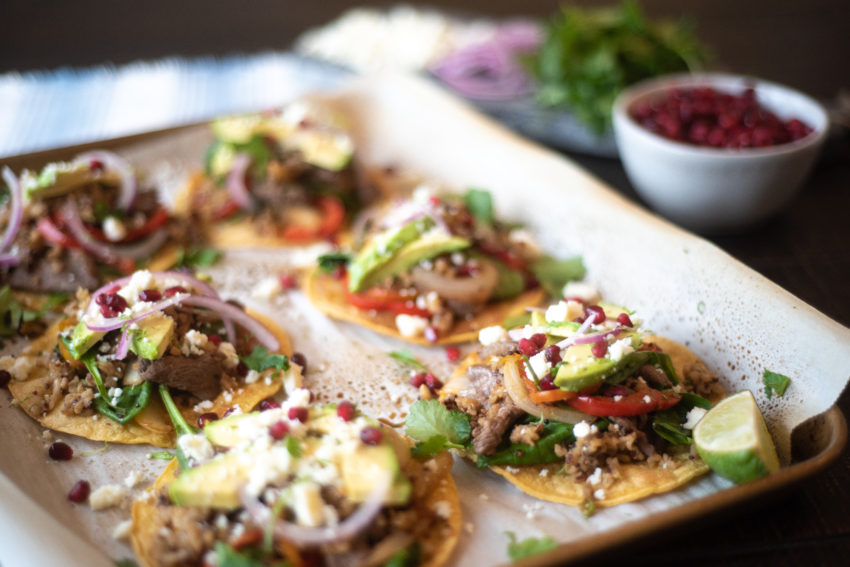 You probably know by now that I partner with Unilever. I was honored to be chosen among a handful of dietitians from around the country, to be an Agent of Change. As such, I work with an incredible team to carry out Unilever's mission to promote food that tastes good, does good and doesn't cost the earth. It has been such a joy to have this role! 
So, if you love lime, avocado, and easy recipes, you will looooooooove this dinner. First, sear thinly sliced sirloin steak on high…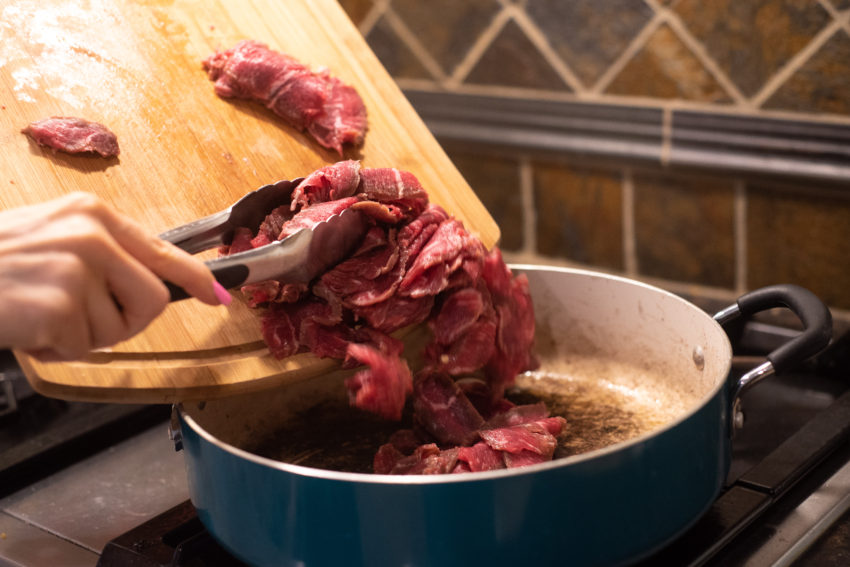 Then, remove it and I always re-coat that pan with another later of nonstick cooking spray. Of course, you could use olive oil as well. Then, toss in sliced bell peppers and a sweet onion. Let those get a good sear on them. Remove to the same plate as the steak and let them both rest for a little bit. Now for the important part! Knorr® developed an amazing product, Knorr® One Skillet Meals Steak & Peppers with Brown Rice and Quinoa. They are a range of delicious meal starters featuring ancient grains like barley, farro, quinoa & whole wheat couscous. I love them because they are super easy and can be made in 30 minutes or less! Just add it to the hot pan along with water…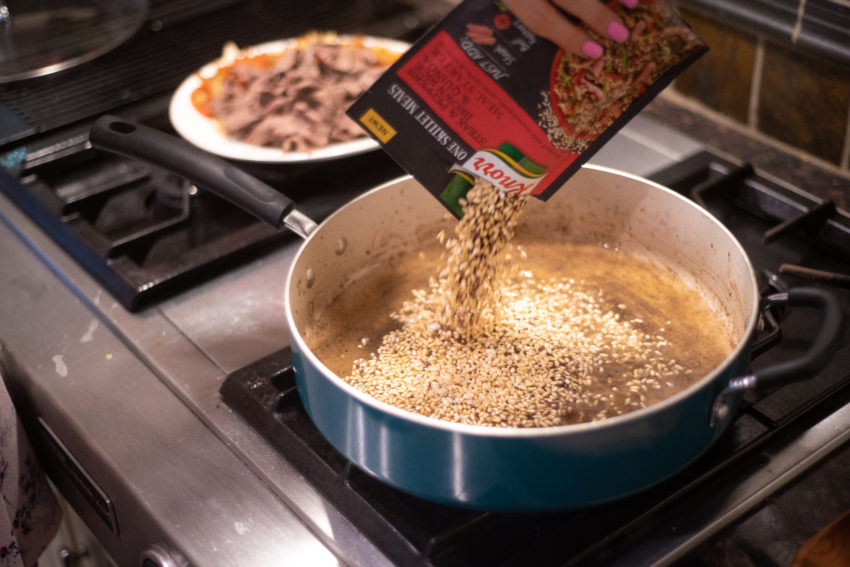 After it cooks, those grains get all nutty, chewy and delicious. Then fold in 3 handfuls of fresh spinach. Don't worry…the spinach slightly wilts against the heat of the grains.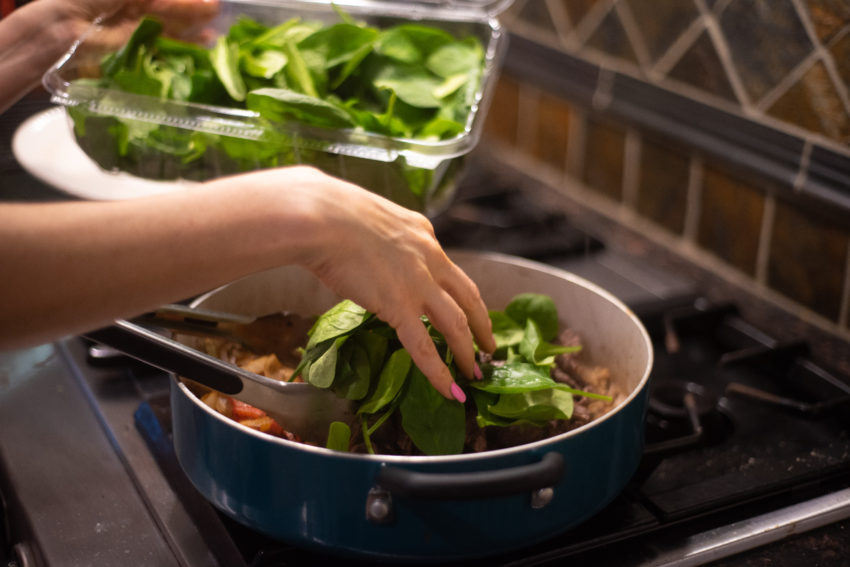 Add back the steak and veggies…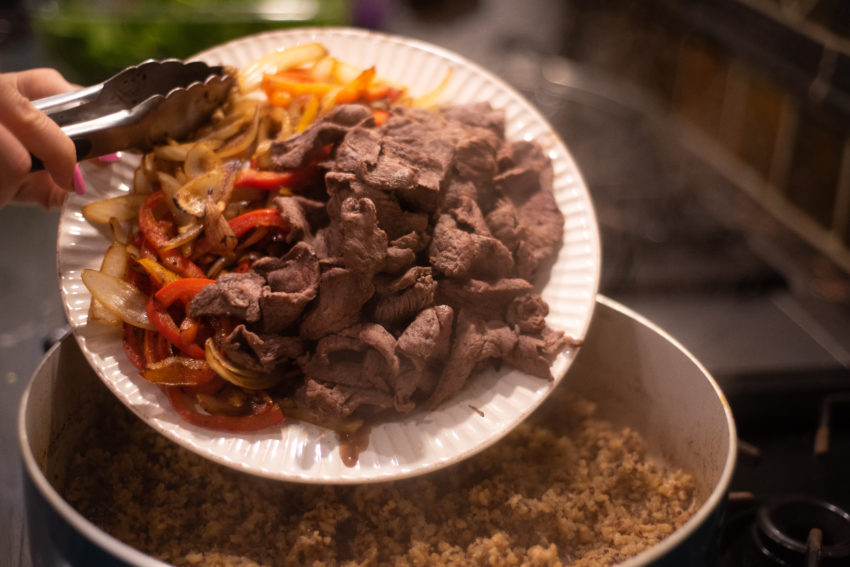 Fold everything together…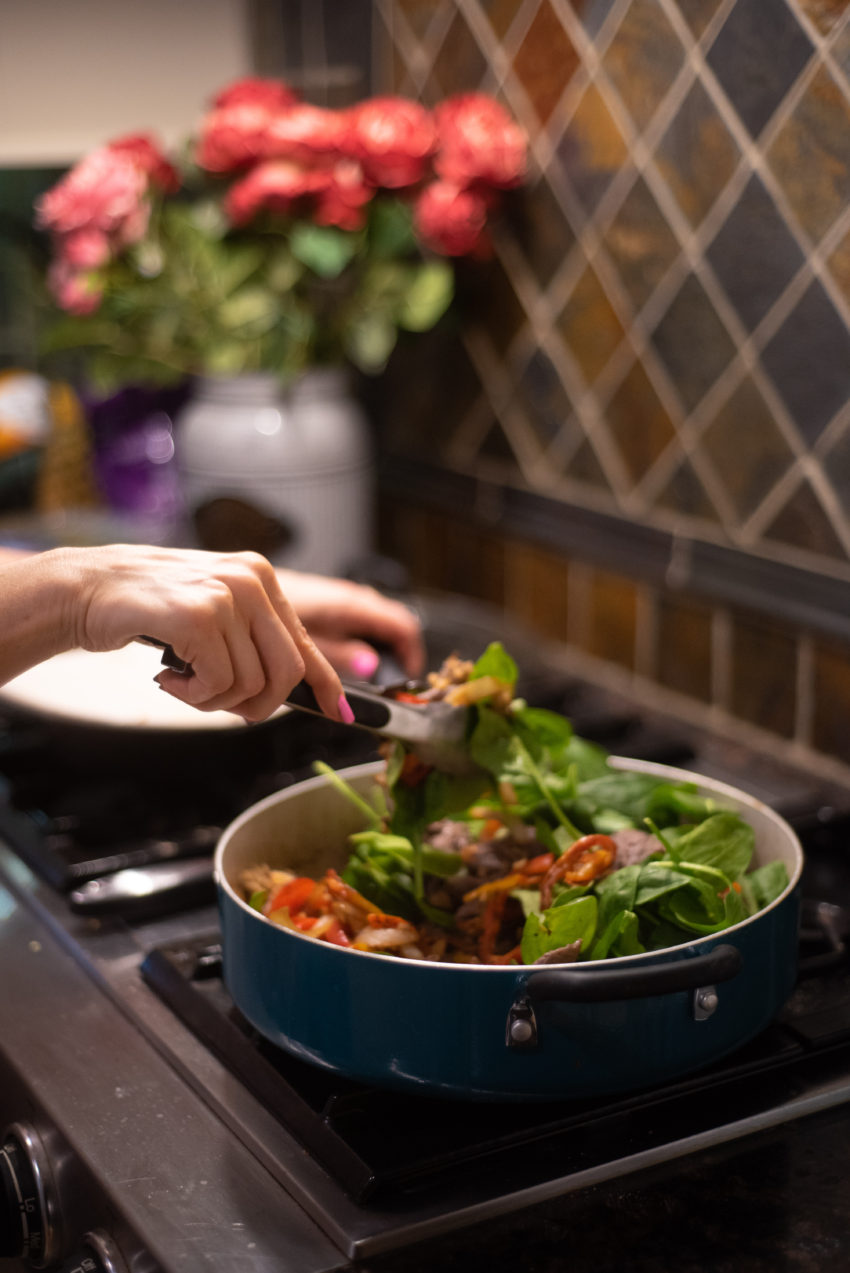 and then scoop it on top of toasted corn tortillas…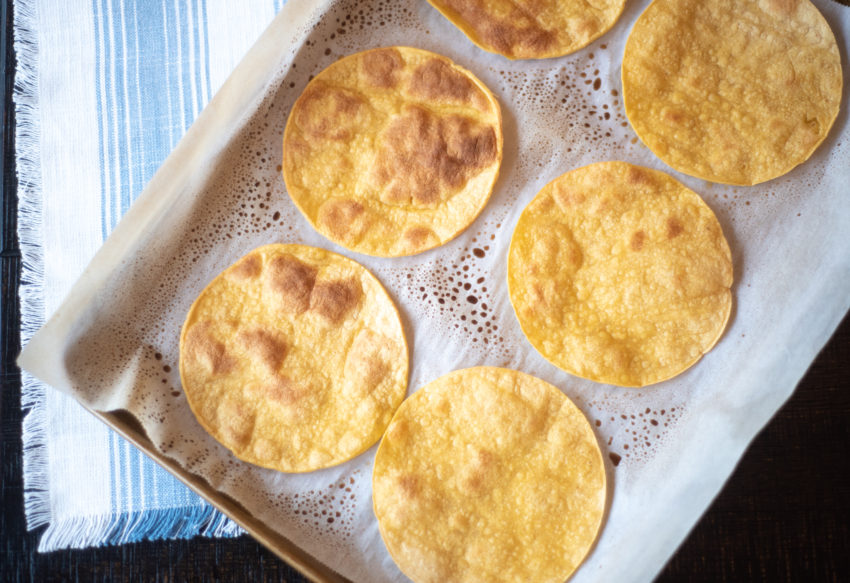 Finish with scoops of fresh avocado, lime juice, zest and any other toppings…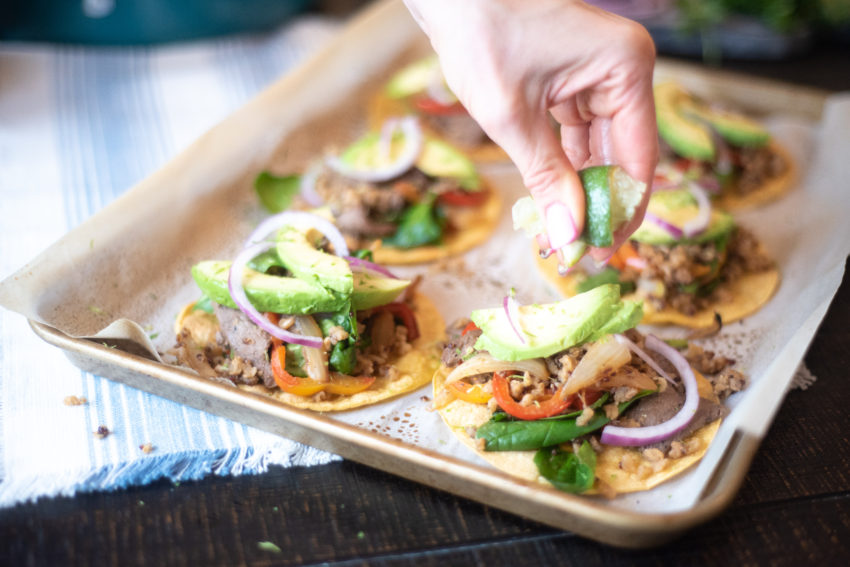 I love Cotija cheese and pops of pomegranate arils…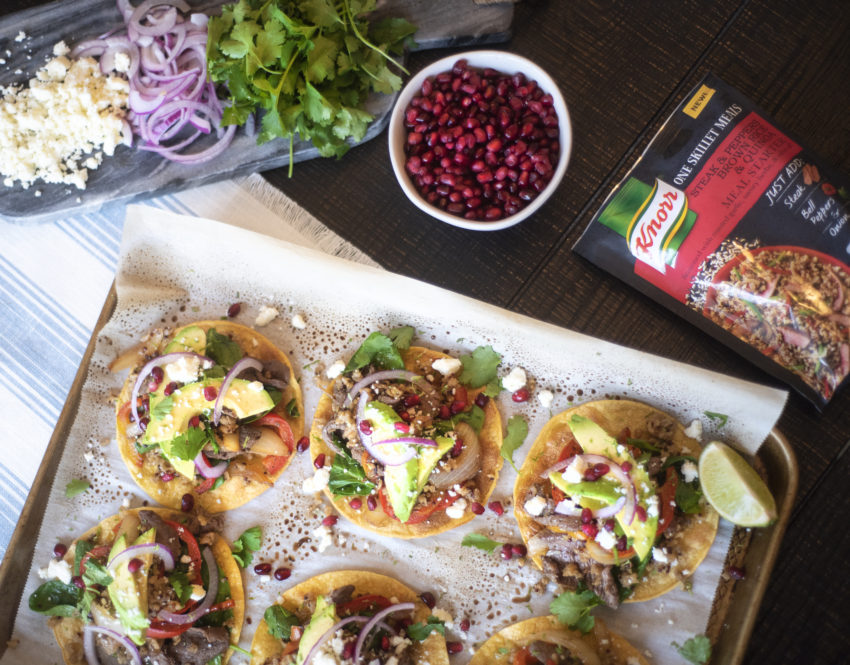 Dinner is served!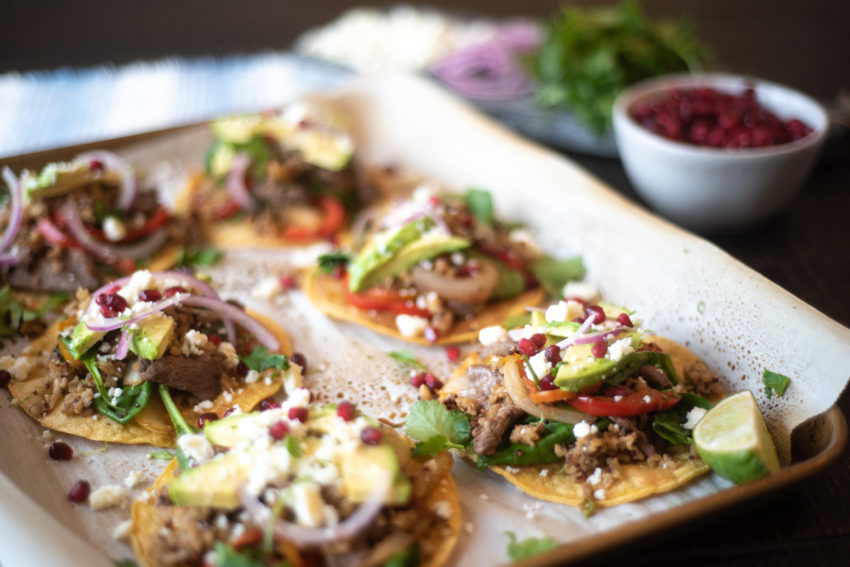 Tag me on social if you make this…I love to see what you create! 
Ingredients
1 pound sirloin steak, thinly sliced 
1 sweet onion, chopped 
2 bell peppers, roughly chopped 
1 package Knorr® One Skillet Meals Steak & Peppers with Brown Rice and Quinoa
3 cups fresh spinach 
2 ripe avocados 
juice and zest of 2 limes
12 corn tortillas 
Preparation
1. Spray a skillet with nonstick cooking spray and heat to medium-high. Once it is fully hot, add sliced steak. Sprinkle 1/4 teaspoon kosher salt on steak and sear steak until it's fully cooked. Remove to a plate.
2. Give the skillet another light coating of olive oil cooking spray and add onion and bell peppers. Sauté for 5-7 minutes until the veggies are lightly browned. Remove veggies to the same plate steak is on. 
3. In the same skillet, add 2 cups of water and the packet of Knorr® One Skillet Meals Steak & Peppers with Brown Rice and Quinoa. Stir and bring to a boil. Immediately reduce heat to a simmer, cover and let it cook for 22 minutes. Remove lid, fold in fresh spinach, and add back in steak, onion and peppers. 
4. Heat oven to 425º. Place corn tortillas on a baking sheet and lightly spray both sides with olive-oil cooking spray (or brush lightly with olive oil). Cook for about 8 minutes, until the tortillas are slightly toasted. 
5. Remove from oven and top each tortilla with 1/2 cup of the steak mixture, then top each with a generous amount of avocado, lime zest, and a squeeze of lime.  Serve and enjoy!