Since we need to put those strawberries to work before they go bad (remember, you have about 2 days to use those strawberries after you purchase them), here is an easy, kid-friendly, no sugar added, DELICIOUSLY creamy and refreshing way to use them! 2-Ingredient Strawberry Ice Cream…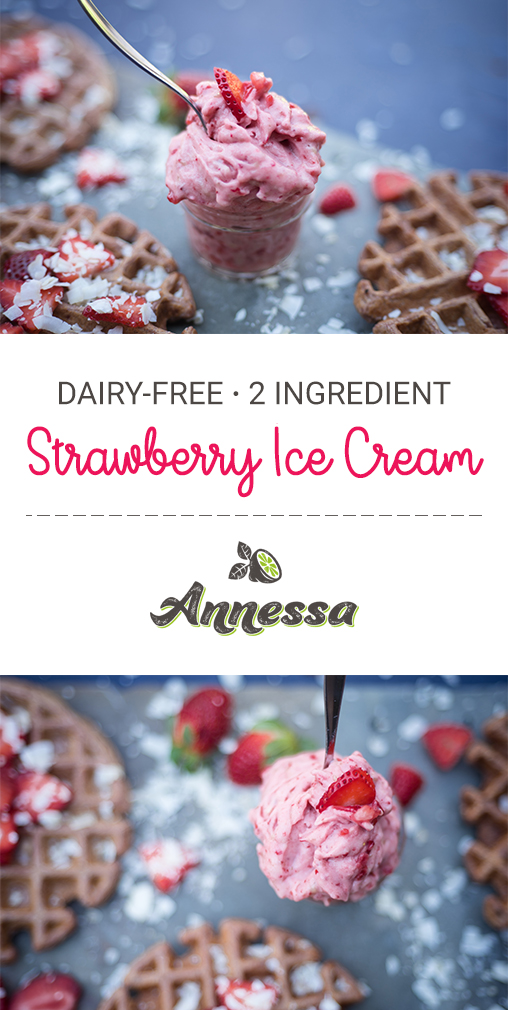 First, get rid of all the voices in your head that say that healthy food isn't delicious. Done. Let's move on: into the blender goes frozen bananas, and fresh strawberries. (Just FYI, I'm not picky, nor the food police. If all you have around is frozen strawberries, use them! If you only have frozen strawberries with the tops on, use those! No one here is judging).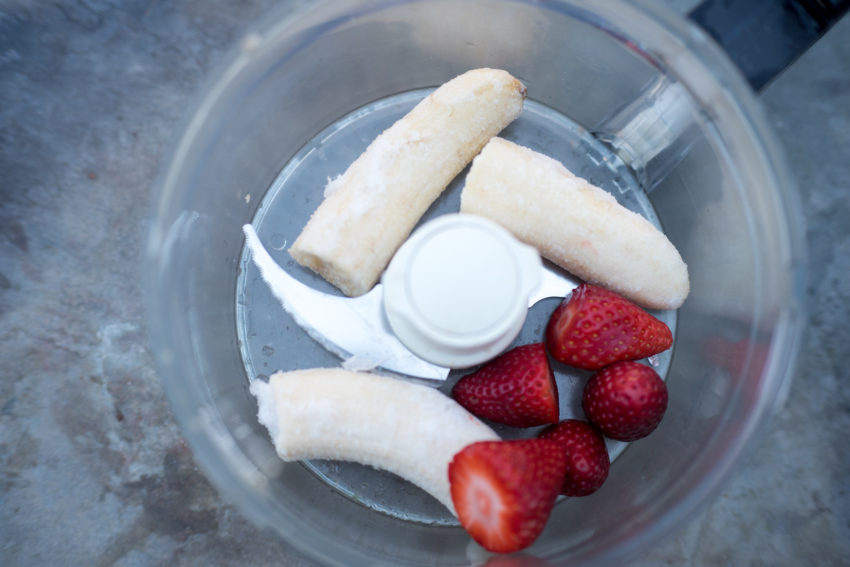 Now, resist the urge to turn on the food processor to blend. That would make for a smoothie, and ice cream and smoothies are not the same thing. Just pulsing is what we want. Pulse, pulse, pulse. Your thumb will get a workout, but it will be worth it…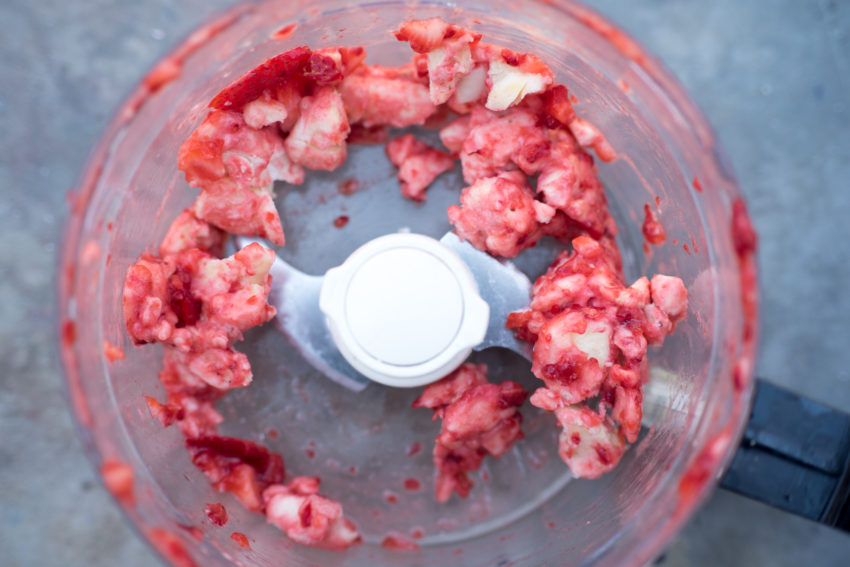 At this point, you could add a half scoop of vanilla protein powder if you wish. But just when you think nothing is going to happen to those banana and strawberry chunks, it turns into this: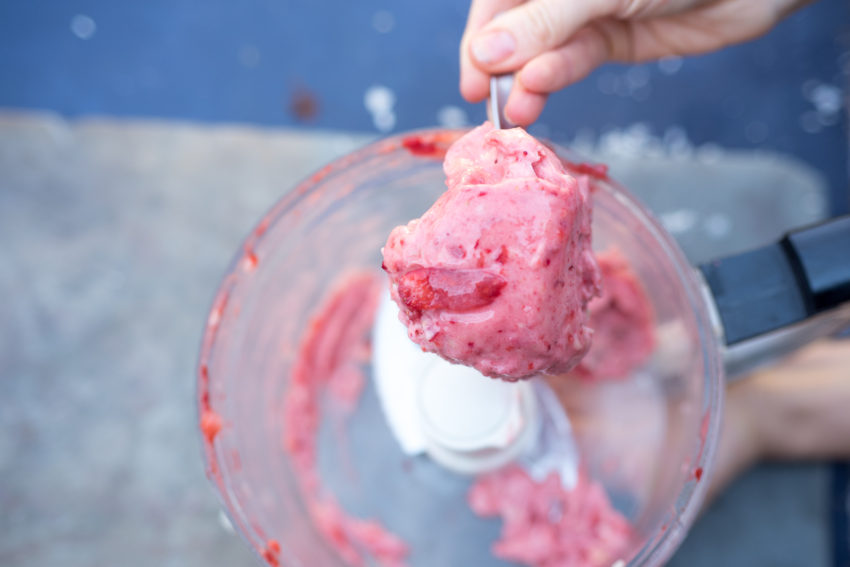 Scoop that creamy deliciousness into a small bowl, and enjoy the beginnings of summer!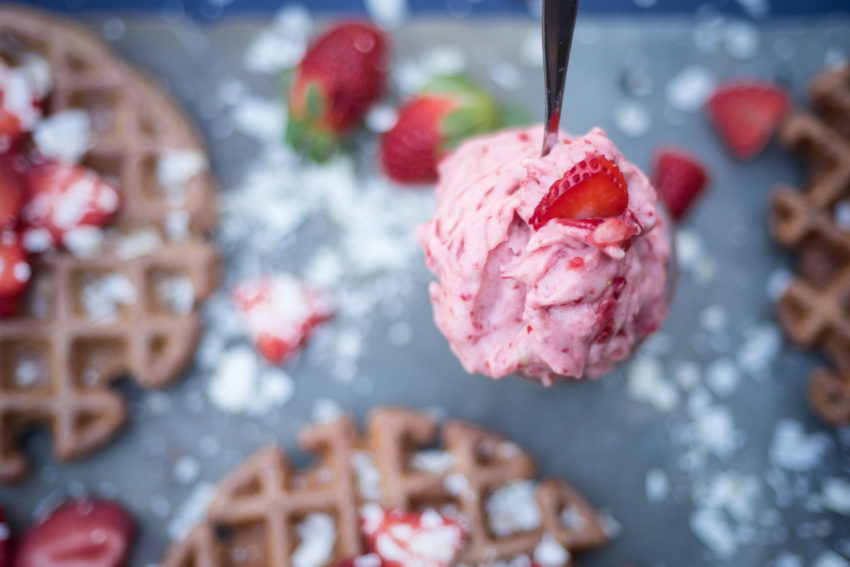 We love this on top of my Strawberry Blender Waffles….they are simply gluten-free waffles that call for 2 cups of strawberries, and are made entirely in the blender!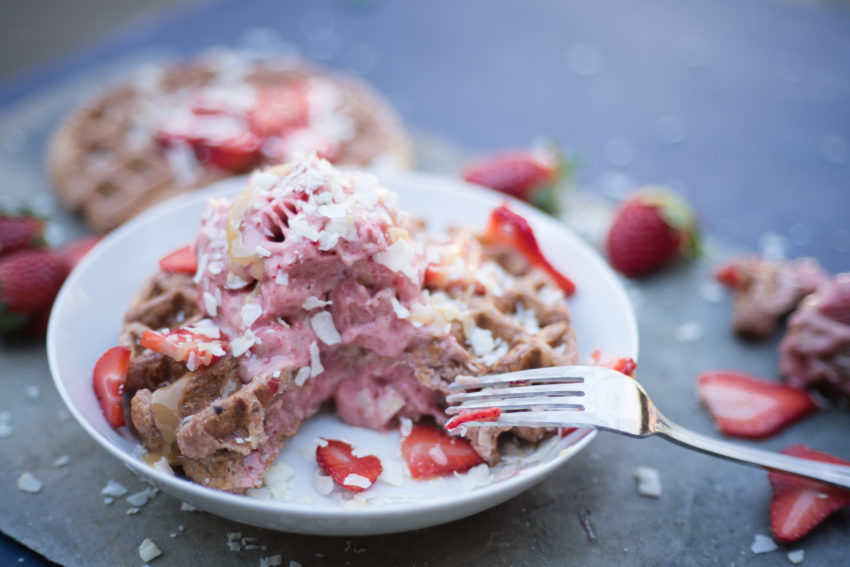 If you make this, please snap a pic and tag me! I love to see what you are eating! I would be honored to be a positive, motivating voice in you head for healthy living. Facebook, Instagram, Pinterest, and Twitter are all places I love to post health tips!
Ingredients
2 frozen ripe (early freckled stage) bananas, frozen
6 ripe strawberries (fresh or frozen
Preparation
1. Add chunks of frozen banana and strawberries to a food processor. Pulse several (i'm talking like, 30 times!) until the mixture gets crumbly, and then continue pulsing until the consistency of ice cream forms.
2. Scoop into a little dish, and enjoy!
Note:
– this is a perfect dessert to add a half a scoop of vanilla protein powder to!