Weight loss Cooking Class was so much fun again!
This is for people who are trying to lose over 100 pounds – and keep it off. What an endeavor and what commitment! No matter what goal you have in life, you would be inspired by this roomful of people.
The recipes and ideas we try to keep simple – that makes it easiest to remember and repeat. A clear path is the quickest way to reach the goal. When we simplify things, we increase our speed of getting to our goal and staying there.
First recipe – a twist on chicken salad. Instead of using all mayo, I love to encourage people to swap half the mayo with Greek yogurt, such as FAGE. If you try the 0% fat FAGE Greek yogurt – you will be amazed at how smooth, creamy and delicious it is! By making this swap, you increase the protein, the probiotics, and decrease the fat.
If you want a fast track to beginning to weight loss, throw out the bread and pasta. For this chicken salad, slice cucumbers on the bias, so they are like little crostini (which are small pieces of toasted french bread) – only these will have 2 calories each instead of 50. You can also use cucumbers sliced this way as chips.
Get the recipe here!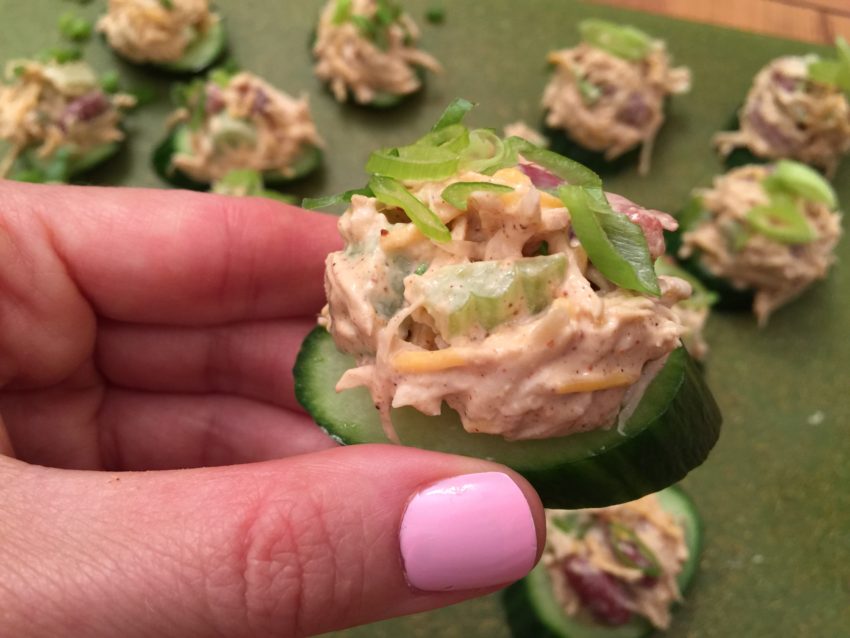 Next was a fruit salad that has several metabolism-boosting components to it. Raspberries are fat-burning, watermelon provides energy-giving B vitamins, and mangos are high in fiber. Eat fruit paired with a protein. This fruit salad is a no-brainer, but we all need to know those easy combinations too!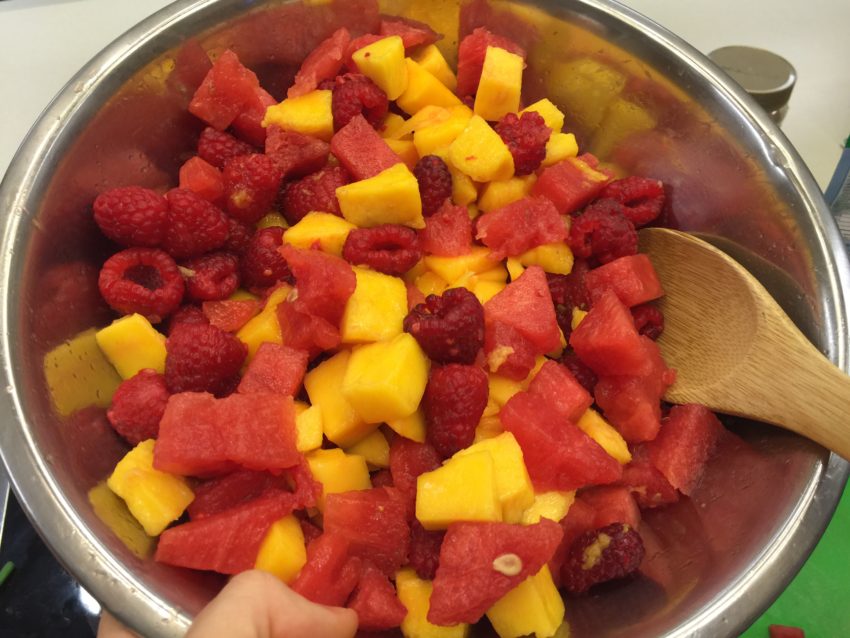 It's always a good idea to have recipes on hand that are simple, protein-based, and may be made ahead and frozen for the week. This has become a favorite. It uses salsa as opposed to chopping onions, garlic, peppers, and tomatoes. This makes it super simply to throw together. Which we all need in a pinch!
This recipe makes 9 mini-meatloaves, and the nutrition facts are stellar: Calories 166, Total Fat 10.6 g, Saturated Fat 4.7 g, Polyunsaturated Fat 0.3 g, Monounsaturated Fat 0.9 g, Cholesterol 60.8 mg, Sodium 315.7 mg, Potassium 19.5 mg, Total Carbohydrate 5.0 g, Dietary Fiber 1.4 g, Sugars 1.0 g, Protein 12.2 g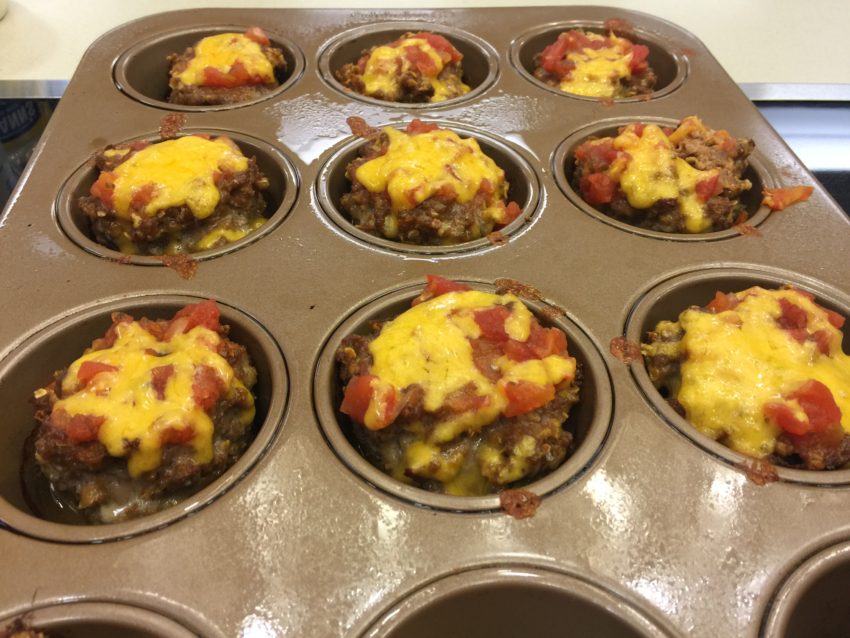 Muffin Tin Meatloaves
1 egg
1/2 cup salsa, plus more
1 pound lean ground beef
1 teaspoon chili powder
1/2 teaspoon salt
1/2 cup quick-cooking oats
9 tablespoons shredded cheddar cheese
1. Preheat oven to 400º.
2. In a medium bowl, add egg, salsa, chili powder and salt, whisking with a fork to combine. Stir in oats. Fold in ground beef gently until all ingredients are evenly incorporated into the beef.
3. Coat a muffin tin with nonstick spray. Divide ground beef mixture among 9 of the muffin tins, pressing the beef down slightly in the center.
4. Bake for 15 minutes, then remove and add a teaspoon of salsa to the center of each meatloaf, and top each with at tablespoon of cheddar cheese. Put meatloaves back into the oven for another 5 minutes, or until fully cooked.
5. Remove from oven and let cool 2-3 minutes, then remove mini meatloaves from muffin tin and serve!
I created this recipe for Alberstons and Safeway.
And our last recipe was Peanut Butter Protein Pops. This just combines Greek yogurt, unsweetened peanut butter, coconut milk, cinnamon, and a scoop of your favorite vanilla protein powder. These are SO FUN to make, and have 17 grams of protein each! That is a powerful snack. Get the recipe here!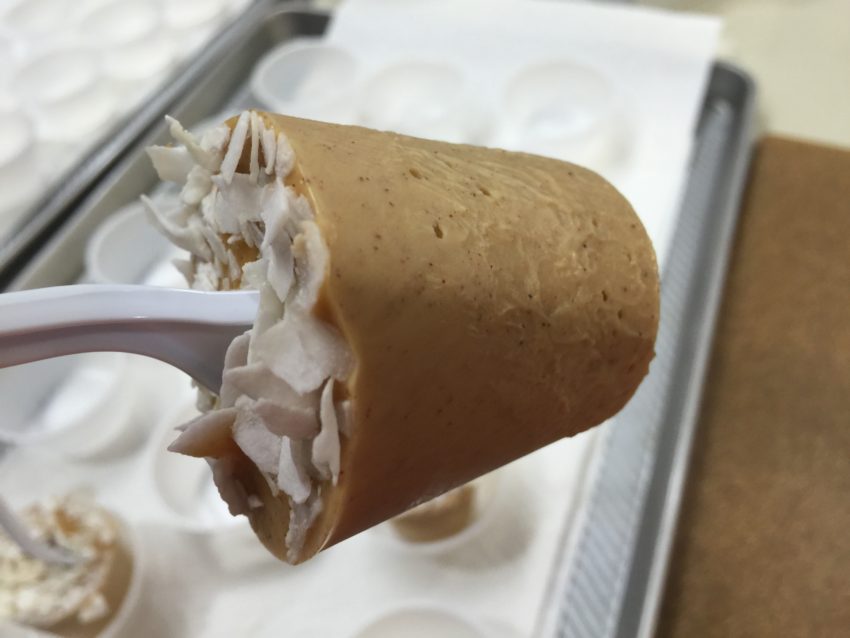 What topics or recipes would you like to see at Weight Loss cooking class? Even if you cannot be there in person, I would love your thoughts!