Every other month I host a healthy cooking class for people trying to lose 100+ pounds. If that's ever been you, then you KNOW what a feat that is! Lifelong weight loss takes courage….then immense commitment. I learned when I first started working with these precious people over 10 years ago, that in order to lose that amount of weight, one has to look in the mirror and be willing to challenge the person inside in ways that others of us can't even begin to understand. What strength of spirit each person has to posses!
I seriously enjoy these cooking classes. It's a sort of a "safe place" for those who have had some serious weight struggles. We talk openly and share struggles and solutions. We leave with motivation and a renewed focus on goals….and a deeper understanding of how food works in our body and what we can do about it. It's so inspiring!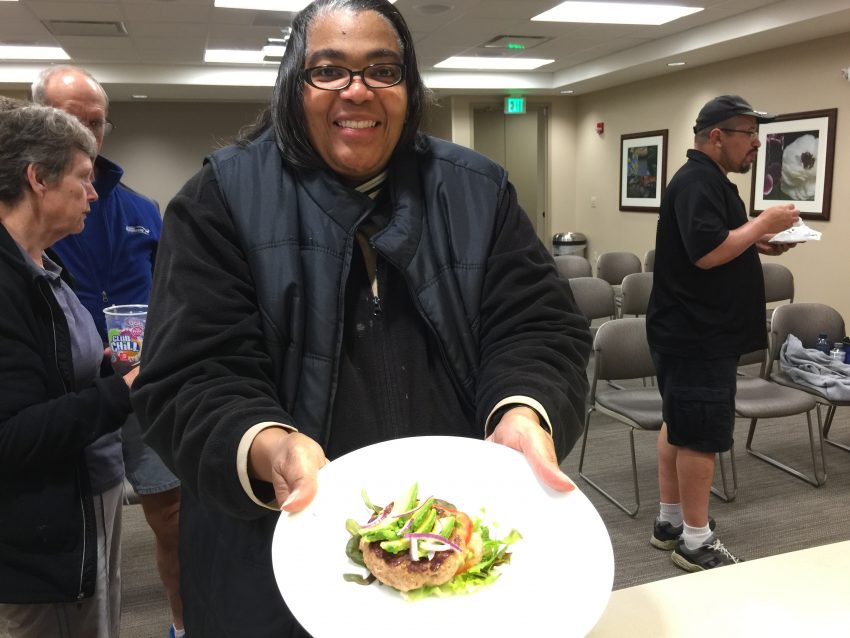 This month we made some recipes that are awesome for summer. I'll walk you through them below! If you came to cooking class, feel free to comment on what you thought of each recipe and if you've made it! 
What to do with vegetables this summer: grill them! In the cooking class kitchen, we have no grill (sad, I know), so we put our asparagus spears on low broil in the oven after giving them a light coating of organic olive oil cooking spray, and then a good sprinkle of sea salt and pepper.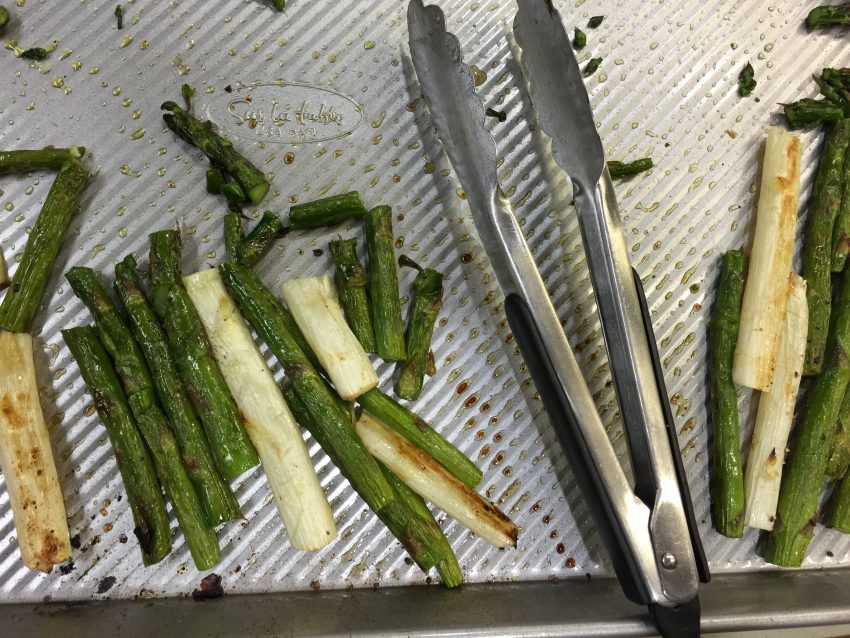 -2 pounds asparagus spears, ends removed
-olive oil flavored nonstick cooking spray
-sea salt 
1. Preheat oven to a low broil. Place asparagus on a baking sheet and toss with cooking spray and a good sprinkle of sea salt. 
2. Make sure asparagus is in a single layer, and cook until asparagus is seared, about 7 minutes (this will depend on the thickness of your asparagus. Just check it every 2 minutes). Grilling them works great too! 
We also made an easy Basil Aioli to dip them in. It was the hit!
Basil Aioli
-1/4 cup plain Greek yogurt
-1/4 cup olive oil mayo
-2 green onions, chopped finely
-small handful sliced basil (about 7-8 leaves, rolled up and sliced)
-squeeze of half a lemon
-1/2 teaspoon fresh grated garlic
-sea salt to taste
1. In a small bowl, mix all ingredients together. Dip tastes best if made a couple of hours in advance. This dip is delicious with grilled vegetables. But, add a little more lemon juice, and you've got an excellent creamy dressing.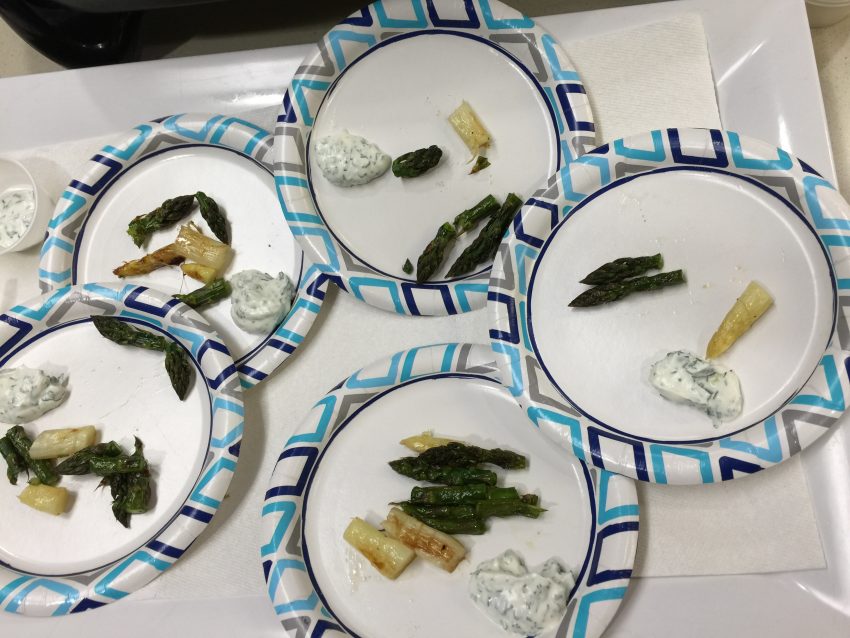 So, not the best picture in the world, but you get the idea…everyone gets samples (to me this is the best part – sampling new ingredients on someone else's budget!). Then we all talk about where to get the ingredients, what they do in the body, how to use them, etc.
Next up was a salad perfect for summer – the Farro Power Bowl. I always like to give my attendees the opportunity to taste a food that they might have continued to skip over in their grocery. Farro (an Italian grain) is high in fiber and gives a hearty texture, especially for those of us who have given up all sources of refined carbohydrate. The emphasis for my people at cooking class is to focus on protein, along with ingredients that are as least processed as possible. For most, this is an entirely new way of eating. This salad is super fresh – chopped red bell pepper, fresh basil, chickpeas, spinach, feta and lemon zest. It tastes amazing!
Here's the link to the Farro Power Bowl. Double it to make an easy summer picnic salad!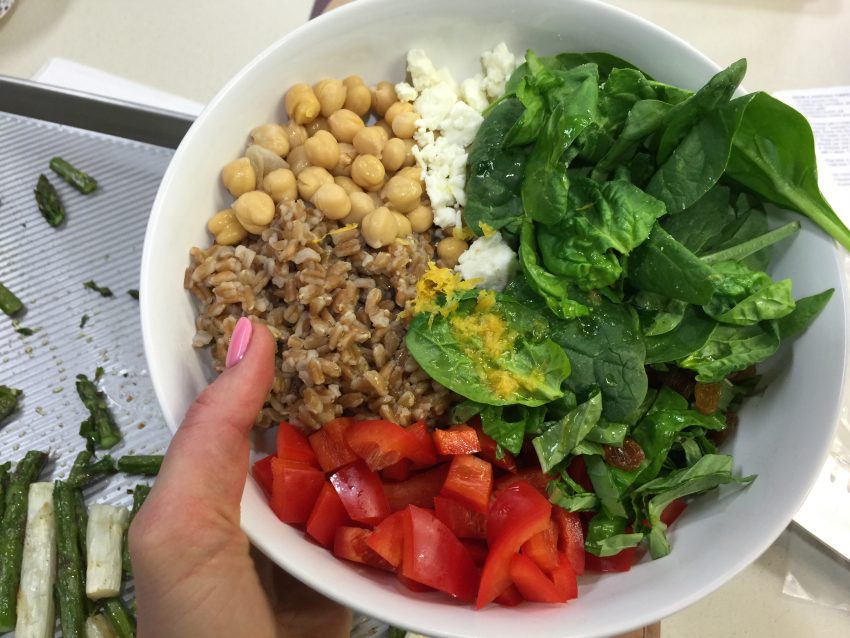 Finally, we made Double Avocado Turkey Burgers. These are so easy AND nutritious! Just combine mashed avocado, grated garlic, ground turkey and kosher salt. Shape into patties and sear or grill! Don't use a bun – they are more flavorful on their own. We placed them on a bed of Romaine lettuce, a thin slice of tomato, and then topped them with a little more avocado and thinly sliced red onion and a sprinkle sea salt.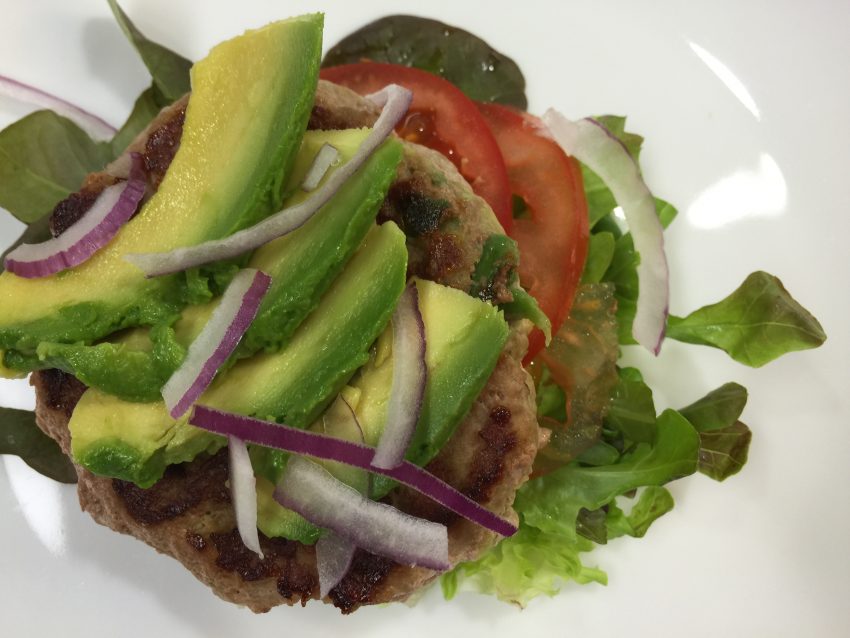 Lean proteins help to support muscle tissue as a person is losing weight, and the healthy fats help them feel full. BOTH of those elements are important in weight loss, and in controlling hunger and cravings.
Are you in a weight loss journey? Have you found that being a part of a group is motivating and helpful? Keep it up! Going after total health makes all the weight loss pieces fall into place. Be patient and persistent! You can do it! Let me know if you make any of these this summer.
Make it an awesome week,
Annessa