All of these garden veggies are making me fall in love! Use everything "garden" in this Farmers Market Bake. Sauteed onions & garlic on the bottom, any vegetables stacked in the middle, and then I like to top it with tons of fresh herbs – basil, flat-leaf parsley, and thyme – in addition to a little cheese. Don't feel like you need to commit to all those herbs – anything you have (or have not) on hand will work!
It's way simpler than it looks. Plus, lots of slicing can be therapeutic…(we like to think:)
Ready to go into the oven: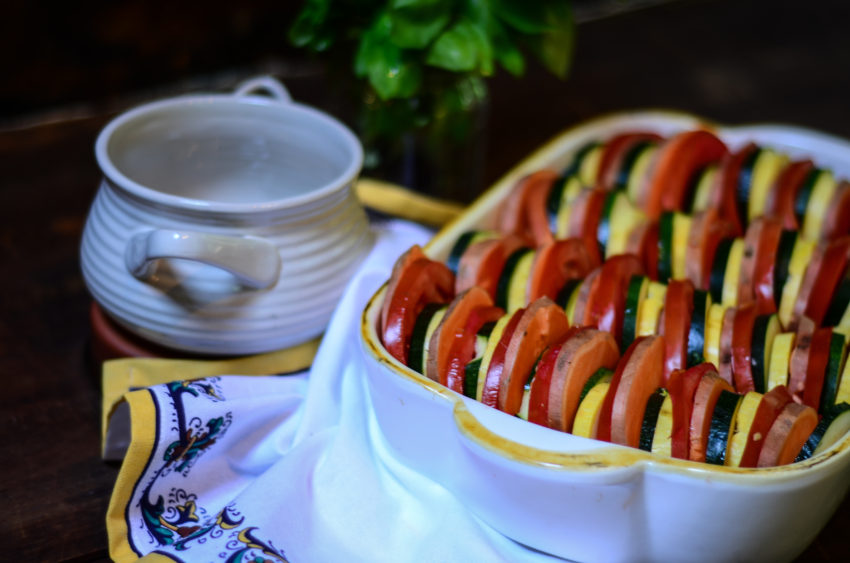 Then after it's topped with Feta, Parmesan, and herbs….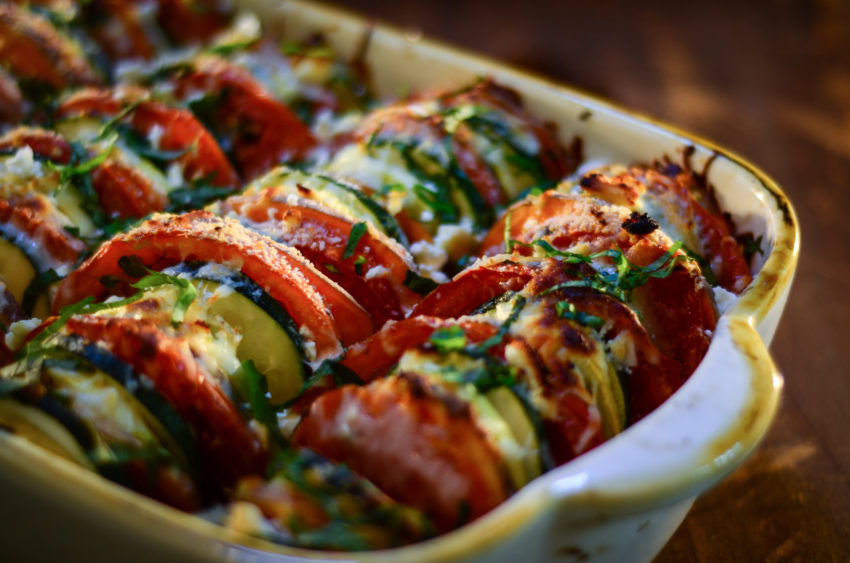 And if you wanted to get fancy serving it, but I still think it's best messy…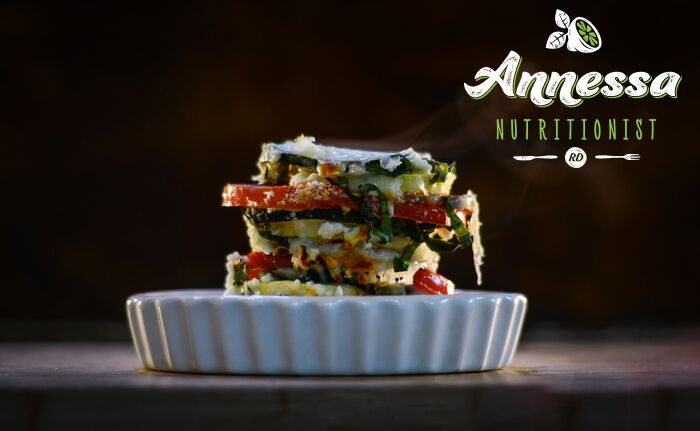 I would love to have you over to eat this with me!
Ingredients
1 large sweet onion, diced
1-2 large garlic cloves
small handful flat leaf Italian parsley
2 garden ripe beefsteak tomatoes
2 sweet potatoes, washed, not peeled
2 medium zucchini
2 yellow summer squash
2 tablespoons grated Parmesan cheese
1/2 cup shredded mozzarella
3 tablespoons crumbled feta
fresh thyme
fresh basil, thinly sliced or torn
kosher salt
Prep Time: 15 minutes
Serving Size: 10
Preparation
1. Preheat oven to 400 degrees F. Spray an 8×8 or 9×9 pan with non-stick cooking spray.
2. In a pan over medium high, sauté the onion until light brown. Add garlic and 1/4 teaspoon kosher salt, and cook for a minute or so. Turn heat off and add flat leaf Italian parsley, continuing to stir. Remove from heat and put onion mixture in the bottom of the pan.
3. Meanwhile, cut tomatoes, sweet potatoes, zucchini and yellow squash into about 1/4 inches slices. Arrange vegetables in pan so they are standing up, and continue the same pattern until the pan is filled. Grate a small clove of garlic over the vegetables. Sprinkle with about a tablespoon of fresh thyme, some freshly ground black pepper, 1/2 teaspoon kosher salt, and 2 tablespoons of grated Parmesan cheese.
4.Cover and bake for 30 – 40 minutes (potatoes should be fork-tender). Remove from oven and add shredded mozzarella, feta, and fresh basil to the top. Put back into the oven and let bake until everything is toasted on top, about another 20 minutes.
prep time: 10 minutes
cook time: 1 hour
serves: 6