Need lunch prepped a day ahead? I hear ya! There are some good reasons for the jarred salad craze: 
– First, we are learning that storing food in glass is a whole lot healthier than storing in traditional plastic. Glass will keep these veggies fresher, too. 
– Second, when you build a salad jar, you always want to put the protein items on the bottom. This lets the protein soak up the delicious and healthy homemade dressing. 
– Third, the salad is kept fresh because of how you layer it: heartier vegetables (like root veggies), on top of the protein, and then the more tender veggies on top, where they won't be exposed to moisture. After that, crisp nuts or seeds on top. This way you can make it the night before, and grab the jar right out of the refrigerator as you're heading to work (or, in my case right now, a busy day with wonderful kids).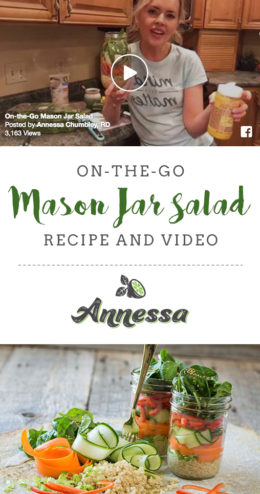 My version has an Asian spin – and the dressing is made of fresh juice of an orange to cut the oil. You also get healthy fats from the sesame seeds, so I wanted to keep that olive oil to a minimum! Don't forget – healthy fats help you absorb nutrients. You need them! And I hope you'll be surprised at how good a dressing can be that's based on fresh citrus. The quinoa (or any protein you choose to use), will soak up the flavors of the dressing as if it's being marinated in it. Yum.
I made this on
Facebook LIVE
– if you love watching recipes be made, please join me over on
Facebook
! It's like a nutrition party.  ?
I have made this recipe for several cooking demos, most recently at the WTHR Health & Fitness Expo – I'm always sort of nervous that people won't gravitate to healthy food, but (thankfully) everyone ends up loving it! …and standing in line for the recipe. People falling for healthy food just warms my heart. This (sloppy…I was running out of time?  version below was made with rainbow carrots, which are gorgeous! If you give this a go, let me know what you think!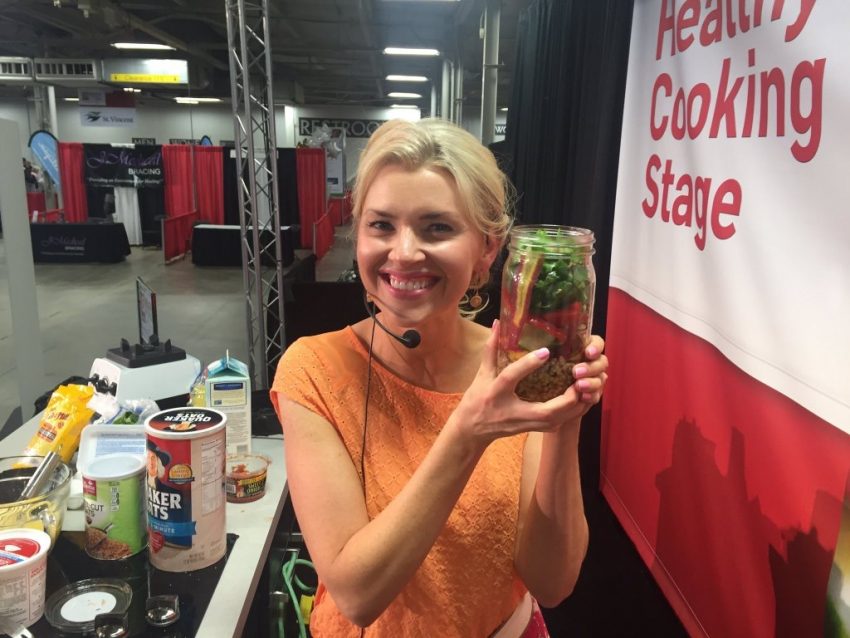 Ingredients
1/2 cup cooked quinoa (or any other protein you wish to use – poached chicken, shredded beef, chickpeas, etc) 
2 tablespoons sliced green onion 
1 small carrot 
1/4 English cucumber 
1/4 red bell pepper, sliced thinly 
1 cup of fresh spinach 
1 teaspoon toasted sesame seeds 

Dressing: 
2 tablespoons fresh juice of an orange, plus 1 teaspoon extra virgin olive oil 
2 teaspoons raw apple cider vinegar
1 teaspoon raw honey
1 teaspoon liquid aminos or tamari (gluten-free soy sauce)
Preparation
1. Pour ingredients for dressing into a large mason jar, and swirl around or whisk with a fork. Add cooked quinoa, then green onions. Using a vegetable peeler, peel carrot and cucumber to make "ribbons" (about 1 cup of each). Place carrot ribbons into the jar, followed by cucumber ribbons, then sliced bell pepper, fresh spinach and toasted sesame seeds. 
2. Place lid on jar and refrigerate until ready to eat. To serve, pour salad out and stir  together. Enjoy. 
*You can find Liquid Aminos as a Braggs brand (in most stores), and it is just like soy sauce, only without using wheat, so it's great for those needing to eat for a gluten-free sensitivity.
Serving Size: 1
Prep Time: 10 minutes