Bring THIS to the holiday party! Something fresh and bright is *almost* always welcome, and is a good way to make sure that there is healthy food available. So many times I have brought this to a Christmas or New Years party, and doubted myself (because, after all, it is healthy – and that has a stigma this time of year:), and then the bowl is scraped clean and people are thanking me for it and wondering that the little burst of bright seeds were (pomegranate arils, of course;) This Winter Fruit Salad always gives the opportunity for healthy discussion (a hot topic at holiday parties;)
Remember to not add the banana until right before serving, in order to keep them as fresh as possible for as long as possible.
By the way, this mixture of fruit is easy to make for a single serving if needed. Fresh fruit is hydrating and fulfilling at the same time. Enjoy!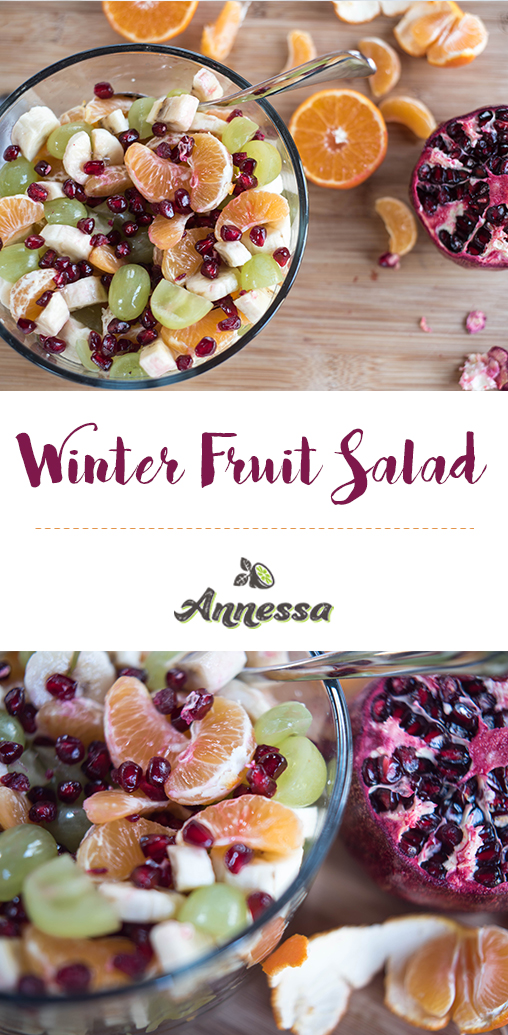 Ingredients
4 seedless clementines or tangerines, peeled into segments
2 cups green grapes, sliced in half
1/2 cup pomegranate seeds (arils)
1 large banana, sliced in half and cut into bite-sized chunks
Preparation
1. Combine tangerine or clementine segments and grapes in a bowl. Just before serving, toss with sliced banana.
2. Sprinkle pomegranate over the fruit. Enjoy!
prep time: 5 minutes
total time: 5 minutes
Note:
*if you are making a quick fruit salad for yourself, just scale back on the quantities. This is also good with a scoop of (stevia-sweetened) vanilla Greek yogurt on top.
*if making it for a bigger table spread, double or triple the recipe