If you need something healthy to use in the spread of food at a party….this is it! Roasting green beans this way makes them easy to eat with your fingers, and dip them in a delicious and easy sun-dried tomato aioli, which is just a fancy way of saying a yummy garlic dip.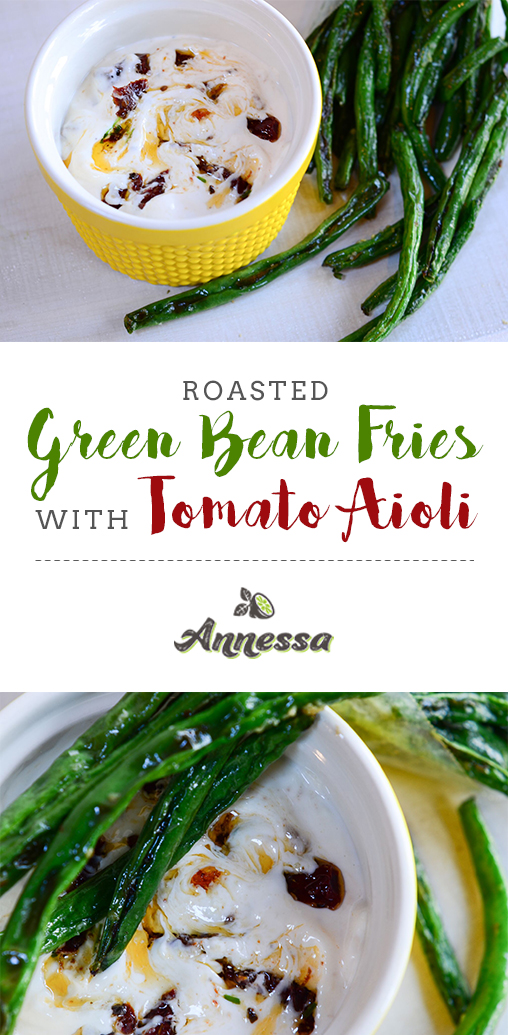 I always halve the base of the dip with plain Greek yogurt – not yet has even one person noticed a difference. So….I will keep doing it 😉
The secret to making these "Green Bean Fries" is to cook them in a single layer, on high heat! That way they get crispy on the outside, and retain their crunchiness.
This recipe is easy to triple or quadruple if you are taking it to a gathering or using it as a spread of appetizers rather than just for dinner. We love to eat them just like fries – no utensils involved.
Enjoy!
Ingredients
12 ounces green beans
2 teaspoons olive oil
1 clove garlic, grated
1/4 teaspoon sea salt
Sun-dried Tomato Aioli
1/4 cup Greek yogurt
1/4 cup mayo (homemade if possible)
1 clove garlic, grated
1/4 teaspoon kosher or sea salt
3 tablespoons sun-dried tomatoes, chopped
Preparation
Green Beans
1. Preheat oven to 425 degrees F.
2. On a baking sheet, toss all ingredients. Roast for 12 minutes; toss halfway through.
3. Remove and devour!
Sun-dried Tomato Aioli
1. Stir everything together. Let set until ready to eat – the longer this dip sets, the better it will be when the flavors have the chance to "marry". 🙂
2. If you make it the night before serving, refrigerate overnight of course. Delicious with any roasted vegetables.