These muffins are sooooooo delicious! The perfect winter treat….especially on a snowy morning, and especially with black coffee (Shhhhh). They are made with almond flour only – which makes them gluten-free, and higher in protein than usual as well. A good amount of cocoa powder adds to the rich "Hot Cocoa" flavor, but thankfully it is unsweetened, a good source of fiber, as well as antioxidants. These can be cooled and frozen for prepping breakfast ahead of time!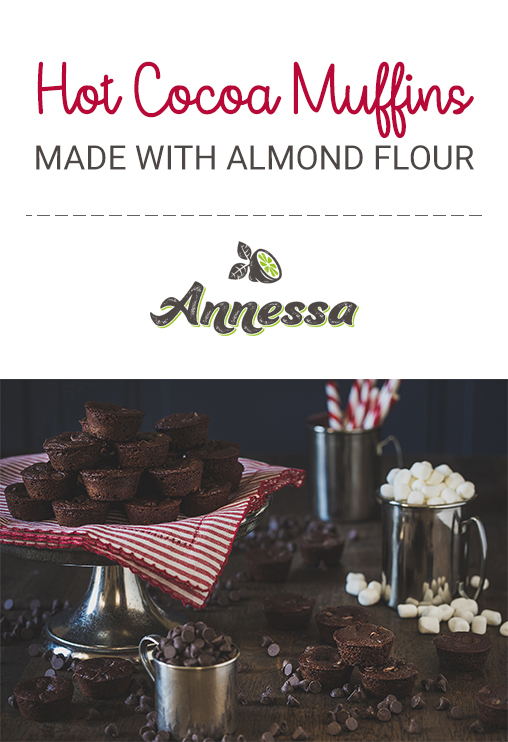 I created this recipe for Albertsons Safeway. I hope you enjoy!
Ingredients
2 eggs
1 cup vanilla Greek yogurt
1 tablespoon vanilla extract
1/2 teaspoon almond extract
1/2 cup unfiltered honey
1 1/3 cup almond flour
1/2 cup unsweetened cocoa powder
1 tablespoon baking powder
1/2 teaspoon salt
1 tablespoon unrefined coconut oil
1/3 cup dark chocolate chips
Preparation
1. Preheat oven to 350º.
2. In a medium bowl, whisk eggs for 1 minute. Add the next 4 ingredients, whisking well. Add in almond flour, cocoa, baking powder, and salt, stirring well to combine all ingredients evenly. Pour in coconut oil while folding batter together.
3. Divide batter among a mini-muffin tin that has been sprayed with nonstick cooking spray. Top each with chocolate chips
4. Bake for 12 minutes, or until a toothpick inserted comes out clean. Remove and let cool. Enjoy!
Notes:
– Hot Cocoa Muffins can also be made in regular muffin tins
– for an even decadent muffin, stir 1/4 cup dark chocolate chips into the batter itself
– muffins can be made ahead of time and frozen to have breakfast prepped and ready! To thaw, leave on the counter overnight or warm in the oven.
Prep time: 5 minutes
Total time: 25 minutes
Serves: 12
Serving size: 2 mini-muffins
Nutrition Facts per Serving:
Calories 165.9, Total Fat 9.4 g, Saturated Fat 2.4 g, Polyunsaturated Fat 0.2 g, Monounsaturated Fat 0.5 g, Cholesterol 31.0 mg, Sodium 221.8 mg, Potassium 68.2 mg, Total Carbohydrate 18.0 g, Dietary Fiber 2.7 g, Sugars 12.6 g, Protein 6.6 g