I'm honored to be partnering with Unilever®, for a second year for their Agents of Change program. I work with a group of incredible dietitians around the country that are guided by Unilever's vision of food that tastes good, does good and doesn't cost the earth.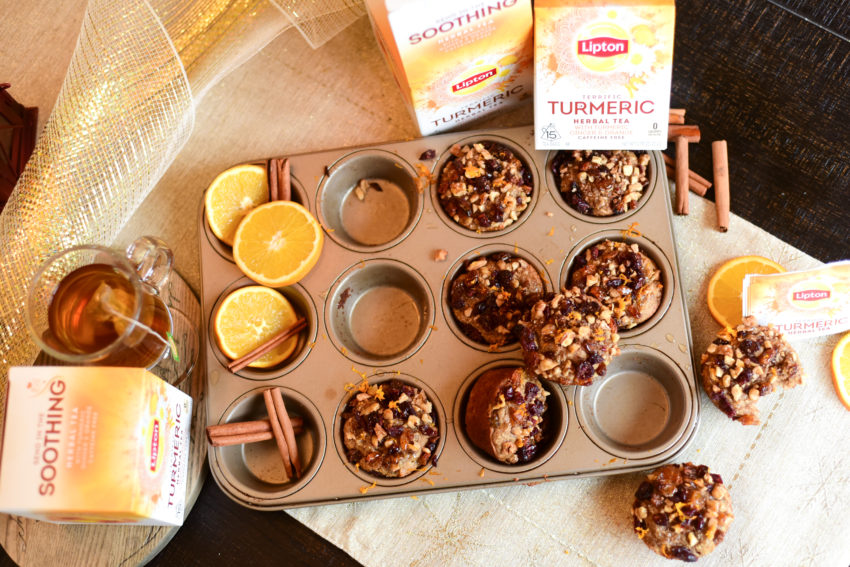 You know those mornings where you have a lot of company over and you sleep later than they do??? I've found that it helps me out a TON to have breakfast made the night before and set out on the counter for whomever wakes up first.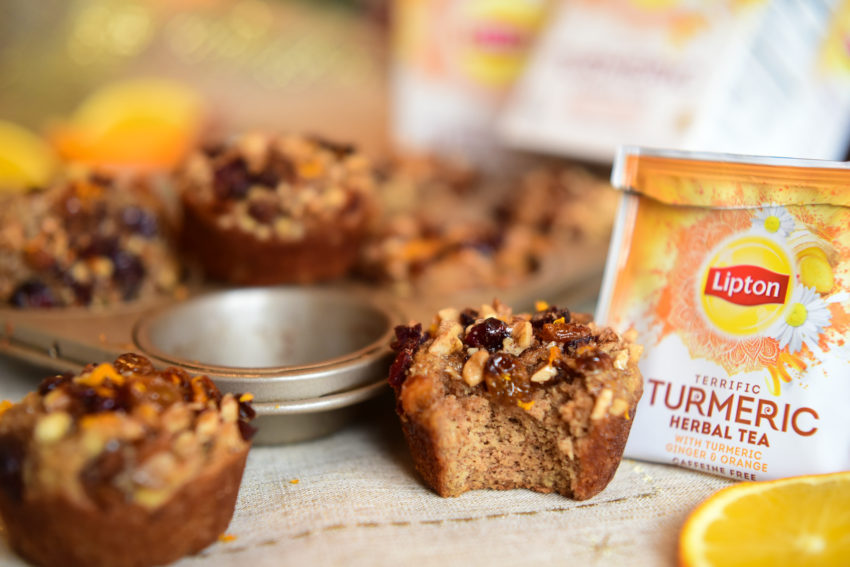 Muffins seem to be my go-to, because they are comforting, easy to warm up and perfectly portioned so there is less waste when the littles grab theirs! In fact, we often make a range: hot cocoa muffins, lemon poppyseed, peanut butter banana, chocolate chip, apple oat, and blueberry. I usually use either oat flour, almond or coconut flour to keep them gluten-free for those who need, and as nourishing as possible.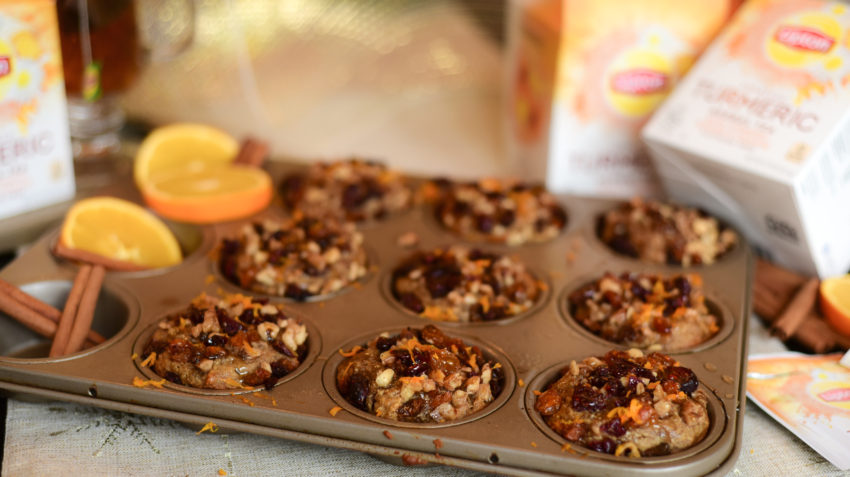 For these muffins, I used Lipton® Terrific Turmeric Tea and I actually put the tea into the muffin!  Let me tell you a few things about turmeric. The first thing you'll notice about turmeric is the color. It's a rich beautiful orange. It comes from a curcumin-rich root and it's been grinded into a powder. Alone, it has an earthy taste, but Lipton® Terrific Turmeric pairs it with ginger and orange for a yummy spiced mix.
How will it get into a muffin? Just brew 5 bags of Terrific Turmeric tea for 5-6 minutes…and mix up the batter while it is steeping…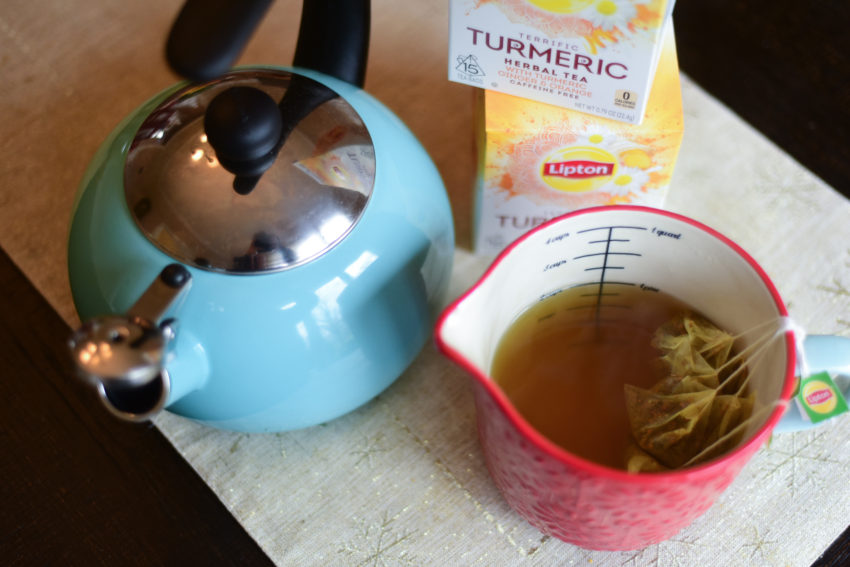 Let that tea cool and pour it right into the batter. I top each with chopped walnuts, golden raisins and cranberries, so each looks like a beautiful golden ornament to reflect how delicious it tastes!  Bake for 15 minutes and it comes out yummy, warm and comforting.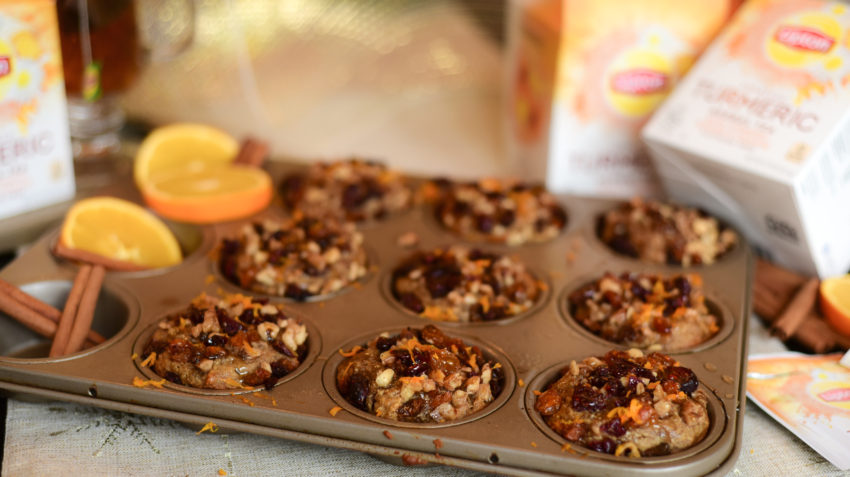 What about the inside? Does almond flour and tea still produce a delicious muffin? I'm happy to say absolutely!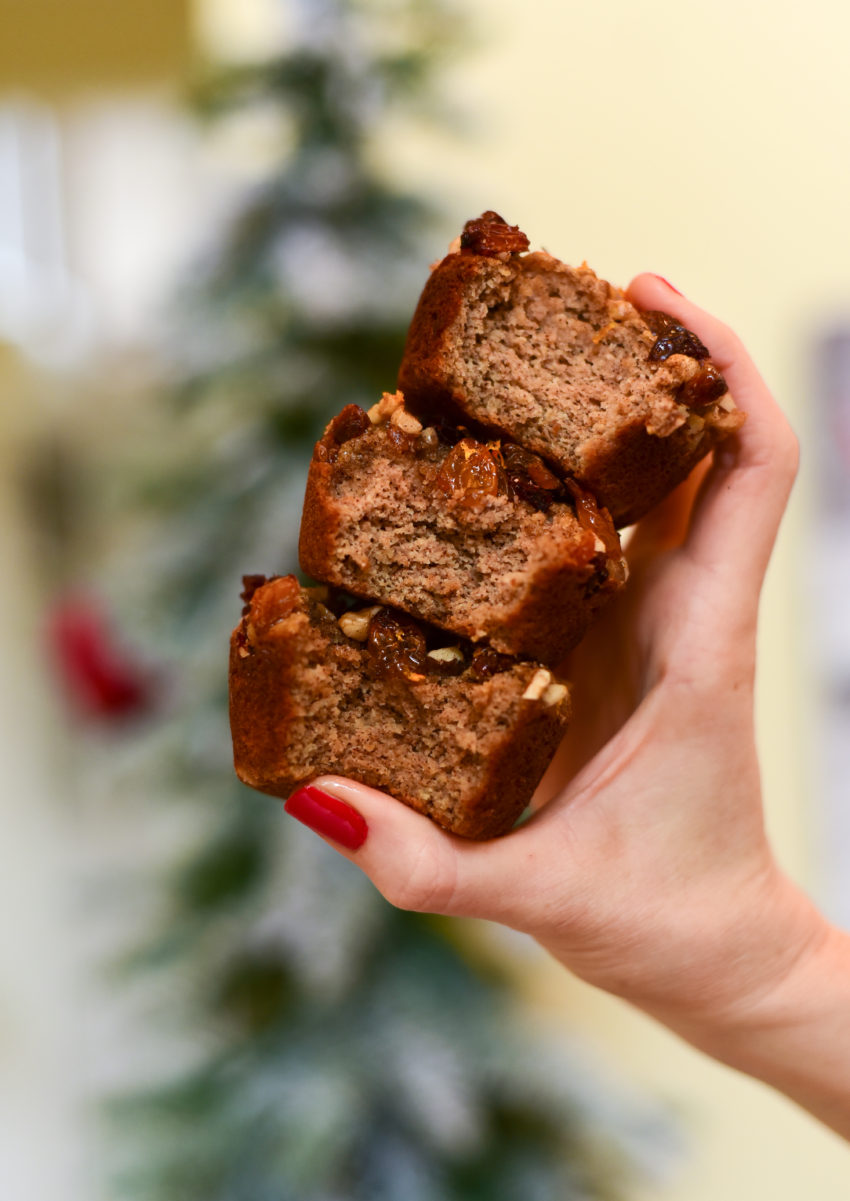 That tea makes for a moist, delicious, comforting muffin.  If you make this recipe, please snap a pic and tag me on Instagram or Facebook!
Ingredients
2 eggs
4 tea bags of Lipton® Terrific Turmeric Tea
3 tablespoons raw local honey
2 cups almond flour
1/2 teaspoon baking soda
1 teaspoon lemon juice
2 teaspoons ground cinnamon
Topping:
1/3 cup chopped golden raisins
1/3 cup cranberries
1/3 cup finely chopped walnuts
1 tablespoon honey
zest of a tangerine or clementine
Preparation
1. Preheat oven to 350º.
2. Boil a cup of water in a tea kettle. Pour just a little more than 1/2 cup of water over 4 teabags into a small bowl and let steep for 5 minutes. Remove tea bags and let water cool slightly while making the muffins.
3. In a medium bowl, whisk eggs with a fork. Add honey and slowly pour in cooled tea, whisking quickly while pouring.  
4. Add in dry ingredients, including lemon juice, and mix together well.
5. Scoop mixture into 9 muffin-tins sprayed with cooking spray.  Mix together golden raisins, cranberries and walnuts, and sprinkle on top of each. Bake for 15 minutes. Remove, and drizzle with honey, then sprinkle tangerine zest over each. Enjoy!
Serves: 9