This post was created in partnership with Dannon® Oikos Triple Zero™ Yogurt. All opinions are of course my own! You can look here for more recipes using Oikos, and I really hope you enjoy this recipe as much as I do! Oh, and, I have a special coupon for you below!
Hot muffins in on a crisp fall morning (with a giant cup of coffee). There's nothing like them.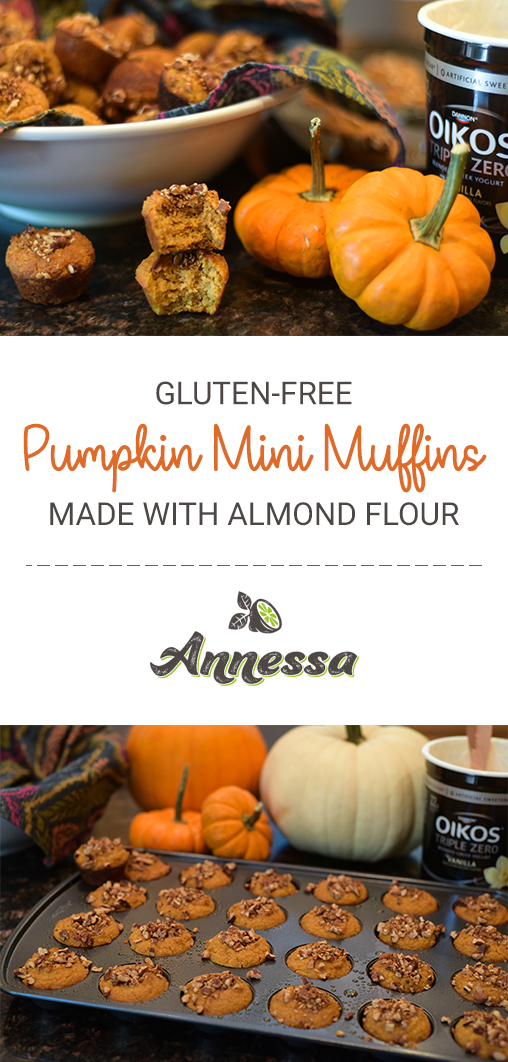 You may have noticed I create many of my muffin recipes using Oikos® Triple Zero™ Vanilla Greek Yogurt. There's several reasons for that. It's rich, creamy, and adds a delicious texture to the muffin itself. Also, Triple Zero™ Vanilla is 22 grams of protein for 1 cup! …and it's sweetened with stevia. So it's my go-to yogurt, whether it's for eating on the run, or creating recipes with…you've got to try it!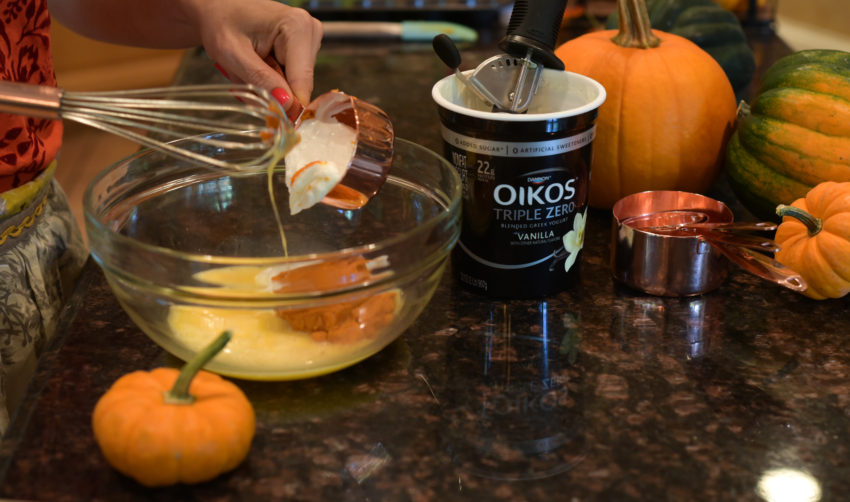 Into a bowl goes eggs, yogurt, pure pumpkin, raw honey, silky vanilla Greek yogurt…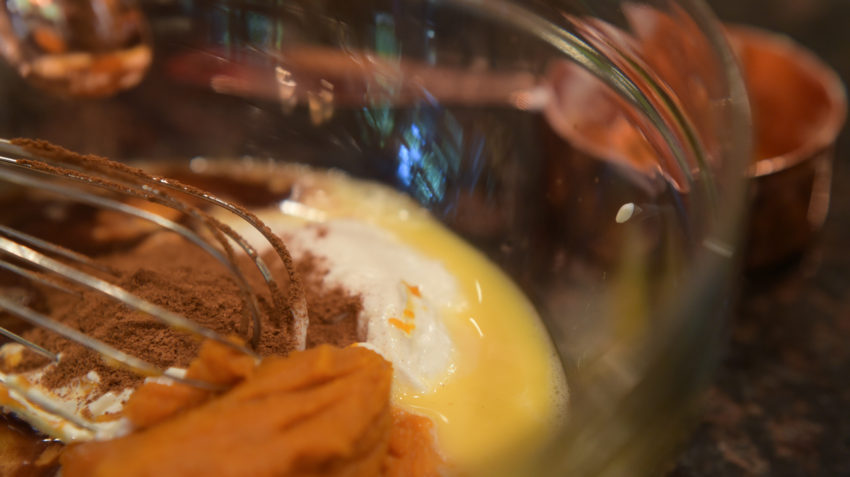 Then simply add almond flour – which is just raw almonds pulverized down to make a "meal" or flour, pumpkin pie spice, baking powder, salt, and a teeny bit of coconut oil, and you're almost there…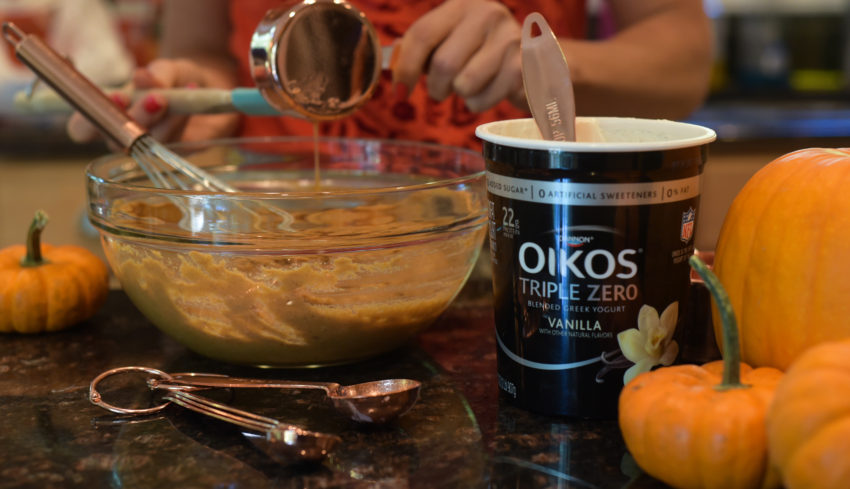 An important note is to make sure that your muffin tin is either well-sprayed with nonstick cooking spray, or well-coated with coconut oil. This will encourage the muffins not to stick one bit. Also, resist the urge to overfill those muffin cups! I use to love to pile them high, but almond flour, though it rises, tends to grab on for dear life to whatever surface is nearby. So, just know, if you overfill them, you'll end up with a "cookie" on top, instead of a muffin top. Leave them small and cute!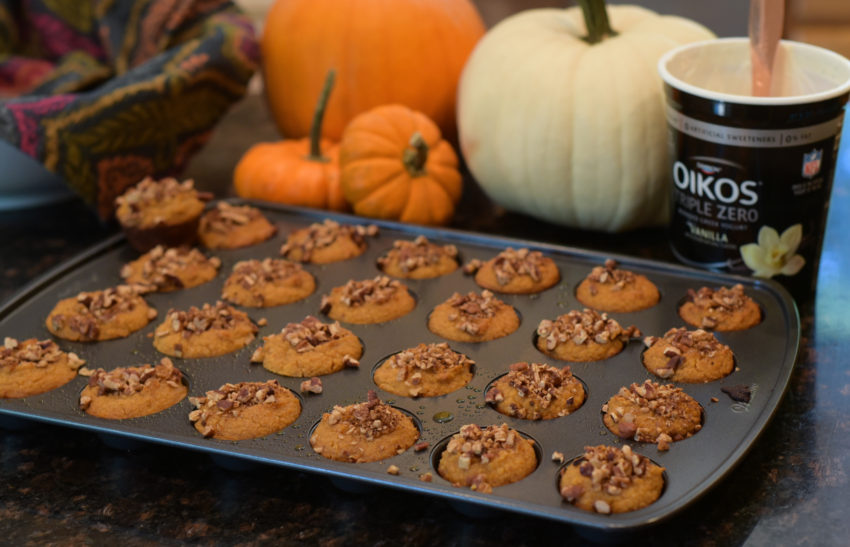 I love to top them with some chopped pecans mixed with cinnamon. To me, this flavor makes it taste like pumpkin pie…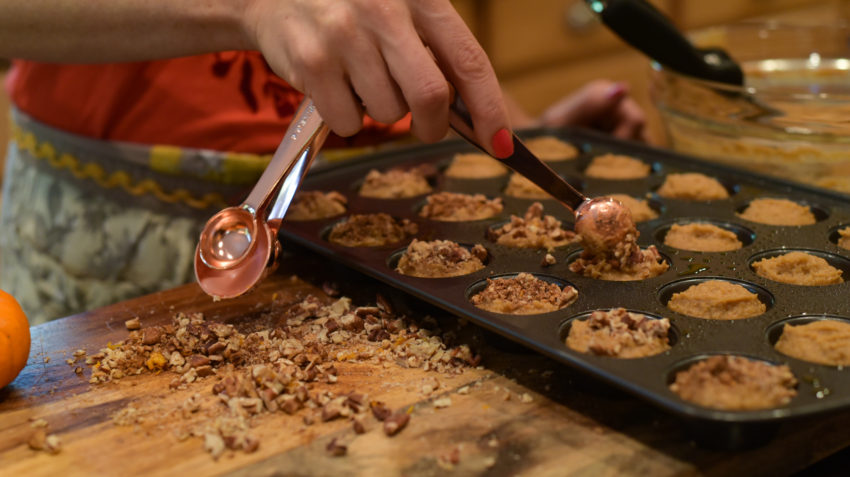 Bake and ta-da! Delicious Pumpkin Mini-Muffins are yours for the taking…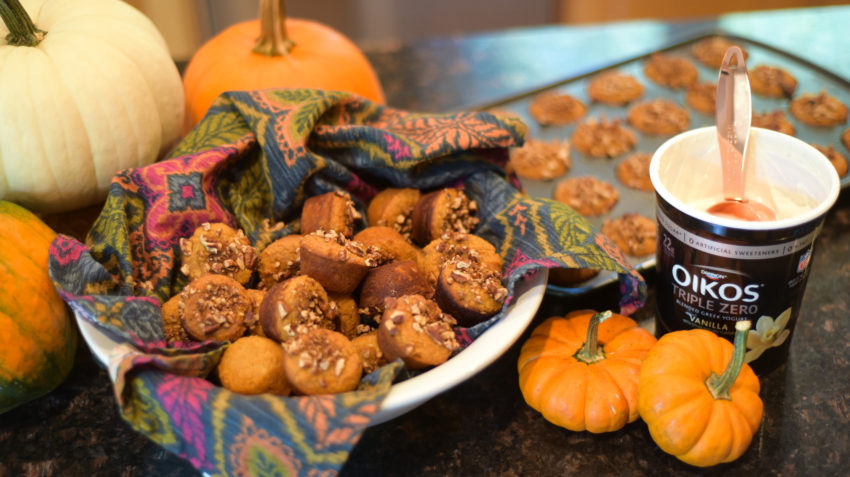 Thank you for trying this recipe! I would love to know your thoughts below. And, I've got a coupon code for you to try some of my favorite yogurt out for yourselves! (expires December 31st 2017)
Find me on Facebook, Pinterest, and Instagram to get more deliciously healthy recipes!
Ingredients
2 eggs
1/2 cup Dannon® Oikos Triple Zero™ Greek Yogurt Vanilla
1/3 cup pure pumpkin puree (homemade or from a can)
2 teaspoons pumpkin pie spice
1/2 cup raw honey
1 1/2 cup plus 2 tablespoons almond flour
2 teaspoons baking powder
1/4 teaspoon salt
1 tablespoon coconut oil, melted
topping:
1/4 cup pecans, chopped
1/2 teaspoon ground cinnamon
Preparation
1. Preheat oven to 350 degrees F. In a medium bowl, beat eggs with a whisk or fork for 1 minute. Add yogurt, pumpkin, and honey, and whisk again until smooth.
2. Spinkle almond flour (1 1/2 cups, plus an additional 2 tablespoons), pumpkin pie spice, baking powder, and salt on top. Stir together until evenly incorporated. Pour in coconut oil, and stir. Batter is ready to go!
3. In a mini-muffin tin that's been well sprayed with nonstick cooking spray (or coated with coconut oil), scoop batter so that each muffin cup is 2/3 of the way full (don't overfill them!) You should be able to get 30 mini-muffins from this batter.
4. Mix together pecans and ground cinnamon in a small bowl, and sprinkle a little on top of each unbaked muffin.
5. Put in the oven and bake for 14 – 16 minutes, until done. Remove and let muffins cool. They should easily pop out of the pan by tilting it a little bit and giving them encouragement! Enjoy!
Prep time: 5 minutes
Total time: 20 minutes
Recipe makes: 30 mini-muffins