How is your back-to-school time kicking off? For me, back to school time (though we haven't started yet) means keeping plenty of after-school snacks on hand (I call these "Power Snacks"). So I wanted to share one of our favorites with you! These are super easy, really delicious, and filled with protein. Use the darkest kind of chocolate you can handle. I would recommend 80% cacao. Chewy tart dried cherries add antioxidants, and chia seeds add Omega-3 fats. Whether these are to boost your energy or your kids, they will be great to kick a busy school year off right, nutritionally speaking!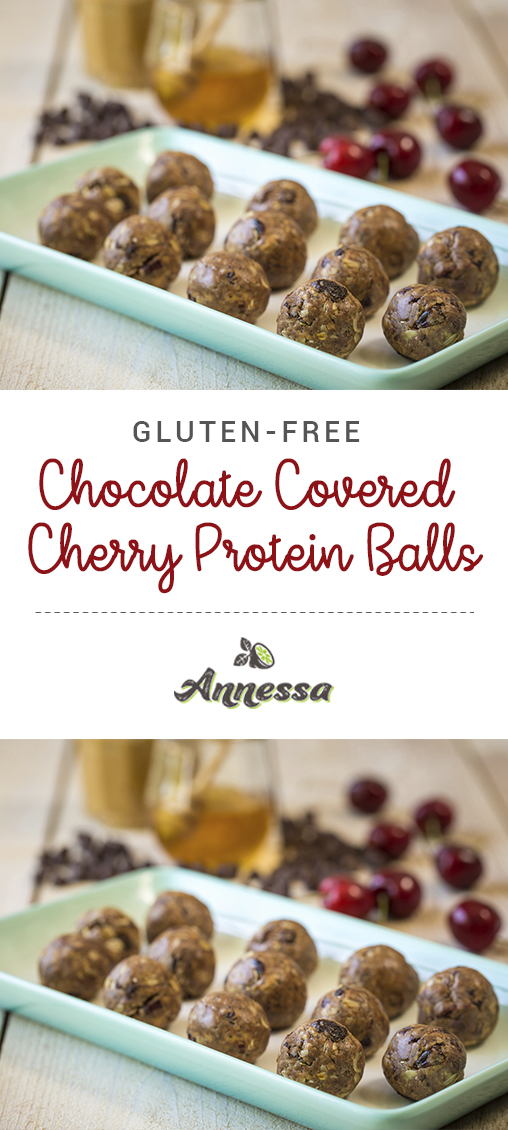 Keep them stored in the refrigerator.
Created this recipe for Albertsons Safeway, and I hope you enjoy it! Find more recipes, videos, and nutrition tips on Facebook, Instagram, and Pinterest.
Ingredients
1/2 cup natural creamy peanut butter (one where the only ingredients are peanuts and salt)
1/2 cup whole rolled oats
2 tablespoons raw honey
1 scoop vanilla protein powder (about 1/3 cup)
1/3 cup dried cherries, roughly chopped
1 tablespoon chia seeds
1/3 cup dark chocolate chips
Preparation
1. In a bowl, pour peanut butter and add oats, honey, protein powder, chopped cherries, and chia seeds, stirring until everything is a uniform mixture.
2. Melt dark chocolate chips in the microwave just until they are soft and on the verge of being completely melted – about 20 seconds. Fold them into the peanut butter mixture, so there are dark chocolate ripples throughout the mixture. Refrigerate peanut butter mixture 10 minutes to let chocolate solidify again.
3. Remove mixture and scoop into balls about 1 1/2 tablespoons each. Store Chocolate-covered Cherry Balls in an airtight container in the refrigerator
Servings: 12
Calories 113, Total Fat 7.5 g, Saturated Fat 2 g, Polyunsaturated Fat 1.5 g, Monounsaturated Fat 3.4 g, Cholesterol 0.8 mg, Sodium 49 mg, Potassium 114 mg, Total Carbohydrates 12 g, Fiber 1.8 g, Sugars 9 g, Protein 4.8 g