I am honored to create this recipe as a partnership with California Prunes!  You can follow them on Facebook and Instagram.
Literally the best breakfast cookies I've ever had. And…they are SO nutritious!
Highlights:
rich in fiber
good source of protein
gluten-free
no added sugar ….of any kind!
super-chocolaty
made in food processor for easy clean up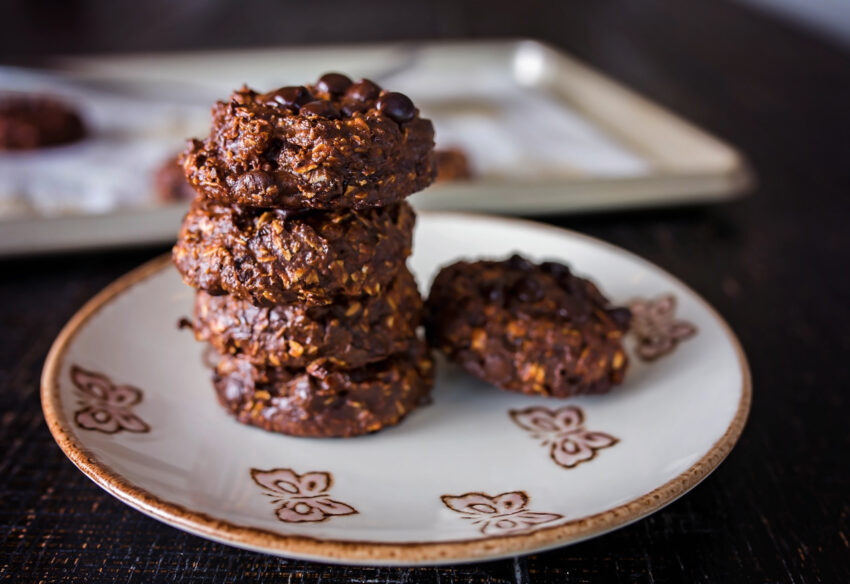 And – what's so wonderful to me – as a momma – is that there isn't any added sugar in this breakfast treat! (depending on what kind of chocolate chips you use lol).  The sweetness comes from California Prunes. Yes….you heard me right…prunes. I've been trying to eat them daily, and I've made it a goal to cook with them more often. Which I found is actually pretty simple because they cook like a dream, and make a great swap for sugar in kid's recipes specifically. They are chewy, sweet, and addicting (in a good way).
Just add ripe bananas, prunes, and almond butter (feel free to swap with peanut butter) to the base of a food processor.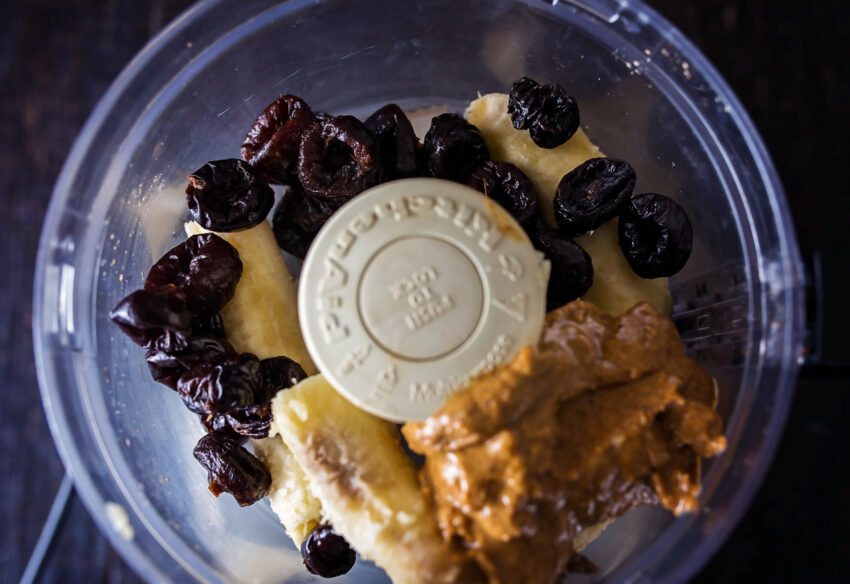 After you've blended that until it's smooth, you'll add vanilla protein powder of choice (please comment below on your favorite kind – other people may want to know!), as well as unsweetened cocoa powder, which is also a good source of fiber and antioxidants.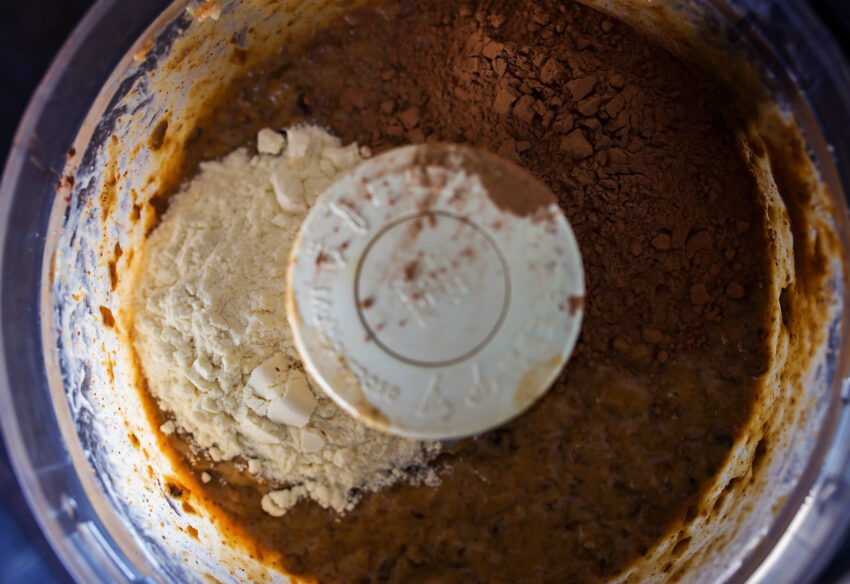 Next comes whole oats, ground flaxseed, and stevia-sweetened chocolate chips…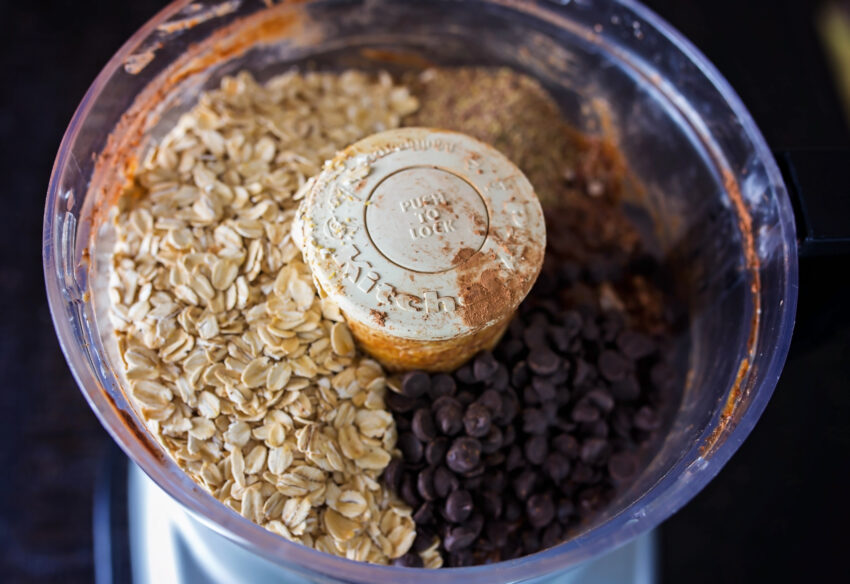 You better get your oven to 350º as soon as possible. You'll want to dive right into these. I love using a parchment-covered baking sheet, and an EXTRA large cookie scoop for these.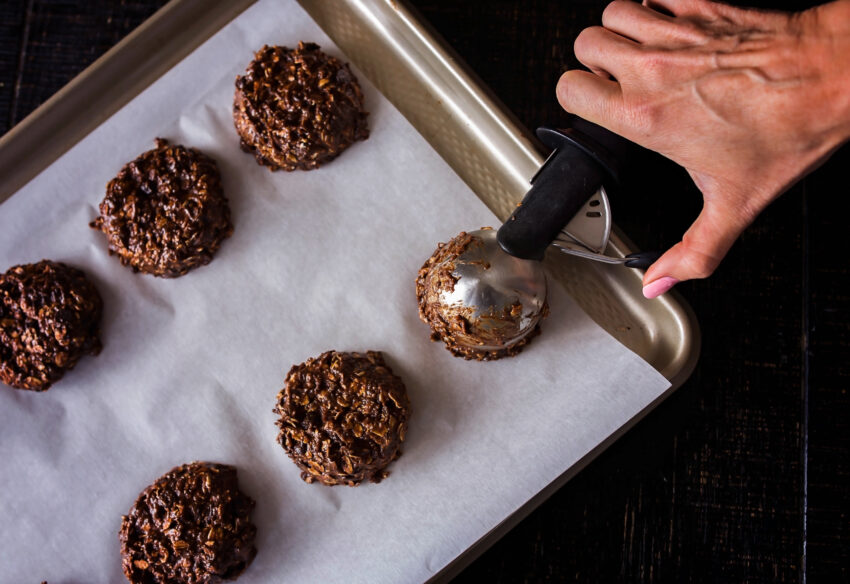 And add a few more stevia-sweetened chocolate chips to the top…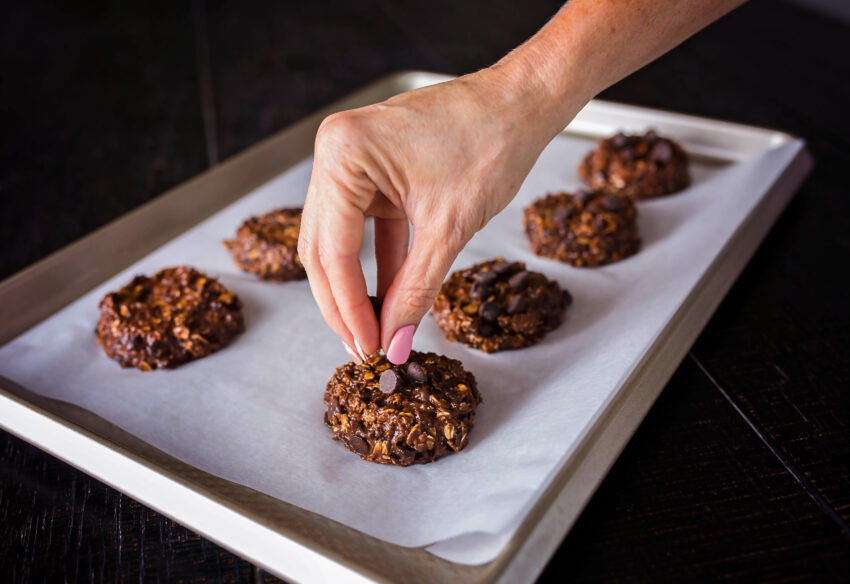 And once they've baked, they come out rich, chocolaty, with a touch of chewy sweetness thanks to those prunes.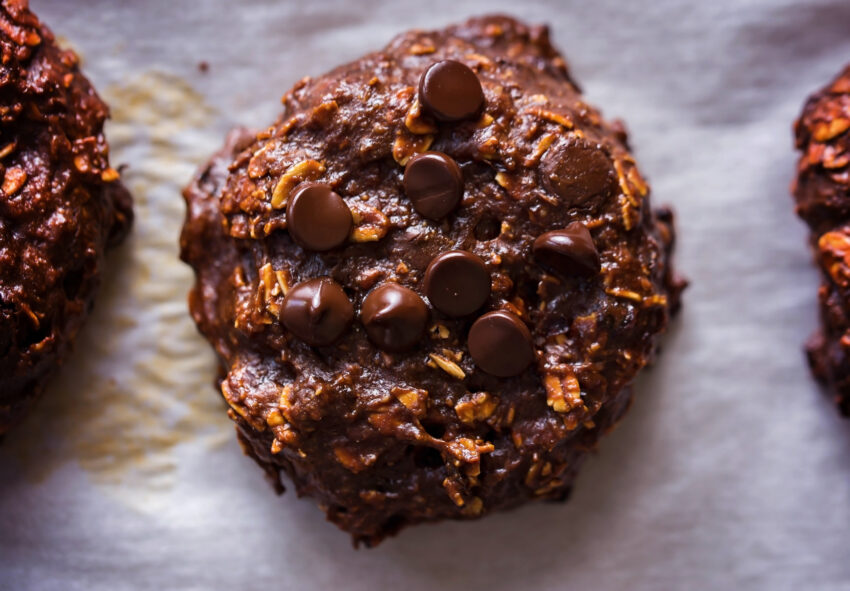 Prunes pack a powerful punch of important vitamins, minerals, antioxidants, and fiber. And there are SO many benefits!  My favorite is their impact on gut health. To me, gut health is everything. When the gut is healthy, you may experience more energy, a better sense of vitality, higher-quality immune function….maybe even a better mood. Who couldn't go for that?!?!  Equally as important – especially for my kids, is that prunes replace any added sweetener in this recipe. And they are an antioxidant-rich sweetener swap at that.
And so, Chocolate Breakfast Cookies deserve a prime spot on the cake stand…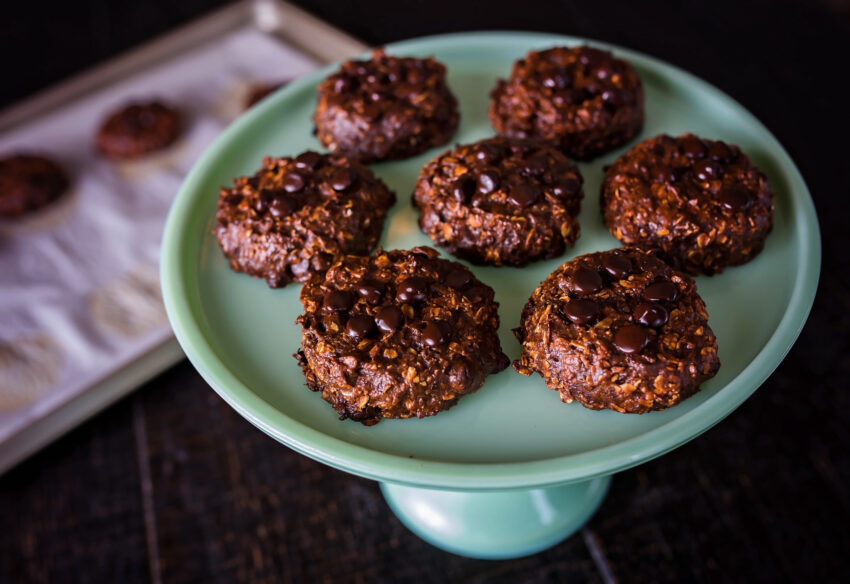 I cannot wait for you to try these! Please leave me a comment below and let me know what you think. My kids loved these…as did I. And – it's everything nutritious that's needed to start a good day.  Blessings!
Ingredients
2/3 cup prunes
2 ripe bananas
1/2 cup almond butter
1 scoop vanilla protein powder
1/4 cup unsweetened cocoa powder
2 tablespoons ground flaxseed
1 cup whole rolled oats
1/3 cup stevia-sweetened chocolate chips
Preparation
Preheat oven to 350º.
In a food processor, add prunes and bananas. Blend until smooth. Mixture will be thick. Add almond butter, protein powder, cocoa powder and ground flaxseed. Blend again until smooth.
Add oats and pulse only until combined (don't over-blend!) Using a spatula, scrape down sides and fully combine mixture. It will be thick – this is a good thing!  If it is too loose, add 1/4 cup more oats and stir. Stir in chocolate chips gently.
Scoop in large spoonfuls onto a cookie sheet lined with parchment paper. This recipe makes about 10 – 12 large cookies. Press them down a bit in the middle, and sprinkle with a few more stevia-sweetened chocolate chips. Bake for 10 minutes.
Remove and let cool. Store in an airtight container. Enjoy immediately, or freeze for a future easy breakfast on-the-go.