A burger so delicious and packed with nutrition!!! Great for vegetarians, but so full of flavor everyone will love it. A perfect addition to your grilling party, and super-easy to prepare.
Homemade Black Bean Burgers are waaaaaay easier than you would expect them to be! (If you expected them at all???) Maybe you are thinking, "why would anyone eat BB Burgers?", just know…you're not alone. I made these on a Meatless Monday TV segment, not expecting anyone to try them post-show, and the crew finished off the first batch of burgers and asked for the second batch! People were surprised at how delicious they were….which, I'm not sure if I'm flattered by that, or offended by it, lol. But, I'll take the response either way. I hope you enjoy them as much as they did!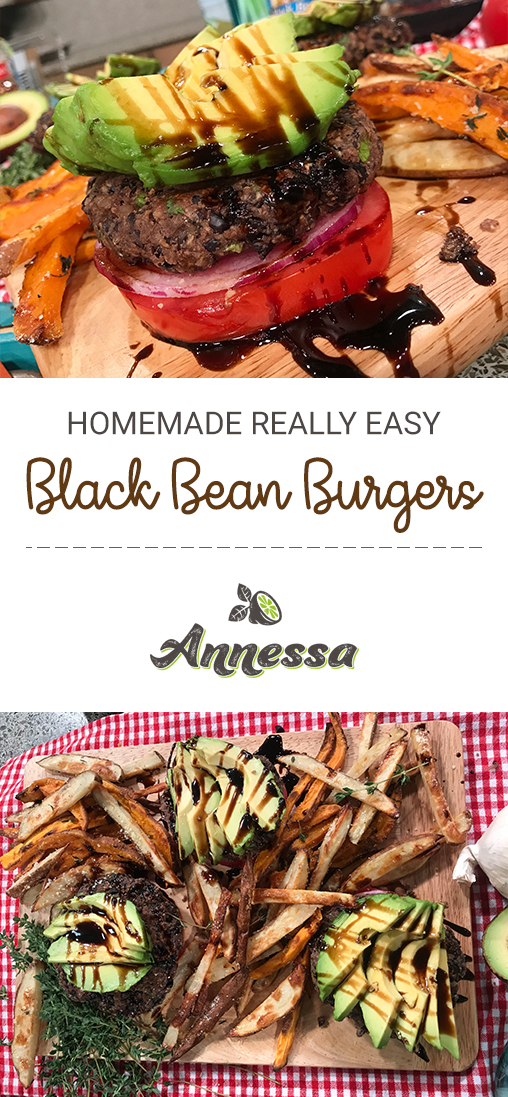 I took this recipe to Facebook LIVE, and my little guy begged to join me last minute. He was nervous and excited- and did a great job. Please excuse all of the things a little person does on video when they are nervous. I'm sure – if you've had kids at all – you know what it's like!
If I were you, I'd wonder exactly what they look like when cooking. Something pretty close to this: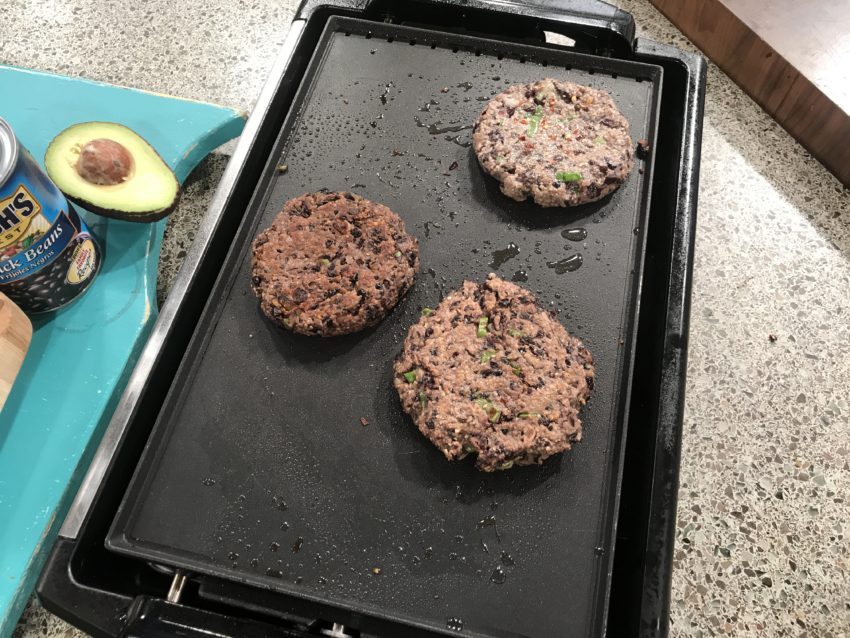 And then, from there, use all of the beautiful produce around to stack them however you wish! I find that a thick-sliced ripe tomato and raw red onion does the trick for me. Grilling that red onion might be yummy too: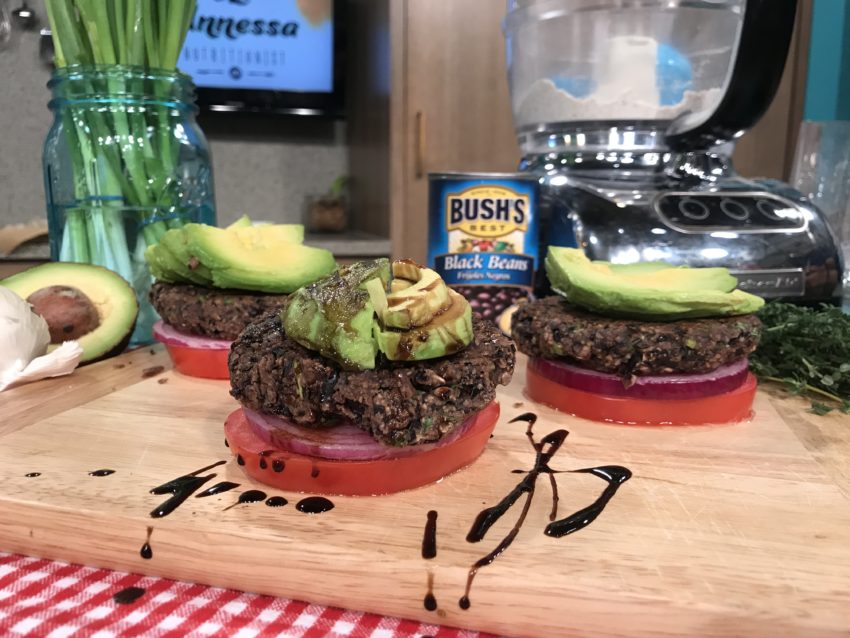 I would love to know what you think of these! Post a comment below, and snap a pic and tag me on social. I would love to support you with more recipes and tips on Facebook, Instagram, Pinterest and Twitter. Have an awesome day!
I created this recipe for Albertsons Safeway. Enjoy!
Ingredients
2 cups black beans, drained and rinsed
1 egg
3/4 cup finely ground oats (you can make homemade ground out easily – here)
2 cloves garlic
3 scallions, sliced finely
1/2 teaspoon kosher salt
1/2 teaspoon crushed red pepper flakes
for stacking & serving:
heirloom tomatoes, red onion, roasted red peppers, avocado, balsamic glaze reduction
Preparation
1. Heat grill or skillet to medium. Lightly oil grates with coconut oil, or spray skillet with nonstick cooking spray.
2. In a bowl, add black beans. Press beans against the bowl with a fork until most of the beans are mashed slightly. They should stay thick and pasty. Add egg, ground oats (grind them in a food processor). Grate in garlic. Add scallions, salt and pepper flakes. Mix together with a fork until fully combined. Let mixture rest for 10-15 minutes.
3. Shape into 4 patties. Grill for about 4-5 minutes each side.
4. Remove burgers and assemble: first a slice of tomato, red onion, the burger, then roasted red pepper, avocado, and a drizzle of balsamic glaze. Dig in!
Tips:
– easily use a food processor to make oat flour. Process until oats are finely ground, then measure 3/4 cup
– only mash beans with fork; using a food processor or blender will mash them to much
– top burger with any in-season produce you like…sprouts or cucumber are also a great addition
Prep Time: 15 minutes
Total Time: 25 minutes
Servings Per Recipe: 4
Serving Size: 1 (5 ounce) burger
Nutrition Facts: Calories 197.0, Total Fat 2.9 g, Saturated Fat 0.5 g, Polyunsaturated Fat 0.9 g, Monounsaturated Fat 0.9 g, Cholesterol 47.5 mg, Sodium 265.7 mg, Potassium 358.1 mg, Total Carbohydrate 32.4 g, Dietary Fiber 9.4 g, Sugars 0.6 g, Protein 11.6 g