After any holiday time, although we LOVE all the holiday food, sometimes by the following week we want (and need) clean, plant-based, super-nutitious food.
This is one of my favorites – a spaghetti squash that's roasted…then topped with some fresh, delicious toppings. Black beans, avocado, and red onion, then a sprinkle of sea salt and pepper – and you have a really simple, delicious and healthy lunch or dinner!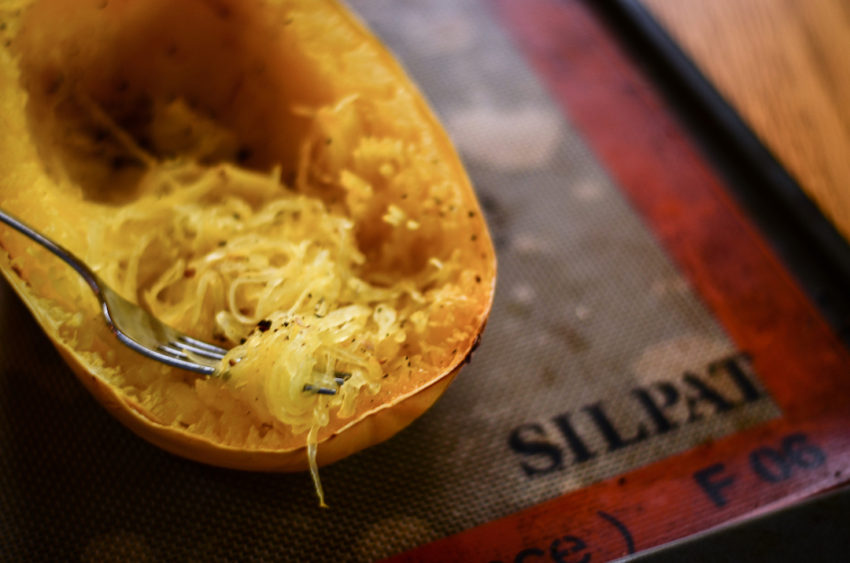 Ingredients
1 spaghetti squash, 2 – 4 lbs
1/4 cup black beans, drained and rinsed
1/2 avocado, either diced or spooned into small scoops
2 teaspoons finely diced red onion
sea salt & freshly ground black pepper
Preparation
1. Preheat oven to 400 degrees F.
2. Cut spaghetti squash in half. Put one half in the refrigerator to use later. Take the half you're using, and scoop out seeds. Drizzle with a little olive oil and sprinkle with sea salt and freshly ground black pepper.
3. Roast, cut side down, on a baking sheet for 40 minutes.
4. Remove and loosen squash strands with a fork. In the middle of the squash, scoop the black beans, fresh avocado, and sprinkle on the diced onion. Fresh ripe tomato would also be wonderful. Also, add a sprinkle of kosher salt….always lightly season your food to bring out the flavor of each ingredient!
Prep time: 10 minutes
Total time: 50 minutes
Serving size: 1/2 of a spaghetti squash bowl