I challenged myself to create a muffin around a dessert that kids like….so I chose banana split, not certain that I could jam all 5 flavors (strawberry, chocolate, pineapple, vanilla, banana) into 1 muffin and accomplish it in a healthy way.
I'm happy to say that these turned out amazing! They are mostly sweetened with ripe bananas, pineapple, and a dab of raw honey – so only 4 grams of added sugar in each muffin. And, they are gluten-free and nut-free, made with whole oats. I have had many parents tell me that they need recipes without peanut or tree nuts for children with allergies. This recipe is for you!
And the best part is, all of those gorgeous ingredients just go into a high-powered food blender or processor. Warning: this is going to look weird in the blender. Just keep telling yourself "it's going to turn out okay…it's going to turn out okay…"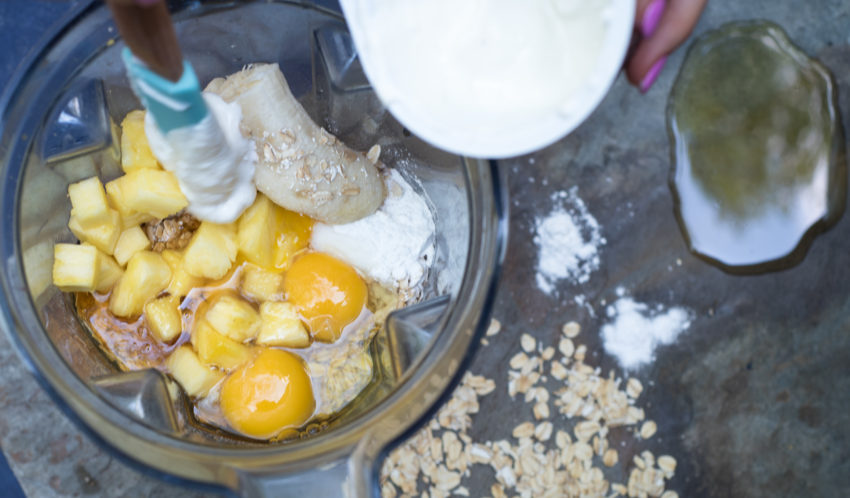 My dad walked by the kitchen during this creation and said "is this another weird smoothie you're making?" Haha….exactly. I often don't tell him what's in the things I feed him…..hey, what you don't know won't hurt you, right?
The beautiful thing is that, since it's all made in the blender, you pour it straight into muffin cups that have been coated with nonstick spray.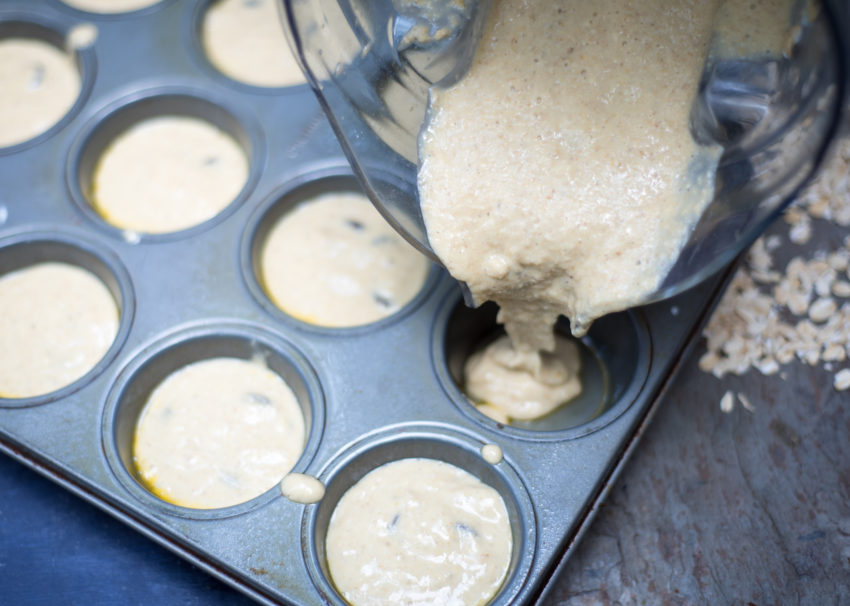 And then, you can either put diced strawberries on them before or after baking – your choice.
But just know that these freeze easily! It's great to have breakfast for the kids prepped for a busy week. If you try them, comment below, and let me know how they turned out for you!
Ingredients
2 very ripe bananas (speckled stage or beyond)
1/2 cup cubed fresh pineapple or unsweetened applesauce (I have used both, either works great!)
1/2 cup vanilla Greek yogurt (plain Greek yogurt works as well)
2 eggs
3 tablespoons organic honey
2 cups whole rolled oats
1 teaspoon baking powder
1/2 teaspoon baking soda
1/2 cup dark chocolate chips
5 large strawberries, diced
Preparation
1. Preheat oven to 375º. In a high powered blender, add bananas, pineapple (or applesauce), Greek yogurt, eggs, honey, rolled oats, baking powder and baking soda. Blend until mixture is smooth and there are no chunks.
2. Stir in chocolate chips into the batter using a spoon. Spray a 12-count muffin tin with nonstick cooking spray. Pour the batter into each muffin tin, dividing it equally among the 12 muffin tins (each muffin will be 3/4 full). Sprinkle on some diced strawberries onto each muffin, or wait until they come out of the oven to add the strawberries – either works!
3. Bake for 17 – 20 minutes until the top is no longer glossy and muffin is fully cooked. The edges will brown only slightly. Remove muffins from oven, and let cool 5 minutes.
4. Remove each muffin from tin. Sprinkle on diced strawberries and wait for for them to completely cool. Enjoy!
prep time: 10 minutes
total time: 30 minutes
Serves: 12
Serving size: 1 muffin
Nutrition facts per serving: Calories 150, Total Fat 4.9 g, Saturated Fat 2.3 g,
Polyunsaturated Fat 0.5 g, Monounsaturated Fat 0.6 g, Cholesterol 31.2 mg,
Sodium 110.8 mg, Potassium 77.4 mg, Total Carbohydrate 24.0 g,
Dietary Fiber 3 g, Sugars 12.1 g, Protein 4 g