I am so in love with these bars, because they are sweetened with dates, and filled with fiber from oats, protein from unsweetened peanut butter, and make the perfect energizing snack. Use natural peanut butter, not peanut butter with added oils nor added sugar. They are only 185 VALUABLE calories, because they have 4 grams fiber, 5 grams protein, and 9 grams healthy fats. 
They are super delicious and when getting their official shot for camera, the whole crew loved them (that's how I know something is seriously good!)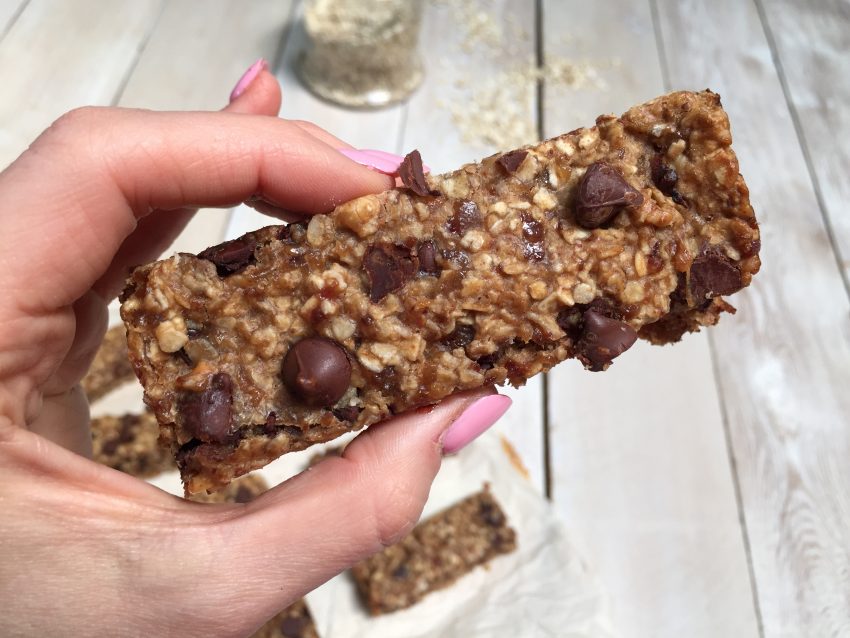 Ingredients
1 cup soft dates (this is about 14 – 16 dates) 
1/2 cup unsweetened natural peanut butter 
1 egg 
1/2 cup unsweetened coconut milk (from a carton)
1/2 teaspoon kosher salt 
1 1/2 cup quick cooking oats 
1/2 cup dark chocolate chips 
Preparation
1. Preheat oven to 350º. Spray an 8×8 pan with nonstick cooking spray (or, line it with parchment paper). 
2. In a food processor, add dates (make sure there are no pits that ended up in any). Process until dates are chopped into small pieces. (this will take about 20 seconds). Add egg, coconut milk and salt, and process again until creamy. Use a spatula to scrape down the sides of the food processor and make sure everything gets incorporated. Add peanut butter and blend/process only for a second. 
3. Pour mixture into a bowl (scraping down the sides of the food processor again, so you make sure you get everything), and add quick oats and chocolate chips. Stir until everything is evenly mixed together. 
4. Spread mixture into the pan, and spread it even with a spatula. Bake for 30 – 35 minutes. Remove and let fully cool, then cut into 12 bars. Store in an airtight container. 
Notes: 
– use any nut milk you have available! Unsweetened almond milk or cashew milk would also work. 
– it's best to use a peanut butter that is natural, that does not have any added oils. It should only have peanuts or peanuts and salt in the ingredients list. 
Prep time: 5 minutes 
Total time: 40 minutes 
Recipe makes: 12- 14 bars 
Nutrition information: 
Amount Per Serving: Calories 185, Total Fat 9.9 g, Saturated Fat 3.5 g, 
Polyunsaturated Fat 0.3 g, Monounsaturated Fat 0.4 g, Cholesterol 15.5 mg, 
Sodium 126.1 mg, Potassium 81.7 mg, Total Carbohydrate 21.3 g, Dietary Fiber 3.5g,
Sugars 10.9 g, Protein 5.2 g