What is the easiest healthy breakfast ever????? Just four ingredients, something really tasty, easy to make, and can be frozen and reheated in a pinch. Those are my criteria at least! I think the last one on that list is a mom thing ?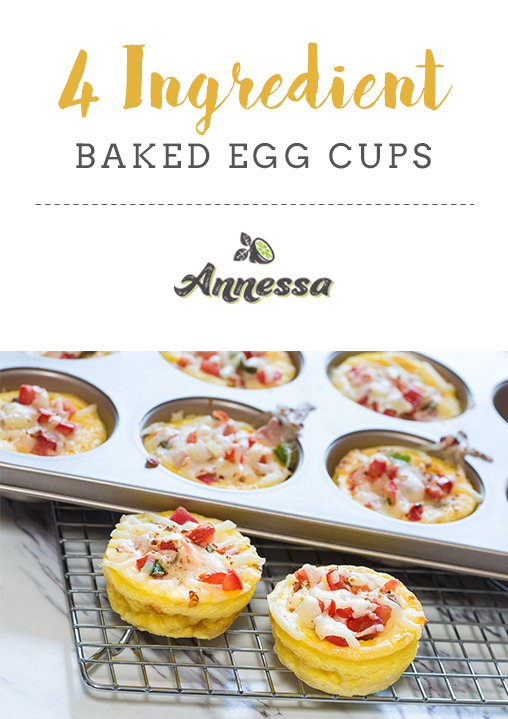 I'm so excited to share with you the breakfast that has gotten us through many mornings – and I always feel good about my kids eating it, even if we heat one up as a snack later in the day. I like to make a batch for a week or so, and use them when we have rushed mornings. Convenience is often the path to unhealthiness! But it doesn't have to be….it just takes a pinch of preparation. 
The best part is that you can take this recipe as a "blue print" and make it your own, using the ingredients you have on hand. Don't have salsa? Use fresh chopped baby tomatoes. Want to switch out the cheese? Perfect. Add chopped green onion or avocado? I would do it. 
I showed this on my Facebook LIVE channel, so you could see how to make two different versions: a salsa & cheese version, and a spring asparagus, ham and Swiss version. Honor loves the one with the salsa, and Aniyah loves the ham & cheese (I of course, love the one with the asparagus).
If you make these, I would love to know how you like them! Please leave a comment below. 
I created this recipe for Albertsons Safeway.
Ingredients
10 eggs
2/3 cup low-fat cottage cheese
3/4 cup salsa or pico de gallo
1/2 cup mozzarella shredded cheese
Preparation
1.Preheat oven to 350 degrees F.
2.In a medium bowl, whisk eggs and cottage cheese until well blended.
3.Spray a 12 cup muffin tray with nonstick cooking spray. Pour egg mixture equally between each cup.
4.Bake for 12 minutes, remove from oven. Spoon 1 tablespoon of salsa in the middle of each egg muffin, and sprinkle 2 teaspoons shredded cheese on top
5.Put back into oven for about 10 – 12 minutes. Eggs should puff up and cheese will be melted and slightly toasted.
6.Remove from oven, and let cool. Eat or freeze in a zip-lock bag for later! Reheat for an easy breakfast.
Serving size: 1 egg cup
Nutrition: Calories 93.1, Total Fat 5.1 g, Saturated Fat 1.7 g, Polyunsaturated Fat 0.8 g, Monounsaturated Fat 2.0 g, Cholesterol 225.8 mg, Sodium 183.6 mg, Potassium 104.9 mg, Total Carbohydrate 2.7 g, Dietary Fiber 0.3 g, Sugars 0.4 g, Protein 9.1 g