I'm always finding ways to get extra dark leafy greens – eating more of those will change your health and energy level quickly. This smoothie gives a kale kick to mellow tropical flavors. It is super-energizing, and provides tons of antioxidants, probiotics, vitamin C and A! Some in my family are lactose-intolerant (including my little 4 year old), and their favorite yogurt is the Silk peach & mango- it's delicious!
I created this recipe for Alberstons and Safeway.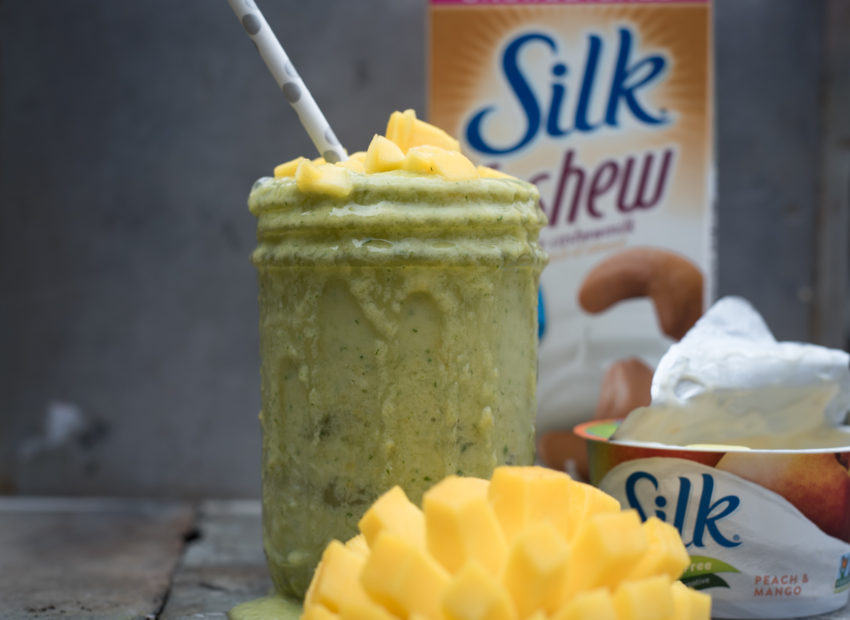 Ingredients
1 (5.3 ounce) container Silk® peach & mango dairy-free yogurt
1 cup Silk® original cashew milk
1 cup fresh or frozen mango chunks
1/2 cup fresh or frozen kale
Preparation
Blend all ingredients! Pour into a glass & enjoy. Top with diced mango – we love to eat that last!
Nutritional Information:
Calories 154, Total Fat 3.1 g, Saturated Fat 0.0 g, Polyunsaturated Fat 0.1 g, Monounsaturated Fat 0.8 g, Cholesterol 0.0 mg, Sodium 135.0 mg, Potassium 89.1 mg, Total Carbohydrate 27.3 g, Dietary Fiber 2.7 g, Sugars 18.9 g, Protein 4.1 g