A pancake as fluffy as a cloud, tastes like sunshine, and is totally made with almond flour? YES.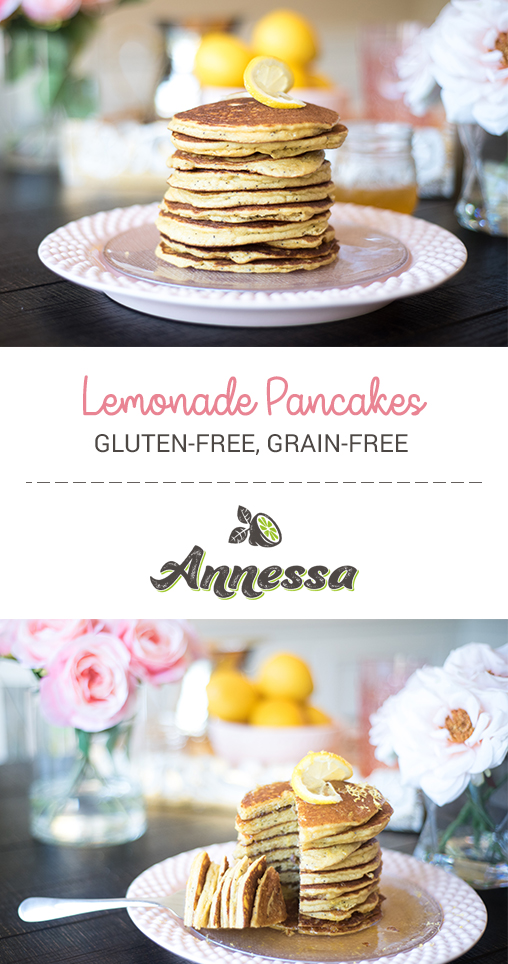 The batter is simple – eggs, almond flour, unsweetened nut milk, baking soda, and a TON of lemon zest and a splash of juice. The good news is that it's impossible to over mix the batter because there is no gluten – so it cannot get tough (yay!)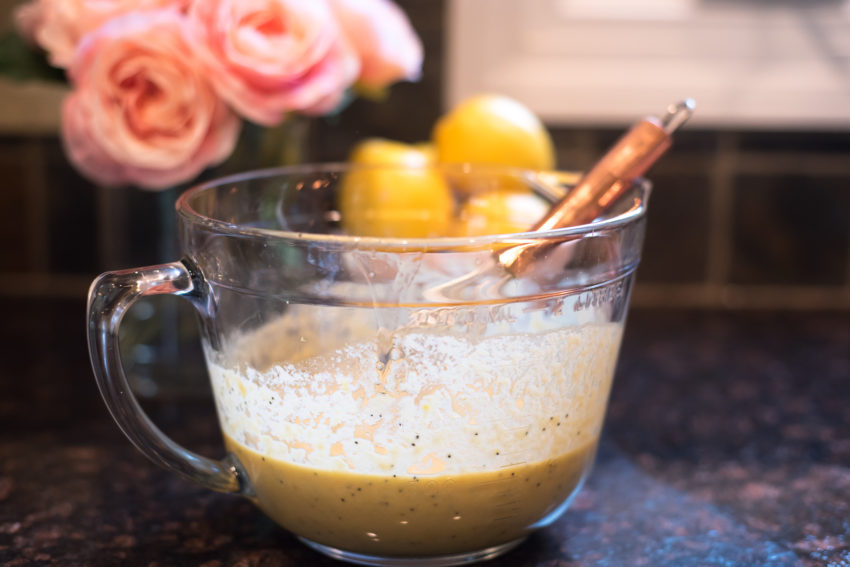 I love an up-close of what the batter looks like. After all, if you've never worked with almond flour, you might be wondering how the consistency of the batter is different…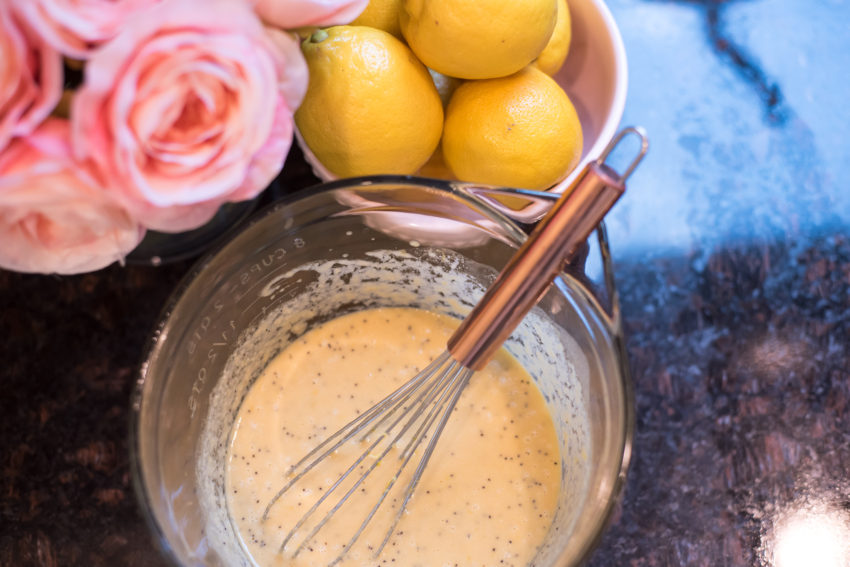 Heat that griddle. And onto the first pour: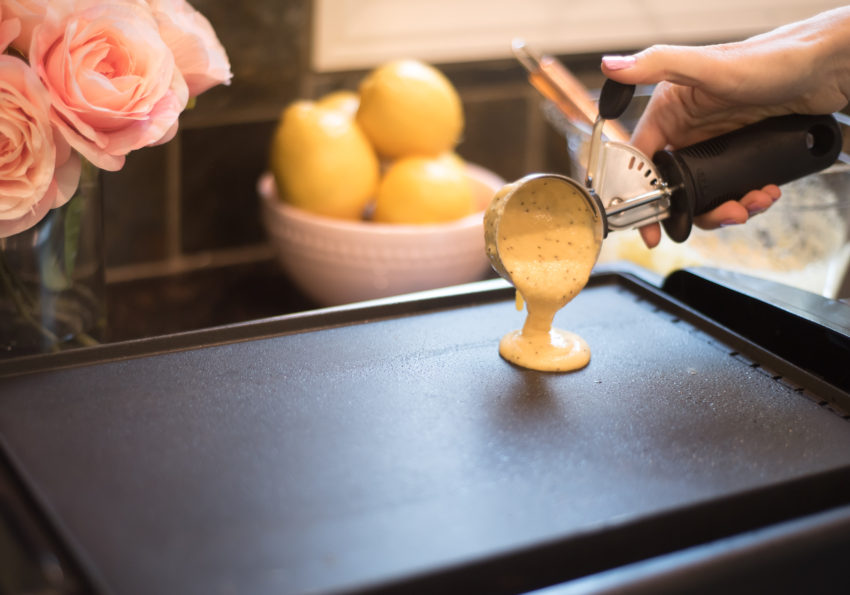 Is it just me or does anyone else feel like the first pancake pour is really a test??? Once you're sure it's not too thick and not too thin, but just right, keep pouring…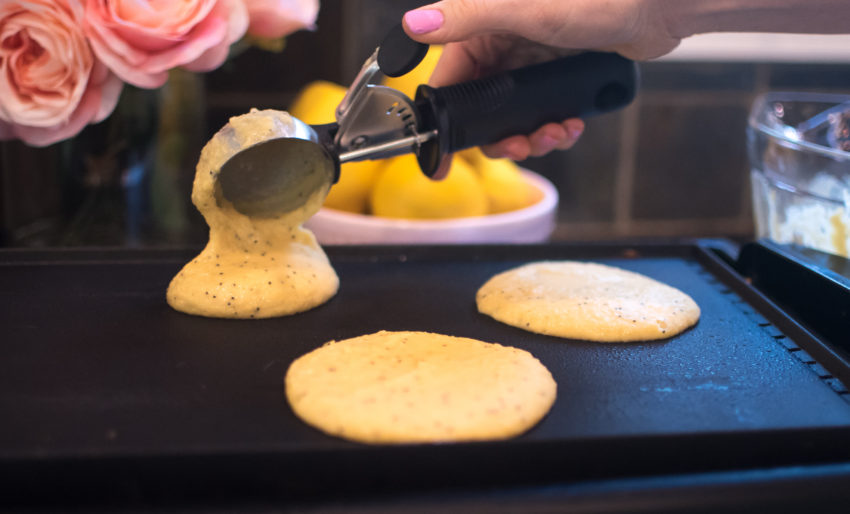 Here's what they look like when you flip. They should be puffy, golden brown with a beautiful yellow, and maybe a little misshapen (which I think is beautiful)…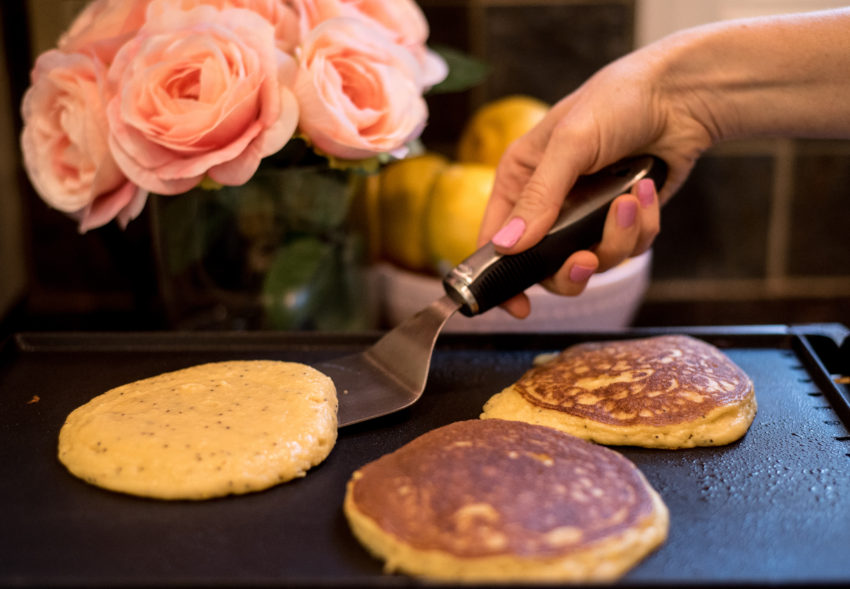 And one by one pile those beautiful yellow pancakes high…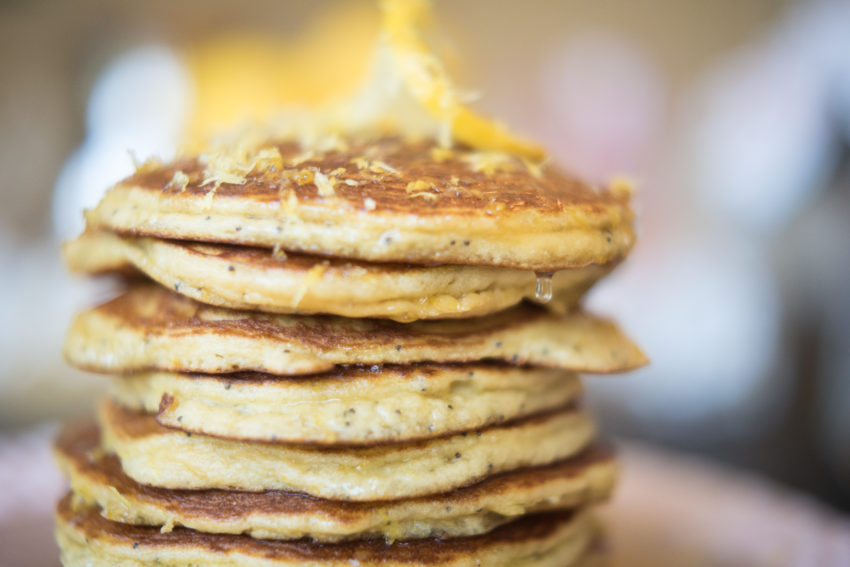 I think these are SO gorgeous!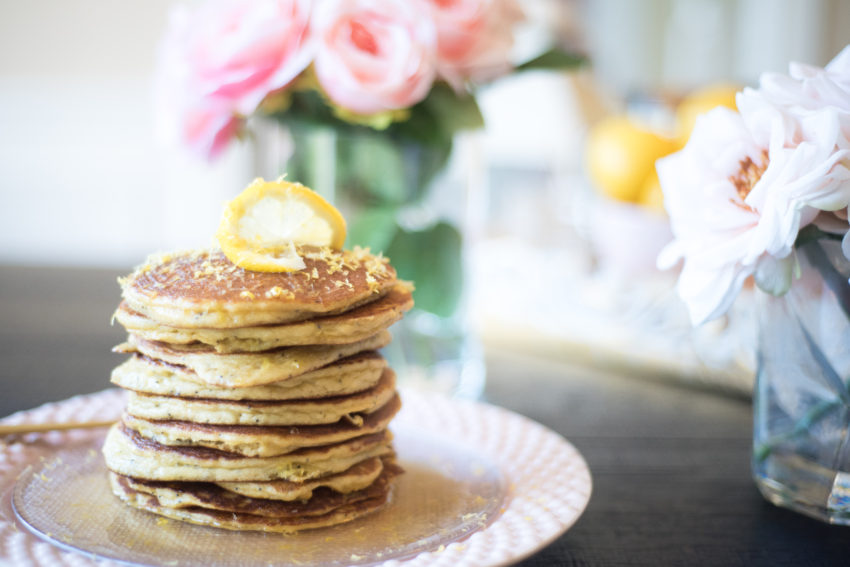 These are good by themselves, but if you want a little special syrup, the Lemonade Syrup makes my mouth water just thinking about it. Simple stir together lemon juice, zest, and a touch of raw honey…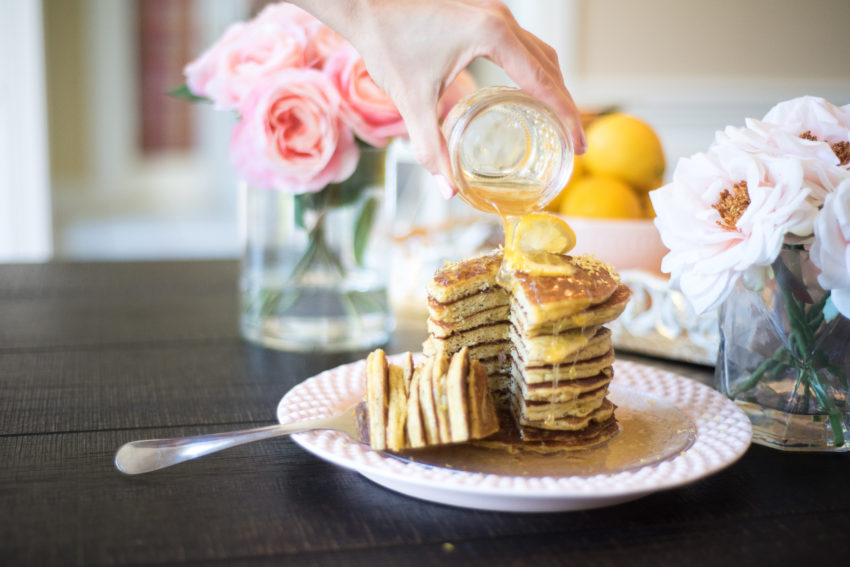 Enjoy with someone special!
Ingredients
2 eggs
1/4 cup unsweetened coconut milk
1 tablespoon raw & local honey
pinch kosher salt
1 cup almond flour, plus 2 tablespoons
1/2 teaspoon baking soda
1 teaspoon lemon juice
1 1/2 teaspoons lemon zest
1/2 teaspoon poppy seeds
Lemonade Syrup
1/4 cup raw & local honey
2 tablespoons fresh lemon juice
1 1/2 teaspoons lemon zest
Preparation
1. In a medium bowl, beat eggs with a fork for 1 minute. Whisk in coconut milk, honey, and a pinch of salt.
2. Sprinkle almond flour and baking soda on top of wet ingredients, folding in. Stir in lemon juice, zest, and poppy seeds.
3. Heat a pancake griddle to medium, sprayed lightly with nonstick cooking spray. Scoop batter by 2 tablespoonfuls at a time onto griddle. Cook until the edges are dry on the uncooked side (about 3-5 minutes). Flip and cook the other side. Repeat with the remaining batter.
4. Warm honey in a small glass jar, add in zest and juice, and shake or whisk syrup ingredients together.
5. Serve pancakes in a stack with Lemonade Syrup poured over, or on the side. Enjoy!
Notes:
– syrup may be made a head of time, refrigerated and warmed when ready for pancakes.
– syrup may also be doubled
– pancakes can be frozen for future use. Just cool completely, then place in a zip-top bag. Use within 3 months.
Prep time: 5 minutes
Total time: 15 minutes
Serving size: 2 pancakes (with 1 1/2 tbsp syrup)
Serves: 4
Nutrition: Calories 288, Total Fat 17g, Saturated Fat 2g, Trans Fat 0g, Cholesterol 93mg, Sodium 214mg, Potassium 84mg, Total Carbohydrate 30g, Dietary Fiber 3g, Sugars 24g, Protein 9g, Vitamin A 3%, Vitamin C 21%, Calcium 11%, Iron 10%