Soup weather is here! I was asked to create a soup that helped people get in extra veggies, but yet was creamy…without using dairy. Oh how I love a challenge. The solution came to me….CAULIFLOWER! (Even if you don't like cauliflower, stay with me). If you think you don't like cauliflower, I bet you haven't tried it roasted. Roasting it gives it an absolutely delicious flavor – it's addicting. You'll want to eat it right off the pan. The trick is making sure it gets some good brown caramelization on it.
For this soup, roast cauliflower with onion and a few fall flavors – rosemary, paprika, and garlic – and then that goes into the blender with broth and red peppers. That's it. It's super easy. Blending it makes an irresistible creamy soup.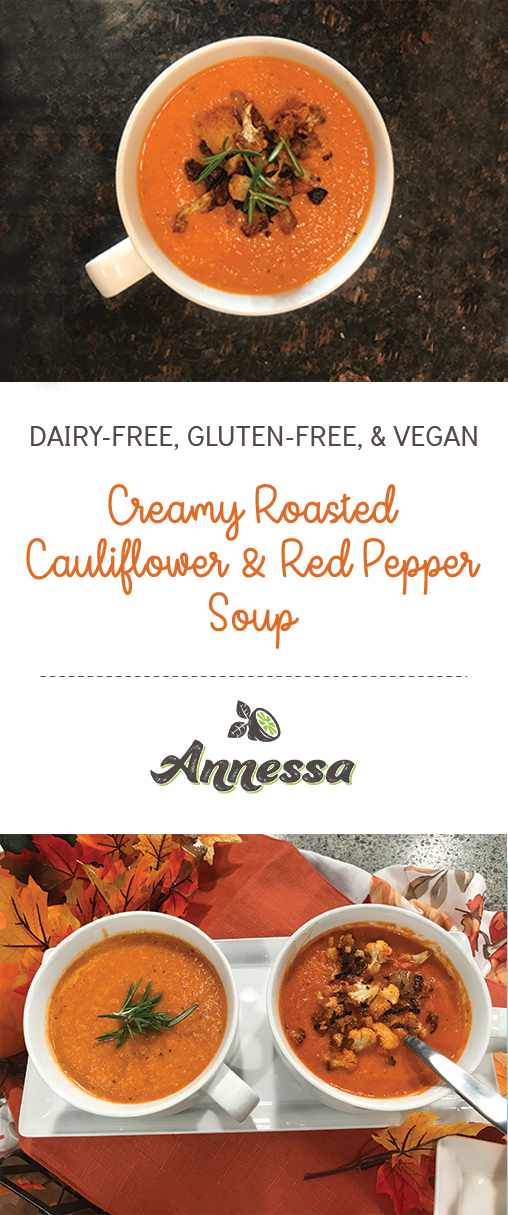 Gluten-free, dairy-free, and creamy delicious and tastes like fall. A cup is only 138 calories (if you're counting), 14 grams available carb, and 4 grams of fiber (again, if you're counting 😉 ….but the best part is it's packed with nutrition; all of those veggies provide you with loads of plant-based nutrients.
If you, like me, enjoy watching recipes be made as opposed to reading about them, I invite you into my kitchen to cook with me!
This soup has been getting some awesome reviews (I love knowing whether a recipe works for people or not, so if you make it – feel free to comment below!), and I hope you love it too!
I created this recipe for Albertsons Safeway. I would love to be a positive voice in your health journey on Facebook, Instagram, and Pinterest. The world needs more positivity!
Ingredients
1 large head cauliflower, cut into florets, rinsed & dried
2 cloves garlic, grated
1 large sweet onion, chopped
2 tablespoons olive oil
1 teaspoon fresh rosemary, chopped
1 teaspoon ground paprika
1/2 teaspoon kosher salt
12 ounces roasted red peppers, drained (from a jar)
3 cups vegetable broth
Preparation
1. Preheat oven to 400 degrees.
2. On a baking sheet, add cauliflower florets, and toss with onion, garlic, and olive oil. Toss. Sprinkle on salt, rosemary, and paprika and toss again. Arrange in a single layer and bake for 40 minutes. Cauliflower should be tender and caramelized after roasting.
3. In a blender or food processor, add the vegetable broth, red bell pepper, and all but 1 1/2 – 2 cups of the cauliflower mixture. Blend on medium speed until mixture is smooth and creamy.
4. Add mixture to a medium saucepan and heat on low just until warmed throughout. Pour into bowls, and top with the rest of the roasted cauliflower and onion on the pan. This makes a delicious topping to the soup. Add some fresh rosemary if you'd like. Enjoy!
Notes:
– thyme may be substituted for the rosemary
– entire soup may be blended for a pureed soup
– soup can be frozen for a later meal. Use within 3 months.
Prep time: 10 minutes
Total time: 50 minutes
Serving size: 1 cup
Serves: 4-5
Nutrition Facts: Calories 138, Total Fat 7.4 g, Saturated Fat 1.1 g, Polyunsaturated Fat 1.2 g, Monounsaturated Fat 5.0 g, Cholesterol 0.0 mg, Sodium 550.4 mg, Potassium 448.1 mg, Total Carbohydrate 18.2 g, Dietary Fiber 4.2 g, Sugars 2.3 g, Protein 3.1 g