I am honored to create this recipe as a partnership with California Prunes!  You can follow them on Facebook and Instagram.
These muffins will blow you away. They are full of flavor AND nutrition. And – coming from a busy mom – the fact that they can be frozen for a future easy breakfast on-the-go is a HUGE win.
Highlights:
rich in fiber
packed with apples, carrots, and coconut
tender texture AND sweetness come from California Prunes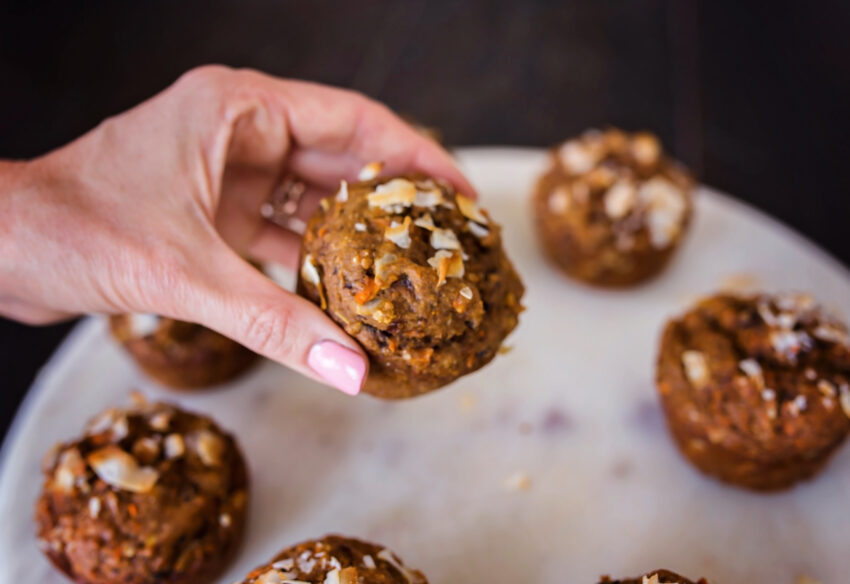 My favorite part of this recipe is that it features the food that I'm trying to eat – and get my kids to eat – more of, and that is prunes. They are sooooo good for us, and specifically good for gut, heart AND bone health.
And each 4-count serving of prunes contains under 100 calories, 3 grams of fiber (wowza), 20% of recommended daily vitamin K, AND it's been found that 5-6 prunes a day may help prevent bone loss in post-menopausal women. In my book, that's stellar.
The amazing thing about prunes is their versatility – they work like a dream in recipes, adding sweetness, depth of flavor, and a chewy, delicious texture.  Have I convinced you yet??? I'm sure these will…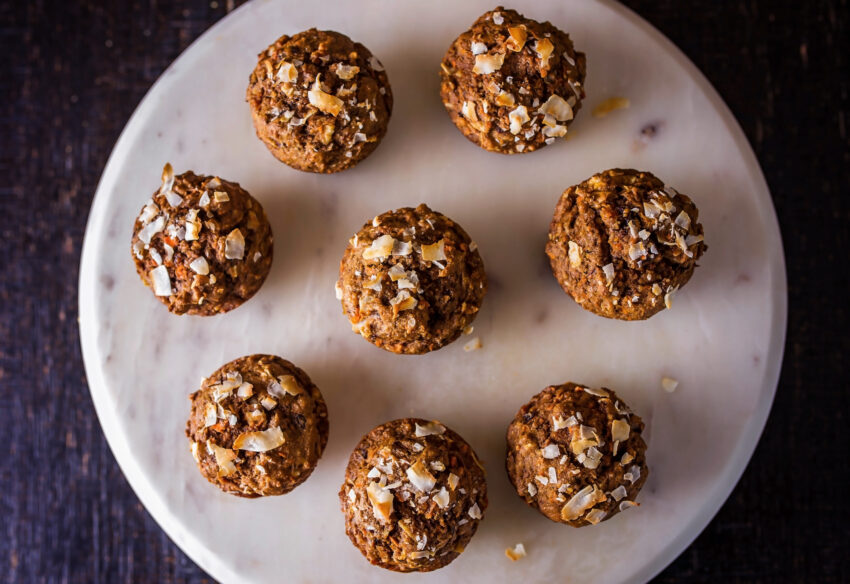 And they are delicious in the morning with a cup of coffee…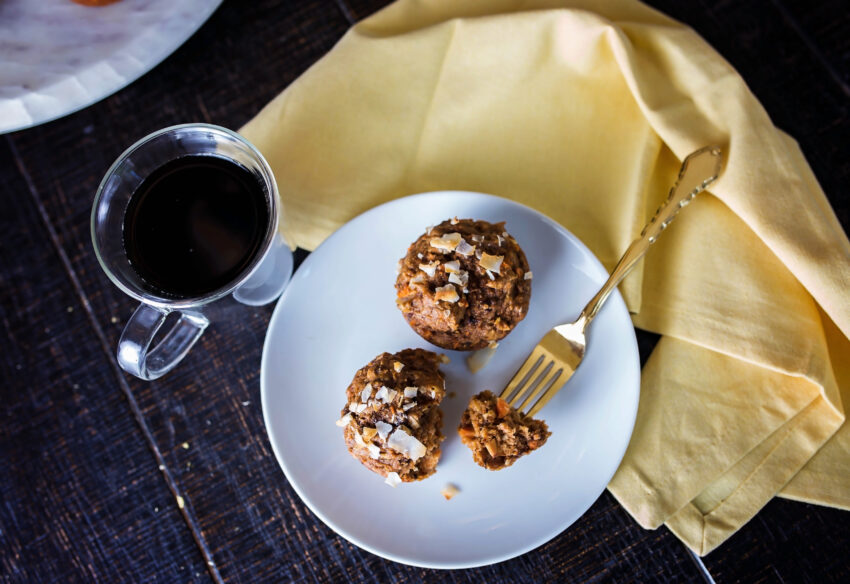 I blended the prunes to make a thick, syrupy puree, which, along with those carrots, gives a gorgeous color to those muffins –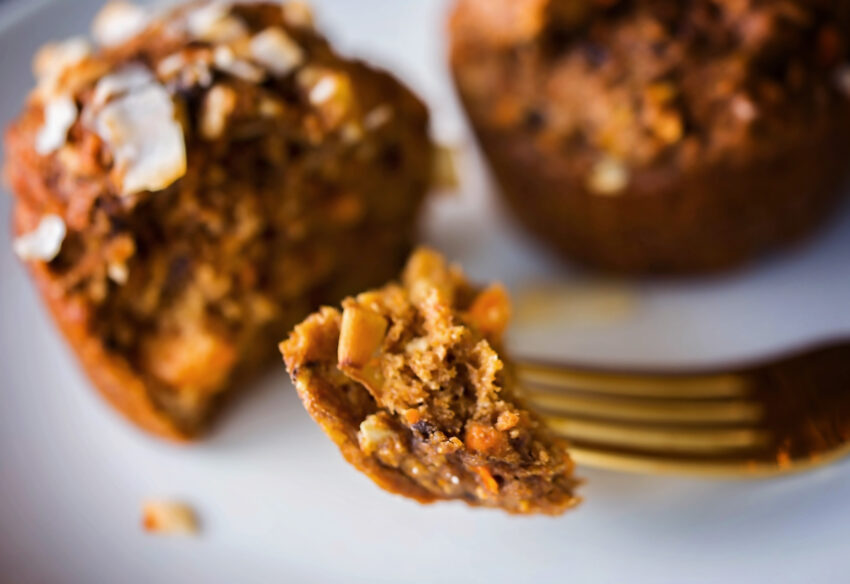 My kids loooooved these.  Even the little 2 year old.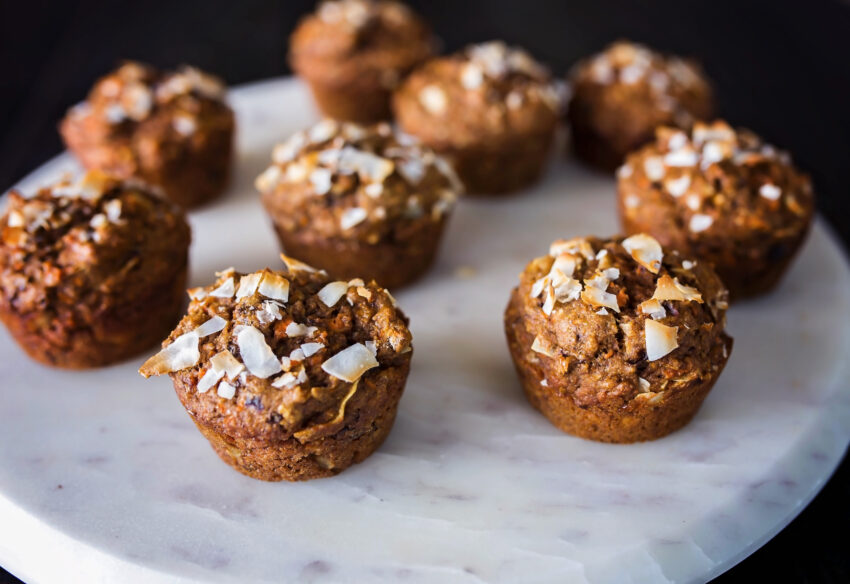 I hope you enjoy! And don't forget to get those 4 prunes in every day!
Ingredients
3 eggs
1/2 cup Greek yogurt
1/4 cup raw, local honey
1 cup California Prunes
1/2 cup hot water
1 3/4 cup whole wheat flour
1 teaspoon baking powder
1 teaspoon baking soda
2 teaspoons cinnamon
1/4 teaspoon sea salt
2 cups baby carrots
1 small apple
1/2 cup shredded coconut
2 tablespoon coconut oil
Preparation
Preheat oven to 375 degrees F.
In a bowl, whisk together wet ingredients – eggs, Greek yogurt, and honey.
Make a sweet puree by adding hot water to prunes and blending or processing to a puree. If needed, add a splash more of hot water and blend again – until you get a thick syrup consistency.  Add prune puree to wet ingredients, mixing well.
In a separate bowl, stir together dry ingredients – flour, baking powder, baking soda, cinnamon, and sea salt. Set aside.
Pour wet ingredients into dry, and stir together until combined.
In a food processor, and carrots and apple. Pulse until mixture is chopped finely (it should be pretty mushy!)  Fold carrot mixture into batter.  Fold in coconut and coconut oil.
Scoop batter into a muffin pan coated with nonstick cooking spray, filling almost to the top (you will likely have some leftover batter to make 3 more.)  Sprinkle a little more coconut on top of each muffin.
Bake for 20 minutes, or until a toothpick comes out clean from the center muffin.
Remove and let cool.  Enjoy immediately, or, freeze for future use!