This easy single-serving cake is whipped together in just a minute…and it all comes together in a mug. Using almond flour makes it gluten-free for those who are eating for inflammation and/or diabetes. It also increases the protein and healthy fat, while making it "lower" carb than an original cake. It has a light texture and satisfies that dark chocolate sweet tooth!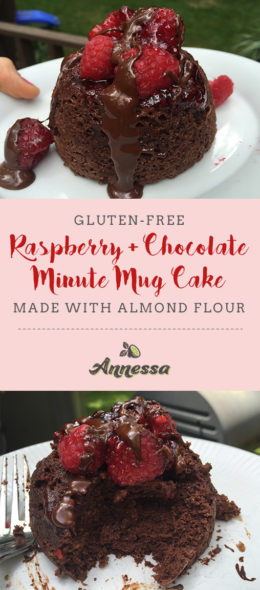 Enjoy responsibility! The health benefits of dark chocolate are numerous, but this is one of those treats that is meant for every once in awhile. Let me know if you get a chance to try it. I made this on WISH-TV's Indystyle if you would like to watch it be made!
I created this recipe for Albertsons Safeway.
Ingredients
1 egg
2 tablespoons vanilla Greek yogurt (sweetened with stevia)
2 tablespoons unsweetened cocoa powder (100% cacao)
1 tablespoon pure maple syrup
2 tablespoons almond flour (Bob's Red Mill Superfine Almond Flour)
1/4 teaspoon baking powder
1 tablespoon dark chocolate chips
4 fresh raspberries
Preparation
1. In a small bowl, whisk egg for 1 minute with a fork. Add yogurt, maple syrup and cocoa powder, stirring until smooth and all the cocoa powder has been absorbed.
2. Add in flour and baking powder, and stir just until mixed. Pour mixture into a large mug sprayed with nonstick spray. Sprinkle in 2 teaspoons of dark chocolate chips. Microwave on high for 1 minute (possibly 30 more seconds depending on your microwave. OR you can bake it for 15 minutes at 400 degrees!).
3. Remove and let cake cool for 30 seconds. Carefully turn it out onto a plate, and top cake with raspberries. Microwave the last teaspoon of dark chocolate chips just until melted, then pour over the top of raspberries. Enjoy immediately!
Serving size: 1 mug cake

Nutrition facts per serving: Calories 300, Total Fat 8.9 g, Saturated Fat 3.9 g,
Polyunsaturated Fat 1.1 g, Monounsaturated Fat 2.3 g, Cholesterol 187.2 mg,
Sodium 211.9 mg, Potassium 295.3 mg, Total Carbohydrate 37.3 g,
Dietary Fiber 6.9 g, Sugars 22.0 g, Protein 13.5 g