A great holiday snack, and something excellent to have around for the company of the season. Homemade granola bars are so simple and inexpensive, and controlling the sweetener makes them healthier than purchasing the store-bought version. These take seconds to whip together! You'll love them!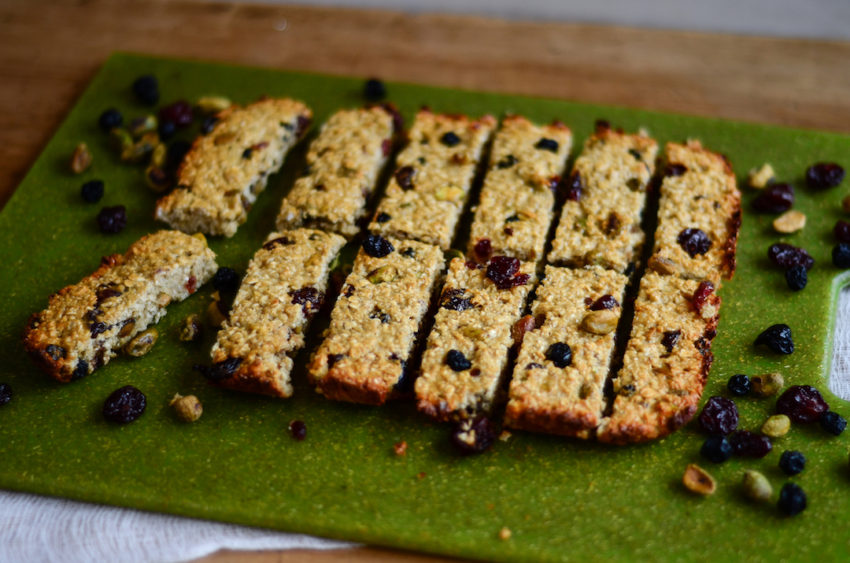 Ingredients
1 egg
1/2 cup vanilla Greek yogurt, sweetened with stevia
1/2 cup raw honey or turbinado (raw cane sugar)
1 1/2 cup quick oats
1 scoop vanilla protein powder, optional
2 tablespoons ground flaxseed
1/4 cup dried blueberries
2 tablespoons dried cherries
1/4 cup roughly chopped pistachios
Prep Time: 5 minutes
Preparation
1. In a medium bowl, beat egg and vanilla yogurt with a whisk. Whisk in honey or turbinado. Fold in the rest of the ingredients.
2. Scoop into a 8×8 pan covered in parchment paper or sprayed with nonstick cooking spray. Spread out evenly.
3. Bake at 350 degrees F for about 30 minutes. Remove and let cool, then slice into 12 bars. Store in an airtight container.
Total time: 35 minutes
Servings: 12